Why Having A Summer Budget Works
This post may contain affiliate links which might earn us money. Please read my Disclosure and Privacy policies here

Why Having A Summer Budget Works?
Having a budget is essential in my opinion.
Do you have a summer budget?
Do you know what a summer budget is?
Not sure how to answer these questions, then good because today you are going to find out.
Today I am here to give you another free financial tip that will help you alleviate your money stress during the upcoming summer break.
We all know that summer, though one of my favorite seasons, can be kind of stressful with the kids out of school, finding babysitters, trying to keep them entertained, etc.
Many of us take a big hit financially during the summer. Let 's be real here for a minute, just because school is out doesn't mean that our jobs and other responsibilities stop right there.
Add the cost of camps, daycare, and such, and you will be screaming like many of us.
How did this summer budget come about?
Creating the perfect budget takes time, and even after creating a budget, your budget will never stay the same.
As the self-proclaimed financial planner of our home, I manage our personal finances and have been doing it for many years.
While analyzing our previous year's budget (yes, this is the reason why we use a budgeting software to compare), I noticed that our finances took a hit during the summertime.
To not let this happen again, we decided that we needed to put aside a small amount of money for summer each month.
By setting aside money for this category called Summer budget, we are able to use this money during the summer.
Creating a summer budget proved to us, once again, how financial planning works and how important it is.
This self-proclaimed financial planner was so grateful that we came up with it because, let me tell you, last summer was one we didn't anticipate.
Having set aside that money, it helped us through good times and bad times. It also created some great memories for my family.
To help you and prove to you that you need to have a summer budget for your family you are going to find seven reasons that I hope motivate you.


7 Reasons Why Having A Summer Budget Works
Funds summer outings
Family outings are fun, but sometimes they cost money. Having a summer budget and money allocate helps you enjoy summer outing without worrying about the financial side.
Keep summer family outings affordable and remember to:
Look for sales
Find free events
Community pool fees
Community pools are pretty affordable and super fun. If you are planning on taking the kids to the pool set aside money for memberships or visit dates by doing this, early you won't be stressing about the cost during the summer.
Back to School
With summer comes back to school shopping and let me just say that this is where our finances get hit.
As parents, it seems like kids just grow or skip 3 sizes!
During back to school shopping season take advantage of the sales and deals and keep in mind that you don't have to buy everything for your child school year during BTS shopping season.
Now, I'll go back to why having a budget for this helps us financially! We know that each summer we are going to be buying things that school is requiring.
A tip when it comes to back to school is to:
Use a back to school list
Buy what you need
Don't overbuy no matter how good the sale is
It paid for family gatherings
Having a summer budget helps pays for family gatherings. We love and enjoy having our family and friends over for BBQ.
Family reunions also happen during the summertime, and budgeting for this makes it so much easier to take care of when the time approaches.
Birthday parties
We get hit with birthday parties during the summer, and this is just not friends and kids' friends, it's us.
Somehow the majority of our family were born during the summer. My husband, daughter, sons were born around this time.
To make our summer less stressful, we budget for these events and don't hesitate when the time comes.
Visit to get ice cream on hot days
The summer weather is unpredictable; so to keep cool, and enjoy a spontaneous time together, we go get some "good" ice cream (like my kids call it).
One of our favorite places we use BOGO coupons from their birthday perk and use discounted gift cards to pay WAY less.
I guess having summer birthdays has its perks!
Related topics:
Paid for our garden
We also used money from our summer budget to help maintain our garden during the summer. In return, this garden saves us money and provides some fantastic vegetables.
Summer Budget Is Worth it
I know some of you might have some questions and I'm here to answer some of them. As always you can always leave your questions below or email us!
How much should you save for this budget category?
Depends on your family finances and what your summer looks like.
For example a few years ago we budgeted $1000 for small outings, but due to a family death, we didn't get too much that summer.
Last year we budgeted significant because we were heading to Florida for two weeks. This year we are budging about $2000 because our family grew one from two years and my daughter is taking college summer classes.
Do you use a cash system or any other system?
We have a checking account we have designated for summer, and honestly, it works for us. We also use reward points and Ibotta rewards to help us out too.
What do you do with the leftover money from your summer budget?
Well that's if I have any money left 😝
I'll be honest and say that we rarely have cash left but what we do is that we leave it there and don't touch it.
How do I get started doing a summer budget?
My friend, you start allocating money now and start creating a summer plan as early as possible just like you do when budgeting.
If we say we need $2,000 for summer, I start planning in the fall and adjust it at the beginning of the year.
Start by creating an online account (we have CapitalOne 360) or start using Digit (way more straightforward than opening another account) and start a schedule.
Start by withdrawing $20 every Friday and leave it like that until the beginning of the year when you can see what your summer plan might be.
If you think $1000 will do then do what you have to do if you think you need to increase it then find ways to expand it to meet your goal.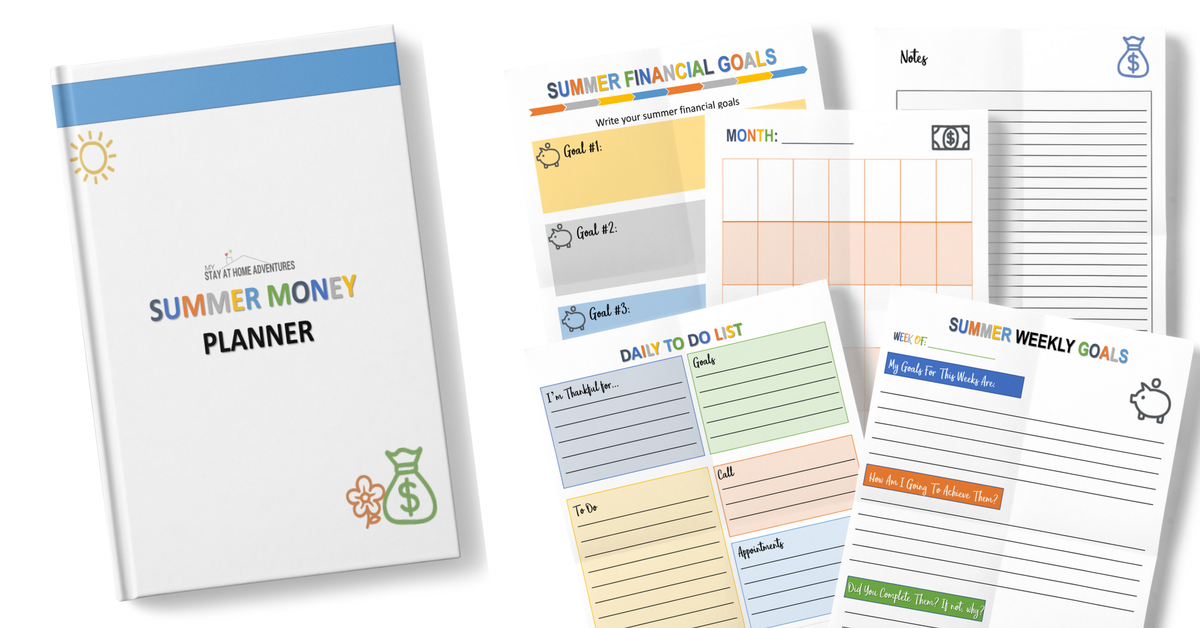 Conclusion
Having a summer budget helped us during our summer months, and as you can see I have proven to you that a summer budget does work!
Having a financially planned summer means less stress and more joy.
Your turn: Do you have a summer budget? What are your thoughts when it comes to having a summer budget?