10 Ways to Spring Clean Your Outdoor Space
This post may contain affiliate links which might earn us money. Please read my Disclosure and Privacy policies here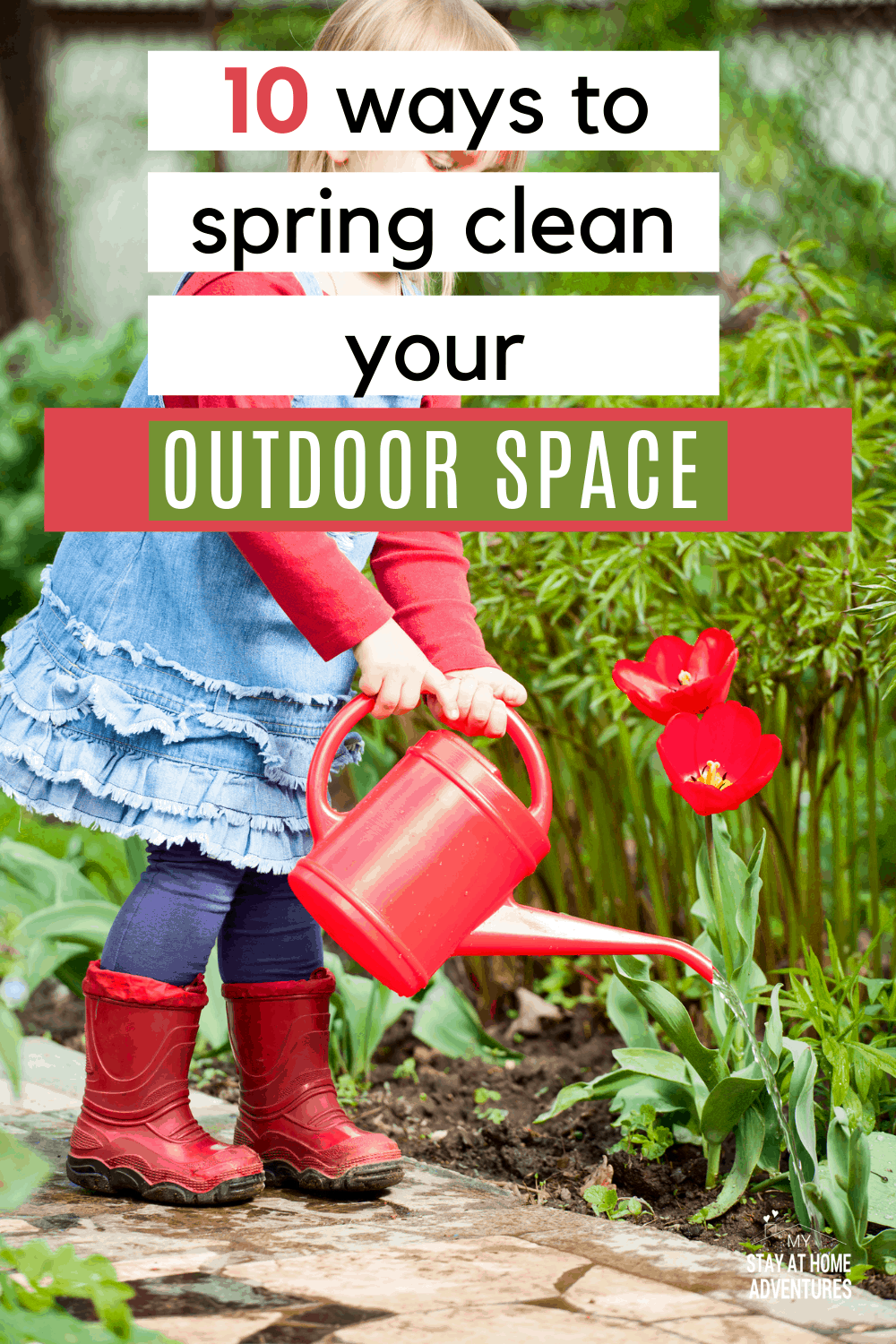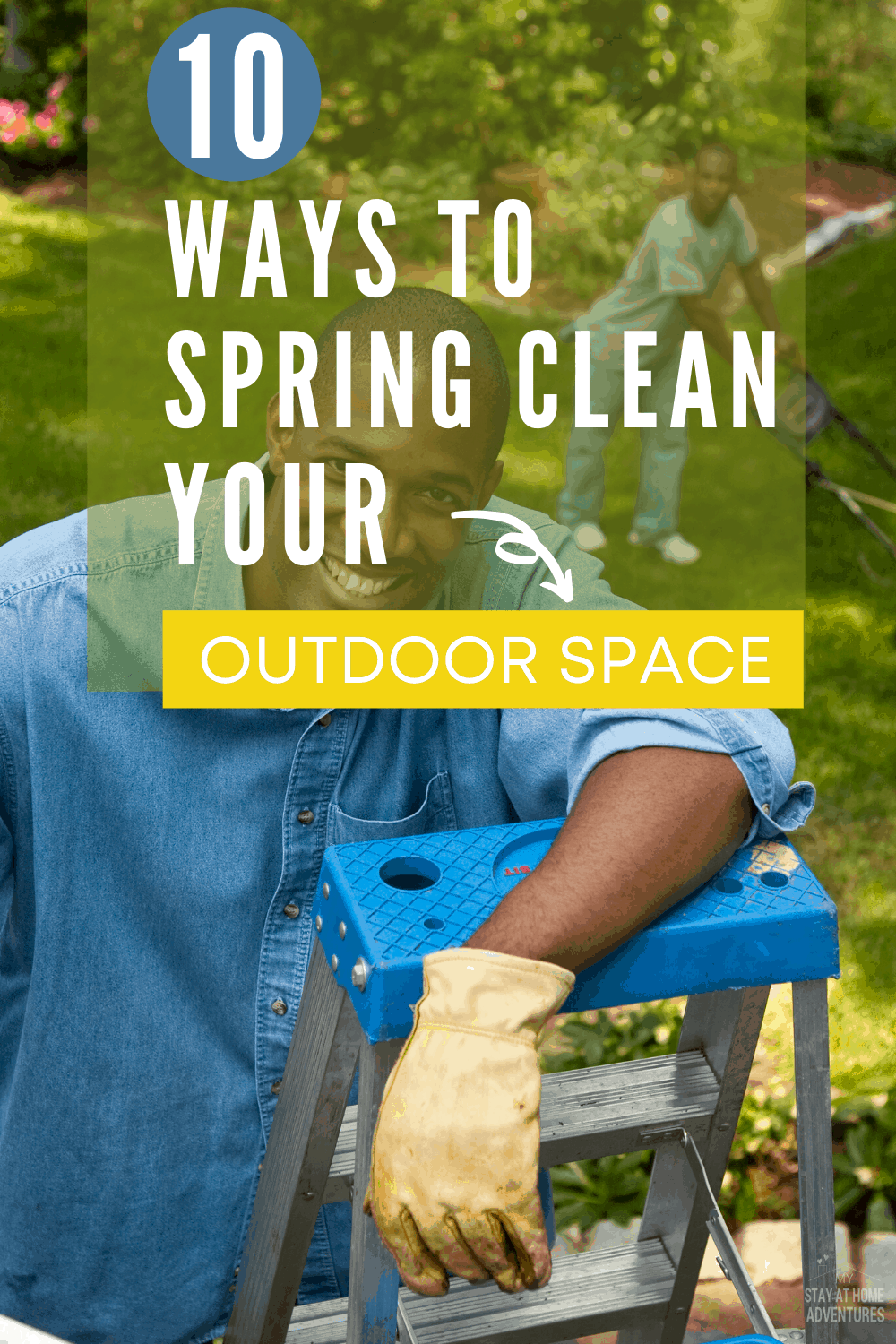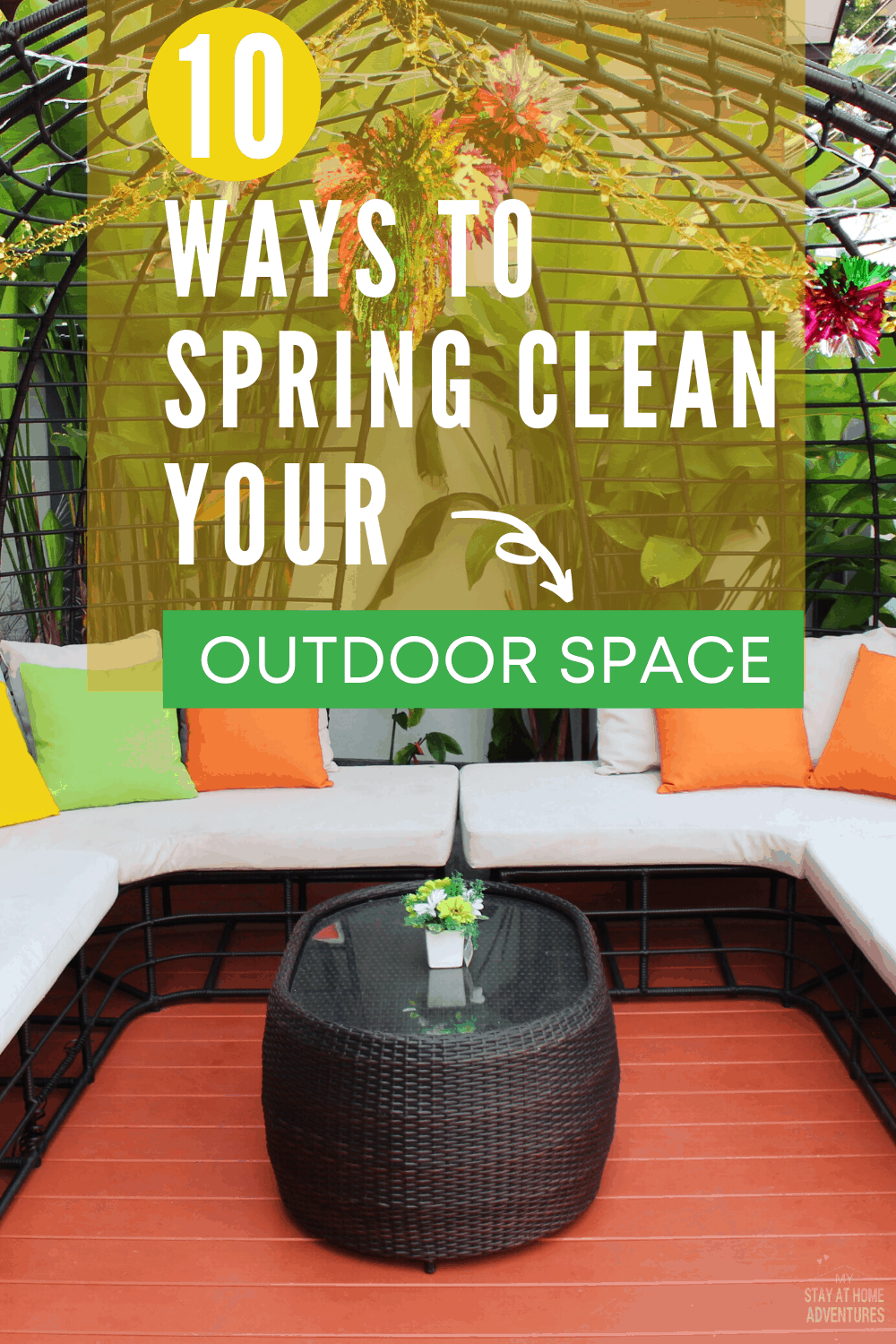 Everyone is getting ready for spring cleaning. The weather is warming up, and it is time to make everything look new again. One area that is often overlooked is the outdoor space.
My yard, deck, and gardens need to be spring cleaned too! Here are 10 ways to spring clean your outdoor space so it looks as good as your indoors!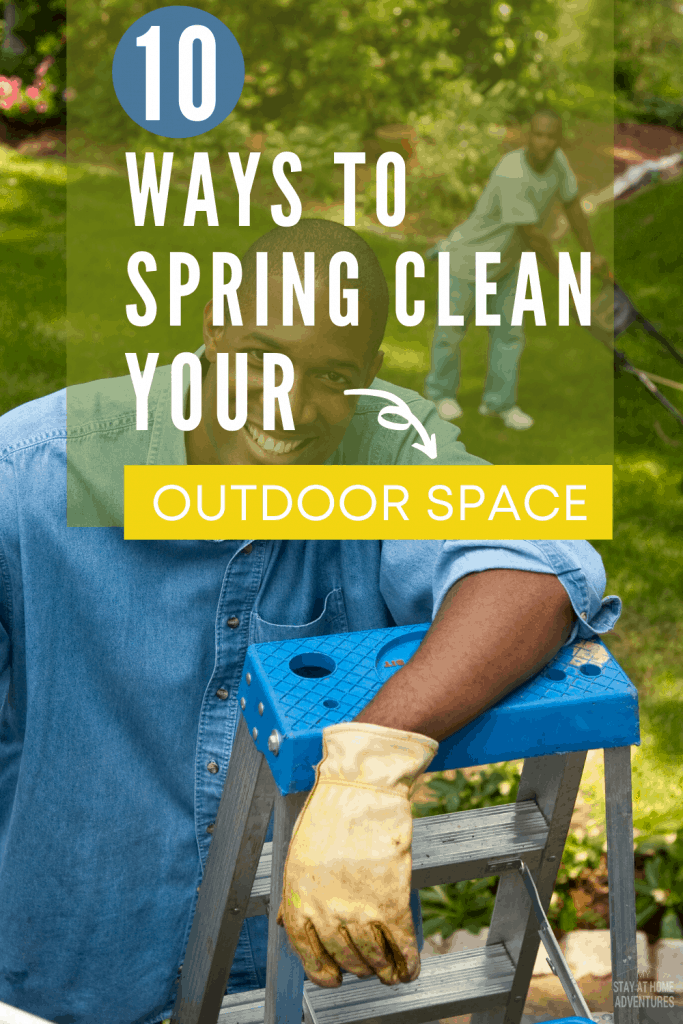 How to Spring Clean Your Outdoor Space
Get Rid of Leaves
Leaves are such pests, and they seem to get in every nook and cranny. Spring is the perfect time to get every single dried, dead leaf raked and bagged.
I like to check my entire outside area for leaves. My yard, my gardens, under my deck, etc. Those leaves will hide anywhere.
Clean the Gutters
This is not a fun job, but it is necessary. Keeping the gutters clean can help the health of your home!
Grab a ladder, a hose, and get to work cleaning those gutters. This is a great job to have teenage kids assist with too.
Related posts:
Clean the Yard
It seems like when winter is over my yard is littered with tiny twigs, branches and other outside debris.
This is the perfect time to walk around the yard and pick up all that stuff. My yard always looks so nice when I get done.
Fertilize the Lawn
The beginning of spring is a good time to do some lawn maintenance. Grab those bags of fertilizer and start spreading. I love using my handheld broadcast spreader to get this job done quickly. It is also the time to do any reseeding that may need to happen.
Clean the Patio Furniture
It amazes me how dirty outdoor items can get even when they haven't been used for months. My outdoor furniture always looks pretty rough around this time of year. I will use my hose with a high-pressure nozzle to clean the furniture really well.
Clean the Siding
I like to go ahead and power wash the siding on my house so it is nice and clean for spring. If there are any areas that need a touch up of paint I do it now also. I don't want to wait until summer to do my outdoor painting…it gets too hot!
Inspect Screens
While I am outside working, I will go around and inspect the screens in all of my windows. I look for holes, tears, etc., and see what may need to be repaired or replaced.
Mulch Time
I don't know where all the mulch goes in the winter, but it seems to fly right out of my flower beds. I like to replace the mulch and do any trimming in the flower beds that are needed.
Reattach and Check Hoses
Time for getting those water hoses out. Be sure to check them for any leaks or holes. Reattach to the faucets and get ready to water!
Grill Maintenance and Cleaning
The outdoor grill needs a good cleaning and this is the perfect time to do it. Having a deep-cleaned grill is a great feeling. I love to start planning all the meals I am going to be grilling out!
Spring Cleaning the Outdoor Space Can Be a Family Event
Spring cleaning the outdoor space can be a family event. It can probably be done in one day if you work hard. I love to get even my little ones outside to help. They feel like big helpers picking up leaves and sticks for mommy!
How Do You Spring Clean Your Outdoor Space?
What is your favorite way to spring clean your outdoor space? What areas are the most important for you to get spruced up for spring?