Frugal Home Theater (Indoor & Outdoor)
This post may contain affiliate links which might earn us money. Please read my Disclosure and Privacy policies here
Frugal Home Theater (Indoor & Outdoor)
I was given the Portable Spandex Projector Screen free of cost in exchange for my honest opinion.
We have four children and two are special needs. Summer is here and quite honestly going to the movie theater and any other summer related activities that many families enjoy we can't do, yet.
During the winter time, we talked about fixing up the backyard and figuring out how to enjoy an outdoor movie area for the entire family.
Of course, knowing us we didn't want to spend money nor did we want to be cheap. We wanted to invest in a projector and things like that so my boys could enjoy their summer outdoors.
Now, this might sound strange but a few months ago I received an email and to be honest we receive tons of emails about reviews and so on but this email stood out because I thought it perfect.
Let's begin with the review for the Portable Spandex Projector Screen and then later go over how you can create a frugal home theater, shall we?
Know this before you keep going, though I wanted to create a movie theater outdoor I had no idea where to look and the prices I kept seeing were just insane.
During the month of May, we were planning on having my son's birthday party and enjoy movies outside.
Of course, these were my plans, but mother nature seemed to have different plans since it seems like it rained 90% of the month.
My first reaction when I opened the box was that the screen was super smooth and pretty big. I was concern that the material was going to either get ruined or stain because hey, you know kids.
The truth is that this material is super durable!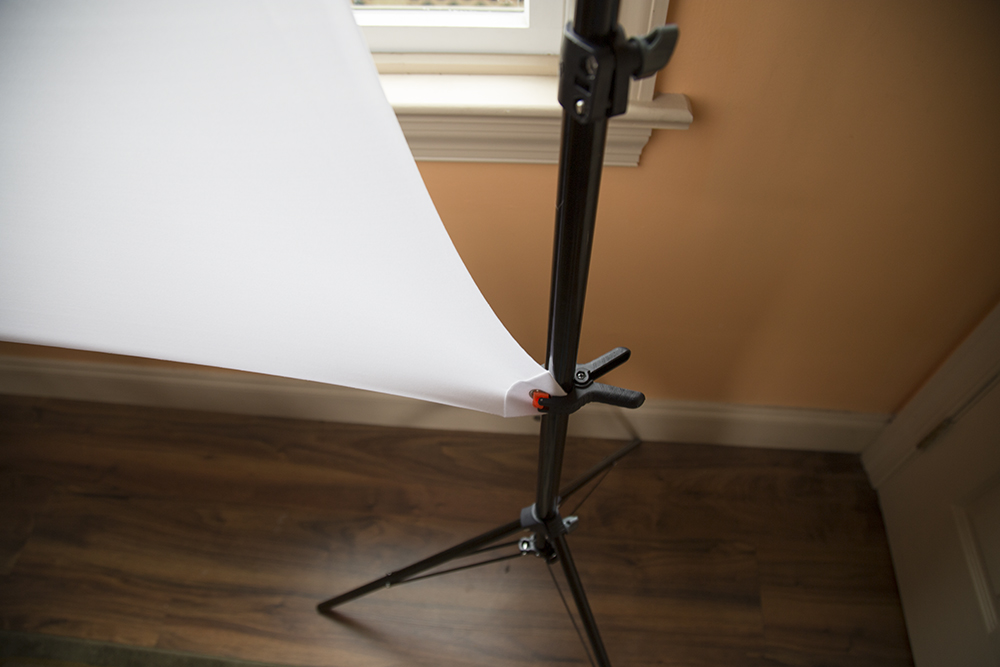 And it survived a kid's birthday party! With little ones touching, pulling, placing their faces toward the screens, and yes licking! (Yes, kids tend to do that!)
The spandex material is high quality and made with a 4-way stretch fabric.
Did I mention is made in the USA!
Now, remember when I said that the weather was not cooperating. It didn't that day and we had to bring the screen inside and this is when I was doubting it was going to "work."
Related topics: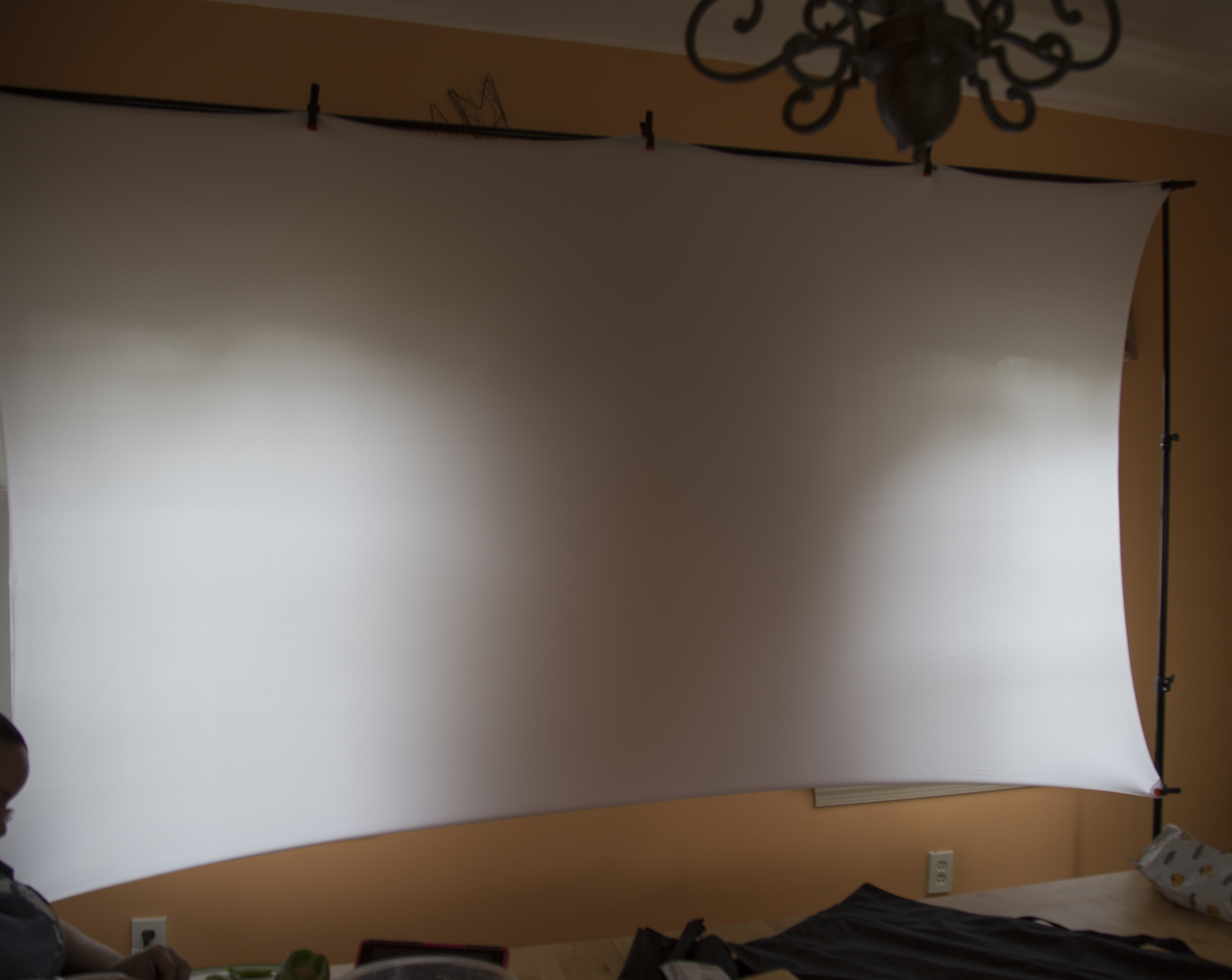 We placed the screen against the wall where the windows where because it was the only place it could go.
We wanted our guests to sit on one side and enjoy it.
The screen is portable and when we moved it indoors it came down fast and easy. Both sides are dual side so this screen can be used for both front and rear projection but more about that later.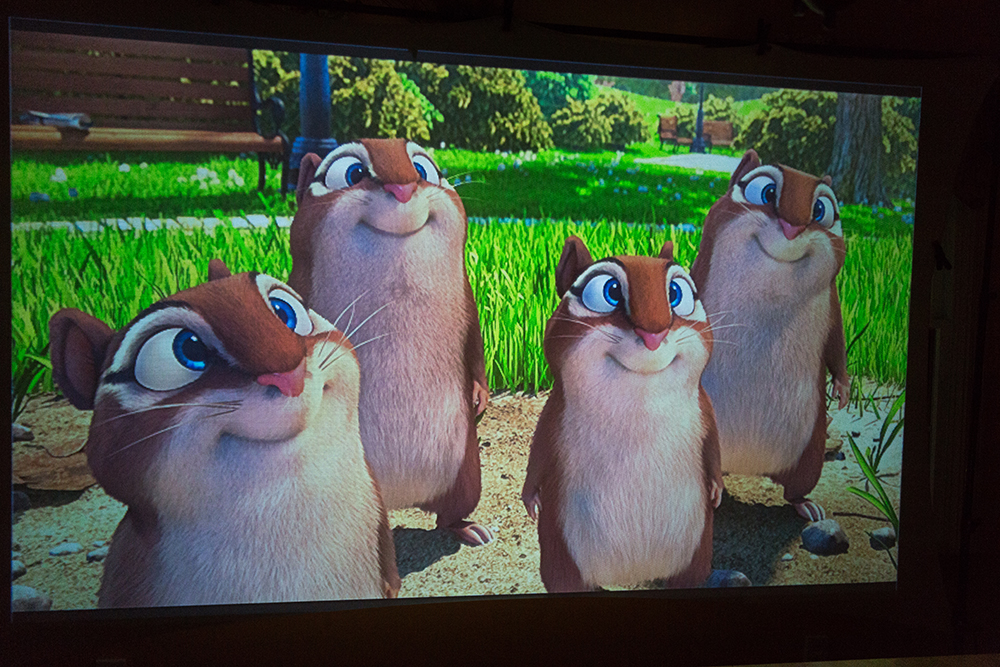 We grabbed our popcorn and my husband started the movie and wow! Success!
The screen did its job and quite honestly for the price it I recommend you grab one ASAP.
Another thing I want to add that this screen will work without Halloween/Christmas projector and we can't wait to try it this Halloween season. Of course, we will be posting about it in our Instagram so make sure you follow us there.
Now that you about the high-quality projector screen, let's give you more information on how we pulled this off on a budget and seriously you can too.
Your kids are going to love it!
I know we are enjoying it.
Other important details about this screen:
120″ (inch) Portable Spandex Screen.
The kit comes with 5'x9' Stretch Fabric Material & Hardware for Indoor or Outdoor Back Yard Movie Screen use
3D DLP Ready with Both Front & Rear Projection Capability (unlike Blackout Cloth)

How to build a home theater on a budget
Don't let the word frugal fool you, my friend. You see just because we are frugal doesn't mean we are cheap. The projector screen is good quality and it doesn't cost a lot of money. What we love about it too that we can continue to use it for Halloween and Christmas when we use our holiday projector.
Remember this is dual-use and it will work with it. Instead of going to the store and purchasing another screen for it, we can use this one!
To make your own home theater for outdoors/indoor you are going to need the following:
One important note: We bought our DJR mini projector on sale for $67 from $99 and I will ask you to shop around and look around. This mini projector was on a lightning deal and we spent less the total cost for this frugal home theater was less than $200! Without the deal, it will be around $250 which is still not bad!
For some of you it might be expensive, but for our family is a great deal as the kids get to enjoy watching their favorite movies on the big screen indoor and out. Also, remember that our boys are special needs and we host gathering with special needs kids and the cost of taking them to movies… well I'm pretty sure you get it.
My husband and family and friends enjoyed it as well.
So if you are looking for a frugal home theater you and your family are going to love for indoors or out, then I suggest purchasing a Portable Spandex Projector Screen and a few other low costs, good quality items and create the best memorable summer with your family.