9 Things to Do This Summer That Won't Bust the Budget
This post may contain affiliate links which might earn us money. Please read my Disclosure and Privacy policies here
Wondering what to do this summer that won't break the bank? Looking for things to do this summer that won't bust the budget? Lucky for you, we are talking about this topic today, huh?
Before you know it, summer is here, and because we are humans, we make mistakes and not budgeting for the summer season. We want to enjoy our summer, but we don't want to break the bank either.
Looking for things to do this summer that won't bust the budget might not be as hard as you might think.
Looking for things to do when you are trying to save money and trying to reduce your debt can be challenging.
The thought of taking a nice family vacation and spare no expense might be tempting the reality is that your finances might be telling you otherwise.
It took time for us to decide that we needed a summer budget after we had our children. The truth is that during the summertime kids are home, and bills tend to go up if you are not careful.
Once we decided to give a summer budget a try, it is evident that having a summer budget worked and making sure we are financially stable during the summer is a top priority.
Related posts:
Don't get so down worrying about money that your summer is not fun nor memorable.
Our personal finances can do that to us, and the reality is that many people do let their financial situation spoil what fun they could have for themselves and their families during the summer months.
You don't need to spend money or go broke to make summer memories with your family and friends.
The good news is that you can have a fun and memorable summer without wasting money and using your creativity. You will find things to do this summer that won't affect you financially.
As I said earlier, it is so tempting to go all the way and forget about our finances and take that dream family vacation, but please don't. This mentality got you and many others, including yours truly, into a financial mess.
Doing this only alleviates your stress by giving you temporary happiness, but the minute you come home and reality sets in, you will be stressing and paying for your dream vacation for quite some time.
There are many things to do this summer, and again, it is up to you how you want to make the best out of it. Remember you have worked hard and you have been looking for a nice time off.
You also want to be very careful with the way you spend your money and not overspend this summer at all.
Before you start looking for things to do this summer that won't bust your budget, start by doing these things first:
When you complete the above list, start executing and start looking for less expensive and free ideas that won't break your budget this summer.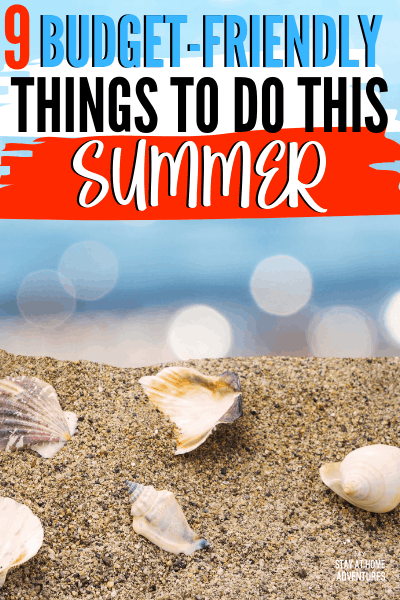 There are many things you and your family can do this summer that are free, won't cost a lot or will make you money.
Yes, make you money!
Let's begin!
Visit a nearby national park.
Enjoy the outdoors and spend time near a national park!
Camp in your backyard
Your kids will love you! Seriously! Turn your backyard into a camping site with tents, sleeping backs, and all. Hike around the neighborhood, play games, and eat camping food.
Have a picnic
Get together and have a picnic with family and friends.
Visit a local event
We have our community strawberry festival this summer. Check out the newspaper or online for local events you can attend.
Visit a local museum
Check your local museum for events and kids friendly events.
Related article:
Visit your local zoo
You don't have to visit a big zoo, search online for a small zoo if necessary or a local petting zoo.
I love them, so I added this.
Visit your local community pool
If you don't have a pool, visit your local community pool and have fun.
Volunteer
Yes, volunteering won't cost you a dime, and the great thing about it is that is so rewarding. What can you do to help others?
Mow your neighbor's lawn
Help a family or friend in need of yard work
Cook dinner for those who are in need
The list of helping other people is long, and I am sure you get the idea.
OK, one more tips
Raid Your Home
When was the last time you been up to your attic, basement, and garage? How long has it been since you have gone through your stuff?
I'm pretty sure that you are not looking forward to "working" on organizing, but here's the thing is that chances are you and your family are going to find things you have forgotten about.
Chances are you are going to find items that you can use again or sell.
How is organizing my home a great thing to do this summer? You might:
Discover Old Memories
Old photos might need organizing, friend. You can even place them into cool albums and even make it a fun art and craft day!
Find Lost Treasures
Chances are you might discover an item or items that are worth a lot of money, something you might have lost, because hey, is when we are not looking for something that they turn out.
And you might even find an item that makes you happy and could really use.
Make Money
A great thing to do this summer is to make money. Who doesn't love that idea! Raiding your attic, basement, or garage might make you money.
Get rid of items you and your family no longer need and sell them on:
Craglist
eBay
Facebook Marketplace
Yard sale or Garage sale
Seriously a fun thing to do this summer the family is going to love, making money!
Enjoy Togetherness
Make this activity fun with your family. Dig through boxes, put on clothes and look at photos and other memories together.
I'm pretty sure you kids are going to love your stories as they look thought boxes.
As you can see, raiding your home to find lost treasures and discover old memories can be fun, and not only is it free to do it, you may even end up making money off the deal if you choose to sell some of the money treasures you find.
After all, if you're not using it and it's been up there collecting dust for a long time, you may as well sell it. Use the cash you make to do something fun with your family.
Whether that involves going to the local miniature golf course or being able to take the family on a bigger vacation, you won't know until you go on the hunt in your attic for everything you forgot.
Conclusion
If you are looking for things to do this summer, then these 9 things to do this summer that won't break your budget, are they! This summer, you and your family can find many things to do all you have to do is be creative and frugal about it.
Your turn: When it comes to things to do this summer what are your favorite things to do that won't break the budget? Share it with us.