Try For A Flu-Free Season With These 7 Tips!
This post may contain affiliate links which might earn us money. Please read my Disclosure and Privacy policies here
Tips to Enjoy a Flu-Free Season In Your Home
This post was sponsored by GOJO, the makers of PURELL® Multi-Surface Disinfectant, as part of an Influencer Activation for Influence Central and all opinions expressed in my post are my own.
Winter is here, and it seems that with that we hear more cases of the flu. Honestly, I hate dealing with the flu and these tips to enjoy a flu free season are everyday things you can do to keep that flu virus away from your home.
Though to keep it real we know that there is no guarantee that we will be flu-free but there are so many things we can do to make sure we take precaution and enjoy a healthy winter season. This is where this facts and tips come in.
Your home can be a breeding ground for this nasty unwanted flu virus, and when you have kids, anything is possible.
Of course, these tips to a having a flu-free season in your home doesn't cost much, and again, these are things anyone in the house can do, every day!
All you have to do is turn them into habits!
Let's begin, shall we?
What is the flu? Really what is it? We hear about it, but when ask people don't even know for sure.
Here's a bit of information regarding the flu you are going to find interesting.
The flu's real name is Influenza and it is incredibly contagious. Influenza is a respiratory illness that is caused by influenza A or B viruses. The flu attacks the upper or lower respiratory tract and sometimes both.
During the winter and early spring, cases of the flu increase in the United States.
Of course, many of us sometimes confused a severe case of the cold with the flu and that is because they seem to have similar symptoms.
They are both viral infections, but the flu is extremely worst.
What makes the flu different?
My friends, the flu symptoms can come abruptly and these symptoms may include:
High fever for several days
Body aches
Fatigue
weakness
As you can see, having the flu is no joke and keeping your home flu-free this season should be a priority.
So, before we start let's cover some necessary personal things we must do to prevent ourselves from getting the flu.
Tips for Flu-Free Season
Get vaccinated
Seriously, the truth is that the flu vaccine saves lives and there are so many myths about the flu shot, and honestly, a simple search will clear everything up.
Wash your hands
Washing your hands is extremely important as you know the flu virus is very contagious. All it takes when it comes to washing your hands is to use soap and water. Make sure you rub your hand soap on your hands for about 20 seconds.
If there is no water or soap around, please use an alcohol-based hand rub instead.
Clean your hands after you:
Sneeze
Cough
Blow your nose
Avoid touching your nose and mouse
I know that this is um very hard for kids to do but it so important! When out and about avoid touching your nose and mouth.
Now that we have covered these essential points how do we keep our home flu-free this season?
With these tips of course!

7 Tips to Get Your Home Flu-Free This Season That Won't Break The Bank
Wash your linens
To keep your home flu-free this season, wash your linens regularly to avoid lingering germs from attacking you.
Hand towers should often be switched and washed too to prevent any germ or virus transfer.
Wash your hands
Make washing your hands a habit in your home because this is so important to keep the flu virus away from your home.
Make sure your sponge/dish rags are clean
Sponges don't last forever as much as we keep it clean, they just don't. Germs thrive in moist environments and maintaining sponges and dish rags dry is essential.
To keep them even cleaner here are a few hacks:
Use your dishwasher
Use your dishwasher to kill bacteria in your sponge by using heated dry setting only.
Microwave them
Use your microwave to kill 99.99% of the germs in your sponge by making sure that is wet and heat it for about 2 minutes.
A safety tip: It's going to be hot! Please be careful when removing the sponge.
Use vinegar
Soak the sponge in vinegar for about five minutes and then rinse it off.
Wipe it down
Many people associate wiping items and counter down as major time-consuming tasks, and quite honestly, they don't have to be.
We also make the mistakes of wiping counters and other things with contaminated sponges, rags, etc. and we also use a cleaner not suitable to kill germs and viruses such as the flu.
Another reminder that is important about wiping things down is to wipe items that are always being touched such as:
Remotes
faucets
Phones
Cutting boards
Tables
Counters
Toys
Door handles
Computer keyboard
A great product we have been using recently is PURELL® Multi Surface Disinfectant and this a new product from a brand we trust, PURELL®.
If the name sounds familiar is because you might recognize this product, PURELL® Hand Sanitizer that has helped our family stay healthy for many years.
Now back to this product.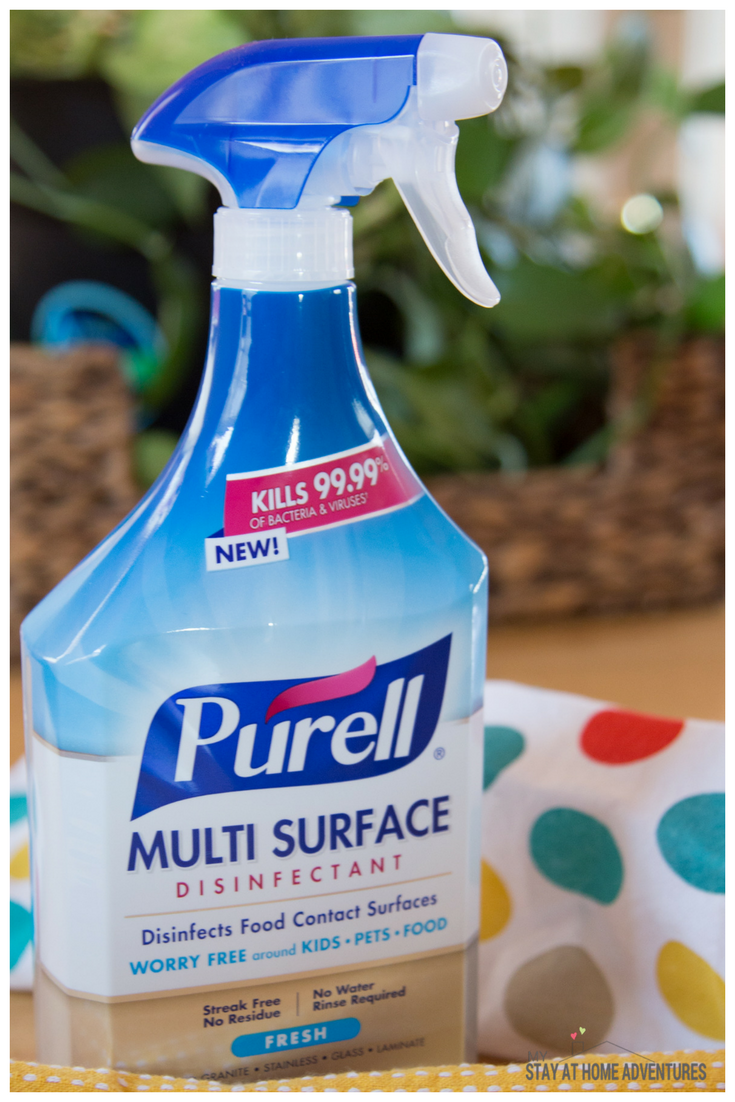 PURELL® Multi Surface Disinfectant quickly kills germs with no harsh chemicals. Of course, for a mom of little ones and a pet owner, I don't have to worry about how it will affect them.
When wiping your kitchen, use PURELL® Multi Surface Disinfectant to disinfect and clean your prepping area.
When it comes to wiping it down and enjoying a healthy season in your home, remember to check out and try PURELL® Multi Disinfectant Spray, and you will find more reasons why below.
It kills 99.99% of germs and can be used on both hard and soft surfaces too! And no it won't stain your fabric, trust us! We tried it!
If you are interested in where to get this product just continue reading below after more flu-free season tips and oh yeah, you will score a discount too. Just keep reading!
Use a humidifier
Viruses love dry air and using a humidifier allows for fewer flu viruses around. According to studies, a humidifier can reduce it by up to 30%!
Your mop!
A mop or whatever you are using to keep your floor clean, like the sponges and other rags, needs to be sanitized. Make sure you are using a sanitized mob and not spreading germs and viruses around.
Your shoes
Coming in and out of the home means those shoes are bringing in potential flu viruses. To prevent germ and virus spreading, remove your shoes right away in a spot and wear sleepers when home.
Now that you have these tips to enjoy a  flu-free season in your home as promised I will show you where to get PURELL® Multi Surface Disinfectant.
PURELL® Multi Surface Disinfectant is a brand-new product.  As of now, it is available online at Amazon.com, Jet.com, and Walmart.com.
If you have a H-E-B and Publix near you, they also carry this product as well. Shop Rite and Wakefern Food will be seeing this product will be arriving at these stores very soon.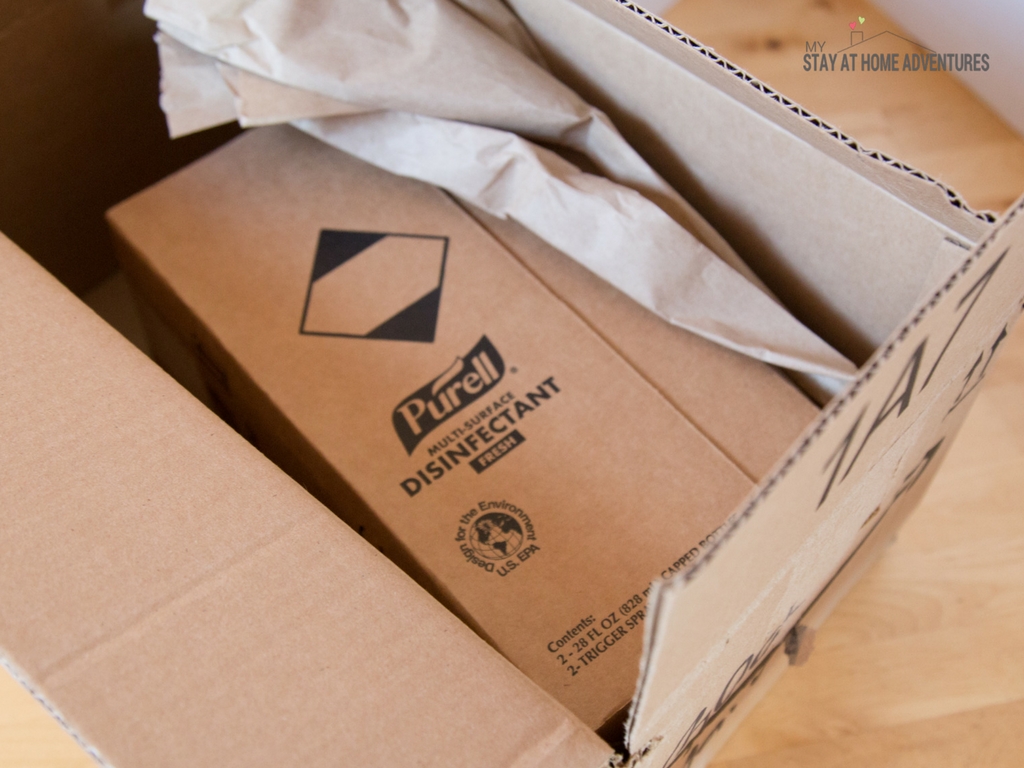 Now, we bought our products on Amazon and 20% off PURELL Multi Surface Disinfectant offer on Amazon.com, and it arrived here in 2 days.
Ordering this product online not only saved me money, but it also saved me time too!
Conclusion
Getting your home ready for a flu-free season doesn't take tons of work nor money just creating a daily habit in your home that includes everyone.
Having a product such as PURELL® Multi Surface Disinfectant around will help you wipe items and sanitize them without having to use multiple products. Again, this will save you time and money and will give you peace of mind that you are doing what you can to get your home flu-free for the season.
Your turn: When it comes to enjoying a flu-free season what are your tips? Share it with us.
Love this post? Check out these posts: