How to Get Rid Of Your Financial Fears
This post may contain affiliate links which might earn us money. Please read my Disclosure and Privacy policies here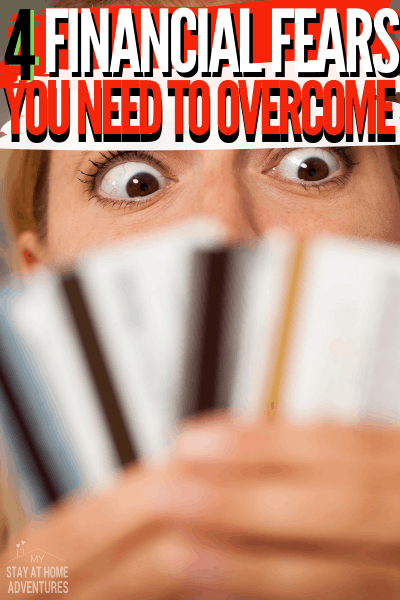 How do you overcome financial fear?
I have financial fears.
I have fears of financial failures.
Funny how even after you think you have your finances in order, I am still having financial fears.
After years of having taking things under control, the fear alone of going back of mismanaging money not only affected me but my family.
One thing I've learned is that people never tell you that once you worked so hard to reduce your debt, the fear of falling back into bad financial habits can get the best of you.
If you let them, but more about that later.
I have managed to work hard and become a stay at home mom like I set out to do a few years ago. I paid my debt, I saved money, and I'm home with my family.
I have started a home business too!
Yet, this is still not enough.
Like many of us, I fear that what I have done so far is not enough.
I am still struggling with where I want to be financially in the future. Do I want to invest? Do we continue to save?
How much is enough?
Are we going to fall victims to old habits again?
I'm sure you worry about retirement. Are you saving enough?
Living paycheck to paycheck is another fear that I'm sure I am not alone.
And I'm pretty sure that people worry about living in debt for the entire life.
Financial fears are real, my friends. Even I suffer from them.
So, what now? What do we do to reduce the amount of financial fear we are suffering?
Look at me!
I worry about a lot of things to the point where I sometimes don't get to enjoy now.
I don't want to have debt, I don't want to live paycheck to paycheck, and quite honestly, I stress over our retirement.
The good news is that your financial fears are fixable. Believe me, they are!
We changed the way we lived and fixed our finances, and below are some tips that I did to help me reduce these financial fears.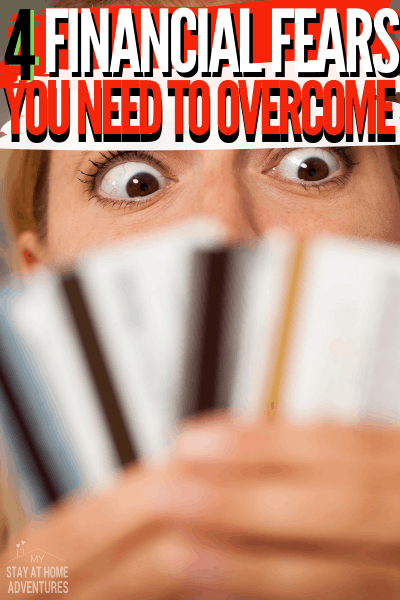 What are the top financial fears?
Fear of the unknown
Many of us worry and stress about the unknown future. The truth is that nearly 40% of the American people don't even have enough money saved to cover a $400 emergency.
And before you think this number is made up, you can download the report here or visit CBS news where they break it down for you.
In April 2019 a report shows that about 29% of households have less than $1,000 in savings according to Magnify Money.
This fear of the unknown can be reduced by starting to save money. Make it a habit to put aside a small amount of money into an account that is not easy to withdraw money from.
We recommend CapitalOne360 and Digit.co to start putting aside money. We used these two accounts ourselves and have been able to save money.
Having money saved will reduce your fear and money stress, and we even have written an article about ways to help you save your first $500 with detail ideas.
Not Having Enough Money for Retirement
Many Americans are fearing not having enough money saved for retirement. According to North Western Union, 1 in 3 Americans have less than $5,000 in retirement savings.
What you can do now is take action now, talk to a financial advisor and making plans to increase your 401K and other retirement accounts.
Job loss
The truth is that our jobs are not secure, well for the majority of us. The truth is that we are not living the way we lived back in the days; the jobs that were there are not there anymore.
The economy will change, good or bad, is how it works and National Unemployment Rate at 3.7% Through June 2019.
I lived with the fear of losing my job, and the stress it gave me was unbelievable. Let's face it, and some jobs love to put the fear on employees and to make them think they are just numbers and replaceable.
But the good news is that in today's world and where we live, we can start side hustles to make extra cash on the side.
I have published an article with over 100 resources to earn extra cash that is very helpful.
Debt
Having debt is another top fear that many people suffer from, and it can't be even physical too. The average American now has about $38,000 in personal debt, excluding home mortgages.
With 18 to 24 years having $22,000 in debt due to student loans and credit cards debt, and by 39, many Americans have about $39,000 in debt.
Now the mentality that debt is good needs to stop. Here's the thing, if having "good" debt is going causing you financially fear, then is not good at all.
You need to pay off your debt fast! Make a plan and get it done. Many people have done this, and the rewards are amazing.
Do this by living below your means, live with less, and consider a side hustle. Always have an extra income coming in to help if this situation happens.
What helps me get over my financial fears.
My financial fears are getting in the way of what's essential it seems
Do I want my children to think of me as an annoying mom who followed a to-do list each day, and when she doesn't get it done, it upset her?
Do I want my children to think that their childhood was boring because mom and dad were too cheap?
When we found out, we were getting a nice size income tax return we asked ourselves what the game plan was. What was our plan with this refund? Our answer was to save; just save it.
Wait a minute!
Just save it?
Do we even know what we are saving for?
Just Save It?!?!
Debt paid – Done
Emergency fund fully funded – Done
Cutting expenses to continue to save – Done
We pay our credit cards fully each month.
Appreciate what I have!
Let's be thankful that we have paid our debt down, that we have saved enough money and that we have our health and our children.
I know that we had our money struggles before, but I think it's time for us to start enjoying ourselves more.
Stop worrying about the unknown
I wrote down on my goals for this year that we will be enjoying life more. I am guilty that I am worried about an unknown future. I am worrying that I will be back to my old habits and get back into debt.
Am I not going to enjoy life because of my fears?
Are we going to continue to save money?
Yes, but if I stop struggling and go with the flow, I will get there faster. Meaning I need to stop the inner struggling when my children suggest a family activity or a vacation or my husband wants to enjoy a couple's getaway!
Conclusion
Life is too short, and I needed to stop this! I need to continue to live my life and enjoy these moments. I worked too hard to become a stay at home mom, and now I'm living in fear and not enjoying those precious moments I so craved when I worked.
I will continue to manage our finances and save money, but I'm also going to enjoy my life and my family more. Money is not what's important here, and I need to take a step back and get a reality check.
We are saving money, we are living frugally, we are doing great managing our finances, but when it starts to interfere with my family, then it is time to check myself. I know that we will get there faster if I step back and put my fears asides.
How do you get rid of your financial fears?