Feng Shui On A Budget
This post may contain affiliate links which might earn us money. Please read my Disclosure and Privacy policies here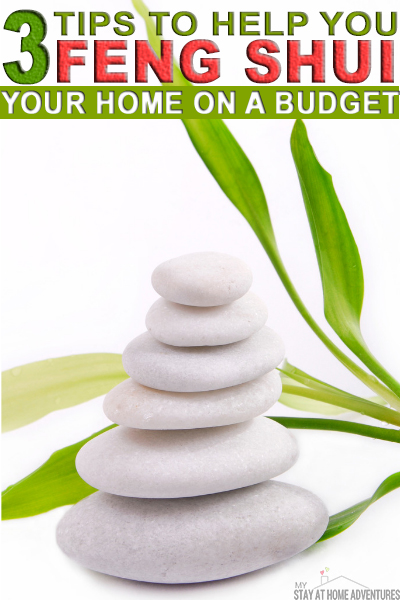 Can we talk feng shui for a minute here? As a home adventurer discovering new things to do on a budget thanks to a conversation with friend I decided to learn more about feng shui.
And as you might have guest it, feng shui on a budget because that's how we roll.
Once known as a funky trend back in the day, feng shui is commonly misunderstood as being tricky to practice or only helpful for those with eclectic taste.
But take a closer look and you'll see that with a few small changes on a small or no budget, feng shui can help you refresh your house just in time for spring.
The practice originated thousands of years ago, but has practical uses for today by encouraging and supporting organization and decluttering efforts.
This is also an opportunity to have some fun and get creative in placing your furniture and exploring decor items you might love but have no idea what to do with or that could use a new spot.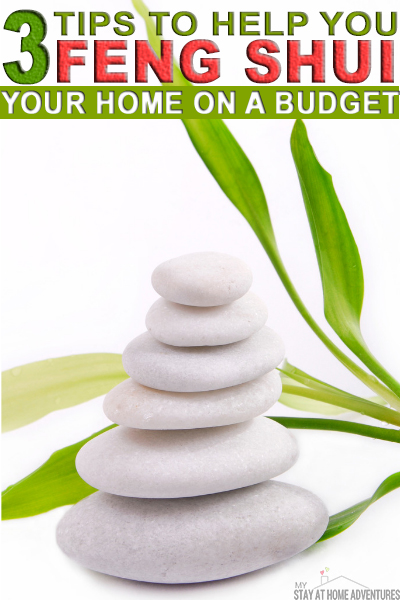 3 Tips To Feng Shui On A Budget
One of the most exciting parts of feng shui is that there's no need to spend tons of money, you can use what you already have and simply move things into new spots and different arrangements and still enjoy the results.
What are the basics of Feng Shui?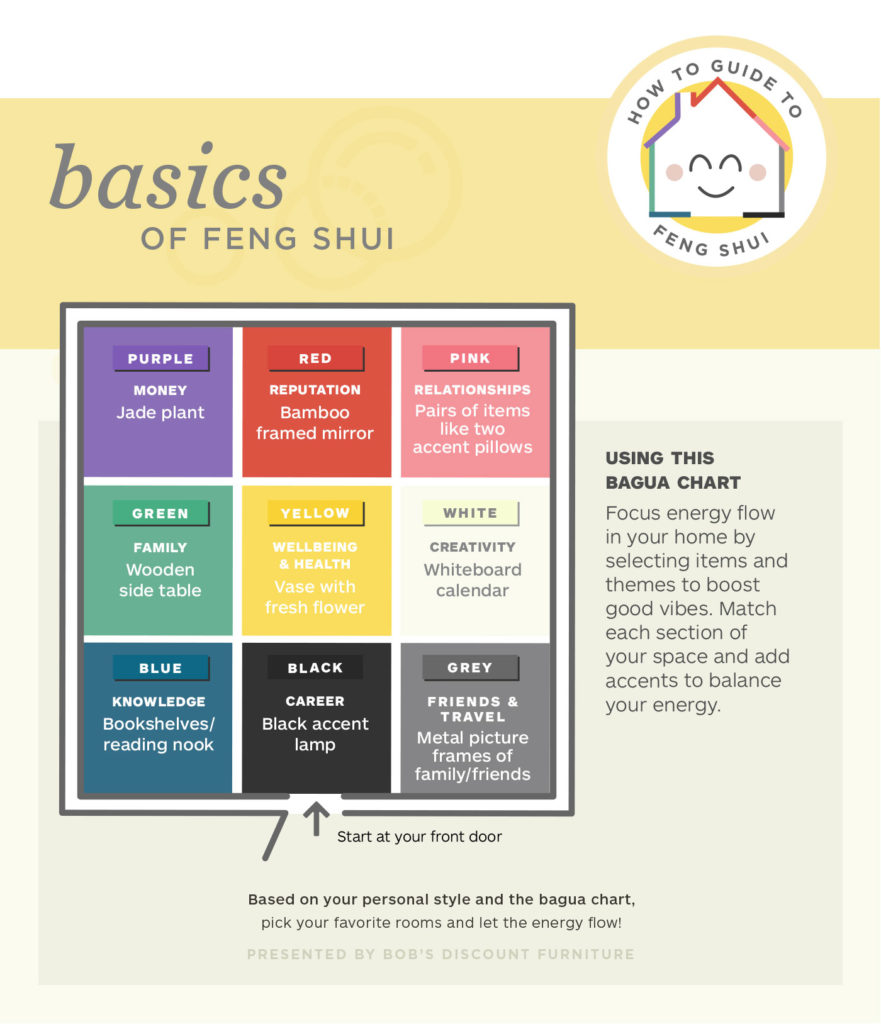 Focusing on color is one simple way to begin your feng shui journey. Use the bagua chart as a guide and simple way to map out your space to bring you the best energy and intention you want for your home.
Start by standing at the front entrance of your home and lay the chart over your floor plan as best you can.
It's not an exact science, so general estimations of location and shape will work even if your floor plan isn't a perfect square.
Matching up general areas like "back left corner" and "left middle area" and even blending colors and materials if it doesn't quite fit exactly will all get you closer to balanced feng shui.
If you are looking for new items to include in your design, make your money count and select pieces that work as year-round decor or seasonal items that are on sale. Think about what would be easiest for you to incorporate and go with the flow.
Basing your choices off color might be easier if you want to add small touches of decor, going by materials might be better options to explore when selecting larger furniture.
Find vases, picture frames, accent pillows, throw blankets and other items that catch your eye in corresponding colors to the areas they'll work best in according to the bagua chart.
However, if a neutral palette is more your style, focus on the materials and objects that can channel the best energy to keep your design cohesive.
For example, a colorful option if your family room is towards the back right corner of your home, think of a pink throw blanket, or a landscape image that features an element of the color pink.
To achieve a more neutral look for the same location focus on pairs of items, like two accent pillows or a set of two decorative candles to place on a mantel or end table.
Using the bagua chart is a way to invite good energy into the parts of your life and home as well.
If you might need be needing to finally banish winter colds and illnesses from the house, try to focus some energy on the center of your space with fresh flowers or a yellow accent.
How To Feng Shui Your Bedroom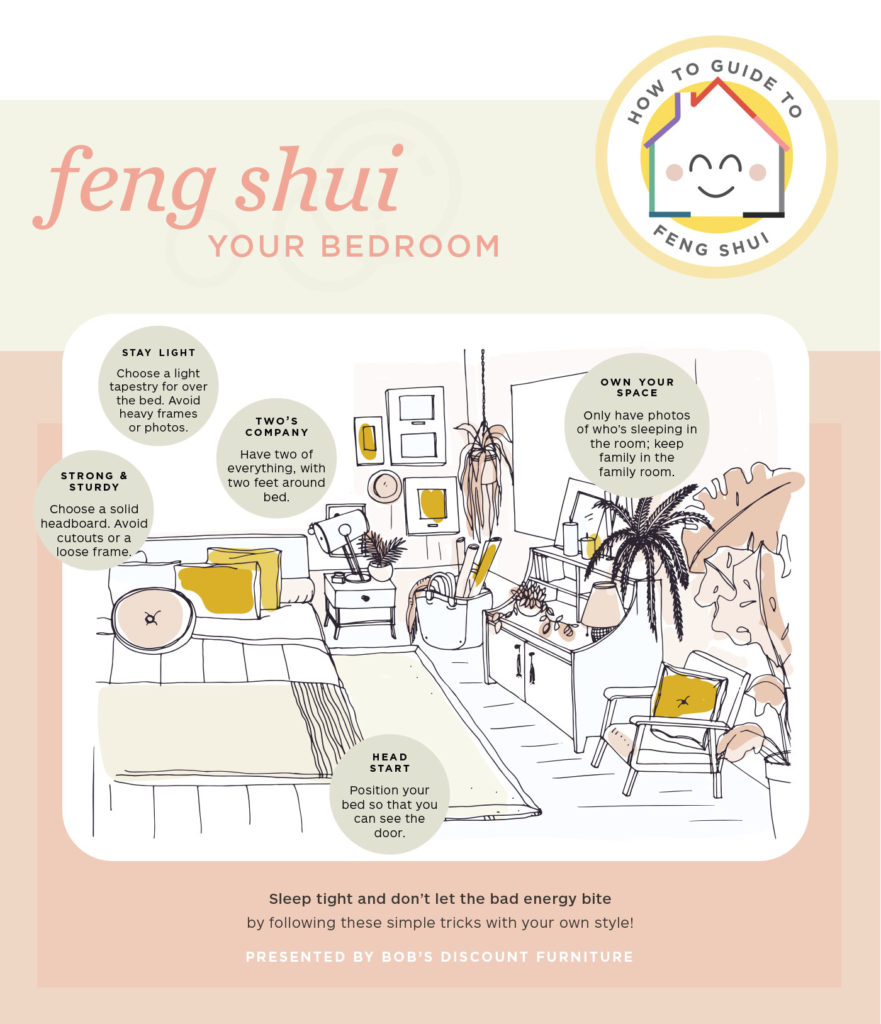 The bedroom is one place where balancing your energy can also help serve a purpose, since a positive, organized environment can lead to better sleep. A few small changes can help you get better rest and spruce up your design at the same time.
While you can't DIY a mattress, there are quality options that don't cost a fortune and help you capitalize on your amazing good energy by being well rested.
Depending on what your space allows for, try and position your bed along a solid wall that faces the door, known as the "commanding position" in feng shui.
Solid headboards and bed frames are also preferable as they don't introduce a "cutting" effect above you.
While sturdy furniture is a feng shui positive, stay away from hanging heavy frames or items above your bed and opt for a blank wall or a soft tapestry or trendy macrame wall hanging.
Related posts:
Organization is one of the most important aspects of keeping a bedroom functional and relaxing.
Having a place for everything and everything in its place can cut down on time running around in the mornings to get ready and the stress caused by seeing "the chair" or favorite collection area every day.
Find a system that works for you and is realistic for your lifestyle and available space. Full organizer sets and closet systems might look great, but if it doesn't fit in your space or routine it can end up being a very expensive way of only causing more disruption.
How To Feng Shui Your Living Space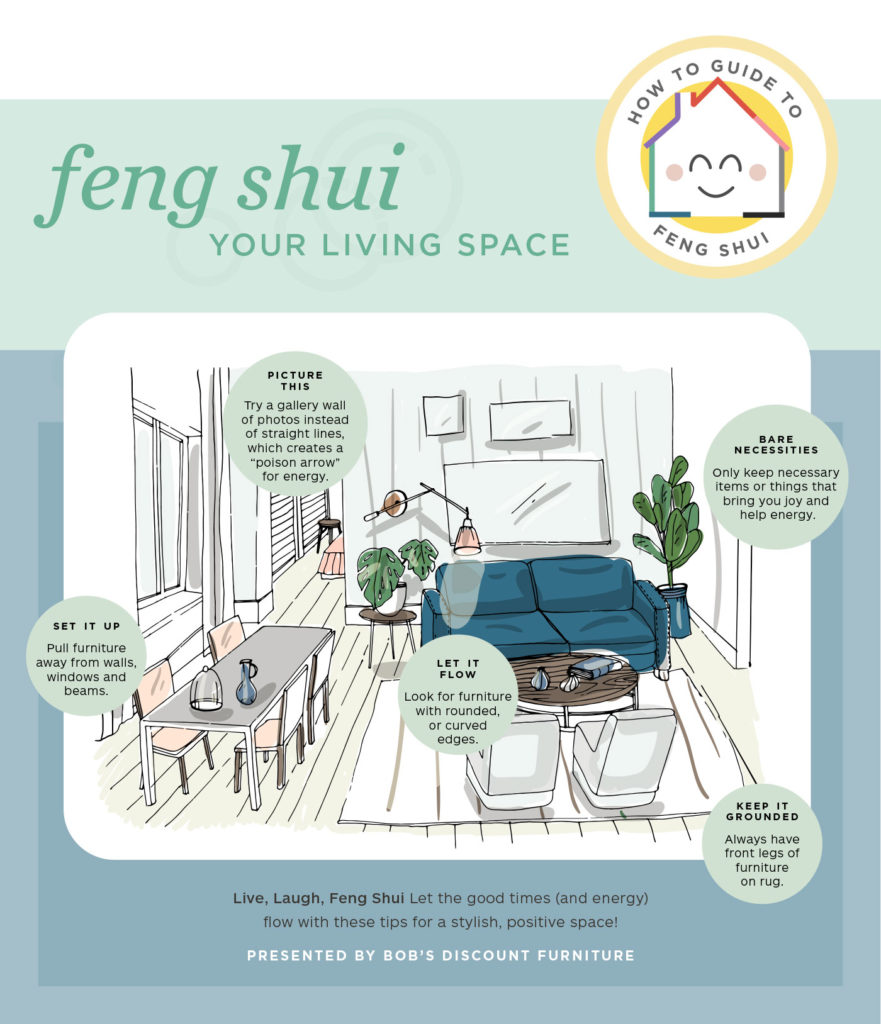 One of the most cost-effective ways to use feng shui is simply taking a good look at your rooms and how you can refresh your design just by repositioning furniture you already have.
Switching up your floor plan could be as easy as moving decor around to new locations, or thinking of creative ways to reconfigure your seating.
Some quick tips to get you started:
Pull furniture away from walls by a few inches instead of flush with walls. If your room is large enough, see if you can float your sofa towards the middle anchored by other chairs.
Try not to position sofas or large seating under windows, large beams or heavy framed pictures. This causes the same "cutting" effect as in a bedroom.
For rooms that need rugs make sure that at least the front two legs of any piece of furniture are on the rug to "ground" the energy and balance out the room.
Staggered alignment for gallery wall pictures are better than straight lines since they create a "poison arrow" in feng shui, letting all the good energy flow out. Look for different sizes and shapes, bonus points for using the bagua chart to find frames in the best materials for the location!
Create smaller conversation areas and think of creative ways to incorporate storage to cut down on clutter and the urge to buy things you don't really need.
You have learned how to feng shui on a budget and as you can see you don't really have to spend a lot of money.
Being conscious of your finances doesn't mean you don't get to enjoy the things you love, such as home decorating and organization.
With these tips you will be able to feng shui your home without breaking the bank.
Your turn: You just read how to feng shui on a budget and we want to know what other tips and ideas you have. Share them with us!