When to Splurge vs. When to Save
This post may contain affiliate links which might earn us money. Please read my Disclosure and Privacy policies here
When to Splurge vs. When to Save When Building Your Wardrobe
If you love shopping, you know how difficult it can be to decide what clothing items to purchase, and what items to place aside for another day.
If you find yourself standing in the checkout line with a pile of garments thinking, "Do I really need this top?", you might need to reevaluate the clothes that are worth investing in versus the items you simply don't need.
Instead of grabbing items that you love at first glance, consider how often you'll wear it, and whether or not the item would make a good investment.
Below is a simple guide to help you better understand what items are worth the investment, and other ways you can maximize your wardrobe budget to help you save money.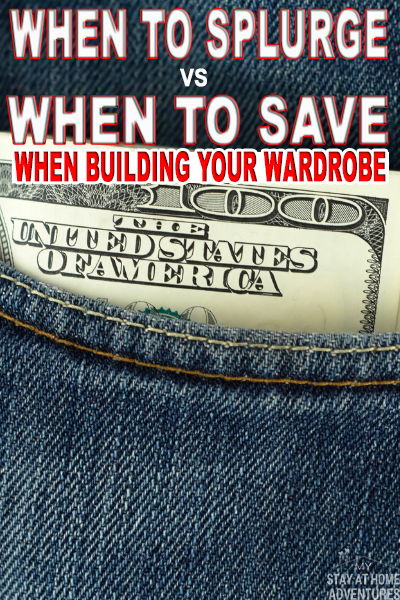 What Items Should I Splurge On?
The perfect pair of jeans
Nothing beats the feeling of wearing the perfect pair of jeans, though it can be difficult to track down the right brand, fit, and style that flatters your figure while also helping you feel confident.
It's common for the jeans that feel – and look – the best on your body to also come along with an expensive price tag attached. When it comes down to deciding whether or not to splurge, like with any purchase, consider how often you're going to wear them.
Jeans are timeless, and pair perfectly with almost any top, whether you're dressing them up for a work event or dressing them down for a weekend activity. They're also super versatile, and you're likely going to wear them often.
Don't be afraid to spend a pretty penny to get the jeans that suit your style and fit your body. The price tag can mean that you're spending more money, but it also generally means that the jeans are made from quality materials and will last you for years to come!
Comfortable shoes
Shoes are another part of your wardrobe that often come at a higher cost. Though there are a variety of stores where you can find affordable footwear, you really can't go wrong with investing in a pair of super stylish and comfortable shoes.
You wear shoes everyday, so it's important to find the ones that keep your feet comfortable while also showing off your sense of style.
When you find a pair that fits perfectly, feels good on your feet and help boost your confidence, it's okay to spend that extra money.
A pair of stylish, inexpensive shoes that are also super comfortable can be difficult to come by, so it's okay to splurge when you find the perfect pair for you.
Related posts:
A reliable coat
Nobody enjoys feeling cold, wet, and just plain uncomfortable in rainy or snowy conditions. That's why a quality rain or winter coat is another investment you can feel good about making.
Oftentimes the more affordable jackets are "weather resistant," but do not completely guard you against nature's elements.
Quality rain jackets, coats, and other outerwear can also come at a higher price tag, but they will more often keep you dryer in rainy weather and help you feel warm and cozy on a chilly winter day.
Splurging on a coat that will keep you comfortable is an investment you are sure to feel good about.
How Can I Save Money?
Shop secondhand
A great way to save money on your clothing expenses is by shopping at second hand stores. "Thrifting" is super trendy now, plus it's a great way to support a sustainable, eco-friendly lifestyle!
Purchasing clothing items from second hand stores also keeps these clothes out of landfills, which could otherwise greatly contribute to the pollution of our planet.
Donating your old clothes to consignment shops like Goodwill and the Salvation Army also helps create a more eco-friendly environment, plus the money earned goes toward a good cause.
Not only is shopping at consignment shops good for the environment, it allows you to find brand-name clothing at affordable prices.
What's better than tracking down brands like J. Crew and Free People?
It's even easier to shop secondhand these days with a variety of online consignment shops right at your fingertips. Thrift shops like thredUP offer a wide variety of clothing items and accessories from your favorite brands at prices that are also easy on your budget.
You can also donate your clothes to thredUP and they will donate money to a charity of your choice. More information about this initiative can be found here.
Choose versatile tops and bottoms
Another way to save money when shopping for clothes is to choose items that can easily be mixed and matched with different articles of clothing in your wardrobe.
If you choose clothing items of neutral colors, like black, white, and beige, these tops and bottoms can be paired with a variety of other things in your closet.
For instance, a plain black T-shirt can look just as good with a pair of jeans as it does with flowy skirt.
Choosing versatile tops and bottoms can also help you make more out of your wardrobe because you'll be able to create more outfit combinations.
Try spending less of your budget on statement pieces and more time searching for clothing items you'll wear more often and go better with the pieces you already own.
Rent for special occasions
Have a fancy date night, business meeting, or wedding on the horizon, but don't see the point in spending your money on an expensive dress or outfit?
Try renting clothing items from online shops. Rent the Runway is just one source where you can borrow designer clothes and accessories for at times a quarter of the original retail price.
There's no sense investing your money in a clothing item that you'll only wear once. Save your money by finding stores to rent anything from tops, bottoms, dresses, accessories, and everything in between.
It can be difficult to know when to splurge and when to save on different clothing items and accessories.
What's important to realize is that it's okay to splurge on quality, reliable items now and then!
Just remember, there are still a ton of ways that you can save money while also finding the clothes that you're looking for.