8 Things You Didn't Know About Second-Hand Baby Clothes
This post may contain affiliate links which might earn us money. Please read my Disclosure and Privacy policies here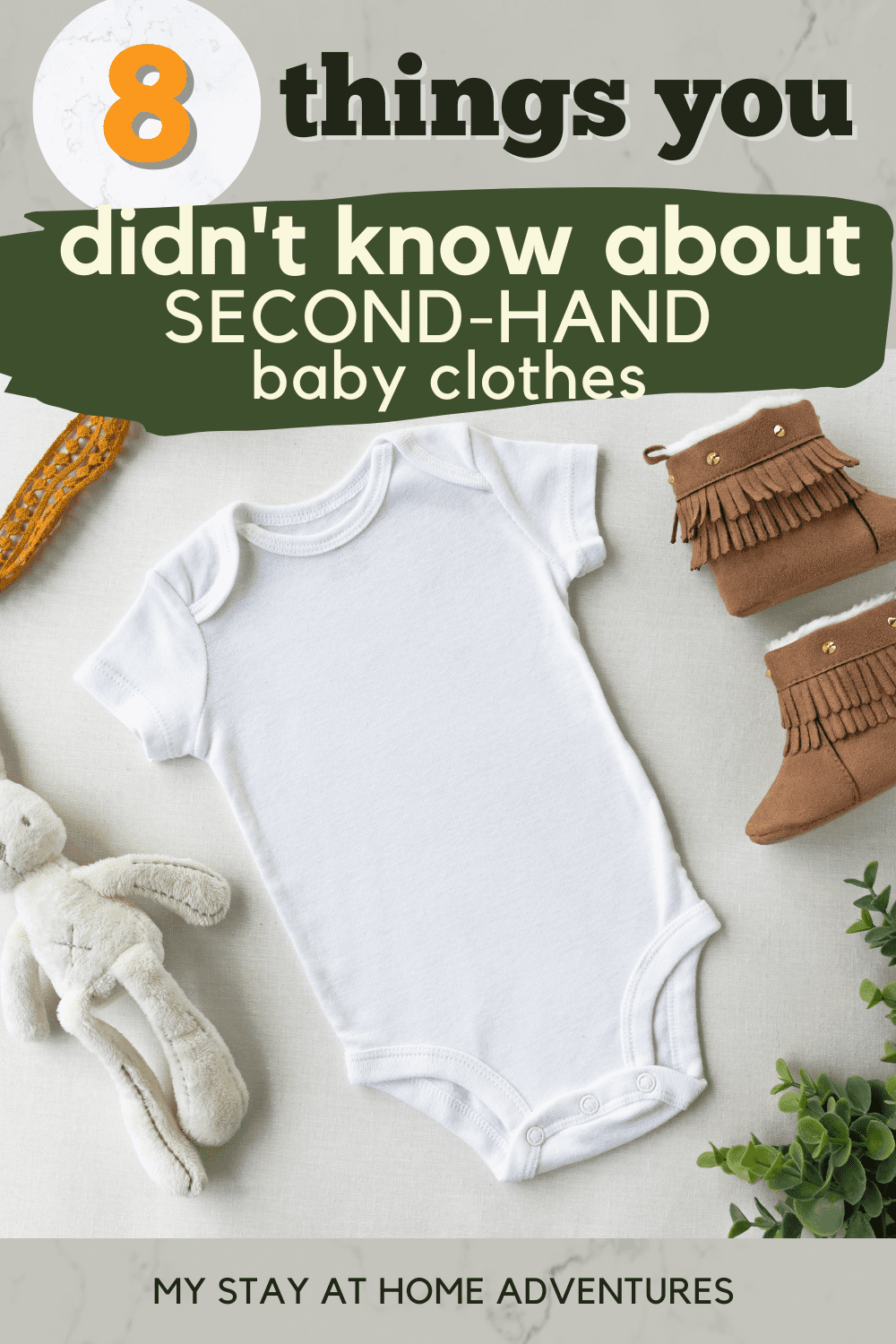 Can we talk about second-hand baby clothes for a minute? When it comes to shopping for your baby, everything can seem so ridiculously expensive. It's incredible how such teeny tiny things that we will barely use for a few weeks can be so pricey. And clothes are one of the most unbelievable ones. How can we get a cute, ethically sourced, locally made cotton top for ourselves for a reasonable price, and yet the same one for babies costs twice as much?
Luckily, there are plenty of places to get second-hand baby clothes. Unluckily, few of us know much about them! Here are eight cool facts to get you started: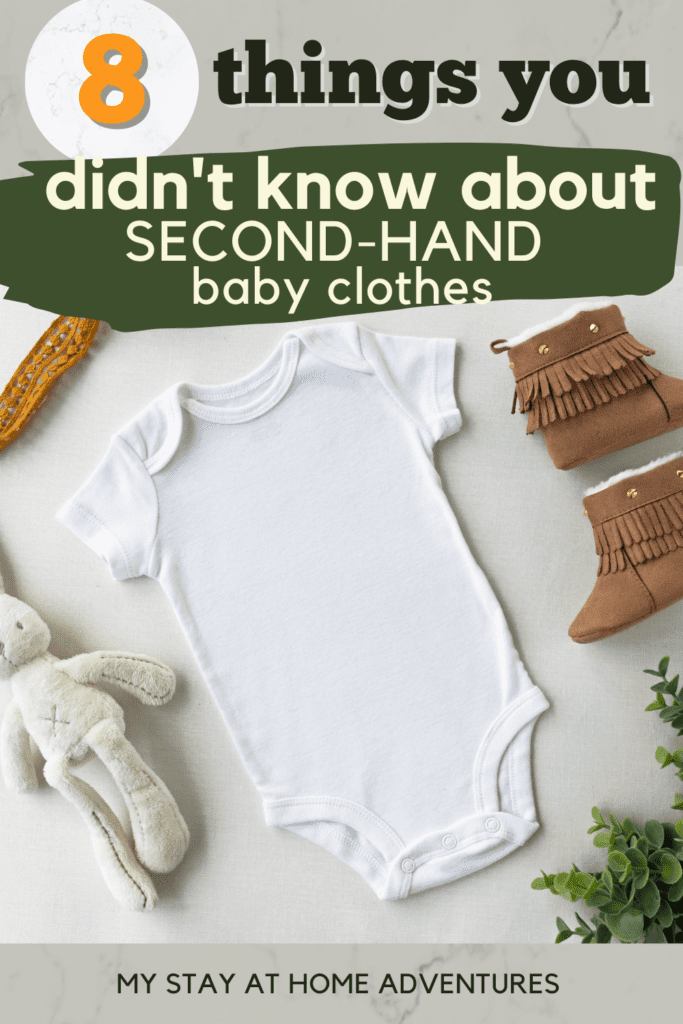 1- Most Aren't Even Worn
Here is a mind-blower for you: Most second-hand baby clothes are new, some even with tags! The thing is, we often overestimate how many clothes we will need for each age range.
Or we will buy loads of tiny baby and newborn clothes, only to have a baby who is in 0-3 month clothes by the end of the first week. Or we will get gifted loads of super cute things from friends and relatives.
This means that most "second-hand" baby clothes are items that were used twice, if ever used at all.
Of course, make sure to remember to wash them, even if they are new with tags! Factory chemicals, residue from storage bags, and pollutants or irritants from the last owner's home can be removed quickly with a non-bio laundry detergent.
2- It's Super Eco-Friendly.
12.8 million tonnes of textiles and clothes end up in landfills every year in the USA (when they could easily be recycled), and many unused baby clothes do, especially for the reasons given above.
By buying second-hand, you are keeping these items out of landfills, and if you donate them again, resell them, or recycle them after use, you can keep them out of landfills for good!
What is more, if you plan on cloth diapering for the planet, it can be extra eco-friendly to use second-hand diaper covers or unused diaper liners.
Check out these posts:
3- Giving Back And Giving Again.
When you buy from charities, you are helping them to support a cause you believe in. When you buy from a local parent, you give them money back towards their child's welfare.
When you buy from a second-hand or vintage shop, you support a small business in a harsh economy.
And when you are done with the baby clothes, you can donate them to charity or clothing banks, sell them to other parents who need them, sell them to a small second-hand or vintage business, or put them into the fabric recycling bin. What goes around comes around!
4- Fairer Business.
It can be challenging to buy ethically sourced baby items. For some reason, very few companies make fair-trade, rainforest-friendly, child-labor-free baby clothes.
If you worry that your baby clothes might have been made by someone who is still in diapers themselves, but don't have the money for a more ethical brand, then buying second-hand breaks the cycle of feeding the greedy corporations that allow this.
Instead, you are giving your money back to local, ethical second-hand businesses, charities, and parents just like you.
5- Babies Never Go Out Of Style.
Do you know how you hold onto that pair of shoes, or those jeans, hoping that fashion will eventually turn around and they'll be trendy again?
Now, have you ever seen a baby wearing anything at all and said: "That 'lil monkey' jersey is so last season!"? No? Never? That's because babies look cute in anything.
I have seen babies in everything from mini-me outfits imitating their parents to chicken-shaped rompers to vintage baby gowns over fifty years old. They look adorable in all of them.
So why pay for the latest in baby fashion when your bundle of joy is going to be cute in last year's trends?
6- Making A Profit?!
Some very diligent parents will sell on their second-hand baby clothes one by one and make sure they get their money's worth. Likewise for charities, or second-hand shops.
But sometimes a parent, charity, or a shop will have way too much to sell, and way too little time.
Then they will sell you a "bundle" of second-hand clothes, which means you pay as little as a fifth the usual price, but you have to take it all.
Having done this myself, I can say that when your baby outgrows these items, you might be surprised to list them online, sell them, and make back more than you originally paid for them. Considering all the expenses involved in having a baby, making a little profit is a welcome break!
7- More Variety.
Part of the reason we end up with so much surplus of baby clothes in the first place is that we love having loads to choose from.
Most of us would like to have ten different hats, fifteen different bibs, and thirty different tops for our baby.
We don't need it, but we just think they look adorable in this one or that one, and we get caught up in it all.
If you're getting the clothes second-hand, you tend to get a great variety of items for much less, giving your more money to spend on more variety, if that is what you want.
8- Stains. So Many Stains.
Babies will stain things. Everything. Spit up, poop, pureed foods, crayons, floor dirt, diaper cream… Your baby's everyday clothes are going to end up getting stained.
Even if you want to buy some brand new clothes in store, so you have a specific item from your wishlist or something smart for a big event, it is still worth getting some second-hand items.
Because when the day comes for weaning or learning to paint, it is a lot less frustrating when the permanently stained shirt, onesie, or bib is a second-hand one.
To Make A Long Story Short:
Second-hand baby clothes are a great option for a parent on a budget, an eco-conscious momma, or anyone who just wants to work things as efficiently as possible for those first few months.
Check out your local charity/thrift stores and community selling groups and see what you can get your hands on!
About the Author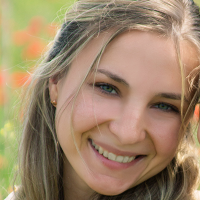 Jenny Silverstone is the mama of two, a blogger, coffee addict, and the brains behind MomLovesBest.com. She loves writing about and promoting eco-friendly family life, sharing her journey through motherhood, and giving little tips and tricks to become a more well-rounded parent.