Why It is Important to Look for Baby's Milestones
This post may contain affiliate links which might earn us money. Please read my Disclosure and Privacy policies here
This post is made possible with support from the Association of University Centers on Disabilities through a cooperative agreement with the Centers for Disease Control and Prevention's "Learn the Signs. Act Early." program. All opinions are my own.
During 2016, we welcomed our newest baby boy. From the moment our babies are born, we begin taking them to doctor's appointments and watching for the next milestone – smiling, making sounds, recognizing faces.
Our monthly checkups turn into annual checkups. At each of these visits, the doctor reviews a list of milestones, discusses our child's progress with us, answers our questions, and recommends courses of action to take if there are any concerns.
Skills such as taking the first step, smiling for the first time, and waving "bye bye" are called developmental milestones. Children reach milestones in how they play, learn, speak, act, and move (crawling, walking, etc.).
When I was a first-time mom, there was so much to learn and do. Having the right tools, and understanding when they became more active and on the go, was an adventure for both my kids and myself.
I made mistakes and learned from them, and today I will say that these tips to help raise healthy babies were something I used and will continue to use.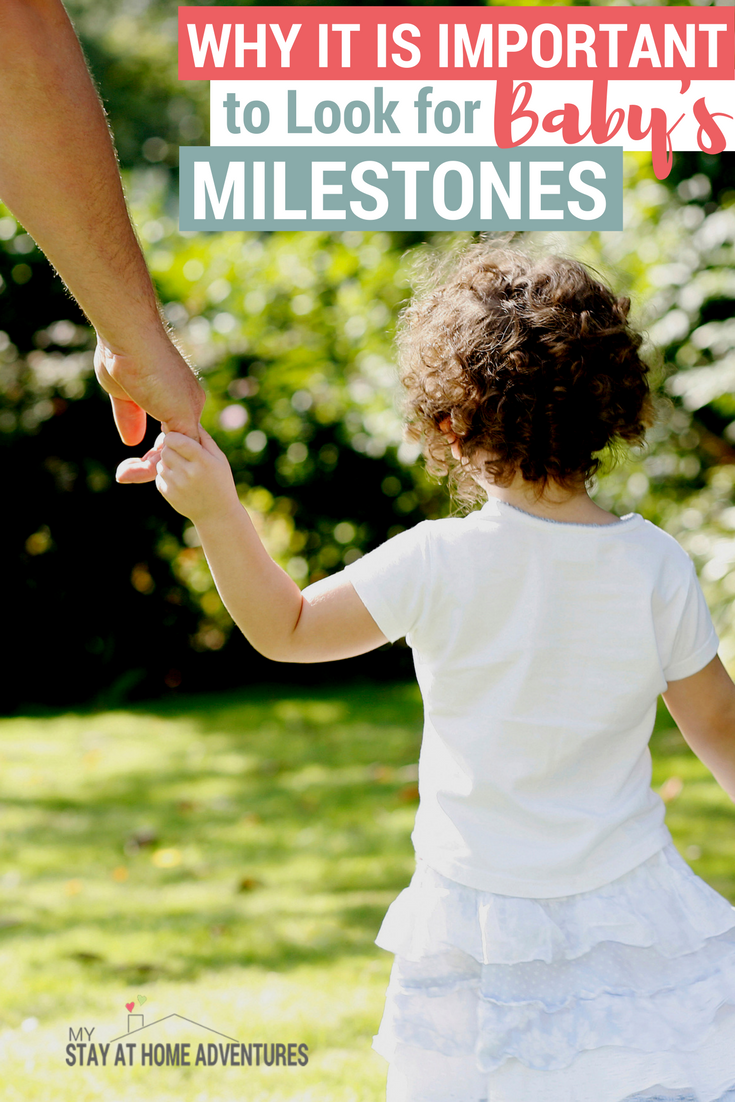 My baby is one year old.
Even though he's not my first baby, I was particularly worried about his ability to walk and if he would have any speech problems.
Because I have two children on the autism spectrum.
Check out these posts:
It is recommended that parents review the milestones lists regularly before every well-baby checkup is great timing since talking about baby's progress or any concerns with the doctor is so very important. So, I reviewed the CDC's Learn the Signs. Act Early. Website.
Here's what I reviewed for my baby:
One-Year-Old Milestones
Language/Communication
Responds to simple spoken requests
Uses simple gestures, like shaking head "no" or waving "bye-bye"
Makes sounds with changes in tone (sounds more like speech)
Says "mama" and "dada" and exclamations like "uh-oh!"
Tries to say words you say
Movement/Physical Development
Gets to a sitting position without help
Pulls up to stand, walks holding on to furniture ("cruising")
May take a few steps without holding on
May stand alone
Social and Emotional
Is shy or nervous with strangers
Cries when mom or dad leaves
Has favorite things and people
Shows fear in some situations
Hands you a book when he wants to hear a story
Repeats sounds or actions to get attention
Puts out arm or leg to help with dressing
Plays games such as "peek-a-boo" and "pat-a-cake"
Cognitive (learning, thinking, problem-solving)
Explores things in different ways, like shaking, banging, throwing
Finds hidden things easily
Looks at the right picture or thing when it's named
Copies gestures
Starts to use things correctly; for example, drinks from a cup, brushes hair
Bangs two things together
Puts things in a container, takes things out of a container
Lets things go without help
Pokes with index (pointer) finger
Follows simple directions like "pick up the toy"
After reviewing these milestones, I was relieved to see that my baby is right on track.
You can visit the CDC's Learn the Signs. Act Early. website to print the checklists or download the new free CDC's Milestone Tracker app for Android or iPhone so you can take the milestone checklist with you and talk with your child's doctor at every visit about the milestones your child has reached and what to expect next.
My baby is reaching his milestones and is not showing any sign of autism, it was a concern as a parent since we wanted to make sure we were doing the right thing for him.
The best thing you can do is be proactive in your child's health. From birth to 5 years, your child should reach milestones in how he plays, learns, speaks, acts and moves. Track your child's development and act early if you have a concern.
I can sit here and tell you that when I had my second child 12 years later, I expected to go through the same thing as I did with my first child. The truth was that my daughter was an early walker and skipped crawling. With my son, he loved to crawl, to sit, and he loved to bounce in his bouncer. He also enjoyed to "run" instead of walking.
My 3rd child was the most laid back baby ever. He didn't enjoy being bounced and was a late walker. His personality was totally different from any of my children, and he was such a quiet baby back then, and very observant.
The point is that not every baby is alike, and as much as many people will give you baby advice and time frames for your baby's milestones, it all comes down to your baby. Always remember that.
As my youngest one grows, these easy tips will help me be more prepared. As he continues to meet new milestones, I will make sure that I am as prepared as I can be to enjoy those moments.
Here are free resources provided by the CDC's Learn the Signs. Act Early. initiative :