Financial Goals With a Budget: (6 Steps to Help Succeed At Them)
This post may contain affiliate links which might earn us money. Please read my Disclosure and Privacy policies here
In financial planning, financial goals are essential components for having a successful financial life. In order to increase your financial security and gain monetary freedom, you will need to create financial goals and work towards them.
What Are Financial Goals?
So, what are financial goals? Financial goals are simply a target you want to achieve with your money. They can be short-term, such as saving up for a new car in the next year, or long-term, such as saving for retirement.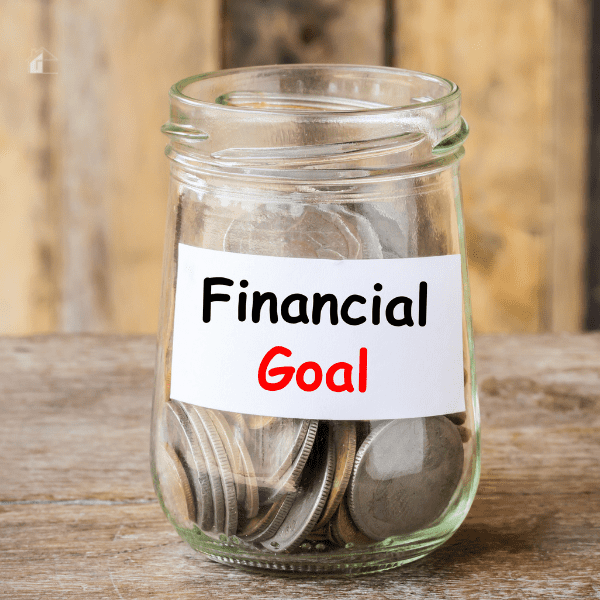 The great thing about financial goals is that they can be tailored to fit YOUR unique financial situation. So, if you have a specific financial problem that you're struggling with, financial goals can help you solve that issue and get on the path to financial freedom!
How Do You Create Financial Goals?
Creating financial goals is a lot easier than you think. Just follow these steps:
You might like these posts:
1. Determine what you want to achieve financially:
Dream big! Your financial goals do not have to be restricted by your income or current financial situation. The more ambitious your goals, the more motivated you will be to achieve them.
When determining your financial goals, ask yourself questions such as: "How much money do I want to have saved by a certain date?" "How many years do I want to be able to financially support myself without working?" and "How much money do I want to donate to charity each year?"
2. Create a budget:
In order to achieve your financial goals, you will need to create and stick to a budget. When creating your budget, allocate as many financial resources as possible towards achieving the financial goals you created in step 1.
To help yourself prioritize financial goals, separate financial goals into those that are short-term and those that are long-term. For example: "I want to save $5,000 for my annual vacation within the next two years" would be a short-term financial goal, while "I want to save up for a down payment on a house within the next five years" would be a long-term financial goal.
3. Make a plan:
Now that you have determined what you want to achieve financially and created a budget to prioritize financial goals, you need to make a financial plan. Your financial plan should detail specific steps that you will take to achieve your financial goals.
For example, if you are trying to save up money for an expensive purchase, such as a new car or house, make sure you include this financial goal in your budget. Then, make a financial plan that details how much money you will save each month towards this financial goal.
4. Implement your financial plan:
After following steps 1-3, it's time to implement your financial plan and get started on meeting your financial goals! Take the specific steps outlined in your financial plan and start working towards them.
If you are having trouble sticking to your financial plan, consider setting up a financial tracking system to help keep yourself accountable. Several financial tracking apps and websites can help you do this.
5. Review and adjust your financial plan:
As time goes on, your financial situation will change. For example, you might get a new financial opportunity, such as a raise at work. Or, you might run into a financial roadblock, like an expensive medical bill.
As your financial situation changes, you need to go back and review your financial goals and make any necessary adjustments to your financial plan that will help you meet these goals in the best way possible.
6. Celebrate your financial successes:
When you reach a financial milestone, celebrate it! After all, achieving financial goals is something to be proud of. Treat yourself to something nice, or take the family out for a celebratory dinner.
Financial goals with a budget can be gratifying and help set you on the path to financial success. Follow these six steps, and you will be sure to achieve financial goals in no time at all!
To conclude, it is essential to reiterate that financial goals should be ambitious yet achievable. Like anything else in life, the harder you work at something, the more likely you are to succeed. So follow these six steps when creating financial goals, and you will be well on your way to a brighter financial future.