Saving money is always on my mind and one of the hardest to maintain throughout the year. As simple as it may sound, saving money is one of the most challenging when it comes to keeping up with our personal finances. To help you start saving this year, here are 40 ways to save money that work!
We talked about saving money, a lot, on this blog; and if saving money was so easy, we wouldn't be in such financial messes in this country. We are more focused on spending money than saving money it seems at the moment; and if any of these 40 ways to save money inspire you and helps you to save, then our job here is done.
The truth is that we have about covered every way to save money here, and it seems that as the year passes, new ideas to help you save money just keep coming. Just this year, we started using Digit to help grow our savings, and we simply love it.
Why is saving money important?
Money not saved will cost you more money.
Like stated above, if you don't have the funds to pay for an emergency, it could cost you more money. Not having money to fix your car, you decided to charge it to your credit card.  Credit cards will charge you an outrageous amount of interest if is not paid in full that month.
If you don't use your credit card and use a cash advance place, you will pay fees and interests as well. If you decided not to pay one of your bills and use that money to pay for your car service bill, you would pay a late fee for not paying your bill one time. There is even a service reinstated fee for having your service shut off due to no payment.
Do you see the effects of not saving money? Credit cards, cash loan services, and not paying your bills are not ways to pay for emergencies. The money that you have saved is what you need to pay for your emergencies. No extra cost at all, and no stress!
Check out these posts:
Peace of Mind
Knowing that you have money saved will reduce your stress level. No more worrying about how you are going to afford for that unwanted emergency (like that noise in your car's engine that is quickly getting worse). As you save money, your stress level will go down because you know you have the money to cover it.
Control
When you save money, you have more control of your life. I didn't enjoy my job, and I wanted to stay at home with my kids. We had enough money saved that when I had to quit my job, we knew we would be OK because we had the funds to helps us get to the next chapter of our lives.
You can control your money and not let money control you. Fast forward to today and I work from home, and every time we continue to save, we tell our money where to go; not the other way around.
Now that you know why saving money is important, I hope you get inspired with these 40 ways to save money that will work!
40 Ways to Save Money That Works!
Live by the adage: Use it up, wear it out, make it do, or do without
Budget – track every single dime you spend
Buy used
Don't buy it on sale if you don't need it
Scrape containers for the last bit
Pay all bills on time.
Avoid impulse buying; wait 3 days before buying anything
Coupon, shop around for the best deals
Maintain your things
Avoid buying coffee
Pack lunch
Utilize leftovers
Cook at home
Freeze meals
Buy generic
Create a shopping list; stick to it
Don't go grocery shopping hungry
Replace soda with water
DIY soap, laundry detergent, and dishwashing soap
Cut cable
Cut music subscriptions; try Pandora, Amazon music, or iTunes radio
Cancel gym memberships; try at-home workouts
Get magazines at your local library instead of buying them
Rent movies from the library instead of buying them
Find free or money-making hobbies
Carpool
Never buy toys new
Plan gift giving ahead of time
Turn holed jeans into shorts
Resell unused clothing
Learn how to sew buttons
Buy clothing used
Shop clearance racks
Find discount chains
Shop out of season
Avoid fads and trends
Keep your wardrobe flexible for a mix-and-match
Avoid spending temptations (people, locations, websites)
Enjoy living in financial security!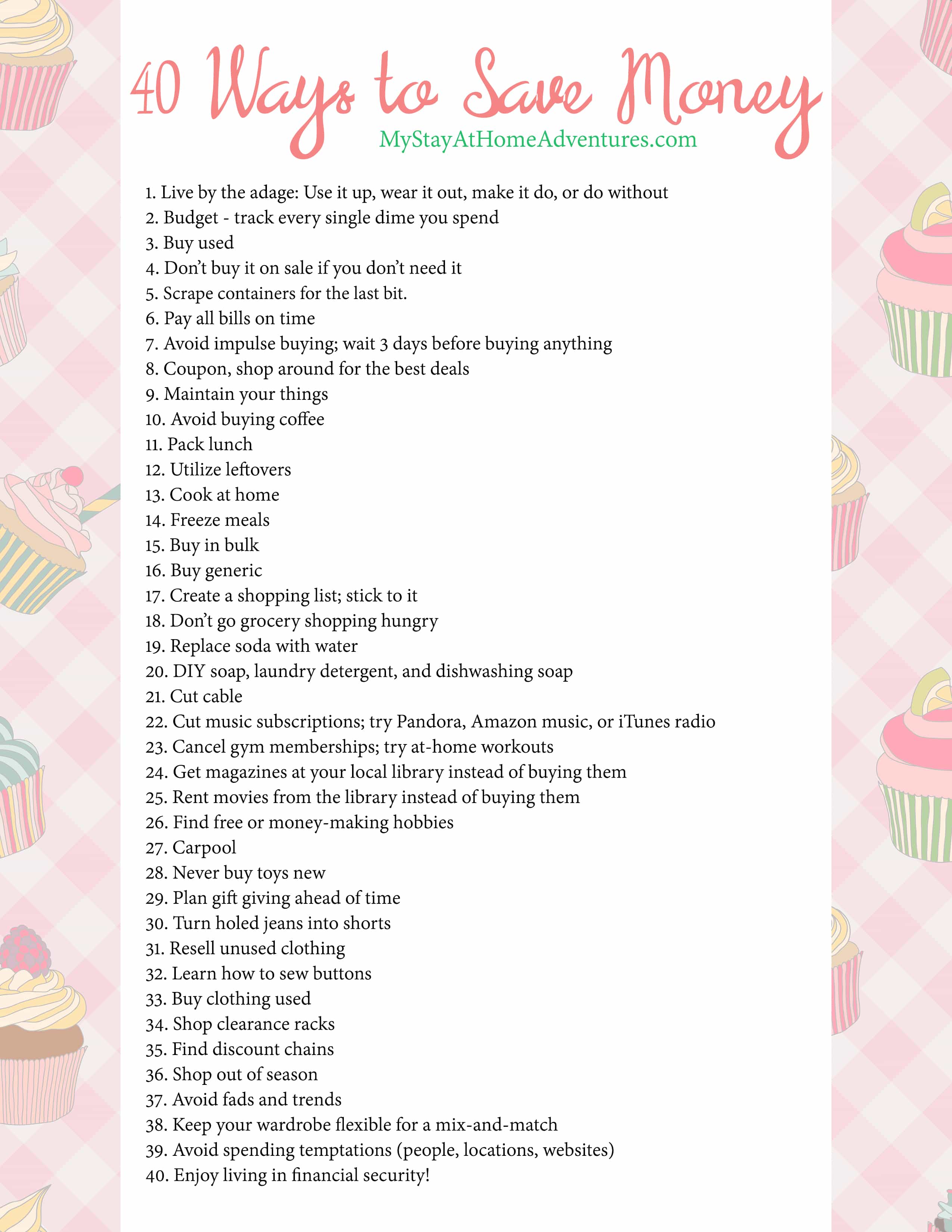 Save
Save
Save
Save
Save
Save
Save
The following two tabs change content below.
Latina mom of 4 married to wonderful Greek gentleman. Living in southeast PA and trying to juggle family and a household while trying to earn an income from home. Follow my stay at home journey as I discover how to earn money and save money so we can continue to live debt free.
Latest posts by Joyce @ My Stay At Home Adventures (see all)