12 Unbelievable Tips For Not Spending Money This 2020
This post may contain affiliate links which might earn us money. Please read my Disclosure and Privacy policies here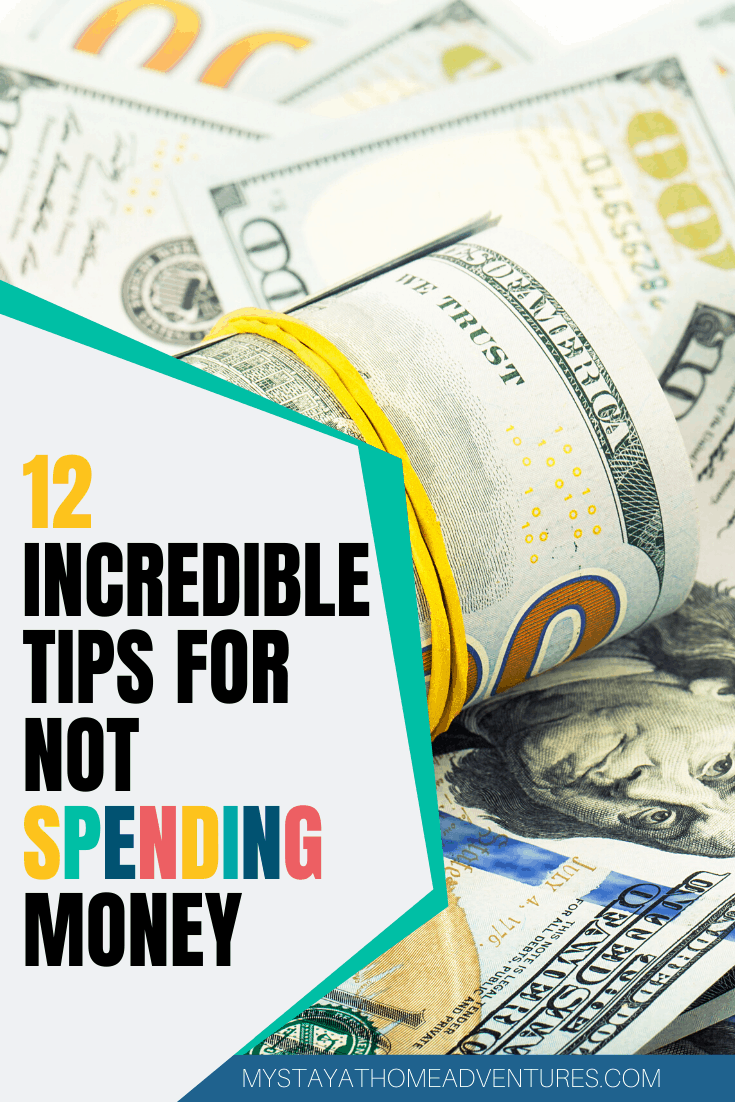 If saving money is your home adventure this year, then we got you covered by covering tips for not spending money that will help you grow your savings.
Now, these tips if done correctly will turn into excellent money-saving habits that will help you take control of your finances.
So let's begin, shall we?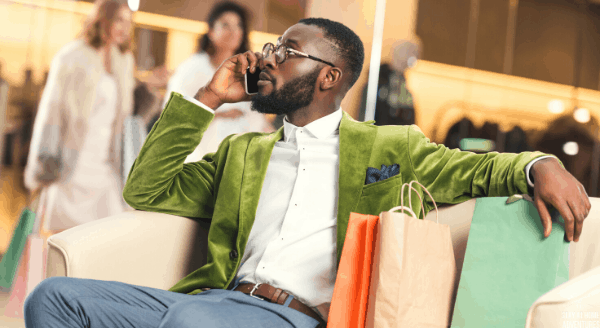 The truth is that we love to spend our money, maybe too much.
We overspend money for many reasons:
We were poor as kids.
It gives us a sense of power.
To maintain our lifestyle.
For immediate gratification.
To maintain an image.
To avoid dealing with issues.
The above are just a few reasons why we love spending money and other factors such as not having a budget, buying on impulse causes us to overspend.
We make no secret that overspending our money is a top topic on this blog. If we are not careful, we can overspend and not be able to save money. In this country, we are programmed to spend our money. We have to have this, and we need to spend our money on this.
However, not spending money is hard, very hard. It's especially hard when you are coming out of Christmas; it's the best time to shop!
Yes, after the Christmas season is the best time to buy and is also my weakness when it comes to spending money.
Getting back on track with our finances can take us a bit of time when you spend your December spending money like you won the lottery.
As I searched for ideas to not spend money, I came across some extreme ways that were too much for me to do.
For me, I would like to invest my money in toilet paper and other things; so these extreme tips will not be, um, used in our household (yet). LOL
Check out these money-saving posts:
To learn how to save money, I got that covered; but it's the spending part that I have to work on, especially this year.
I have written about ways not to spend money, but these tips seemed to be short term. I need to look for suggestions for not spending money that will help me mentally while encouraging me as well.
The goal for me is to have a long-term plan to grow my savings. Setting myself for quick no spending ways are fun, but you get quickly burned out.
If you are taking charge of your finances, and you want to make some head waves this year, I got some great tips for you.
These tips for not spending money will be a great tool to see your savings grow, spend less, or your debt decrease this year.
Depending on how you are taking control of your finances, these tips reduce your money spending ways will help keep you focused and remind you why you are doing this in the first place.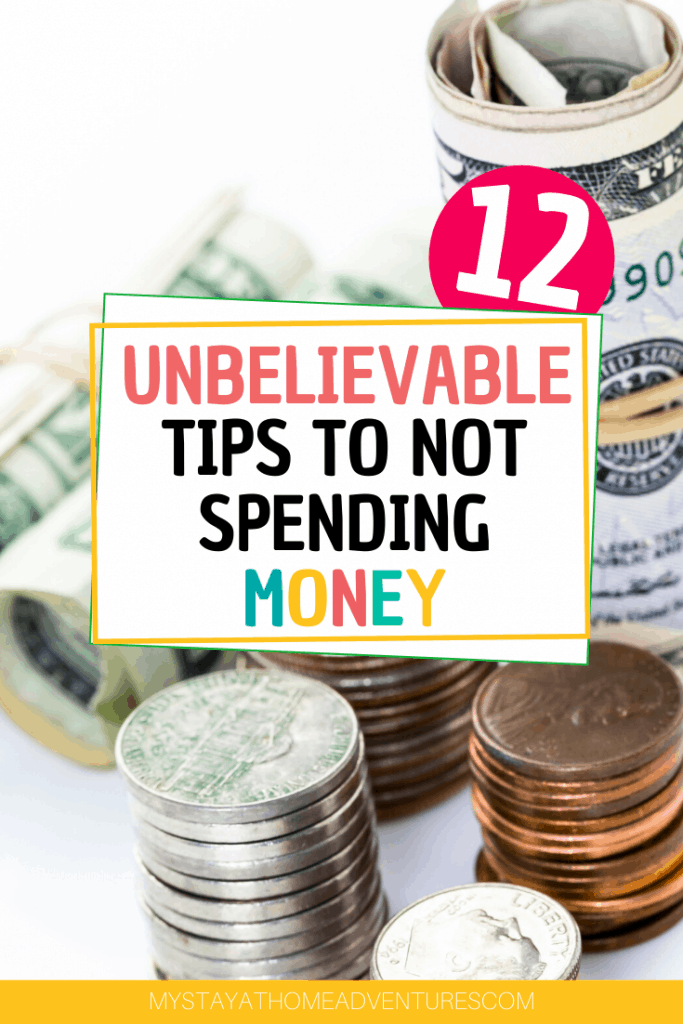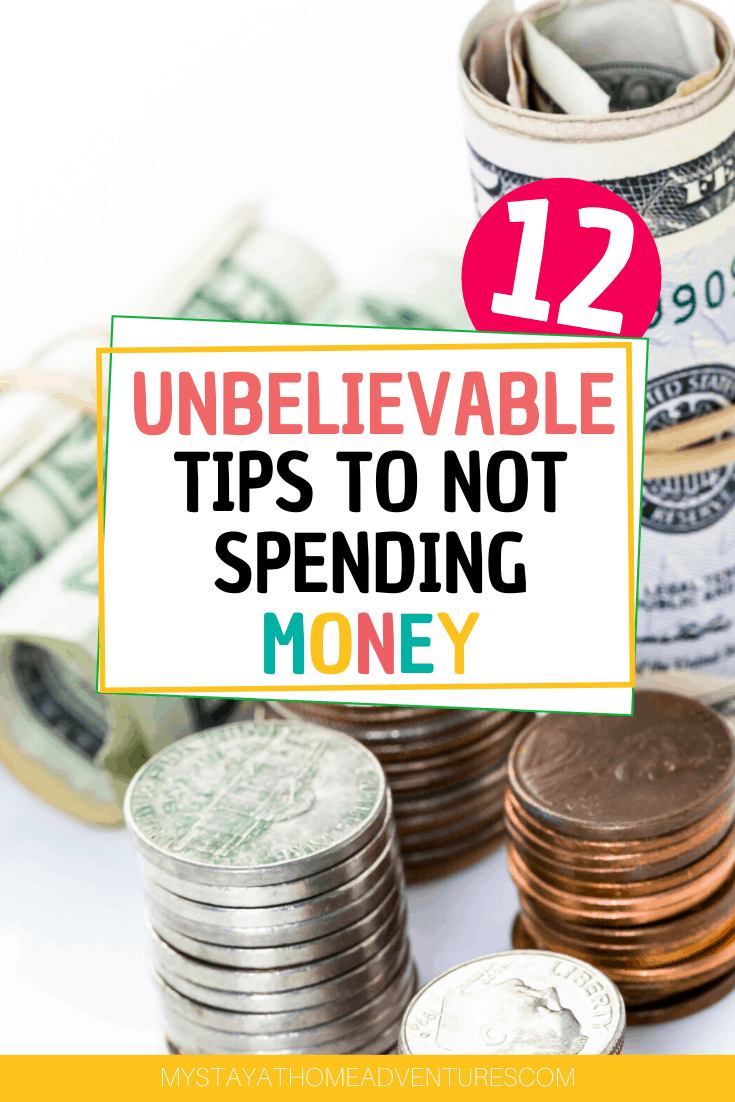 Great Tips For Not Spending Money in 2020
As with every challenge, you will need a plan. If you have decided that you want to take control of your finances, then your plan includes a budget.
I am assuming you already have a plan and a budget working for you, and now you are worrying a bit about keeping up with your plan and budget.
These plans are written down, and your budget is showing where each dollar you are making is going.
So what happens when your motivation diminishes?
When the mind decides that it's boring, it starts confusing needs with wants. Tax time is right around the corner, and hey, that income tax refund (if you are lucky) will be arriving soon. The urge to spend money is there, and that broke mindset is starting to set in.
That's when you remember that you wrote goals that include saving money, kill debt, and make extra income or something like that! You look back and avoid falling into that money spending trap that has gotten you into financial trouble.
You can also think of Joyce from My Stay At Home Adventures and look at these tips for not spending money; you will realize that a little bit of motivation and focus will get you back on track.
This is the reason why I bring you these tips for not spending money, amigos, to keep helping you reach your financial goals!
I also have to save a lot of money this year, so the tips below I will implement as well.
Use cash on every purchase
When it comes to using cash, I don't care what anyone says; you will save money. Leave all your tempting cards at home when you go out and just take cash. Use the cash envelope system, if that's what it takes, and you will save money.
I will be honest, I love my cards; but when I don't want to overspend any money, we use cash only. We don't like it, but the reality is IT WORKS!
What is this cash envelope system I am talking about?
This is a quick summary of how this cash envelope system works:
You budget your paycheck.
You create categories for your budget. If you want more information about budgeting, I suggest you read these posts.
Write the categories on blank envelopes.
Fill the envelopes with cash selected for each category on your budget.
When the money is gone, it's gone. You can't refill your envelope just because you spent the money. You can't go back to your bank account and withdraw money from your account to stuff your envelopes.
Shop with a shopping list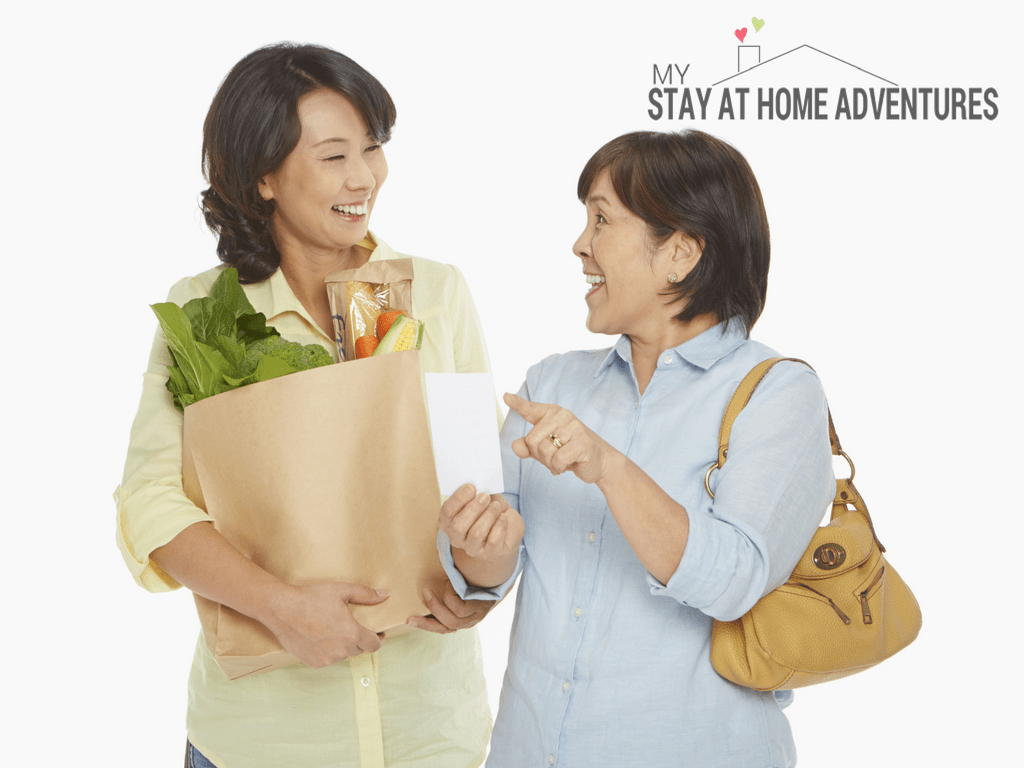 Before you go anywhere, write down a list of things you need. Stick to your needs, not your wants; this method will save you money. Write down what you need for the week and stick to your list. Shopping with a list will prevent you from overspending, it will also prevent you from forgetting what you needed to buy (don't you hate that?).
Here are the top reasons using a shopping list will help you out when it comes to you and your finances:
Saves time
When you go shopping with a shopping list, you will be focusing on items that are on your list. By focusing on items that are written on your list, you will avoid wasting time looking for other things and enabling you to go in and out of the store.
Saves money
Writing down what you need to buy reduced food expenses by as low as 20% and the reason why is because you are only buying what you need. You are not shopping spontaneously and grabbing items that you don't need.
Menu plan
You will hear about this and wonder if writing down a weekly menu plan is worth it. YES! Yes, it is. Menu plans are so helpful and also helps you save time, it will save you money and prevent you from overspending on things you don't need for the week.
Avoid going out for leisure
Go out when you need to go out, not because you are bored and need to go window shop. If you are bored, try to find something to do at home. Going out when you don't need to go out is a waste of gas too.
Will not go to the store hungry
I always say this, but this is so true; and for me, my biggest downfall is going shopping when I'm hungry. We have one car, and when I go to the store, I just go without thinking. I get to the store, and that's when my hunger strikes! Shopping when you are hungry can bust your budget, and ruin your plans not to spend money.
Avoid buying items you can get for free or cost less
We love to pay for things that are not a need, such as magazines, subscriptions, getting our nails done and such.
I am not saying these are bad things but the majority of the time when you write down a budget you realize you overspend your money on things that are not important at all.
Buying weekly magazines or monthly magazines are a waste of money when sometimes you can find subscriptions for free or dirt cheap.
You can also search the internet and find the information for free!
Subscribing to things that are not needed is causing you to overspend. Let's be real but box subscriptions are the new thing, and people are just about paying for these monthly subscription boxes to receive things they don't really need.
Add the cost of buying items that are not needed, and you will be surprised how much you are spending for an entire year on things that don't even cost that amount.
Avoid deals' websites
I love deals' sites, yes, I do. Deals' websites save me money, and I like saving money. The problem with deals' ads, the majority of the deals I don't need. I just want to save money and not pay full price, so I purchase the item because I think I am saving money. In reality, I just spent money that I didn't need to.
Go over your goals daily
Go over the reasons why you decided you don't want to spend money in the first place. By going over your goals every day, it will remind you why you are doing this. Being reminded why saving money is important, and why you are making this sacrifice, will motivate you as well.
Analyze bad habits
Years ago I discovered that I am an emotional shopper, I shop to make me or others happy. I shop when I'm stressed or when I'm happy, and this is dangerous.
I have set rules for myself when I get the urge to go shopping, and one of them is to go to sleep and think about it for ONE day before making any purchase. When I sleep on it, and I wake up, I don't have the urge to spend money.
Remove all deal apps from your phone and tablet
By eliminating any deal app from your phone and tablet, it will reduce any urge to buy! These deals apps are made to well, make you buy, and removing them will an excellent way to avoid you from spending money!
Go on a spending freeze
I challenged myself to go on a spending freeze for 30 days, and you know what, it works! I think it is one of the hardest things to do for me, but by the end of the challenge, I am more focus and saves me enough money.
Just say no
Learn to say no because by saying no you will save money. You don't have to go out every Friday or weekend to hand with family and friends.
You don't have to spend money on every fundraiser out there. Learn to say no. You are not a bad person when you don't go to every event you and your kids are invited.
You are saving money and trying to get your finances in shape.
Conclusion
These tips are meant for you to come back and read when you are feeling discouraged and need motivation. Not spending money is hard, especially when you are adjusting to a mindset that has been trained to justify spending.
If the thought of the long-term 'not spending money' discourages you, then I suggest creating a monthly plan and go over these tips. Creating monthly goals seems to work best for me when compared to year-long goals.
Remember to use these apps to help you save and give you some extra cash when you are shopping wisely:
Rebates apps:
Don't give in to temptation and remember that this is your financial journey and your happiness is important!
Your turn: When it comes to not spending money what are your favorite tips and ideas?

Save
Save