No-Spend Summer Weekend Activities For The Family: Bucket List Printable
This post may contain affiliate links which might earn us money. Please read my Disclosure and Privacy policies here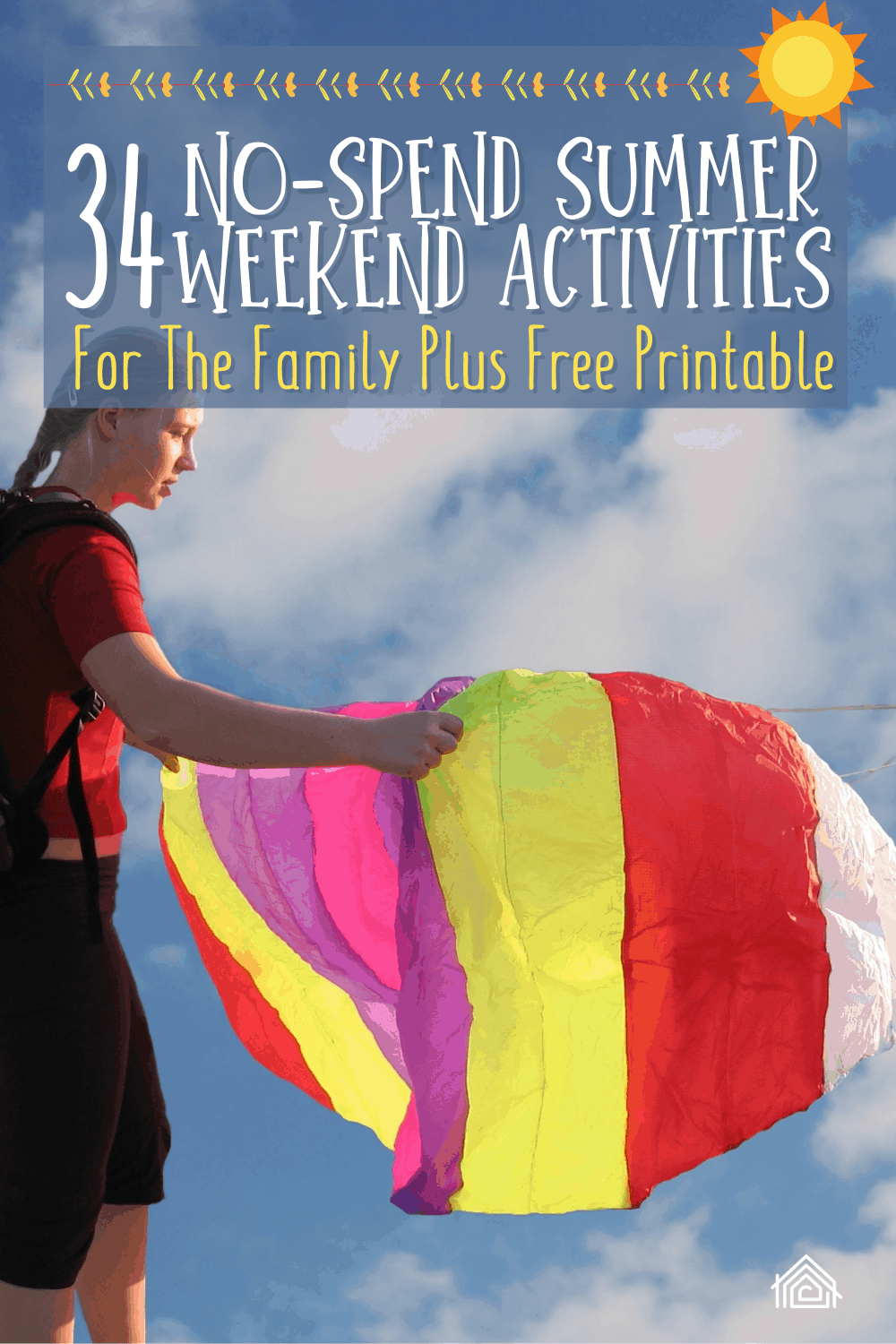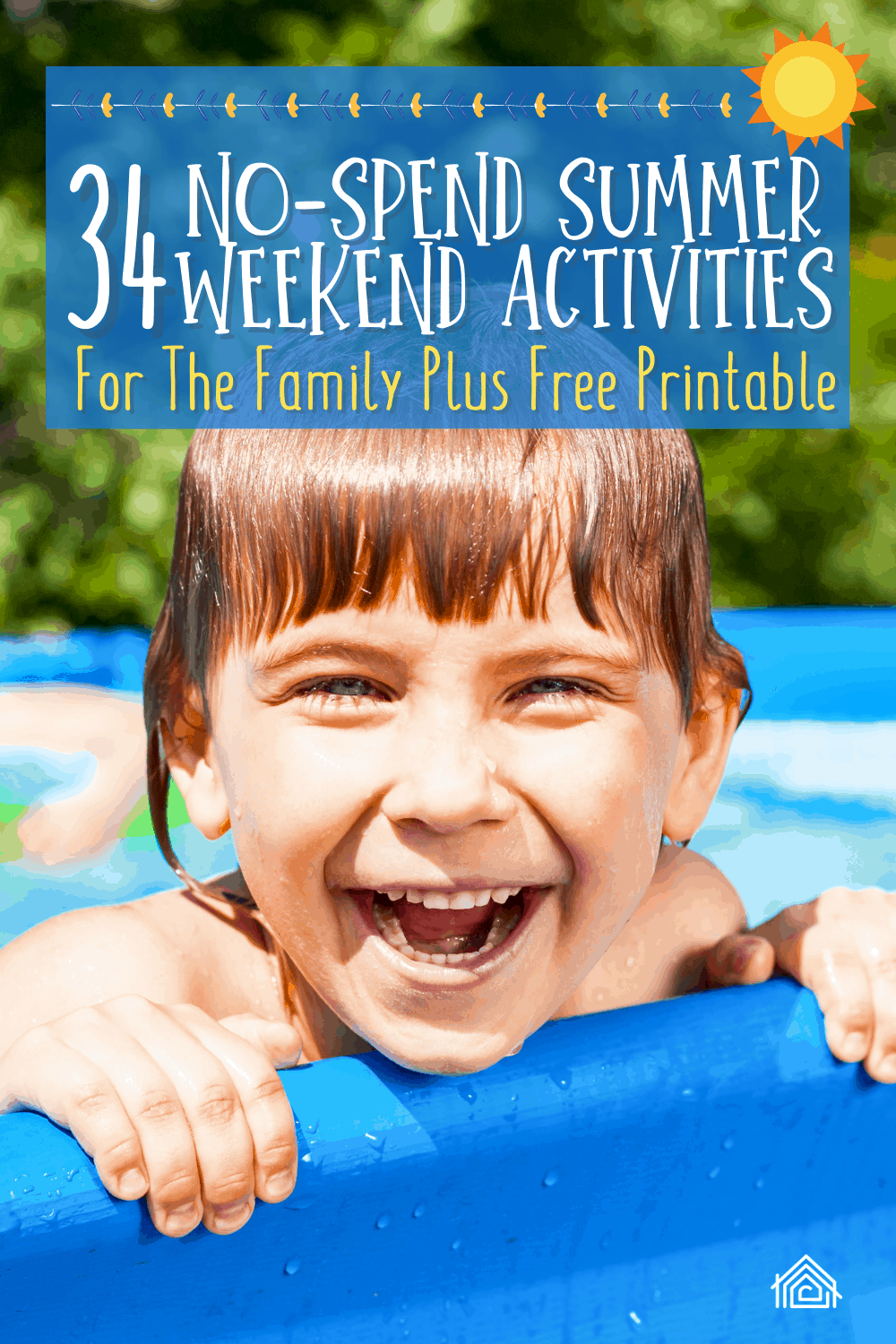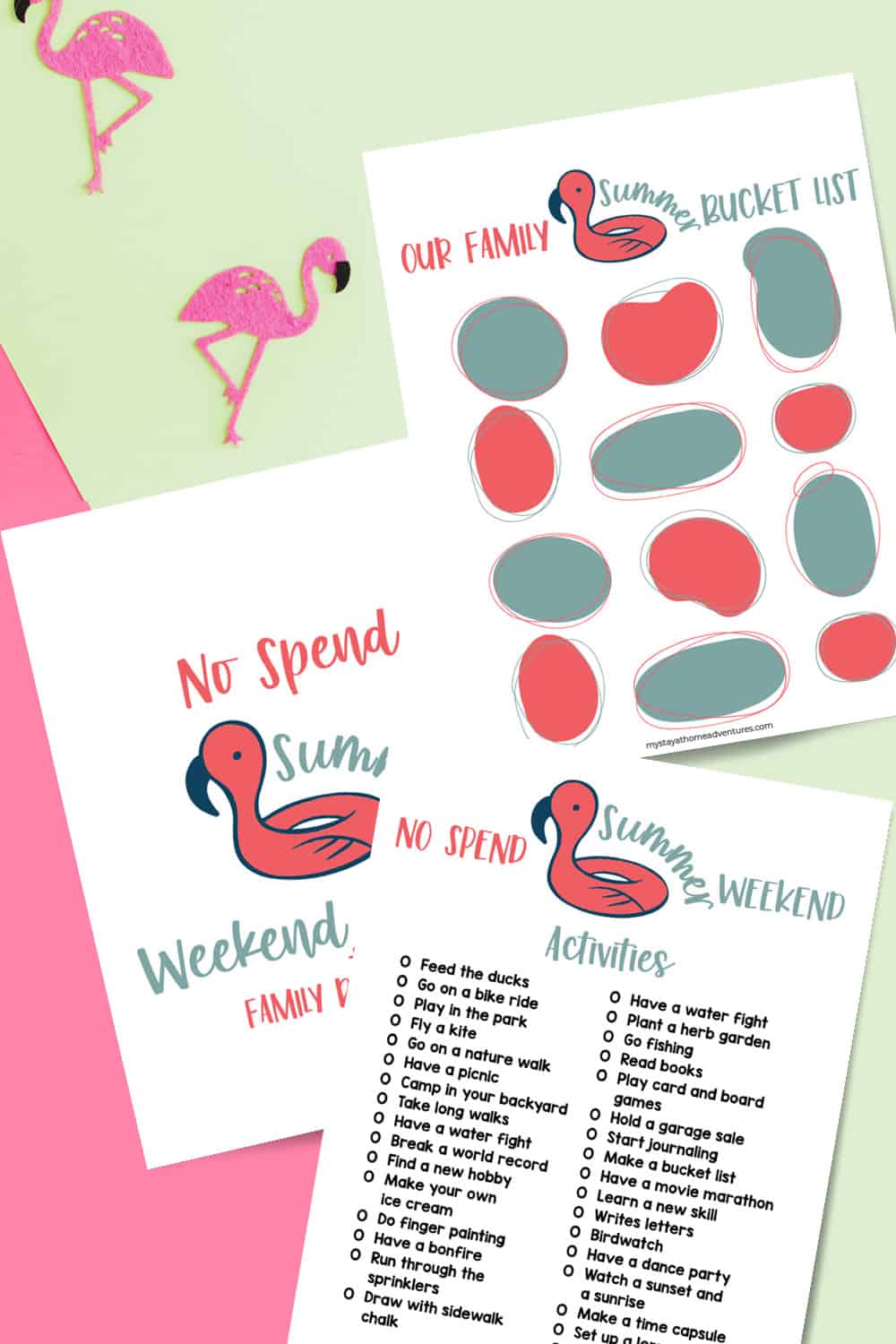 What are No Spend Summer Weekend Activities For The Family? No spend summer weekend activities for the family is a list of things to do with your kids that don't involve spending money.
This includes outdoor games, indoor games, and even some tongue twisters! So no matter what you decide to do this summer, make sure it's not going to break the bank. Download our free printable today!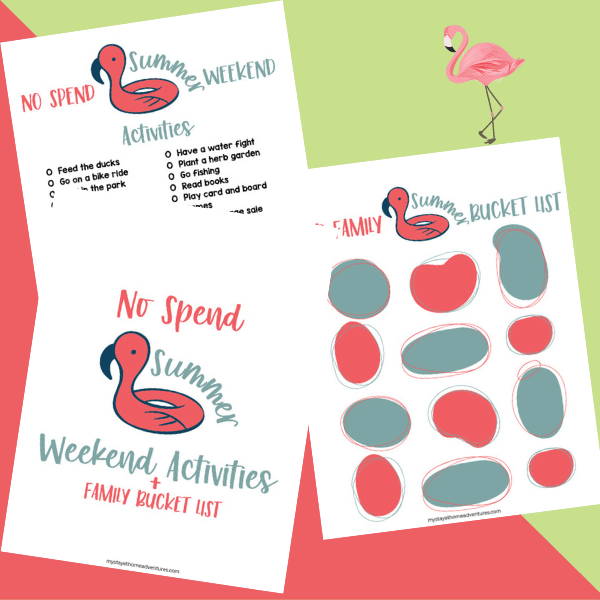 Today we have over 30 activities that require no spending that your family can enjoy during the summer weekends. You don't need expensive outings and vacations to create summer memories.
Simple and easy activities are so important when it comes to balancing work and family life. No matter how busy you are, there is always time for your children!
Feed the ducks
It's a lot of fun, and you don't need to spend any money to enjoy it! It doesn't take much effort either. Just grab some bread from the kitchen and head outside. Don't worry if the ducks seem hungry-they will come right up to you and gobble up their food!
Go on a bike ride
This is a great way to spend some quality time outdoors, especially if you live in a large city where it's hard to find free space for activities. Plus, bike riding is one of the best exercises out there-it engages more than your heart and lungs; it also targets your muscles too!
Play in the park
One no-spend summer weekend activity is to play in the park! Playing in the park is a wonderful way to spend time with your family and not break the bank. It's also a great way to get some fresh air, exercise, and create memories that will last for years to come.
Whether it's simply sitting out on a bench or playing on one of the many playgrounds, there are tons of ways to make this inexpensive weekend activity work for you!
Fly a kite
Flying kites with your family is not as expensive as you might think. In fact, it might be the cheapest yet most enjoyable activity on this list! Flying a kite takes just minutes from the simple materials to start and will provide hours of entertainment for both adults and children.
If you don't have any old kites lying around, you can buy one in the store or at your local store for less than $10.00!
Go on a nature walk
Nature walks are a great way to enjoy some time outdoors without spending any money. Many people work so hard during the week that they don't have time to take care of themselves.
This is why a nature walk is such a perfect no-spend summer weekend activity-it takes less than 10 minutes from the start and will provide hours of entertainment for both adults and children! Of course, you could pack your lunch or make sandwiches before you leave, so when you get back home, you'll be able to refuel after a long day!
Have a picnic
A weekend picnic with your family can be the best experience. With so many things to do and places to explore, it's one of the most enjoyable activities you can enjoy on a no-spend weekend.
The next time you want something different to do with your kids, skip the expensive outings and head out on a weekend picnic instead! Here are some tips to make sure it's a success.
1) Location: Ensure that you find a great location for your picnic that isn't too far away from home. The last thing you want is to be driving back and forth between locations when all you wanted was some quality time with your family!
2) Activity: There are so many things you can do at a picnic. No matter what your plans are, make sure to set aside some time for the activities so that everyone is happy!
Learn more tips about saving money on picnics: 8 Never Thought Of Tips To Help You Save Money On Picnics.
Camp in your backyard
Camping in your backyard can bring the wilderness right to you. It's a great way to have fun with your family and teach them all about nature without breaking the bank.
You can learn more about backyard camping: The Ultimate Family Backyard Camping Guide.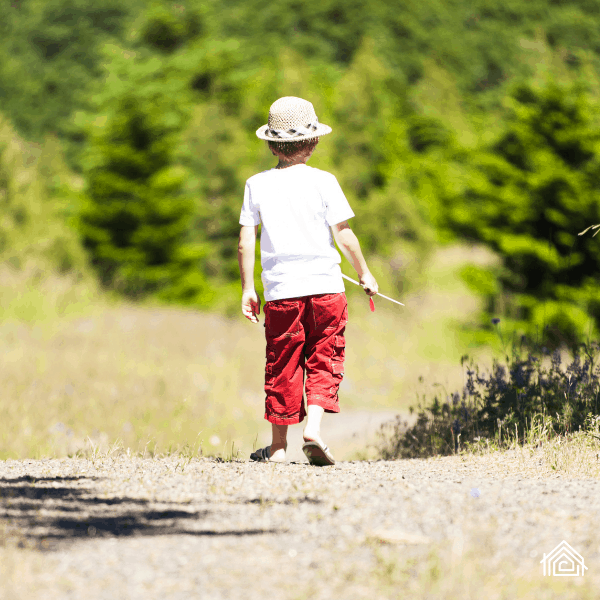 Take long walks
Taking a long walk around the neighborhood can be one of the best ways to spend time with your family. It's also a wonderful way to get exercise and get some fresh air without spending a dime!
Here are 5 ways you can take advantage of this free activity-go for an evening stroll, bring along your pup, go on a morning jog, walk in the park or make it competitive by adding a scavenger hunt into the mix!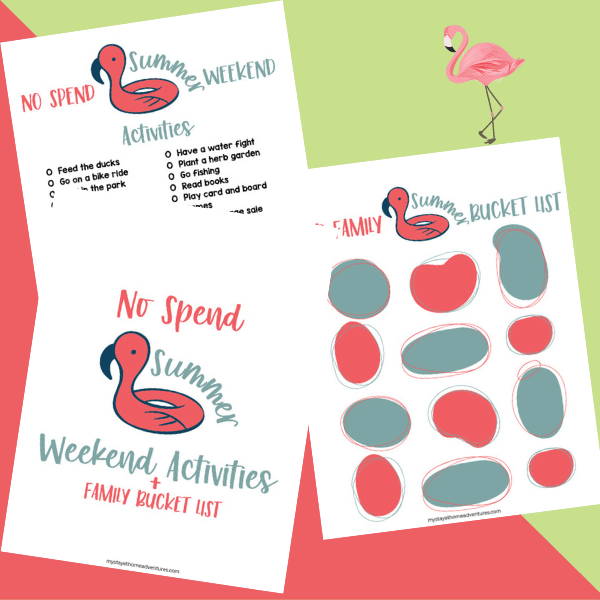 Have a water fight
Having a water fight is one of the most enjoyable activities you can enjoy on a hot day. It's perfect for those days when you don't want to spend any money but still want to have fun with your friends and family!
There are many ways to have a water fight, from playing the game H2O tag, where you try to get people wet without getting yourself wet, or cold water balloon fights that will provide hours of entertainment for kids and adults alike.
Find a new hobby
If you're feeling a little bored this summer and don't know what to do with your time, try finding a new hobby. There are so many different hobbies out there, from candle-making to fishing, that will help make your free time more enjoyable! Here are some tips for finding the perfect hobby for you:
1) Think about what you enjoy doing when you're not working. Is it reading? Painting? Sewing? Whatever it is, keep that in mind as you go through the different hobbies to find something that matches your interests!
2) Consider exploring something a little outside of your comfort zone. If you're not too sure what's right for you, start by identifying what you don't like and then look for things that are the opposite of those.
Make your own ice cream.
You can easily make your own ice cream at home without spending any money. This is a great way to enjoy this frozen treat without breaking the bank! Here are some recipes that you can try and see which one is your favorite.
Easy Vanilla Ice Cream Recipe:
1 cup half-and-half (or heavy cream, whole milk, or light cream)
1 tablespoon vanilla extract
2 cups of sugar
1/8 teaspoon salt
4 cups of ice cubes
Pinch of ground nutmeg or cinnamon (optional)
Place all ingredients into a blender and blend until smooth. Pour the mixture into a bowl set in an ice bath. Stir the mixture occasionally, then let it sit for a few hours and enjoy!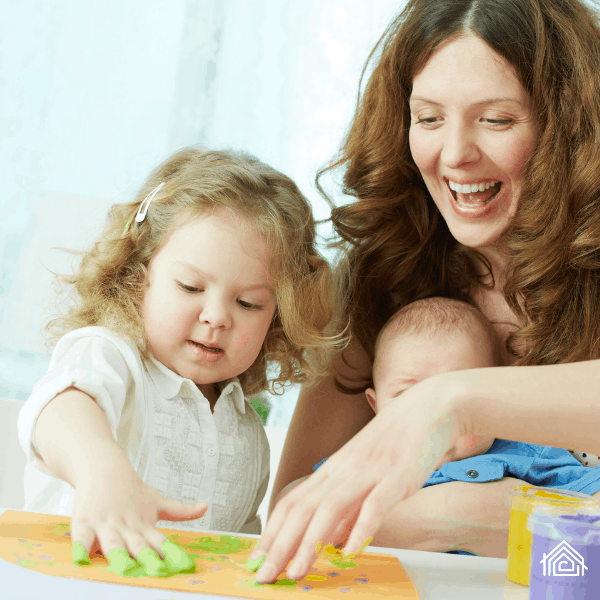 Do finger painting
Finger painting is a great way to let kids explore their creativity and express themselves. It's also inexpensive and easy to do all you need is some paint, paper, and fingers!
Have a bonfire
Write about having a bonfire at home. A bonfire is a wonderful way to spend time with your family or even friends. It's also a great way to bond and make memories while spending less than you would at a typical outdoor party.
It's important to remember that having a bonfire is not without its risks, so before you decide on this type of activity, it's always good to learn more about fire safety, just in case!
Run through the sprinklers
Running through the sprinklers is a great way to spend time with your family and friends. It's a perfect activity for kids of all ages and can be done in the backyard or at home with just a small water hose.
Here are some tips on how you can have the best experience when running through the sprinklers:
1) Ensure that everyone has their own swimsuit or clothing to wear because it will get wet!
2) Let one person use the hose to spray everyone else while they're outside.
3) Try playing different games like Missle Command, where you try to avoid getting sprayed by using any available shields such as umbrellas, garbage cans, or cardboard boxes.
Sunset bike rides
There are many benefits of taking a sunset bike ride with your friends and family. It's a great way to enjoy nature and exercise at the same time while giving yourself some much-needed quiet.
Here are some tips on making the most out of your next sunset bike ride:
1) Take bikes with you. It would be best if you always remembered to bring helmets, lights, and water along when biking so that you're safe from any accidents or mishaps.
2) Wear light clothing. It's important not to wear anything too heavy because it will weigh you down and make it difficult for you to go up hills or off-road.
3) Bring snacks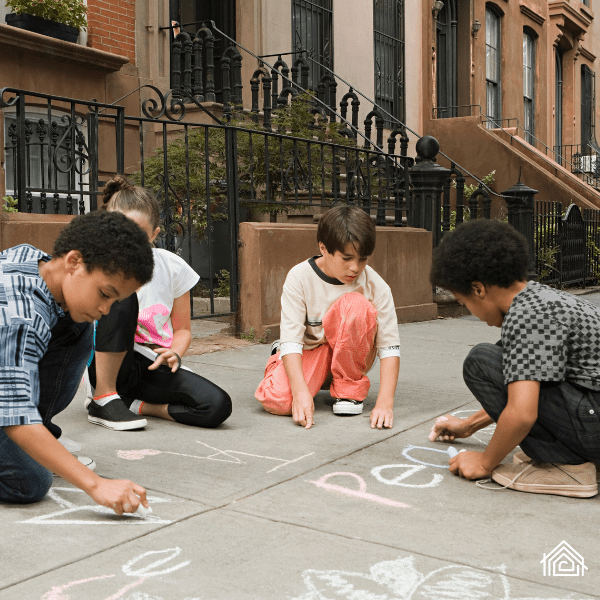 Draw with sidewalk chalk
Drawing on your sidewalk with chalk is a great way to spend time outside while having some fun. You can draw anything that you want, and it's super easy to do!
Learn some sidewalk chalk ideas, read: 10 Sidewalk Chalk Ideas
Here are some tips for making the most out of this activity.
First, make sure that you have the right tools and supplies before you start to don't run out halfway through.
It's also important to think about where you're going to draw because it will be difficult to erase your drawings from cement or paved surfaces if there aren't any erasers around!
Plant a herb garden
How easy it is to plant an herb garden at home. All you need is some soil, water, sunlight, and a few pots or containers!
Some great herbs you should consider planting include basil, rosemary, sage, chives, and parsley. You can also use these herbs in soups, salads, and other dishes for a delicious burst of flavor!
Herbs seeds are so affordable to purchase too or ask a friend to give you some. You can use anything as far as containers.
Go fishing
Fishing is a great way to spend time with your friends and family. It's also a fun activity for people of all ages, which can be done just about anywhere it is allowed.
All you need is a rod, bait, and some good luck to have the best experience. Here are some tips on how you can enjoy this activity without spending too much money:
1) Bring snacks- fish take time to catch, so it's best if you bring some snacks to keep your energy up while you're waiting!
2) Go during the evening or night hours- going during these times will help reduce the amount of fish that gets away because they see the light from your flashlight and avoid it.
3) Bring a container- it's important to have something that will carry your fish in so that you can keep them until they're ready to eat.
Read books
Reading books is a no-spend weekend activity. All you need is your favorite book and some free time!
Reading books can be almost as good as going on a vacation, especially if it's one of the many adventurous novels on the market.
It also has numerous benefits such as improving your vocabulary, increasing your knowledge, reducing stress, and much more!
You can visit your local library and grab books for free or check out online for free ebooks.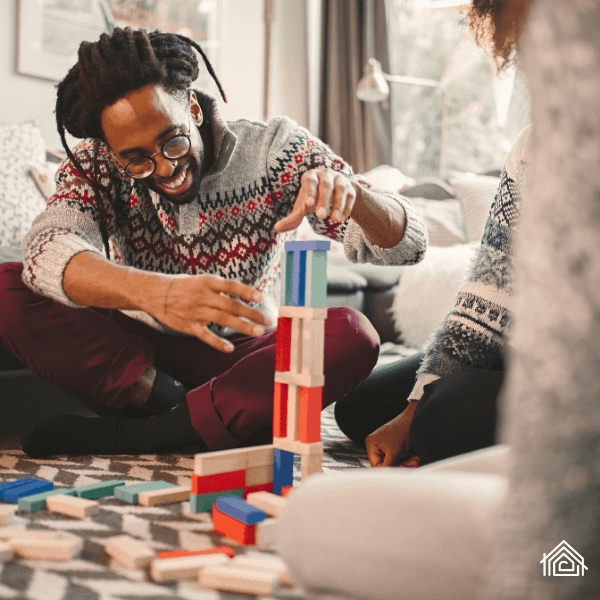 Play card and board games
Playing card and board games are a great way to spend time with your family on a no-spend summer weekend. It's an activity that everyone from kids to adults can enjoy, and it doesn't require any expensive equipment!
Hold a garage sale
Hosting a garage sale or yard sale is a great family no-spend weekend activity and a great one because instead of spending money, you are earning money!
What you need to know before you plan a garage sale:
Do your research to get an idea of what prices are fair
Write a list of all the items that you want to sell
Make sure that your garage is clean enough and well organized so that it attracts customers
Consider advertising through social media or flyers, or ask family and friends for help.
Learn more about garage sales by reading these posts:
Start journaling
You can start journaling as a weekend frugal activity. Journaling is a great way to document your thoughts and feelings, and it's something that most people have never considered doing before. It's also straightforward for anyone to do- all you need is paper and pen, and you're good to go!
Here are some tips on how to get started:
1) Find a spot that inspires you- this could be where you work or spend most of your time, such as in front of your favorite painting or near the window. This will help get your creative juices flowing!
2) Choose what kind of journaling you want to do- some people just like writing down their thoughts, while others like to document their feelings or thoughts. No matter what you decide, it is important to research the different types of journals to know which one will work best for your needs.
Learn about DIY crafts
DIY crafts are a great no-spend weekend activity because they don't require any expensive equipment or supplies. All you need are some things that can be found around your home and the internet.
Start researching online, and believe me, there are so many DIY crafts ideas and inspirations out there you will be busy.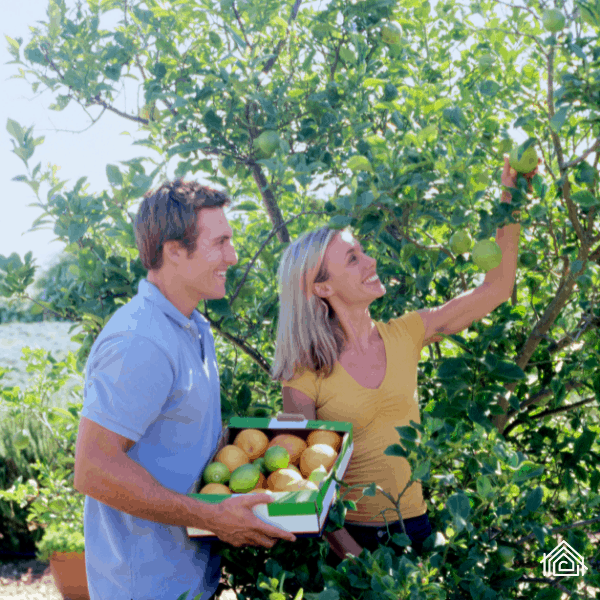 Learn about U-Pick Farms
U-pick farms are a great no spend family weekend activity because not only do they allow you to pick your own produce, but it also allows you to save money by purchasing from local farmers and producers.
You can find a list of U-Pick Farms in your local area by visiting this page.
Make a bucket list
You can start your bucket list by brainstorming what you want to do in your lifetime. There are many different things that people want to do, such as go on a safari or travel the world for one last time.
Bucket lists can be big adventures to small adventures so take the time to create one during a no-spend summer weekend. We included one for you and your family to use for the summer by signing up for our newsletter, and it won't cost you any money.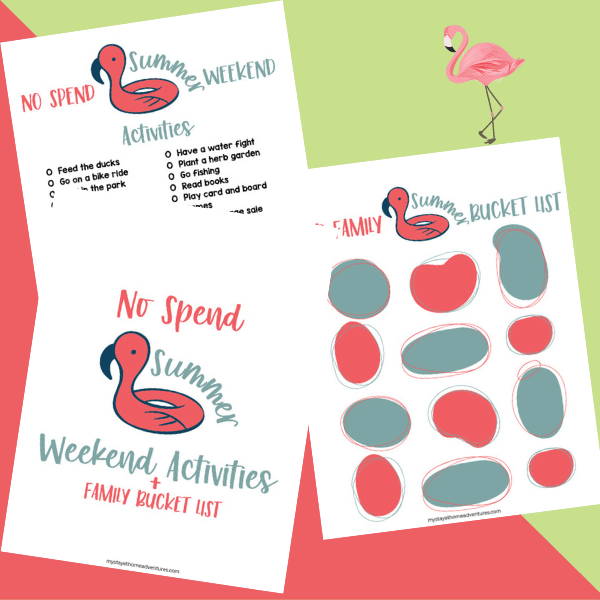 Have a movie marathon
You and your family can have a movie marathon during a no-spend weekend. So what do you need to do before the big event? Let's find out!
How To Have A Movie Marathon In 5 Easy Steps:
Step 1: Plan your day by deciding when to start your movie marathon, what movies to watch, and in what order.
Step 2: Ensure that everyone is on board with the plan – the more people, the better!
Step 3: Download all of the movies onto one device so that they're ready for the marathon event. You can pick a streaming service as well. Make sure you have it planned ou movie.
Step 4: Have snacks and drinks on hand, and if you are inviting friends and family, have them bring food and keep the cost down. Remember, this is a no-spend weekend activity.
Step 5: Make sure that the kids are occupied with their own activities during the marathon. No one wants to watch a movie if they're bored! Depending on the kids' age, they might not sit for an entire movie marathon.
Learn a new skill
Learn a new skill on the weekend and a budget or even free during this no-spend challenge. There are many skills that people want to learn but don't have the time or funds to do during the week.
This is where weekends come in and make the perfect opportunity for learning new skills! We've compiled some below that are best learned during the no-spend summer weekend:
Basic Sewing Skills
Basic Cooking Skills
Basic Drawing
You and your family can learn something new during a no-spend weekend this summer and thanks to the internet you can enjoy them for free!
Writes letters
You can make a fun no-spend weekend activity by writing letters to each other. You should try to work together to write as many letters as possible so that you have tons of postcards to send out during the week!
Writing letters is a great way for your family to stay connected and spend some quality time with each other.
It's also a great way for kids and teens to practice their handwriting skills, or if someone is trying to learn how to speak English, practicing with pen and paper might be easier than speaking on the phone.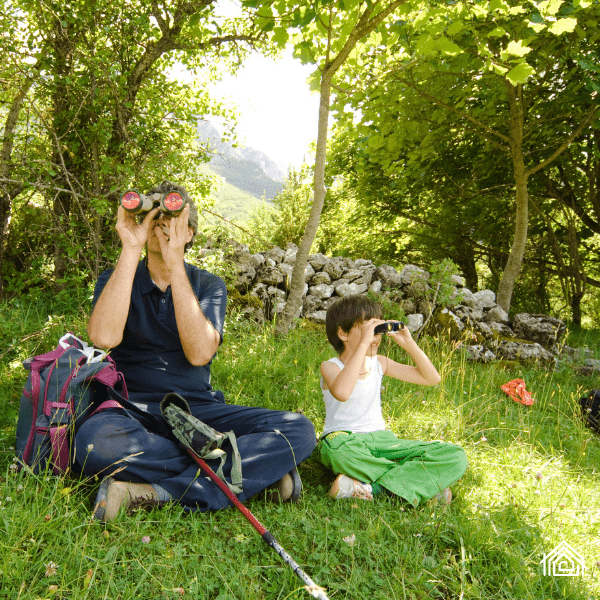 Birdwatch
Write an article about how birdwatching can be a delightful activity for everyone. It gives you the opportunity to enjoy nature at your own pace and this hobby can be done by anyone, no matter what age or level of experience.
If you're looking for something new to do on weekends, then birdwatching might just be it! We've compiled some tips and tricks to get started with this fun hobby during a no-spend weekend. Follow these steps, and soon enough, you'll be enjoying your own backyard birds.
1) Find a good spot – The best place to birdwatch is in your own backyard or somewhere within walking distance from home. Keep in mind that the best time to go birdwatching is early morning or late afternoon.
2) Dress for the weather – No need to worry about layers. Just make sure you're wearing appropriate clothes and shoes. Also, no matter how sunny it is outside, protect your skin from harmful UV rays by wearing sunblock or a hat with SPF.
3) Pick up some binoculars at any local retailer – No need to buy expensive binoculars. Make sure they have good magnification and a wide field of view.
Have a dance party
A family dance party can be a lot of fun. So instead of doing the same old thing this summer, why not try hosting your own family dance party?
We've compiled some tips and tricks for throwing a successful dance party for the whole family so that everyone has an enjoyable time – no matter what age they are!
1) Find a location – Pick a space in your own home like a living room or backyard where everyone can fit. This will also help with one less detail you'll have to worry about when planning the event.
2) Invite all kinds of people – You don't want only young kids at your party, instead make sure it's open to all ages so that there is something for everyone.
3) No outside food – No one wants to eat outside because then they can't dance! So instead, if you have the space in your home, cook up a meal. If not, there's always pizza or other alternatives at the grocery store that are affordable and delicious.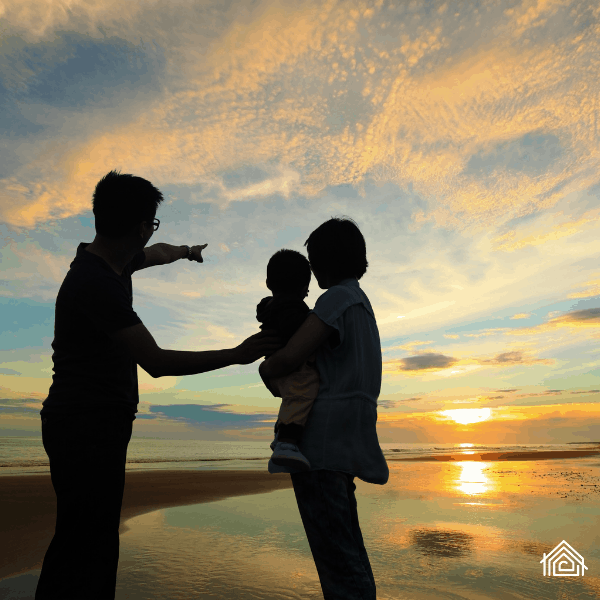 Watch a sunset and a sunrise
Watching a sunset and sunrise can be an enjoyable weekend activity for everyone in the family – no matter what age or skill level! So we've compiled some tips and tricks for this frugal morning/afternoon before you head back home.
Pick your location – The best time to watch a sunset is early evening, so keep that in mind when planning your trip. If this isn't possible, plan to go out later in the evening around 8:00 pm-9:00 pm).
Keep in mind that the best place to watch the sunrise is closer to sunup, which usually varies between 5:30 am-6:15 am, depending on the season. Choose somewhere outside of town where there are a few street lights as possible because the sky will be lighter.
Now, of course, sunrise time and sunset time varied by location, and you should check your local sunrise/sunset time before planning this weekend activity.
Bring snacks and drinks – No need to buy anything. Instead, pack up some goodies from home in a bag or cooler so that you don't have to spend money on food when watching the sunset or sunrise.
Make a time capsule
Time capsules are a great way to document your life and share it with future generations. They're also a great way to preserve memories that might otherwise be lost forever.
To create the perfect time capsule, you'll need some supplies – ideally one for every family member.
You can start by collecting photographs, letters written to future generations, or even special items like toys or tickets from your favorite concert.
Once you have everything gathered together, seal up the box with good-quality glue so that nothing shifts around inside. Then store it in a cool dark place until you're ready to open it again!
Set up a lemonade stand
A lemonade stand can be a great and profitable way to have fun at home. Selling the perfect thirst-quenching beverage is not as hard as it seems. All you need are some supplies and a little bit of time!
We've compiled some tips for setting up your own homemade lemonade stand this summer, whether you're doing it with your kids or looking for something new to do with friends.
Make sure you're following local regulations. Some places require permits, so make sure you know what you need before opening up shop.
Learn more about kids lemonade stand here: 6 Reasons Why Having a Kid Lemonade Stand is Good For Them
Make popsicles
This summer, make popsicles with your family to craft memories and create a fun activity for everyone. We've compiled some tips and tricks for kids wanting to make their very own popsicles at home, whether they're doing it with their kids or looking for something new to do with friends.
1) Find the perfect containers – You should start by finding containers that are BPA-free, dishwasher-safe, and freezer-safe so that you're not only reducing exposure to harmful chemicals but also creating a healthy snack.
2) Make the perfect mixture – You'll need two cups of fruit juice (or milk), one cup of sugar, and 2 tablespoons of lemon juice. Mix all these ingredients in the container before adding the ice.
Keep in mind that popsicles will freeze quicker if you add more liquid, so be sure to experiment with different amounts of juice and sugar until you find a mixture that works for your family.
No matter what, make sure it's an even number – no one wants to get stuck eating all the same flavor!
Homemade popsicle sticks or fabric can work as great packaging/toppers for kids' homemade popsicles, which are much cheaper than buying them at the store.
You could also use plastic cups from home instead of going out and spending $0.99 on each disposable cup, saving some additional money when making this summer activity affordable.
Now that you have all these no-spend weekend activities you can do during a weekend, it is time to start planning and saving.
Remember that you don't need to spend money to have fun! Something that we need to be reminded of often.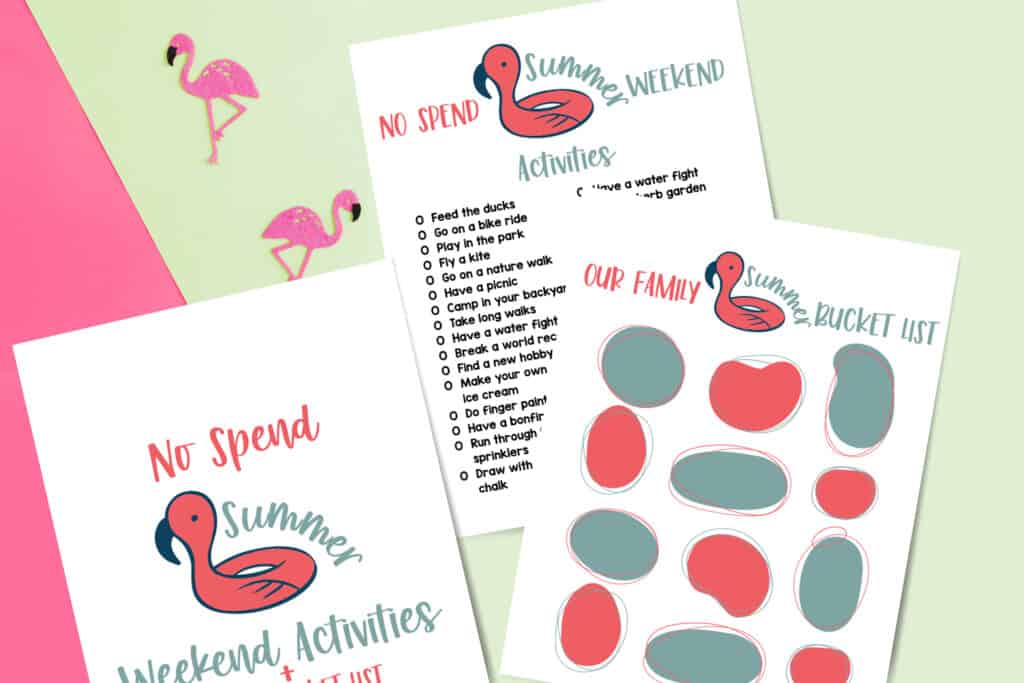 Below is a free No-Spend Summer Weekend Activities planner that includes a blank bucket list.
When you sign up to receive our newsletter, you will receive these printable sheets in your inbox.