8 Painless Ways to Reduce the Cost of Formula
This post may contain affiliate links which might earn us money. Please read my Disclosure and Privacy policies here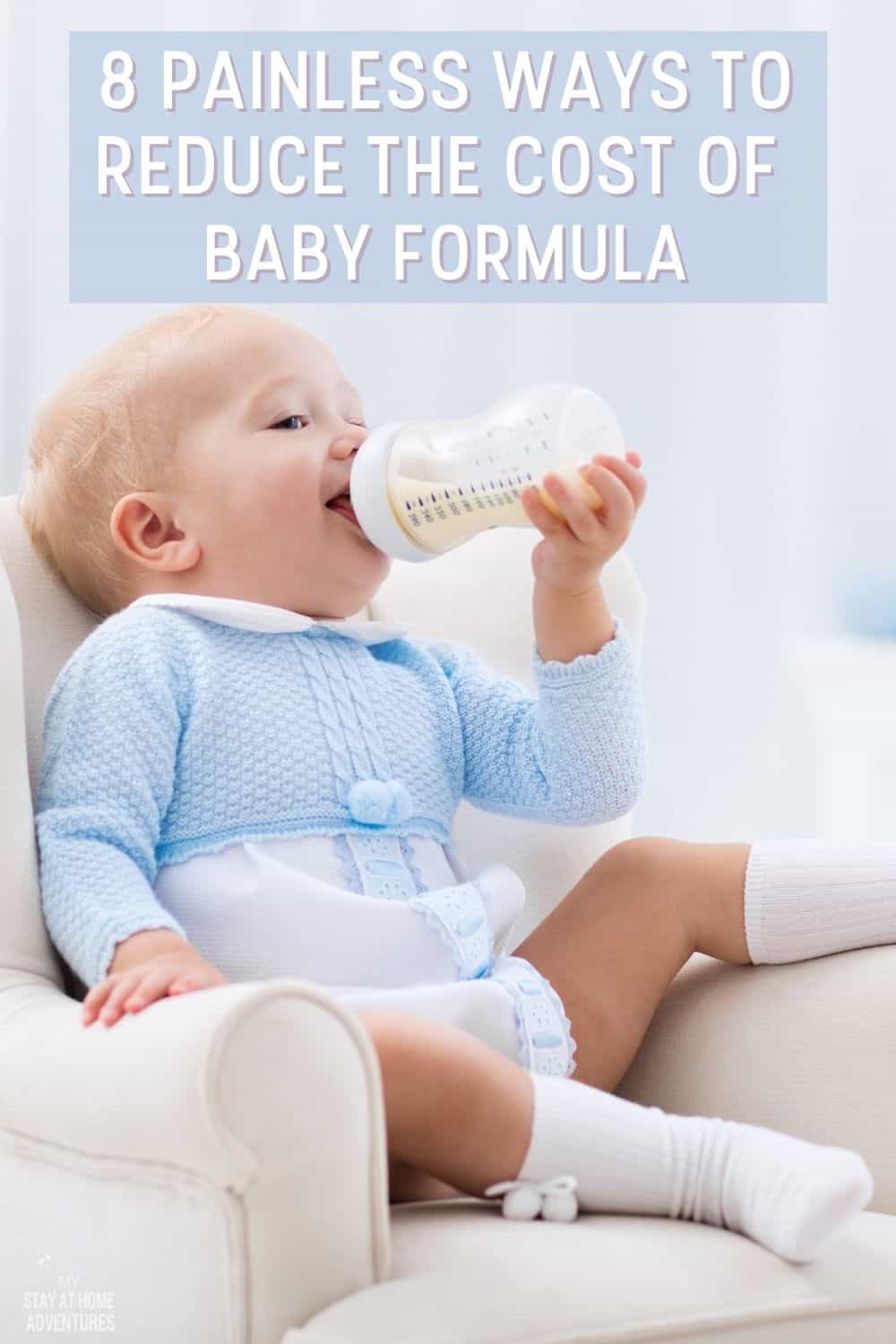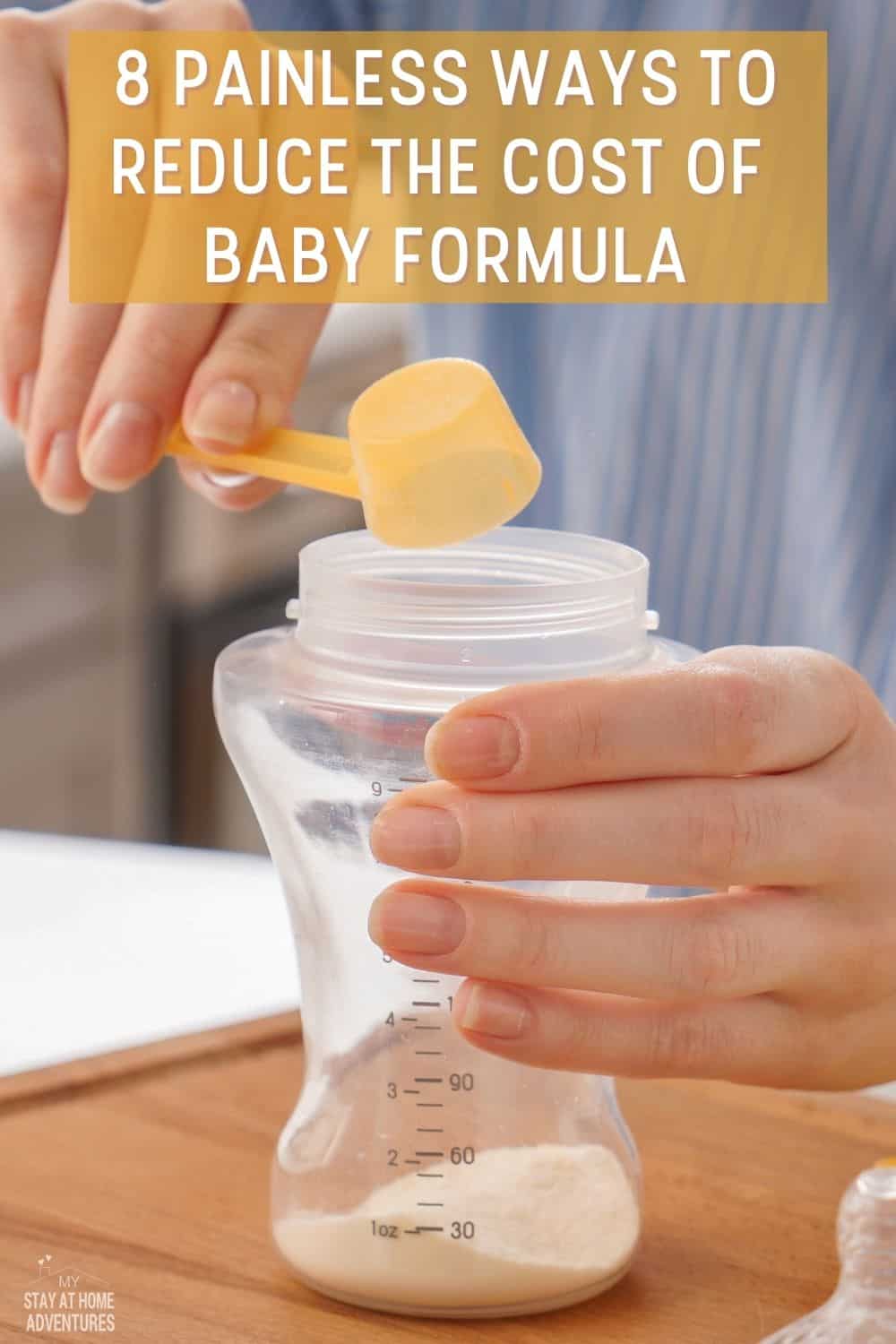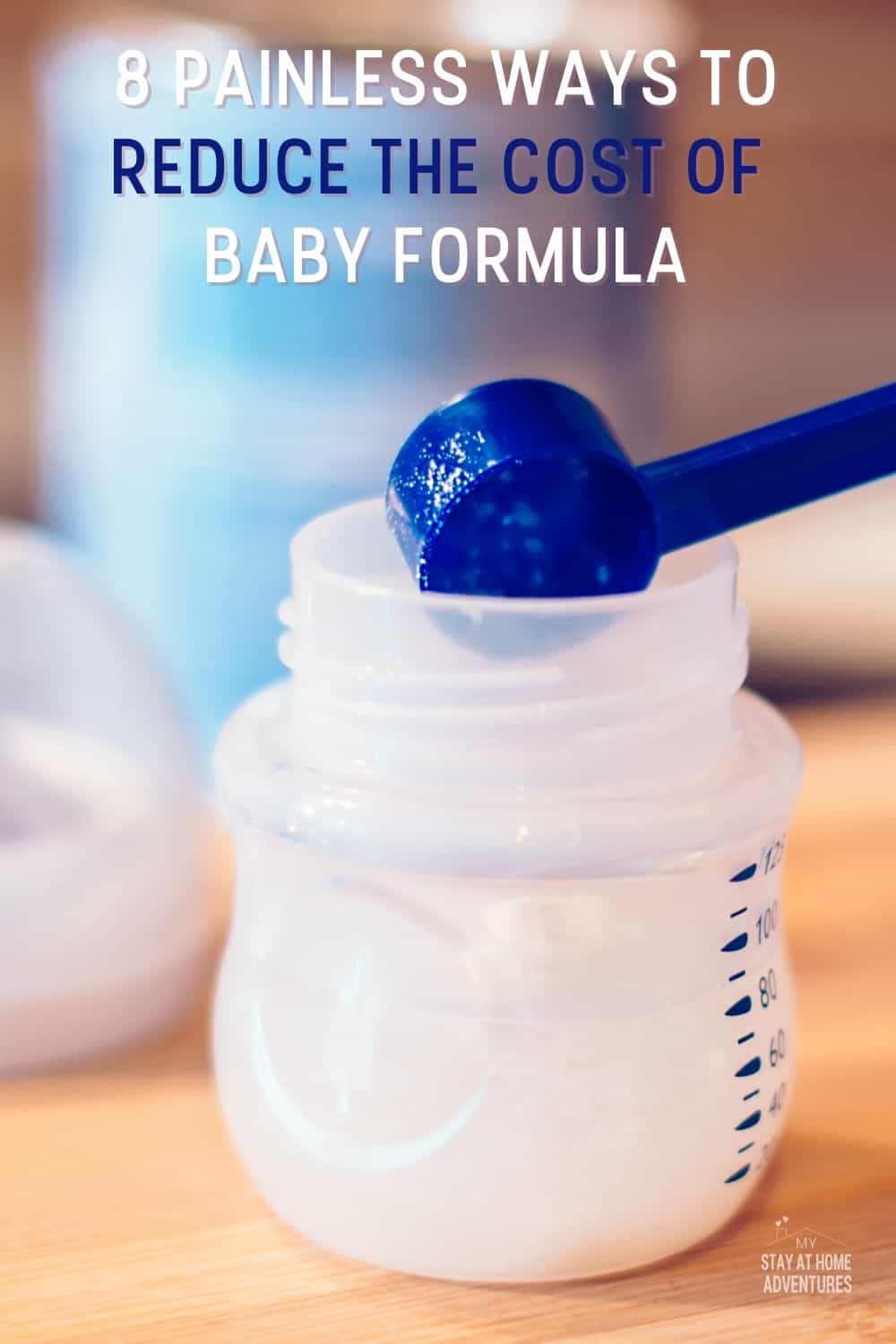 "I don't need to find ways to reduce the cost of formula," said no parent out there.
Did you know that the cost of baby formula for a year is estimated at $1642,50? The amount comes to about $31.50 a week for baby formula to feed your child.
So I know that trying to find ways to reduce the cost of formula for our babies is essential!
The joy of parenthood is amazing, it's beautiful, but nothing can prepare us for the cost of formula. Breastfeeding is not always an option for many parents, and they rely on baby formula. Though the cost is high, there are ways to reduce the cost of formula for your child.
Of course, if you are breastfeeding, then it is $0.00, but to many mamas out there, this is not possible or an option. And if you know of parents that need help with reducing their baby formula cost, share this post with them!
Also, this is not a debate or a judgment post as yours truly has breastfed and formula-fed my kids. I even breastfeed my one bay until the age of 3!
Like I stated above, I didn't always breastfeed my babies, and when I had my second child, I realized how crazy the price for baby formula was. At that time, we were also going through our financial journey, and we had to make sure we counted our pennies. Also, I was a full-time working mom for my first two children.
I relied on these tips to help me reduce the cost of formula, and it helped us save money. When we added it up, we saved a couple of hundred bucks. Baby formula is a need, and I, for the life of me, can't understand why this product is so expensive; help should be available for every parent and child regardless of income!
Please keep in mind that these tips to help you save money and reduce your formula cost will not work for everyone. You see, babies' diets are different, and what worked for us might not work for your family. I wanted to give you ideas on how to help you save money when it came to baby formula.
Below are our top tips to help you reduce the amount of money you spend on baby formula.
Get those samples
Once you find out you are pregnant, start signing up to get baby formula samples. Encourage others to do so as well. I had friends and even other parents that breastfed that gave me their free samples.
Check out these money-saving posts:
Ask your pediatrician to give you some free formula samples, and you know what, they will! Depending on how busy the pediatrician's office is and believe with what happened in 2020, chances are they will have samples of formula available to give out.
Samples are a good way to start stocking up, and they help you reduce the cost of formula. I mean, you can't beat free!
Change brands
The baby business is a business, and like any other parents, I fell for many myths. One myth was to stick to one brand only and such, which I learned never to do. Doctors and hospitals receive formula from one company; that doesn't mean that you have to continue to buy the same brand that the hospital gave to you.
When I used my free samples to see which brand my son enjoyed, I would shop around and buy any other brand formula on sale, so I never stuck with one brand. If the regular formula is what your son eats, then, by all means, use the cheapest brand you can find; and sometimes that means store brands.
We received checks from Wal-Mart to try their store brand formula. One of their checks was for $15 for one can. Yes, $15 off, and the formula cost about $20.00 for one can of the baby formula, so that I will be paying around $5 bucks!
You can also check Target, Sam's Club, and other retailers to try out their baby formula brand.
Sign up for rewards programs
The minute you know you are pregnant, start signing up for reward programs like Enfamil Family Beginnings, Earth's Best, Similac, etc. When you sign up, they will give you special offers such as free samples, high-value coupons, and checks that will help you save money.
Use those coupons and rebate apps.
You can also use manufacturer coupons to reduce your formula cost. You can check on your local paper for coupons, print them online as well.
Now a days using rebate apps are a great way to reduce your formula cost. Use rebate apps to earn money and use that money or gift cards or points toward purchasing baby formula.
Our favorite apps:
You can also use these companies to earn gift cards for your favorite stores.
Shop around
Like everything else, baby formula does go on sale, and I recommend shopping around to save money. Check your weekly ads and see what formula will be on sale that week.
You can use coupons and checks to maximize your savings when purchasing baby formulas that are on sale. Yes, stacking rules; when it comes to coupons, it applies to formula too! You can always look around for printable coupons here to help you maximize your savings.
Amazon also has baby formulas, and sometimes they even have good coupons to go with them. If you subscribe to their Subscribe & Save program, you can save up to 15%!
Ask for help
Pride aside, if you need help, ask for help. Consider applying for WIC to help you with the cost of formula. If you are within the income guideline, apply for WIC and see if you qualify. This is not about what others think or your pride; it's about feeding your children.
Buy it in bulk!
Is Buying in Bulk Worth It? I personally believe that it can be if you don't have time to shop around and deal with the time-consuming option of couponing. As I stated before about Amazon, this is where the deal on formula gets even sweeter; you see, buying in bulk brings the cost down with the Subscribe & Save, program benefits can bring the cost even lower.
Ask the company
Write the companies and ask for samples of their product. The worst thing that can happen is that they will say no. Write them a very nice and detailed email and ask for samples or even more checks.
Conclusion
We know baby formula is expensive, but we don't have to pay full price when we have ways to reduce the cost of formula. The tips above will help you save money, and these savings will add up.
Free Weekly Baby Budget Planner
How do you reduce your baby formula cost?