How often do you have no idea what you're going to make for dinner? Does it often feel like there isn't enough time to make something from scratch? If you find yourself picking up fast food on a regular basis, it's time for a change.
Not only can homemade meals save you money, but there are also ways to save time. A great tip is to make crockpot freezer meals.
With crockpot freezer meals you get the benefit of a homemade meal, but all the work has already been done. All you usually need to do is pour the ingredients into your crockpot and cook according to the recipe directions.
Many people choose recipes that have similar ingredients to save time and money. For example, if you're making barbecue chicken, you may also make chicken tacos. That way you're prepping chicken for two recipes at once.
Many recipes also make several meals worth. This allows you to stock your freezer and alternate the recipes you've prepared so that you can enjoy different meals throughout the month. And, let's not forget the best part.
Your kitchen is going to stay super clean. Yes, you will have a mess when you prep all the meals. However, the rest of the month you'll just have to wash your crockpot.
If you buy crockpot liners, you'll only have to wash the lid. It's the convenience of fast food, but the food is healthier and the ingredients aren't questionable.
Once a week, or even once a month, you can spend a few hours preparing meals that you can toss in the freezer and then toss in your crockpot when you need an easy meal.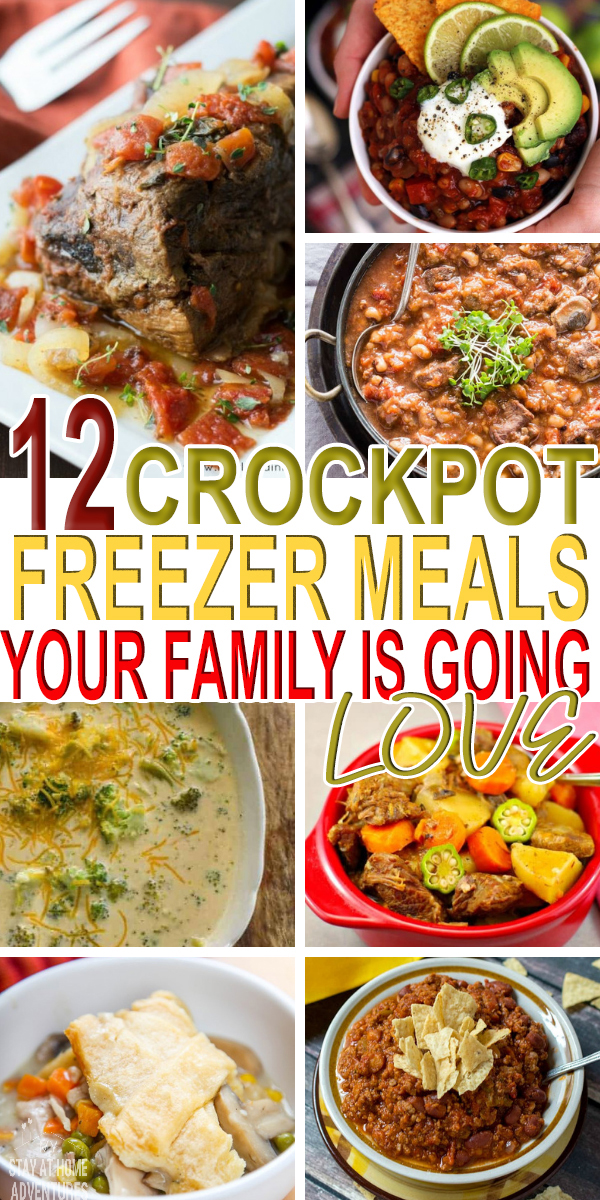 12 Crockpot Freezer Meals Your Family Is Going to Love
Below I've included links to several great articles where you'll find tons of amazing ideas.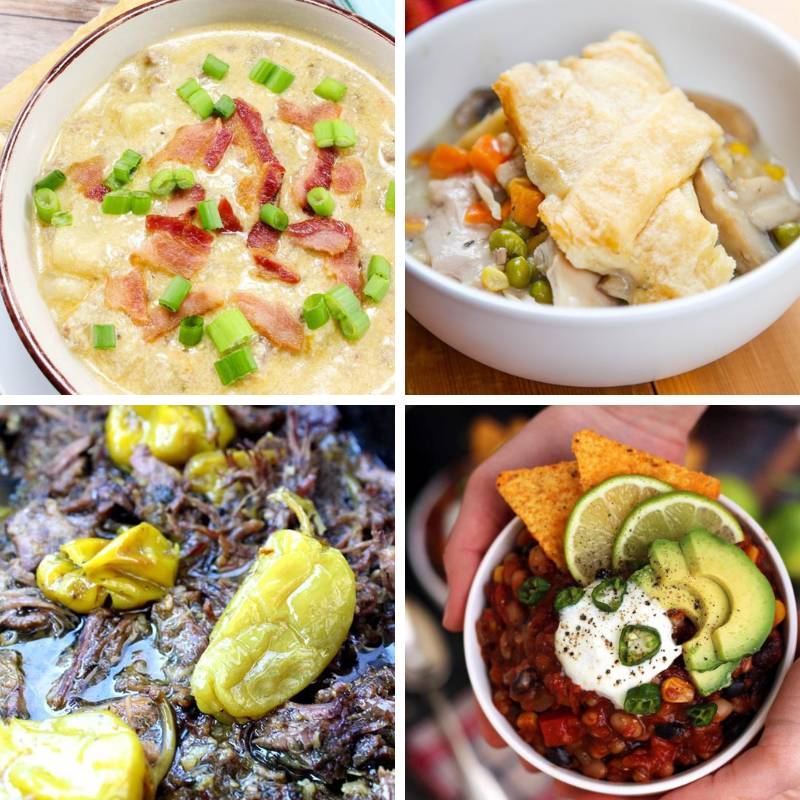 Cheeseburger soup from Dancing Through the Rain is perfect for cold days!
Slow Cooker Chicken Pot Pie from Baking Beauty is super creamy and delicious.
Crock-Pot Mississippi Pot Roast from the Rising Spoon is Paleo and Whole30 friendly.
The Best Slow Cooker Vegan Chili from Happy Kitchen Rocks is wholesome, delicious and easy to make.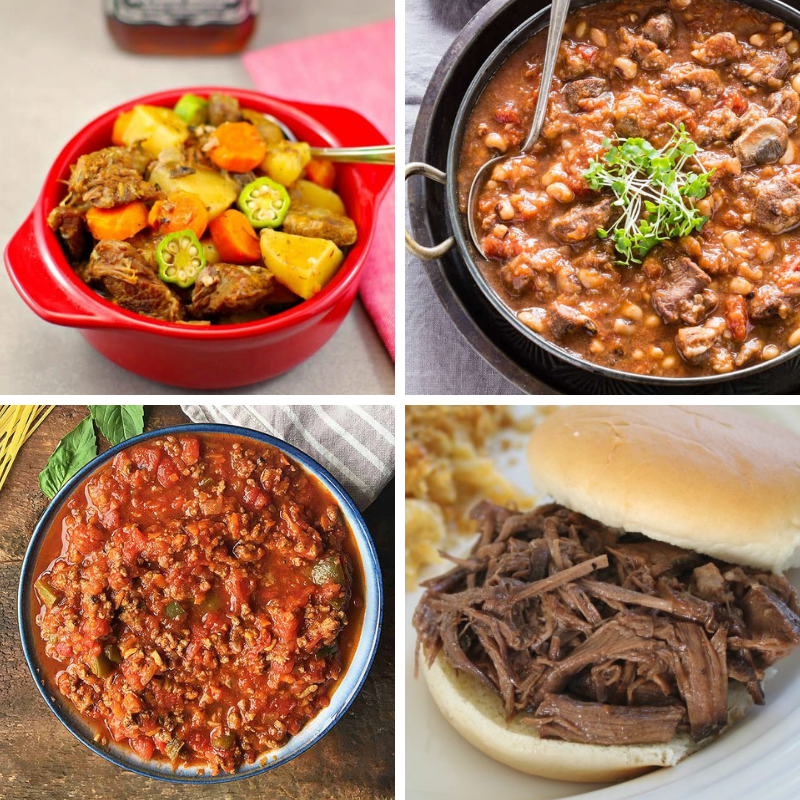 Slow Cooker Whiskey Beef Stew from Food Meandering is gluten-free, friends!
This gluten-free Slow Cooker Venison Stew from Recipe from a Pantry is nutritious and comforting to eat.
The Best Slow Cooker Spaghetti Meat Sauce from Foodal is a healthy sauce for your next pasta meal.
4 Ingredient Shredded Beef Sandwich recipe from Joyful and Thriving is easy to make and freeze!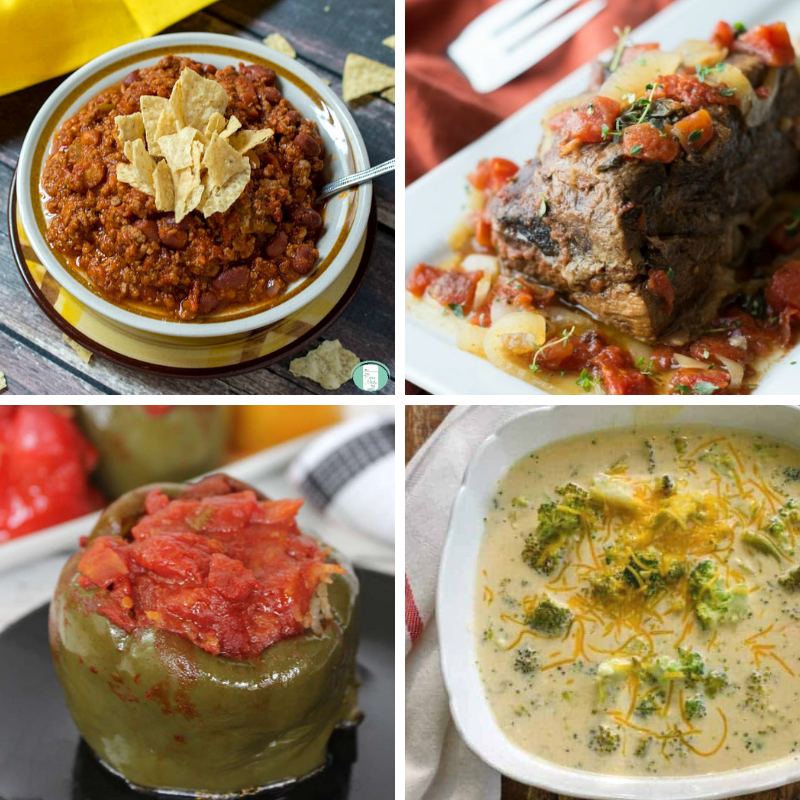 Thick and Chunky Hearty Chili from Freeze Meals 101 you just can't go wrong with this recipe!
Quick and Easy 5 Ingredient Crock Pot Roast from Fearless Dining is juicy and tender and can be freeze for later!
Crock Pot Stuffed Peppers from Baking Beauty is flavorful and yes can be frozen too!
Easy Keto Broccoli Cheese Slow Cooker Soup from Fit to Serve Group is well, Keto friendly and great to freeze.
Related posts:
Need more Crockpot freezer meals?
Below find all kinds of crockpot freezer meals from four-hour freezer meals to healthy recipes to gluten-free recipes.
1 – 40 Meals in 4 Hours Crockpot Slow Cooker Freezer Cooking
2 – Crock Pot Freezer Meals to Jumpstart Your Meal Plan
3 – I'm Just A Dump Cook – Freezer Meals
4 – 12 Healthy Freezer Meals (That You'll Actually Love)
5 – Slow Cooker Freezer Meals – 4 Different Menu Plans to Choose From!
6 – 20 Gluten Free Slow Cooker Freezer Meals from Costco for Just $150!
Your turn: Now that you have all these crockpot freezer meals what are your favorites?
The following two tabs change content below.
Latina mom of 4 married to wonderful Greek gentleman. Living in southeast PA and trying to juggle family and a household while trying to earn an income from home. Follow my stay at home journey as I discover how to earn money and save money so we can continue to live debt-free.
Latest posts by Joyce @ My Stay At Home Adventures (see all)