You are going to save time and money with these everyday kitchen saving tips.
We love to save money, and when it comes to the time we spend in the kitchen, we love to cut it down as well.
I enjoy my home adventures, but that doesn't mean it revolves around spending tons of money and time in the kitchen.
I love to cook, and when we have gatherings, we love to gather around the kitchen.
Since becoming a stay at home mom, I have to admit that my everyday life in the kitchen has evolved, and today I want to share my everyday kitchen saving tips to help you as well!
It is no secret that I love to live below my means, save money, and spend time with my family.
It is a passion of mine, and as my family continues to grow, finding ways to save time in the kitchen and enjoy more time with my family is a priority.
From getting dinner on the table to cooking and cleaning, my kitchen can basically suck up my time.
The truth is that having a routine can help you and below I will show you my kitchen saving tips that will help you as well so you can spend more time with your family.
8 Simple Everyday Kitchen Saving Tips That Works!
Meal Plan
One essential kitchen saving tip is to have a meal plan for each day of the week.
You see having a meal plan has worked for not just myself, but for many other families for many years.
Why?
Because meal plans help to save money and reduce the time you spent in the kitchen.
How?
Below are a few reasons how a weekly meal plan helps:
Follow these steps and you will see a reduction in your grocery budget:
Create a meal plan using your store ads.
Use coupons to save money on items in your menu plan.
Create a shopping list with items on your menu plan and create a shopping list.
Use money saving apps when you go shopping to save even more money.
If you need more tips check out this guide to easy meal prepping for more tips.
Freezer Cooking
What is freezer cooking?
Freezer cooking is freezing a meal and/or ingredients for the future. By doing this, you will save time in the kitchen. To do this, you can:
Double a cooking batch
Doing it in bulk
Freezing leftovers
Again, this will save you time in the kitchen and will save you money. There are also plenty of foods that you can freeze to help you save time and money as well.
Stock your freezer
Having your freezer full goes hand in hand with freezer cooking and having a well stocked up freezer is a helpful kitchen saving tip I follow.
Having a stocked up freezer allows me to know what meal is going to be cooked by knowing what items I have in my freezer. Having an empty freezer means trips to the stores.
Check out My FreezEasy to help you stock your freezer!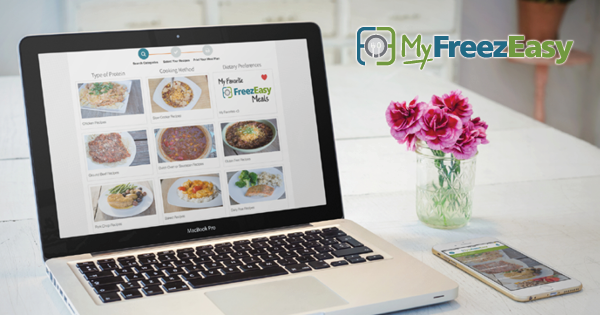 Stock up your pantry
Buying items on sales, using coupons, and using money-saving apps allow us to stock up our pantry essentials with things our family uses.
Having your pantry full of the essentials you need cuts down on time because you don't have to go to the store and money because you stock up when the items are on sale.
Prep your dinner ahead
There are many ways you can prepare your dinner ahead during the day. You can start during the morning and start cutting vegetables in the morning and have your seasoning set out aside. When it is time making dinner, you will have what you need available for you.
Use simple recipes
Another common kitchen saving tip is to create simple recipes for your family. You will find fast and delicious recipes that the family will enjoy that are so simple to create.
Meals like:
One pot recipes
Using the slow cooker
Some soups recipes
Some pasta recipes
Meals that are so simple and delicious and won't make you spend so much time in the kitchen.
Use the internet
The internet is your friend and full of information that will help you reduce the time and money you spend in the kitchen.
Look for recipes and resources that will help you save money and cut the time you and your family spend in the kitchen.
Clean as you go
You will be surprised how many people don't clean as they go, and for this task, having the right tools for the job makes cleaning and picking up my kitchen a smooth one.
Cleaning as you prepare your meals will help you reduce the time you spend in the kitchen.
Having good quality products to maintain the everyday cleaning of your kitchen is essential as well.
Who wants to spend more time in the kitchen and using products that just don't work nor do they work fast enough.
Taking out the trash requires for us to have good quality kitchen trash bags. There is nothing more we dislike than taking our kitchen trash out and having a bag tear open or for the trash odor to overwhelm the entire house.
Using a good cleaner that will get the job done will cut down on the time you spend cleaning.
Your time in the kitchen doesn't have to be dreaded nor long. By simply following this daily kitchen saving tips you will be able to spend less time in the kitchen and more time with your family.
Remember that planning, keeping stock, and using quality products to keep your everyday kitchen routine going will lead to less time in the kitchen.
What other tips do you have to spend less time in the kitchen and more time with the family?
The following two tabs change content below.
Latina mom of 4 married to wonderful Greek gentleman. Living in southeast PA and trying to juggle family and a household while trying to earn an income from home. Follow my stay at home journey as I discover how to earn money and save money so we can continue to live debt-free.
Latest posts by Joyce @ My Stay At Home Adventures (see all)