27 No-Spend Fall Weekend Activities (Free Printables)
This post may contain affiliate links which might earn us money. Please read my Disclosure and Privacy policies here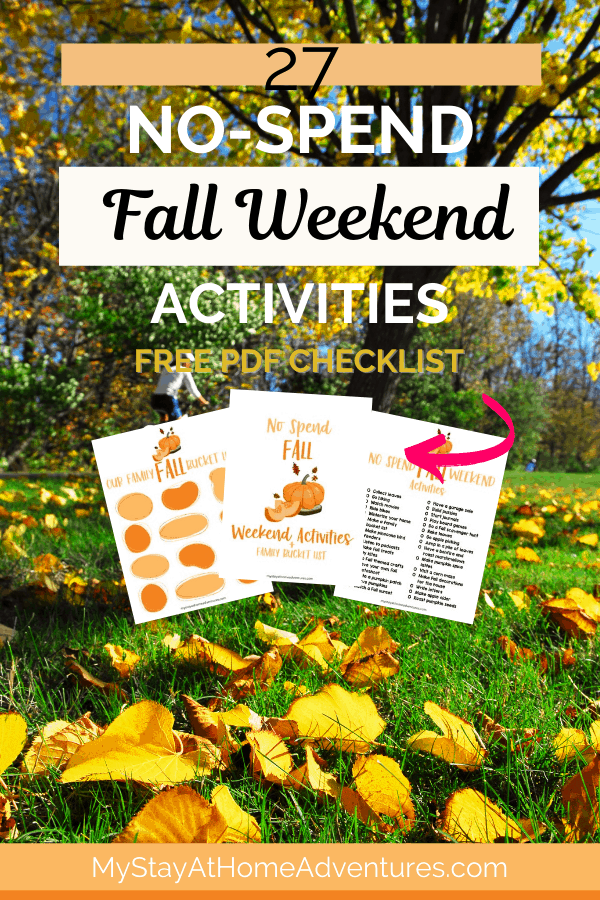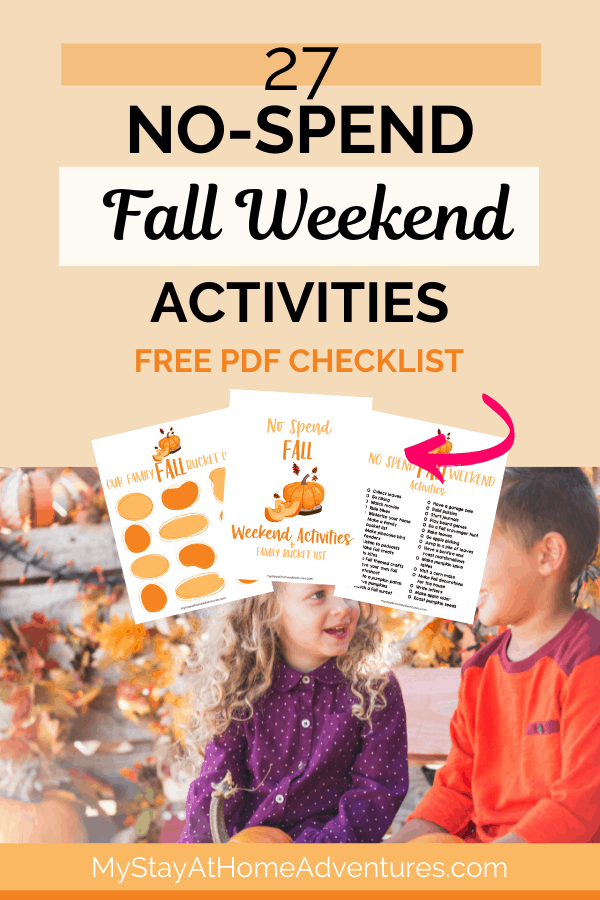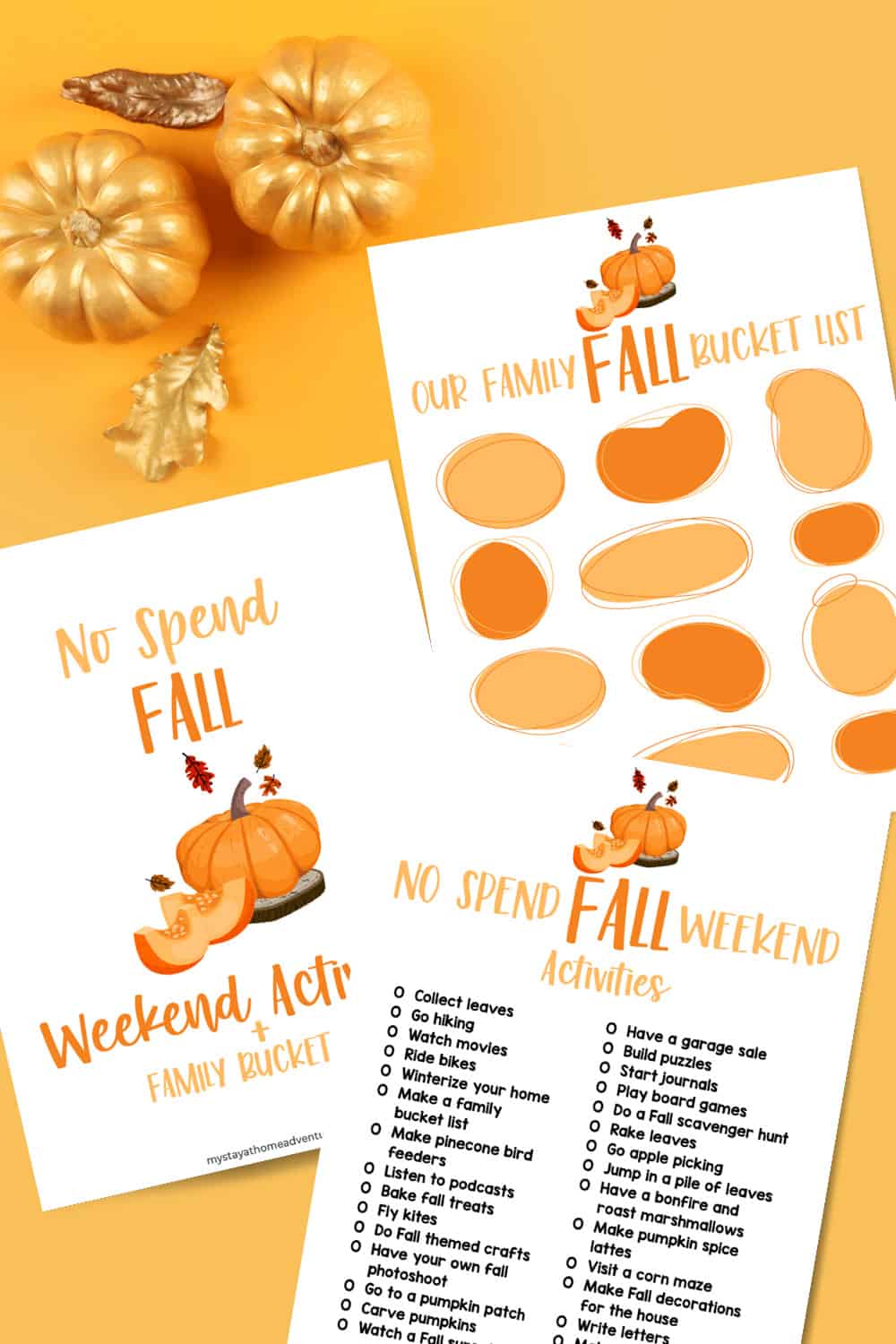 Fall is finally here! No more crazy heat, which means… No more stifling heat. No more melting ice cream, dying flowers, and sticky hands. No more sweating like a pig while doing activities outdoors.
I am sure you want to get out of the house and enjoy some refreshing outdoor activities with your family or friends in the fall weather.
What are No Spend Fall Weekend Activities For The Family?
A list of free activities for the family that doesn't involve spending money is a great way to save money.
This includes outdoor games, indoor games, and writing letters! There are so many fun things to do this fall that you should be able to enjoy every minute of it without breaking the bank.
You might like these posts:
Remember that we spend more money during this time of the year due to the holiday season, so enjoying no cost or low-cost activities is an excellent way financially.
You'll discover 27 fun things to do with your family over the fall weekends that don't cost a dime. You don't need to go on expensive excursions or holidays to make fall memories.
With everything going on in today's world, quick and straightforward activities are critical to maintaining a healthy work/family balance.
So let's get started.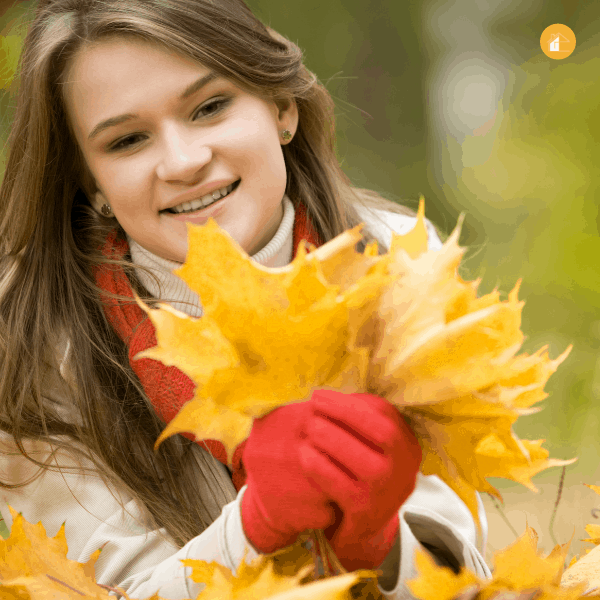 Collect Leaves
Collecting leaves is a no-cost fall weekend activity you can do with your family.
The leaves are changing, the air is crisp, and everything feels so much more festive. This season also brings many great activities for families to partake in together during their "no spend" weekends.
Go Hiking
Families often look for things to do during the fall season but don't want to spend much money. Hiking is an inexpensive activity that can be done on any budget and will get everyone outside in nature!
To find a trail near you, check out, All Trails.
Watch Movies
What better way to spend a fall weekend than by cuddling up on the couch and watching some of your favorite movies? This is an excellent activity for families with kids because they can get involved in making popcorn, picking out snacks, and deciding what movie to watch.
Winterize your Home
With the cold weather coming, it's time to winterize your home and prepare for the upcoming winter months ahead. First, create a plan and assign tasks to make sure your home is ready for winter. Then, make it fun and treat your family to a delicious home cook afterward.
Please read Fall Energy Saving Tips To Help You Save Money.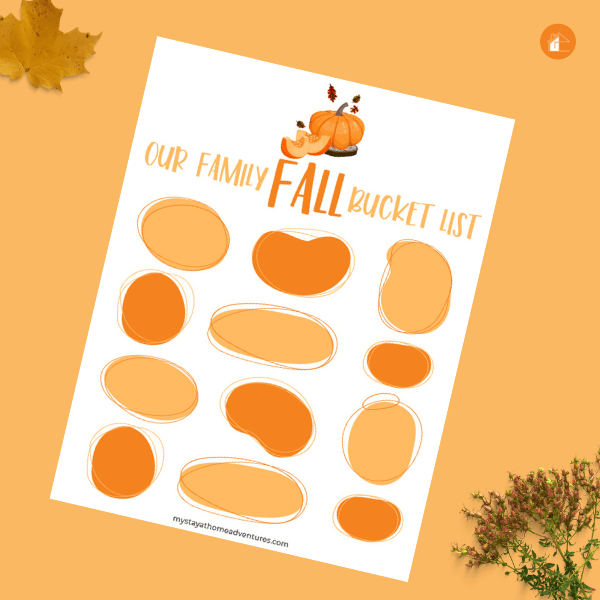 Make a Family Bucket List
Fall is a perfect time for families to get outside and enjoy some outdoor activities while not spending any money. This is when making a family bucket list comes to mind.
Set a time and create a family event to create a family bucket list! The best part about this list is to make sure there's something for everyone on it so you can pick and choose what works best for your family!
Make a Pinecone Bird Feeder
This weekend, take a break from spending money to enjoy some free fall activities. All you need is a pinecone and some birdseed to make this Pinecone Bird Feeder!
Check this Pinecone Bird Feeder craft.
Listen to Podcast
There are various ways to spend your weekend, and we're here to help you find some that won't break the bank. Check out these ideas for how you can spend a fall weekend without spending a dime! Podcasts are a fun way to spend the weekend. There are so many free and paid podcasts to listen to.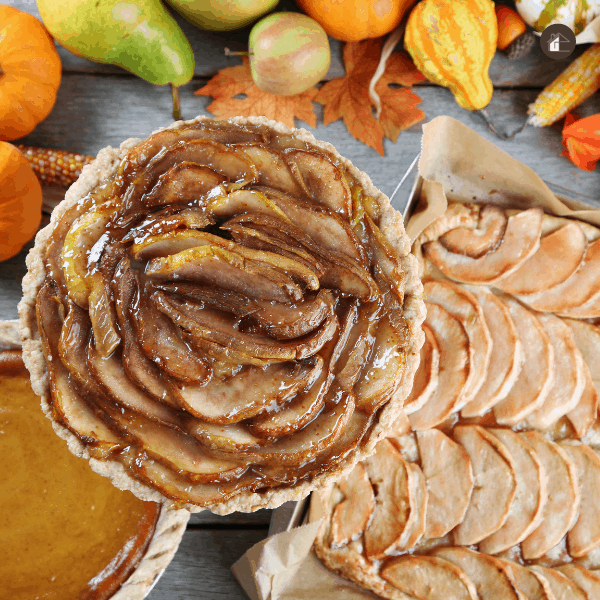 Bake Fall Treats
Baking is a great way to spend time with your family and friends. The smell of fresh baked goods will evoke memories of holidays past or just a cozy evening at home. This baking activity is also a good opportunity for the entire family to spend quality time together. So devote this fall weekend to making delicious treats from scratch!
Fly Kites
Another no-spend weekend activity to do during the fall is to fly kites. This activity is also great for kids because they can spend time playing outside doing something that does not require much effort!
Do Fall Themed Crafts
Are you looking for a way to spend this upcoming Fall weekend without spending any money? Then, consider doing some fall-themed crafts! There are plenty of things to make that don't require much in the way of supplies.
Take Your Own Fall Photoshoot
Wait for the perfect fall weekend weather to pull out your fall clothing and take some gorgeous photos with your phone or personal camera. The leaves are changing colors. The temperature is cooling down, and create a spectacular collection of images worthy of your Instagram feed!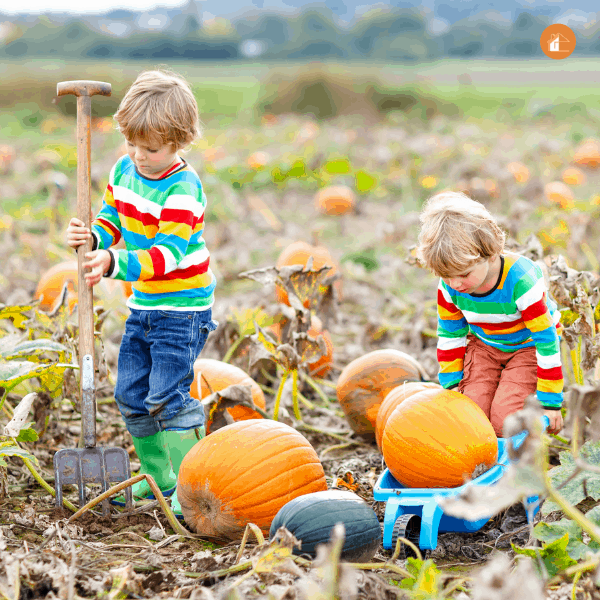 Go to a Pumpkin Patch
Fall is a beautiful time to visit a pumpkin patch. Get your family together and head out for an adventure to find the perfect pumpkin.
You can do many things at a pumpkin patch that are low-cost and sometimes free, from picking pumpkins to going on hayrides or apple picking. Bring some friends as well as it's always more fun with company.
Carve Pumpkins
In October, pumpkin carving is a favorite pastime for many families. Halloween decorations are being put up, and pumpkins start popping up in grocery stores and farmers' markets. However, pumpkin carving does not have to be expensive, and you can use tools you already have in your home.
Watch a Fall Sunset
Fall is the perfect time to take in all that nature has to offer. So this weekend, get outside and enjoy a beautiful fall sunset! This no spend fall weekend activity can be done anywhere you are as long as you have access to windows or doors that allow for watching the sky.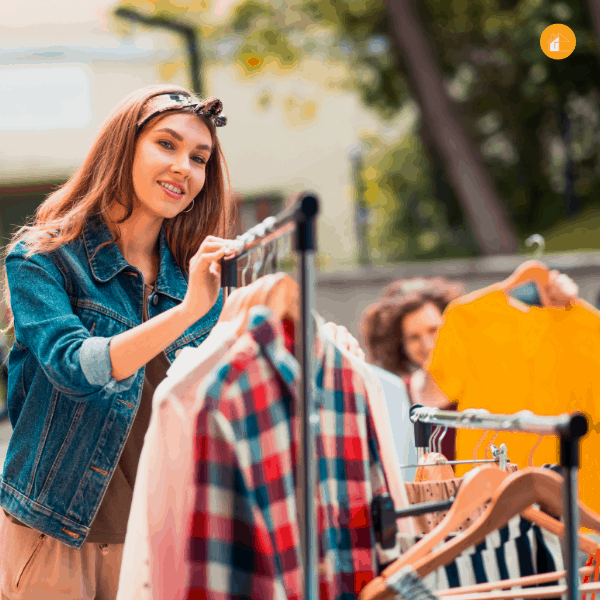 Fall Garage Sale
A garage sale is a great way to have some fun, earn some money, and clear out the clutter that's been accumulating in your house. It also allows you to think about what you really need versus what you want. You don't have to spend money to earn money this weekend!
Build Puzzles
Puzzles are a fun and inexpensive activity for the whole family to enjoy. Build puzzles with your children, share them with friends or assemble them to keep yourself occupied during this season of giving.
Puzzles can be found in all shapes and sizes, from easy-peasy jigsaw pieces that fit together like a puzzle to more complicated cube puzzles that test your spatial reasoning skills.
Start journaling
You can start journaling as a weekend no-spend activity. Many individuals have never considered writing down their ideas and feelings, but this is a fantastic method. Anyone can do it, and all you need is paper and a pen. Here are some tips on how to get started:
1) Find a spot that inspires you. This could be where you work or spend most of your time. Like in front of your favorite painting or near the window. This will help get your creative juices flowing!
2) Choose what kind of journaling you want to do– some people just like writing down their thoughts, while others like to document their feelings or thoughts. No matter what you decide, it is essential to research the different types of journals to know which one will work best for your needs.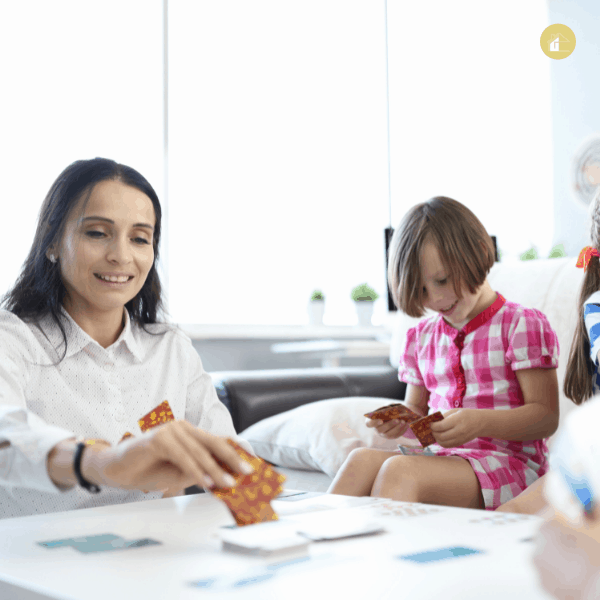 Play card and board games
Playing card and board games are a great way to spend time with your family on a no-spend summer weekend. It's an activity that everyone from kids to adults can enjoy, and it doesn't require any expensive equipment!
Fall Scavenger Hunt
The leaves are changing, the air is crisp, and you can taste pumpkin spice in the air. Fall is one of my favorite seasons, so I wanted to share a way for families to have fun without spending any money this fall weekend. This fall scavenger hunt should be easy enough for kids of all ages and help them explore their neighborhood while getting some exercise!
Grab this Fall Scavenger Hunt Printables.
Rake Leaves
Rake leaves as a no-spend family weekend activity might not sound like fun, but you can make it fun. With the change in seasons comes an abundance of windy days that can cause piles of leaves to pile up on your lawn.
Instead of spending money on leaf blowers and yard waste bags, try raking them yourself with some help from your kids or spouse. This is a great way to bond with the people you love while saving money!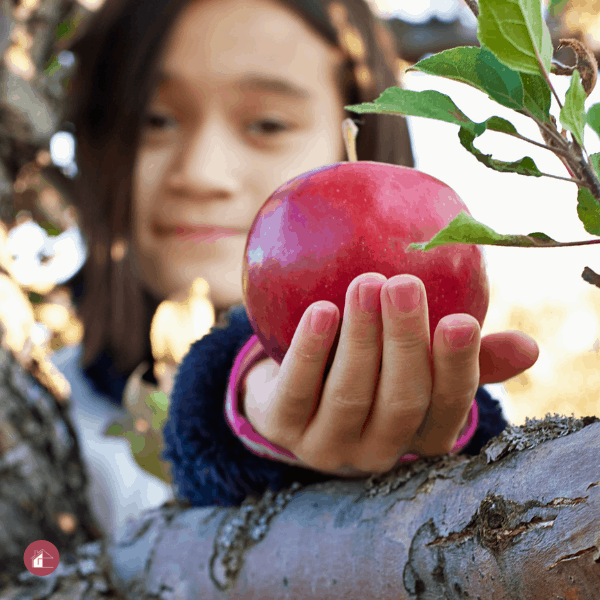 Apple Picking
The leaves are changing color, the crisp air is in the air, and it's time to go apple picking. It's a no-spend or low-cost fall weekend activity that can be done with your family or friends.
Jump in a Pile of Leaves
This is an activity that you and your family can do after raking leaves! This is such a fun activity, and it cost nothing.
Enjoy a Bonfire and Roast Marshmallows
A bonfire is one of my favorite things to do in the fall. It's a great way to spend time with family, roast marshmallows, and have fun.
Make Pumpkin Spice Lattes
If you have the ingredients at home, why not make pumpkin spice lattes! Try different recipes and see who makes the best one!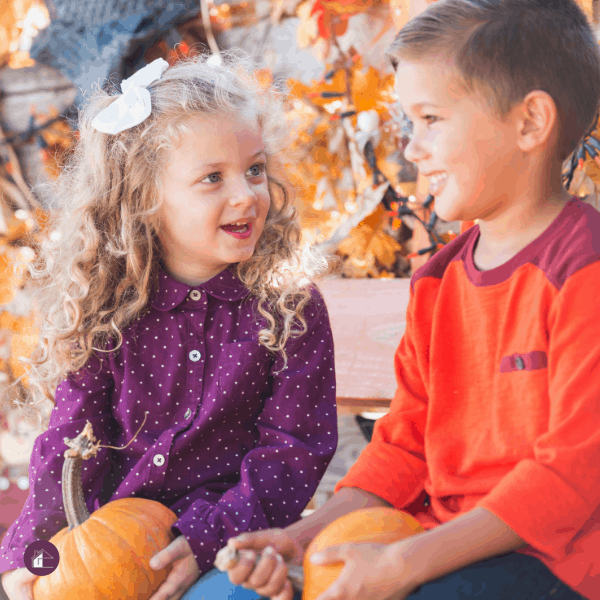 Attend a Harvest Festival
Many local areas host harvest festivals and other fall events with free music and even bonfires during the fall season.
Free Library Fall Crafts
Check your local library for free crafts—many libraries host craft time for everyone. During the pandemic, you could order your craft and pick it up there. The bags or boxes came with everything you would need to create the craft at home.
Decorate your Home
Reserve a weekend to decorate your home. You can even create your own DIY fall or Halloween decorations with items you already have in your home, which will reduce the cost to even $0!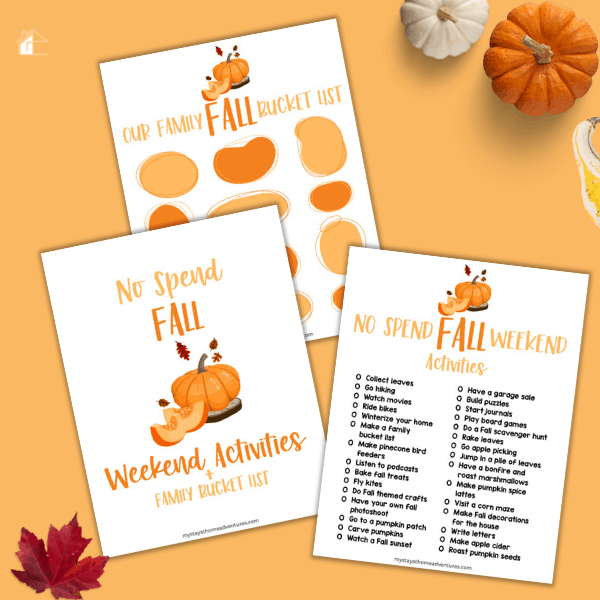 No Spend Fall Weekend Activities Printables
Below is a free No-Spend Fall Weekend Activities planner that includes a blank bucket list.
When you sign up to receive our newsletter, you will receive these printable sheets in your inbox.