4 Reasons You Should Encourage Your Kids to Develop Hobbies
This post may contain affiliate links which might earn us money. Please read my Disclosure and Privacy policies here
School is the number one priority! We are constantly reminding our children and even ourselves. Good grades mean better classes, which mean better colleges, which will hopefully translate into a successful career.
As parents, it's only natural to want our children to excel in school. We want them to be dedicated to their studies and we don't want them distracted by other influences, like television, smartphones and computer games. But we might be limiting our children if we don't let them pursue other interests.
Studies have shown that children with an active hobby actually do better in school. Hobbies sharpen their focus in all areas, academics included. They develop their personalities and can become more socially confident.
We all need a break from our daily grind. Walking away from the computer screen and getting outside can help us accomplish more. We return refreshed and rejuvenated and the work doesn't seem as daunting.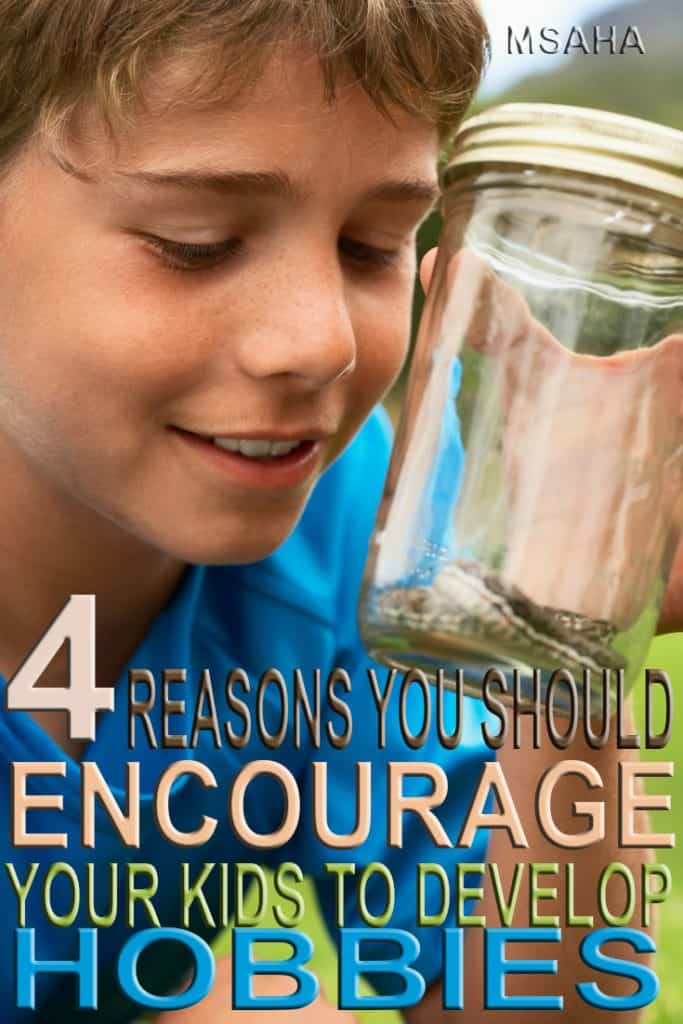 Why You Should Encourage Your Kids to Develop Hobbies
Kids are the same way. Having an activity outside of school and homework will further enrich their lives and can provide many additional benefits you might not be aware of.
Socialization
Sharing common interests is a great way to make friends. If your child shows an interest in dancing, painting, drawing, karate or anything else, you can join a class where he or she can meet others with similar interests. Your library or community center may offer such courses. These shared interests will stimulate conversation, increase your child's socialization skills and form potentially lasting bonds of friendship.
Read more parenting today:
5 Tips on How to Be a Positive Parent
Stress Relief
After being at school for eight hours or more and after trying to learn many different subjects, your child is going to want to unwind.
School can be stressful, and let's face it — homework is usually boring. Giving your child a chance to use his or her brain another way — and in a way they enjoy — will give them a chance to relax and release stress.
Mental Health
Being enthusiastic about a hobby can trigger a good mood. Depending on what they're engaging in, they will learn better concentration and patience when they achieve their elective tasks.
A break in the monotony always helps refresh the brain. When they do return to their studies, they'll be more successful having had a breather.
Diversity of Learning
We meet people who are either good at math or good at sports. They are either musically inclined or artistically inclined. This may be by accident or design. Learning different skills is healthy for your brain. You've heard that you can't teach an old dog new tricks, but children's brains are ready for any new challenge.
Expose them to art, science, music and literature. They may discover interests on their own, but as parents we want to give them all the opportunities we possibly can.
What Parents Can Do
How can you encourage your children to pursue a new hobby? You want to expose them to new ideas and you want to make suggestions, but you don't want to force them into anything.
It's natural to want your child to pursue things you're interested in, but make sure your child is interested as well. Hobbies can be so exciting and rewarding for children, but you don't want it to backfire by forcing them to participate in something they show little or no interest in.
Have they ever noticed you applying postage to an envelope? Tell them what it's for and show them a package or envelope that arrived with postmarks on it. Identify what part of the country the parcel arrived from. Who knows? This could inspire an interest in stamp collecting!
The trick is encouraging your children based on interests they've already expressed. The same approach could be used when a child admires an athlete on TV. A famous dancer or ballerina might give your child motivation to do the same.
A science show might encourage stargazing or birdwatching. Pursuing activities your children are genuinely excited by will give them opportunities to discover hidden or unexpressed talents and abilities. This is what you want.
Enjoy discovering new hobbies with your children. School will be much more enjoyable when your child has a newfound passion. Who knows — you might even discover a new hobby for yourself! After that, you just have to find the time to pursue it.
Your turn: How do you encourage your kids to develop hobbies? Share your ideas and tips with us.
---
Anum Yoon is a personal finance blogger who is dedicated to sharing her insights on money management with others. She believes that a greener, energy-efficient lifestyle is the key to living a more fulfilling life. When she's not typing away on her keyboard, you can find her poring over a new recipe she found on Pinterest or at the power rack in her gym. Catch her on Twitter or sign up for her newsletter here to find out what she's sharing!