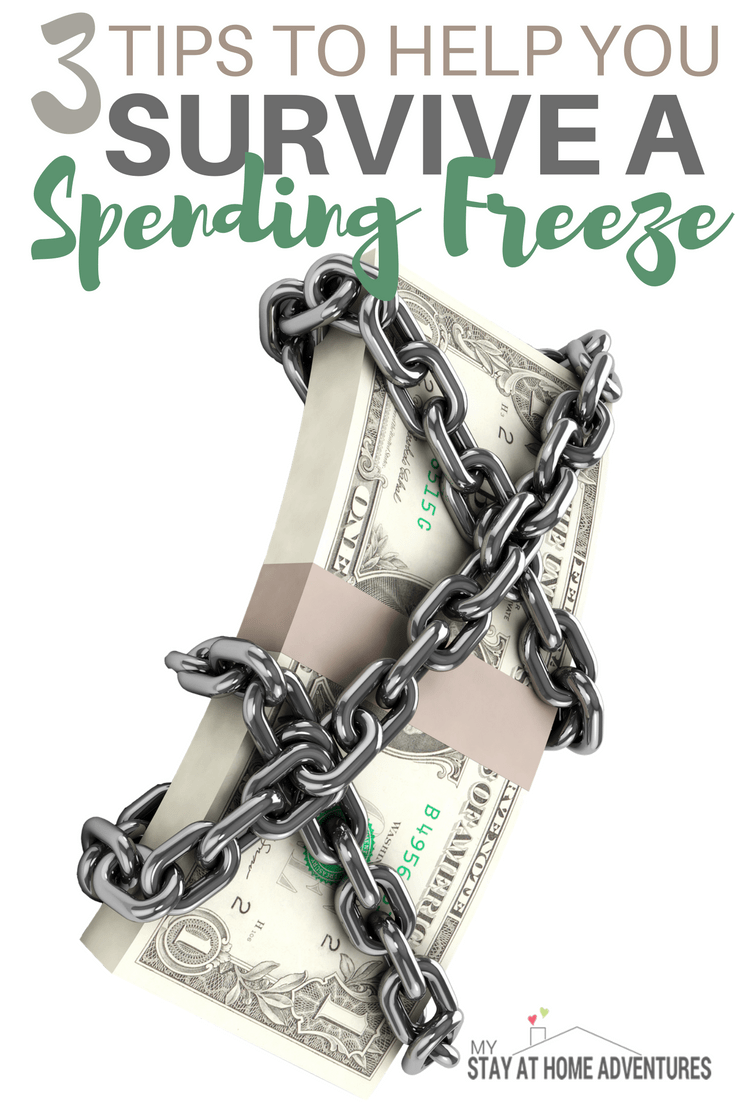 This has to be one of my favorite topics to write about. It was also one of the hardest for me to do when I began transforming the way I was living, but I survived a spending freeze.
It is important when you are trying to fix your finances. Yet, it is so hard to go from a spending spree to no spending in the blink of an eye.
Spending freezes are extremely important, and one reason many of us do this money challenge and continue to do it is that not only does it help your finances, but it also helps you on a personal level.
For me, spending money was a habit I simply loved. I also spent money when I was down, or happy. I am an emotional spender, period.
If you don't know what a spending freeze is, I will gladly inform you. Many people go into spending freeze mode, meaning they take a hiatus from spending money for a limited time.
The amount of time can be a week, to a month or so. Many of us refer to it as a spending freeze challenge and it is a great way to save money and learn discipline as well.
Before you go and say that you do have to spend money in order to pay your bills and necessities, yes, we all do and that is not what a money freeze involves.
You are allowed to spend money on needs such as food, shelter, etc. It's the extra things that we spend on that we decide to freeze our spending on such as going out to eat, buying things we don't need, using credit cards, etc.
What makes a spending freeze challenging for many people is breaking the spending habit we have created. For example:
Buying coffee every day at a coffee shop.
Getting our hair and nails done professionally.
Going out to the movies.
These are some of the habits that we don't think affect us financially, but they do.
The purpose of a spending freeze is to utilize what you have and make it work. For me, I don't use credit cards and go into a strict cash budget for a month to save money.
I know I sound like a broken record, but what works for others, might not work for you and that is fine.
The point of a freeze is to help you to not overspend money; it helps you learn more about what is important.
Believe me, you will. I think for me, a spending freeze allows me to focus on what is important in my life. It gives me time to reflect and be grateful and humble.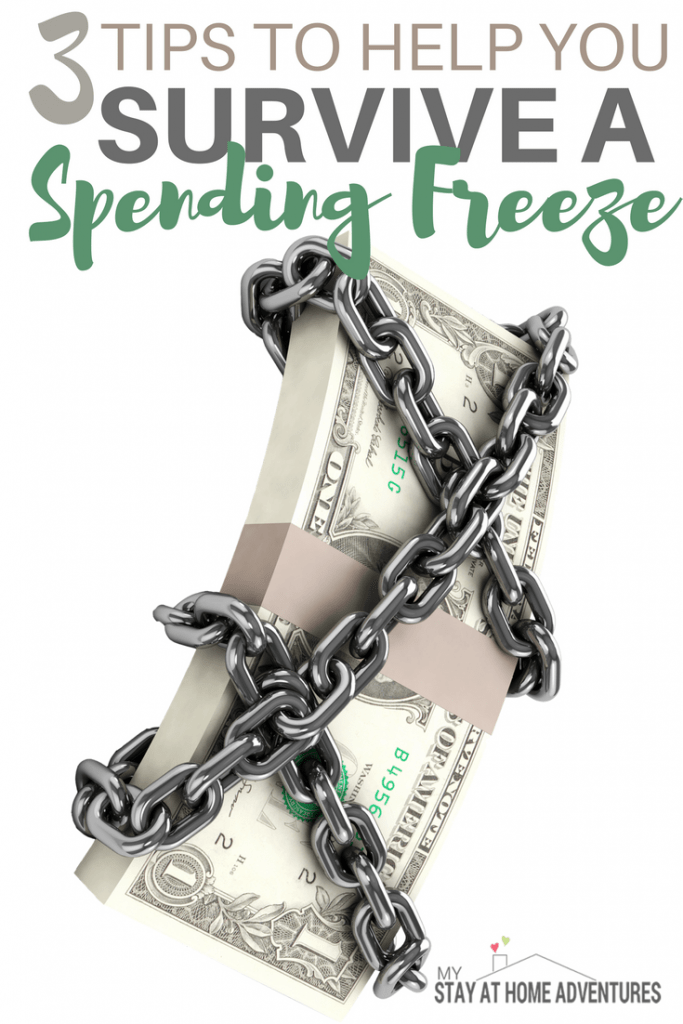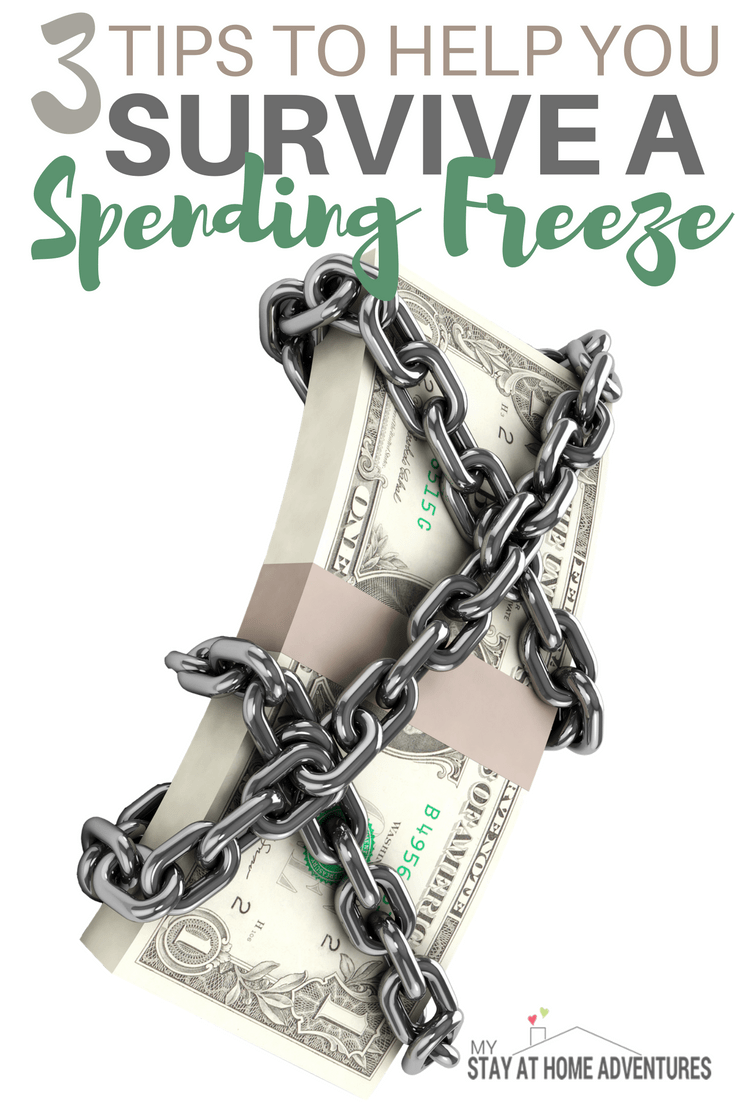 How to Survive a Spending Freeze
Set the rules
If you are going to take on a spending freeze challenge, your best and safest way to make sure you complete them is to set the rules for your challenge. If you are doing this with your spouse or significant other, you all need to agree and be on the same page.
This is extremely important for many reasons. Are you going to use a cash system? Are credit cards allowed? Would this spending freeze challenge be for a week or a month? These are important questions to ask yourself.
I have written about overspending and ways to not spend your money, below you will find some ideas to help you not to spend money:
Avoid shopping for fun. I will go shopping when I need to go shopping. Shopping just because I'm bored or need to get out of the house is no excuse for spending money. If I have no reason to go to the store, then I will not.
Do not go out shopping when you are hungry. Believe it or not, this seems to be one of my downfalls. I tend to go around the time when I am craving lunch. You know what happens when you are hungry and you are shopping; you overspend.
Shop with a shopping list. This always helps me out and keeps me on track. My problem is that when I go shopping, I tend to forget the list. I finally got this app for my mobile phone that is helping me in this department.
Create a menu plan. I'm a big fan of menu planning. I love creating them and using them. If you don't have a menu plan, you are missing out on how much time and money you can save by creating them. Below are two important reasons why I love creating and using a menu plan:
Convenience:

Creating a meal plan will reduce the amount you spend going to the grocery store to look for what you need. You have all the ingredients available for your meals. This will avoid stress and the "what's for dinner" from the rest of the family.

Less waste:

When you plan what your family is going to eat for the week, you will plan meals that you know everyone will enjoy. This avoids having food wasted because you didn't overbuy products you didn't need. You avoided creating meals that were not popular with your family.
Create a plan for your spending freeze
Without a plan, chances are you are going to fail again. This challenge is difficult and you need to make sure that you are able to look at your plan and stay focused.
Look at your rules and plan out your challenge. Are you an emotional spender? What causes you to spend? What can you do that will help you not to spend?
Write down what your weaknesses are and the reasons you spend. I will tell you that writing and finding a solution to avoid these issues will help you in the future.
For me, when I am tempted to buy something that I really don't need and costs money, I wait until the next day to decide. The reason why is that when I sleep and wake up, many things look differently.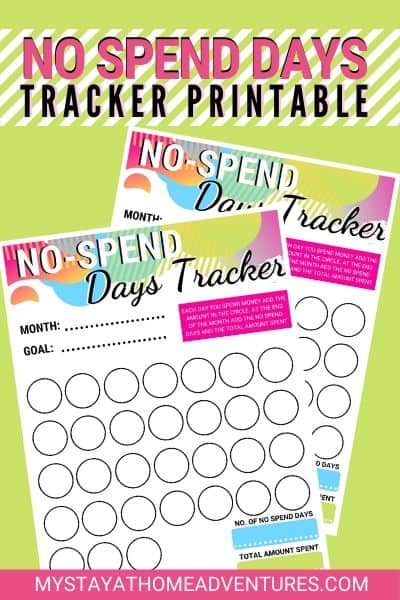 Find your motivation
When you plan and create goals, write them down. Then create a motivational notebook, wall, or anything that will remind you why you are doing this spending freeze.
I am a visual person and I love to have things or pictures to remind me of why I am doing this.
I read books and join challenges to help me keep motivated during my no spending free challenge. And you know they work! You can also find groups that are dedicated to this challenge as well.
A spending freeze has so many benefits even though it's a hard challenge. It will change how you view your finances and will change you personally. The result of completing a spending freeze, and seeing the results of it, is an amazing feeling.
Download the No Spend Days Tracker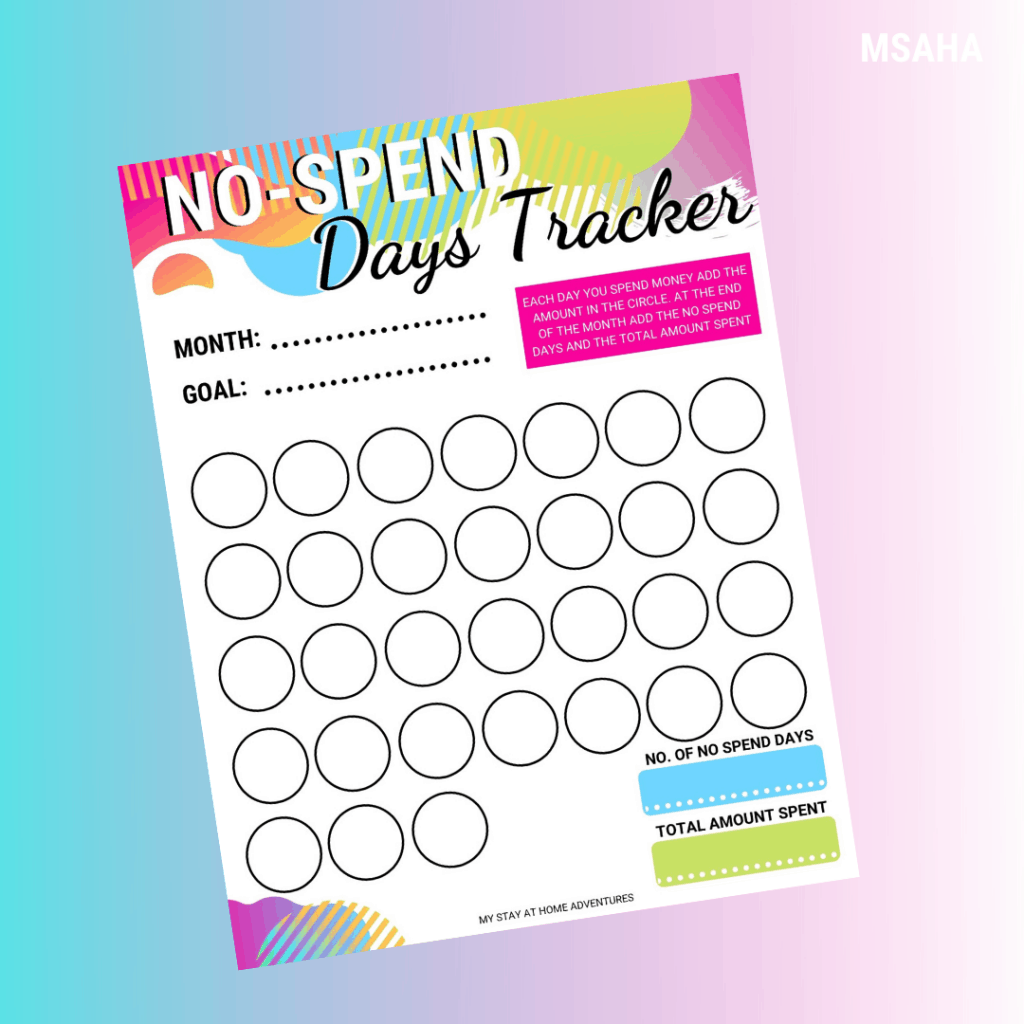 Subscribe to receive our newsletter and get access to our subscriber-only library where you can find the No Spend Days Tracker printable absolutely free.
Fill out the form below and you will receive access to our library.
How do you survive a spending freeze? Share it with us!
The following two tabs change content below.
Latina mom of 4 married to wonderful Greek gentleman. Living in southeast PA and trying to juggle family and a household while trying to earn an income from home. Follow my stay at home journey as I discover how to earn money and save money so we can continue to live debt-free.
Latest posts by Joyce @ My Stay At Home Adventures (see all)