7 Top Posts That Will Help You Become Debt Free in 2019
This post may contain affiliate links which might earn us money. Please read my Disclosure and Privacy policies here
7 Top Posts That Will Help You Become Debt Free in 2019
Do you want to become debt free in 2019?
Here's the thing, wanting to be debt free in 2019 and sticking with it are two different things.
If 2019 is the year, you are making a goal to take control of your finances, congratulations! Nothing makes this girl happy that you are committing to kicking debt to the curb by taking charge of your finances.
Becoming debt free is not an easy journey, but an amazing road so worth the ride!
Not only will this financial journey change your finances, but it will also improve you personally and emotionally.
To help you I have gathered 7 posts to that will help you become debt free in 2019, and they work. These posts are here to motivate you and keep your focus on making your 2019 the year to become debt free!
Before we begin, let me be clear and say that I'm not saying that by reading these posts you will become debt free in 12 months.
Let be honest; it takes more than just reading about finances and becoming debt free to kill your debt.
Again, it is hard work too and lots of ups and downs because you are changing the way you live your life.
Going from struggling financially and having these everyday money-wasting habits to having discipline and self-control won't happen overnight.
Taking control of your finances is the best thing you will ever do in your life!
To become successful with your financial goals, please follow these tips:
Break your goals into smaller ones
You see, a year goal might sound nice in January, but by March you will not find the joy and will give up.
If you break down your year goal into monthly goals or 12 weeks goals you will be more motivated and therefore get it done.
Focus on one thing at a time
There is no way that you can do everything and focus on many things at the same time. It is not possible!
Doing this you will get burned out, and you will not complete your goals. You will get burned out fast, and you will give up on your debt freedom journey very early in the game.
Keep the motivation going
Motivation is necessary, my friends. Every day go over your goals to keep reminding you why this financial journey matter!
Now for the debt freedom motivational posts, you are going to find below. Click the title to get access to these posts.
And enjoy!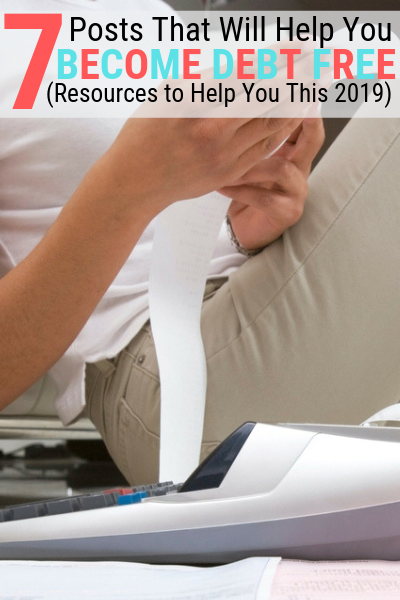 Top Posts That Will Help You Become Debt Free in 2019
How Beating The Broke Mindset Helped Me
This is where it all begins. If you don't have the right mindset during your financial journey, you will fail. Having the right mindset is the key to a successful financial journey.
Why become debt free anyway? What is the point?
The Thrifty Couple write about an encounter they had and …well, you have to read this post because it gives you the motivation you need to continue your debt free journey.
Having goals is key to creating a budget and getting out of debt. Learn more details about how to develop financial goals that will benefit your financial journey.
The Inspiring Joys Of Debt Free Living
Did you know that paying off debt will improve your health? Don't believe me? I suggest you read this post because it is full of information and a clear view of what life after debt is all about.
Don't let the Christmas part fool you as this post contains 25 of the best ways to save money for any occasion. From avoiding eating out to switching car insurance, you will find these helpful ways useful on your financial journey.
Tips On How To Not Spend Money
Overspending money is a big issue for many of us. Learn tips to control overspending your money and keep your money under control.
Being Frugal and What Is It About
Being frugal is a lifestyle and define differently to everyone. What is essential is never to compare yourself to others and never give up.
Conclusion
Check out these posts:
There are many posts out there that will help you and motivate you to pay your debt.
Taking control of your finances is the first step to start living a new life. Don't believe me?
Ask any financial blogger who has lived through it. The journey was hard but the reward so worth it.
Never let money control your life!
These top posts would help you through your financial journey and will help you get there.
What other financial posts do you have that have motivated you on your financial road?