Can you regrow a carrot?
If the answer is yes, then how do I regrow a carrot?
I am going to show you how you can regrow a carrot from scrap. Its easy to do and it doesn't cost a thing.
You see if you already have fresh carrots then you are going to be able to regrow a carrot in your own home.
Now carrots are not the only food you can regrow. You can regrow:
Lettuce
Celery
Garlic Sprout
Green onions
Ginger
Basil
Cilantro
Why is regrowing scraps good for you?
It saves you money, and it reduces waste.
These are some of the things that I have taken significant interest these past years and something I am passionate about.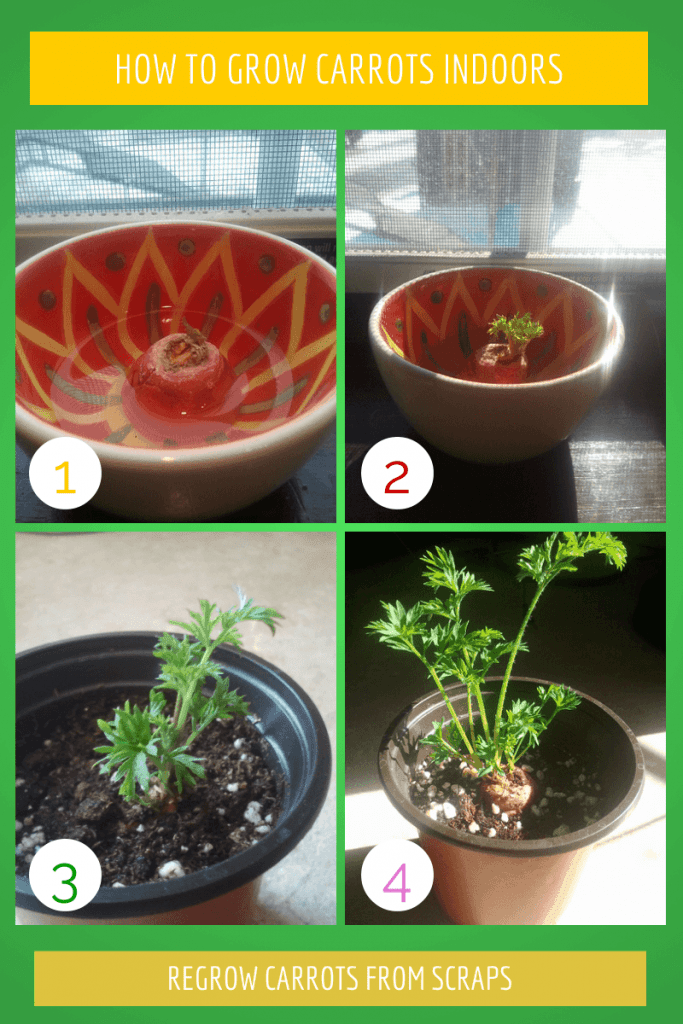 Regrowing these everyday food scraps will save you money and as you can see they don't take much to grow.
As for regrowing carrots indoor know that you will not grow more carrots.
Don't get discouraged you can still grow carrots indoors all you have to do is buy seeds and plant them in a nice size pot.
More about that later.
When you start regrowing your carrots, your kids will love it and get involves, and this activity will also encourage them to eat their veggies!
How To Regrow A Carrot In Doors (Carrot Tops)
There are many ways to re-grow a carrot. You can use water or plant them in the soil. I started mine in water and transfer them to the soil as you can see in the photos.
Supplies:
Carrots
Knife
small container
Instructions:
Cut the carrot about 1 inch in length.
Fill the small container with water. Fill it up until it barely touches the bottom edge of the stump.
Place the carrot near a window and watch it grow.
**I will change the water often.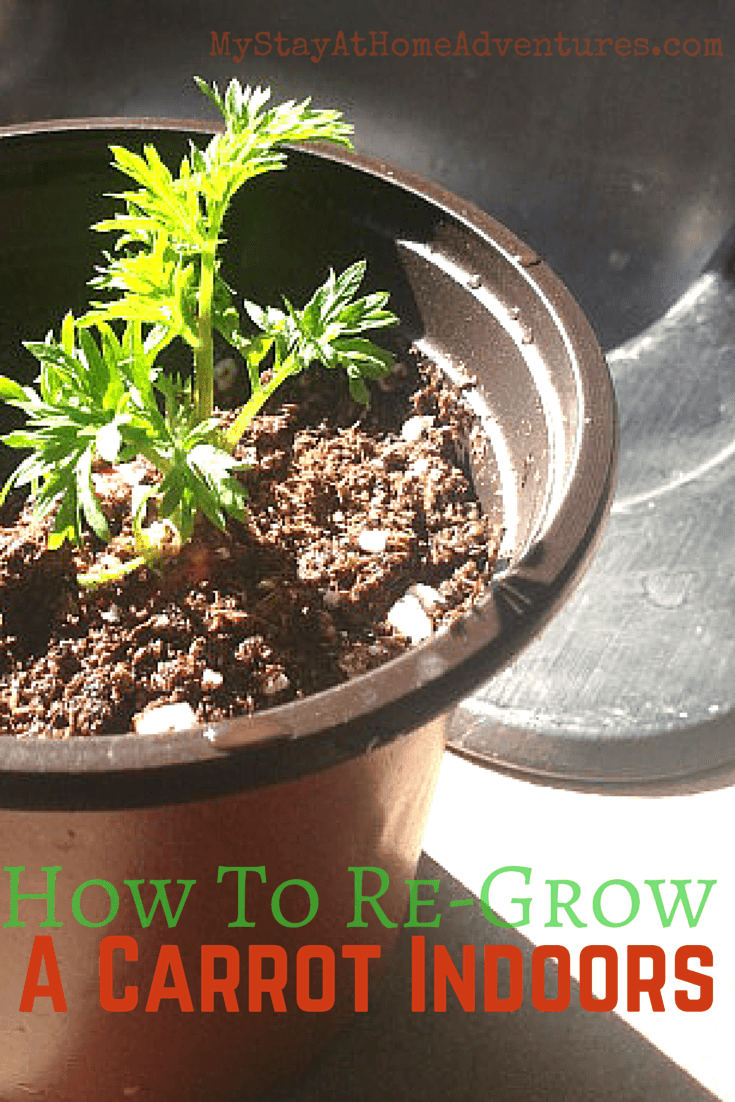 Once your little plants are big enough, you can transplant them to a container filled with soil.
Want to see how the finished product will look?
Conclusion
Regrowing carrot scraps are a fun activity, and your kids are going to love it. You can also grow the carrot and use the seeds to grow carrots.
If you are a beginner gardener check out our free gardening course.
Love gardening posts? Check these posts out:

To help you get started with your gardening adventure and help you not fail this season we are offering a free gardening course for beginners. To get this email course simply sign up using your email address!
When it comes to gardening, what other helpful tips do you have to not fail at gardening?

Love gardening posts? Check these posts out:
The following two tabs change content below.
Latina mom of 4 married to wonderful Greek gentleman. Living in southeast PA and trying to juggle family and a household while trying to earn an income from home. Follow my stay at home journey as I discover how to earn money and save money so we can continue to live debt-free.
Latest posts by Joyce @ My Stay At Home Adventures (see all)