How Do You Thicken Potato Ham Soup? (Ham and Potato Soup Recipe)
This post may contain affiliate links which might earn us money. Please read my Disclosure and Privacy policies here
It's that time of year when nothing tastes better than a big bowl of steaming hot potato ham soup. This delicious and hearty meal is perfect for cold winter days, providing comfort both in the flavor and warmth it delivers.
The tender potatoes, savory ham, and carrots make for an unforgettable combination your taste buds won't forget. But what if you want to thicken up this classic dish?
Read on to find out how!
How do you thicken potato ham soup?
One way to thicken potato ham soup is to blend some of the cooked potatoes and add them back. This will add body and creaminess to the soup without adding additional dairy products like cream or milk.
You can also make a roux by combining equal parts of butter and flour in a pan, cooking it until it is lightly browned, and then adding it to the soup. This will help thicken the soup without changing the flavor too much.
Adding a few tablespoons of instant mashed potatoes can also help to thicken the soup. Stir in a few tablespoons at a time until you reach your desired consistency.
Another way to thicken potato ham soup is to add a few tablespoons of cornstarch or arrowroot powder to the soup. Dissolve the starch in a small amount of cold water before adding it to the soup, and stir until combined. This will help thicken the soup without changing its flavor.
Also, using heavy cream instead of regular milk will help give your potato ham soup a thicker, creamier texture. Whatever method you use to thicken your soup, be sure to taste it and adjust the seasonings as desired. Enjoy!
Finally, adding some cooked and crumbled bacon can add a nice smoky flavor to the soup and help thicken it slightly. Just sprinkle some on top of the soup at the very end of cooking. This will add a terrific smoky flavor to your potato ham soup and enhance the overall texture.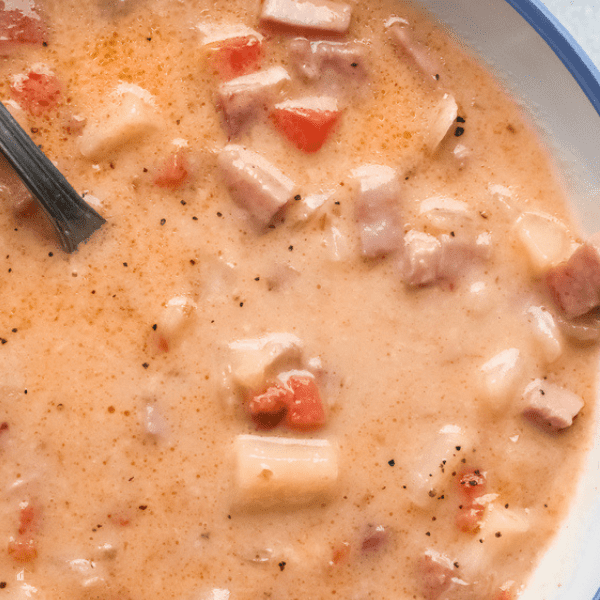 Can you leave skins on potatoes for potato soup?
You can leave the skins on potatoes for potato soup. The potato skin contains many of the vitamins and minerals found in potatoes, so leaving them on adds more nutritional value to your soup.
However, if you're not a fan of the texture or flavor that comes with eating potato skins, peeling them is also an option. Just make sure to scrub the potatoes clean before peeling them.
Adding a small amount of cream or milk to your potato soup recipe can also help create a creamy texture without using peeled potatoes. This is especially useful if you're looking for a low-fat way to enjoy the delicious flavor of potato soup.
Either way, potatoes can make a delicious and comforting potato soup with or without the skin.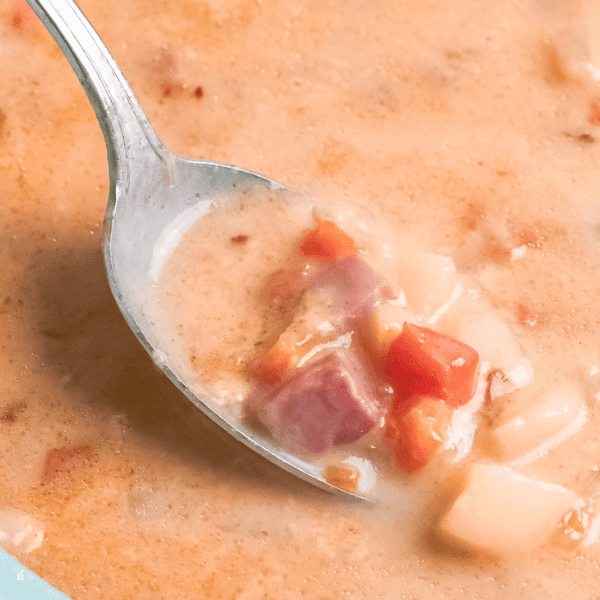 How do I spice up bland potato soup?
One way to spice up bland potato soup is by adding fresh herbs. Parsley, thyme, rosemary, and oregano are all excellent choices for boosting the flavor of potato soup.
You can also add a pinch of red pepper flakes to give your soup some extra heat. Other flavorful additions include garlic cloves, diced onions, and diced bell peppers.
If you'd like to add a bit of creamy texture, a few tablespoons of cream or sour cream can do the trick! Finally, be sure to season your soup with salt and pepper to taste.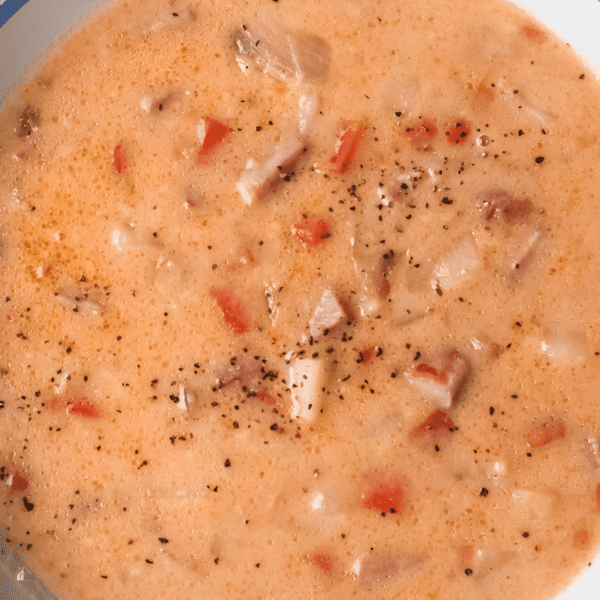 Why isn't my potato soup creamy?
Potato soup can become less creamy if you don't use the right ingredients or technique when making it.
To make a creamy potato soup, be sure to use starchy potatoes like russets, as these will thicken the soup and add creaminess.
Also, avoid over-cooking the potatoes, as this can cause them to break down and not thicken the soup properly. You can also add ingredients like heavy cream or butter to give your soup a creamy texture.
When you blend the soup, use an immersion blender or food processor to ensure that it is smooth and creamy.
Can you freeze ham and potato soup?
This recipe is not freezer-friendly. However, it can be stored in the refrigerator for up to 7-10 days. Once cooked in soup, Potatoes do not freeze well since you will be left with only mush.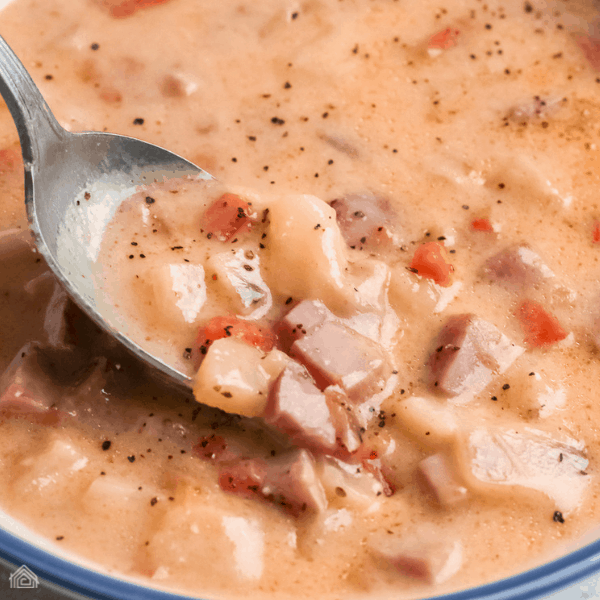 Ham and Potato Soup Ingredients:
To make this easy yet so delicious soup, you are going to need the following ingredients:
Butter – you can use any other fat, such as oil, for this soup.
Onions – the sweet red onions will add a nice flavor to this soup. Don't have red onions; use others.
Garlic cloves – never forget these! These bring out so much flavor and aroma. You can use raw garlic if you like or minced or paste.
Carrots – I used these for color but feel free to omit them if you want or replace them with parsley.
Potatoes – Russet potatoes are my favorite for this soup. However, any potato will do.
Ham – Diced ham will make a nice addition to this soup. It's called ham and potato soup for a reason! You can use your favorite ham-cooked ham or leftover ham.
Flour – I recommend using regular flour for this recipe. However, you can use whole wheat to give it a healthy twist or add more flavor and texture. I used plain white flour in my recipe. Also, remember not to substitute the flour with cornstarch because it will make the soup too thick.
Cups of stock – you can either use beef, chicken, or vegetable stock for this recipe. A cup is equal to 250 ml. You can use powder stock/cubes to substitute stock.
Milk – I used whole milk in my recipe. However, you can use other low-fat options that will work just fine, but you might not have as creamy and rich a soup.
You might like these recipes:
How to Make Ham and Potato Soup
Now that you have your ingredients, it is time to make this soup. Follow the steps below:
Using your favorite soup pot, melt your butter over medium heat. Once your butter is melted, add the red onions and carrots and sautee until the onions are transparent and the carrots are soft. This process takes about 6 minutes.
Next, add the potatoes, garlic, and ham to the pot and saute for an additional 4 minutes.
Add the flour to the pot and stir until the ingredients are incorporated. Next, add the stock into the pot and mix everything.
Cover the soup pot and cook for 10 minutes or until the potatoes are soft.
Once done, add the milk to the pot and stir to combine everything. You can also use any cream at this point if you like a richer consistency of your soup.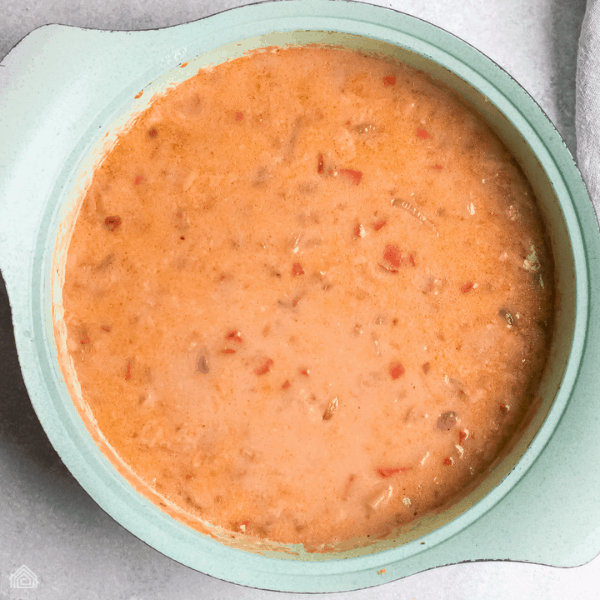 How to store and reheat leftovers of the soup.
Once the soup is done, you can serve it straight away or store it in a sealed container and keep it in the fridge, where it will stay fresh for up to 7-10 days.
When reheating your leftovers, please don't add any additional water or milk because doing so will alter the consistency of your soup and make it too thin. Instead, either reheat it on the stove over medium heat or in the microwave.
What do you serve with ham and potato soup?
The versatility of ham and potato soup makes it a great choice for any meal. Serve it as a hearty appetizer or side dish with a simple salad or crusty bread or as the main course with accompaniments such as steamed vegetables, grilled cheese sandwiches, warm rolls, cornbread muffins, buttery biscuits, herbed crackers, and more.
For a more creative presentation, try topping the soup with crumbled bacon, shredded cheese, fresh herbs, diced onions or peppers, chopped peanuts or almonds, or thinly-sliced green onions. Add cooked chicken or turkey to your desired portion size to make the soup even heartier.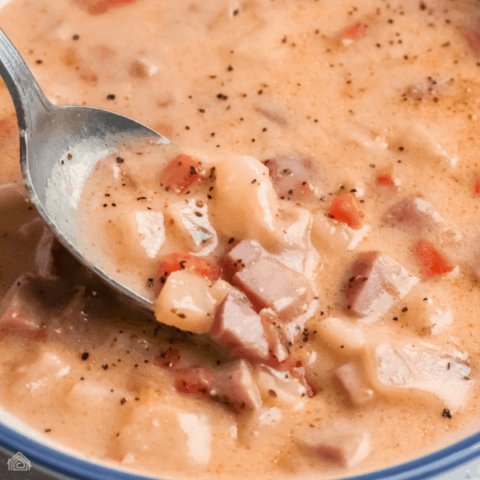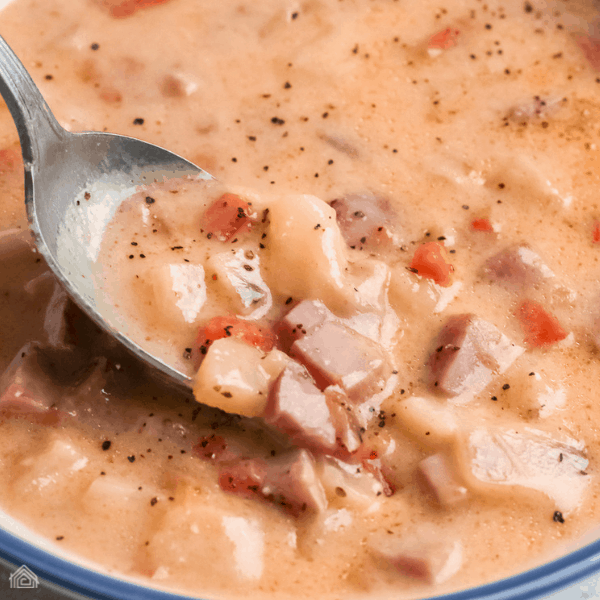 Easy Ham and Potato Soup for Lazy People!
Are you tired of your usual lazy weeknight dinners? If so, then perhaps it's time to spruce up your homemade meal options with a warm and flavorful bowl of ham and potato soup!
There's no need to be intimidated by this dish. It requires minimal cook time and ingredients, making it perfect for busy evenings.
This comforting classic will satisfy even the pickiest eaters and will provide an easy way to complete your meal in a pinch!
Best of all, you can customize the recipe for vegetables or seasonings. So if you're looking for a quick yet delicious dinner idea, then look no further.
Ingredients
3 Tbsp butter
1 Red onion, chopped
1 Carrot, peeled and chopped
2 Potatoes, peeled and diced
1 Cup ham, diced
2 Garlic cloves, minced
3 Tbsp flour
1 1/2 Cups stock
2 Cups milk
Instructions
Melt the butter in a pot over medium heat.
Add the red onion and carrots and sautee for 6 minutes or until the onion is transparent and the carrots are soft.
Add the potatoes, the garlic, and the ham and sautee for 4 more minutes.
Add the flour and stir until incorporated. Pour the stock and stir.
Cover and cook for 10 minutes or until the potatoes are tender.
Add the milk and stir to combine—Cook for 2 more minutes or until thickened.

Recommended Products
As an Amazon Associate and member of other affiliate programs, I earn from qualifying purchases.
Nutrition Information:
Yield:

6
Serving Size:

1
Amount Per Serving:
Calories:

224
Total Fat:

9g
Saturated Fat:

5g
Trans Fat:

0g
Unsaturated Fat:

3g
Cholesterol:

38mg
Sodium:

403mg
Carbohydrates:

24g
Fiber:

2g
Sugar:

3g
Protein:

12g
These nutritional calculations might not be accurate. Please speak with a licensed nutritionist to assist you.