Ground Pork Tacos Recipe
This post may contain affiliate links which might earn us money. Please read my Disclosure and Privacy policies here
Ground pork tacos are a favorite among the family, and with lots of your favorite taco toppings, they're perfect for any meal. So whether you're in the mood for soft tacos filled with juicy ground pork, crunchy tacos topped with fresh vegetables, or hearty tacos filled with hearty ingredients, there's an excellent option for everyone.
In addition to being easy and quick to make, ground pork tacos are also affordable and versatile – perfect for any gathering!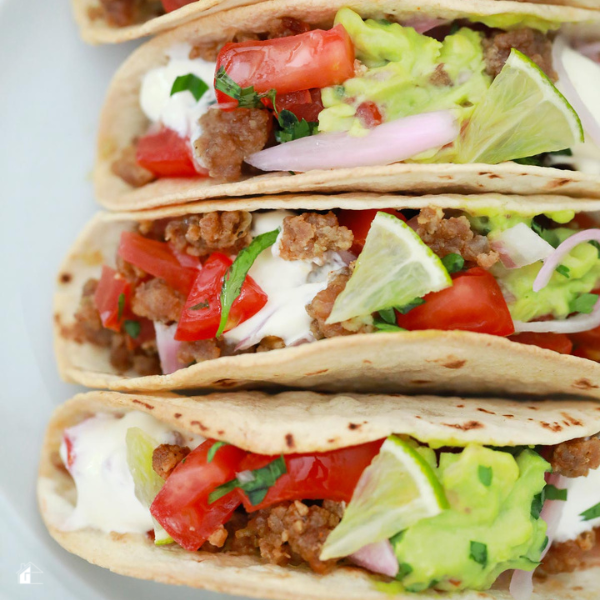 Ground Pork Tacos Recipe
Just like the usual ground beef tacos, you can prepare ground pork tacos in a concise amount of time. All that is required is to combine the ingredients in a skillet and then reheat the tortilla shells. After a long day, this is the ideal remedy.
Watch the Video Instead: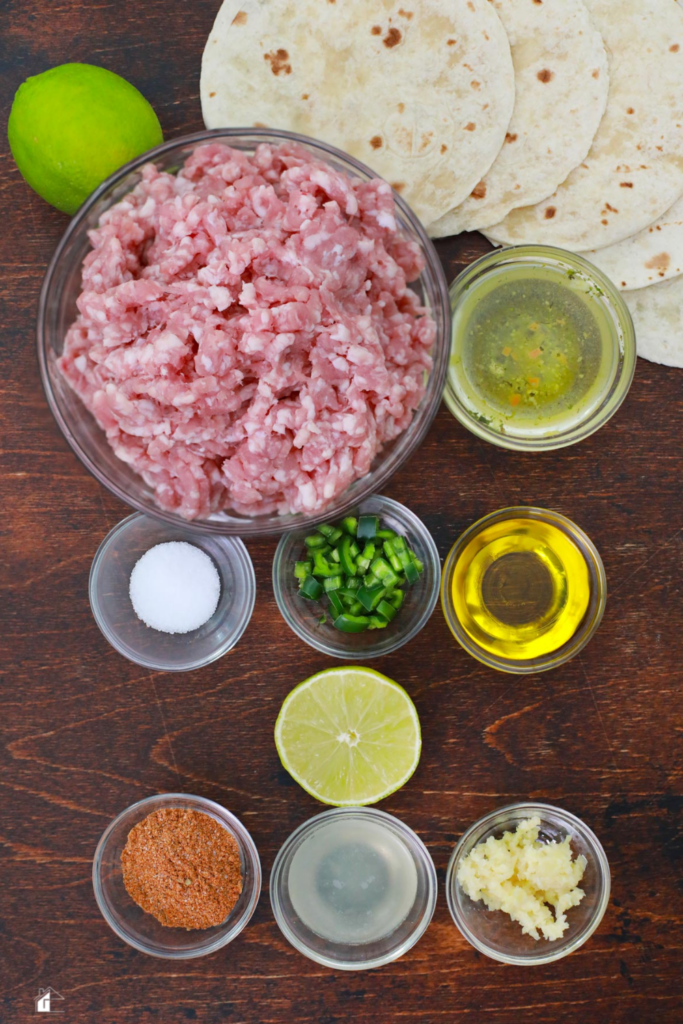 Ingredients needed:
These are the main ingredients you'll need to make these delicious, simple ground pork tacos that the whole family will enjoy. Please scroll down to view our printable recipe card with step-by-step instructions and measurements.
Filling:
Olive oil
Garlic: Minced
Lime juice
Jalapeno: Chopped
Taco seasoning
Salt: To taste
Tortillas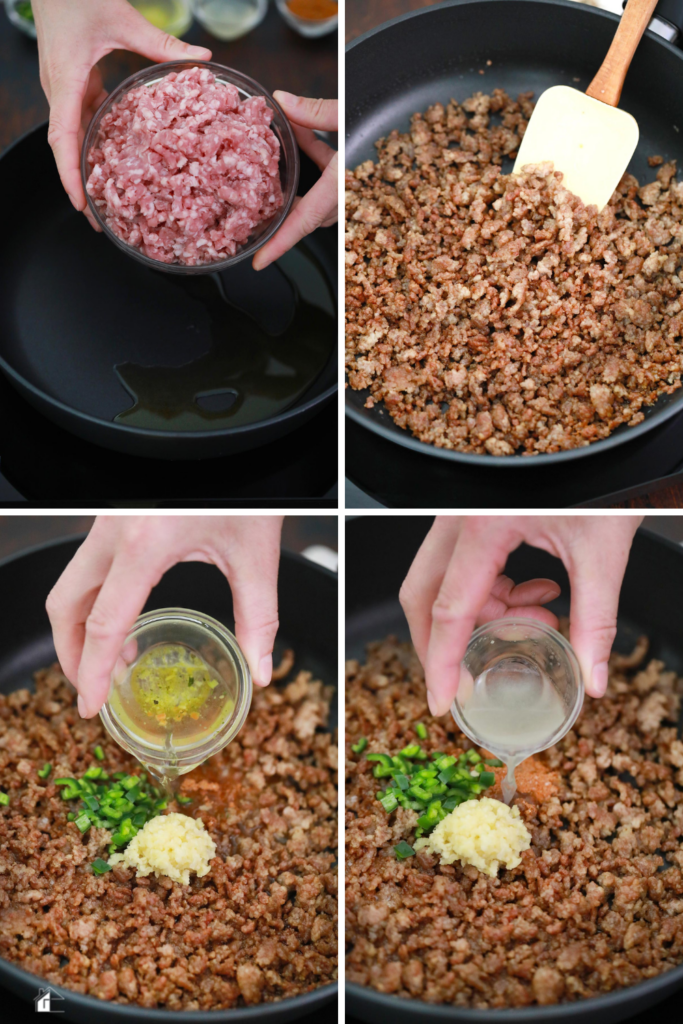 How do you make pork tacos?
Prepare the skillet: First, heat a big cast-iron skillet over medium heat, then add the oil.
Add the pork: When the oil is hot, add the pork and fry it without moving it for a few minutes so that it may get a good sear. Once broken down, heat while stirring for an additional 5-8 minutes.
Add flavors: Lime juice, garlic, jalapeño, and taco seasoning. For a few minutes, cook while stirring. Taste, then season with salt and pepper.
Add broth: Next, stir the mixture while adding it, then allow it to simmer. Add a little additional broth if the mixture seems too dry. The mixture ought to be moist but not runny.
Set aside: Turn off the heat.
Wrap the tortillas: Then wrap the tortillas in aluminum foil in two stacks. Place in the oven and heat for 10 to 15 minutes, or until thoroughly heated.
Serve: Finally, add your preferred toppings after stuffing each tortilla with the pork mixture.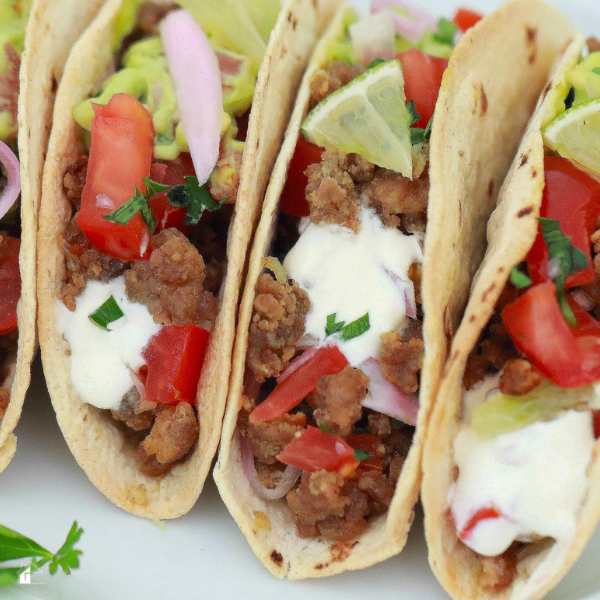 How to serve:
Serve these mouthwatering ground pork tacos with warm tortillas and garnishes. This recipe is so simple that you may prepare it any night of the week, even on a night when you have a full schedule. Or try one of these fantastic toppings suggestions:
Enjoy adding a layer of mashed avocado to your tacos, and while guacamole is in the fridge, a spoonful is delicious.
Try sour cream that has been diluted to add some creaminess.
It takes an hour to make pickled red onions, but they keep for a few weeks in the refrigerator.
Put some tasty, vibrant, and fresh pico de gallo on your tacos.
For a fresh flavor, chop some cilantro.
A few squeezes of fresh lime wedges give the dish a citrusy kick.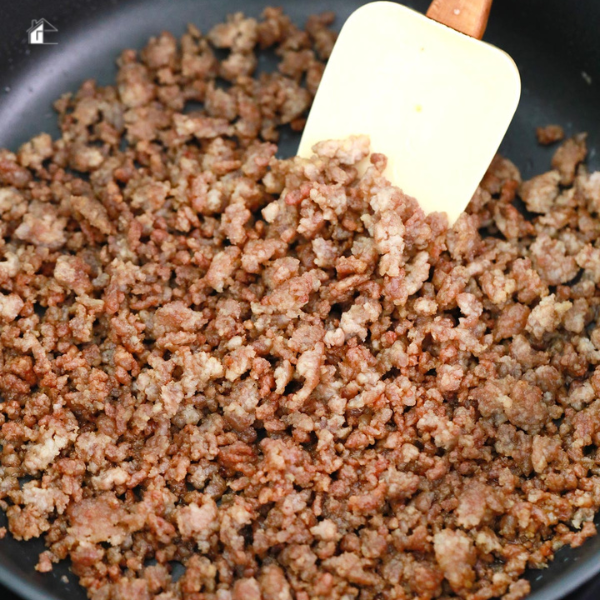 Frequently asked questions
Can taco meat be made ahead of time?
The taco meat can be prepared in advance and warmed when needed. All the toppings can also be prepared and kept in airtight refrigerators.
How long do you cook ground pork?
Ground pork can be cooked in various ways, but the most common is to cook it over a stove at medium heat. The time it will take to cook ground pork depends on the thickness of the meat and how well-done you would like it.
Those who want their ground pork cooked through will likely take around 10 minutes to fry. However, if you would like it to have a little pink in the center, it will only take about 5 minutes.
How to tell when ground pork is cooked?
Typically, it takes five minutes to cook through entirely. The meat should be brown and have no pink remaining when it has been cooked correctly and thoroughly.
How to store leftovers:
Store: Taco meat is kept in the refrigerator for three to four days when stored in an airtight container or self-sealing bag.
Freeze: In an airtight container or self-sealing bag, taco meat made of ground pork freezes exceptionally well. To always have a quick dinner on hand, we like to freeze food in individual amounts.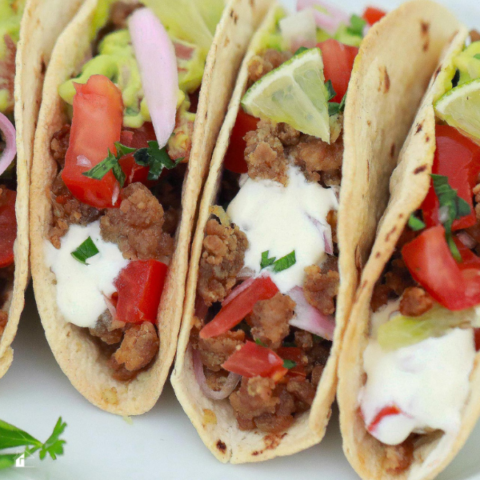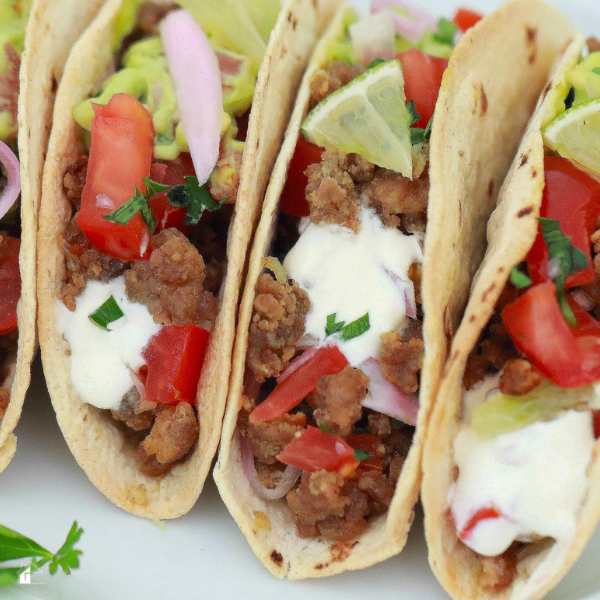 Ground Pork Tacos Recipe
Looking for an easy and delicious taco recipe that you can make in just a few minutes? Check out our ground pork tacos recipe!
These tacos are made with simple ingredients that you likely already have on hand, making them perfect for a quick and easy meal.
Ingredients
1 teaspoon olive oil
1 pound ground pork
4 cloves minced garlic
1 tablespoon lime juice
1 chopped jalapeno
2 tablespoons taco seasoning
1/4 cup chicken broth, or more if needed
Salt to taste
8 (6-inch) tortillas
Instructions
Place a large cast-iron skillet over medium heat and add the oil.
When the oil is hot, add the pork and let it cook untouched for a few minutes to get a nice sear on it. After that, break it down with a wooden spoon and cook, stirring for 5-8 minutes.
Add the taco seasoning, garlic, jalapeno, and lime juice. Stir and cook for a few minutes. Taste and adjust for salt and pepper.
Add the broth, stir and let the mixture come to a simmer. If the mixture is too dry, add a bit more broth. The mixture should be juicy but not watery.
Remove from heat and set it aside.
Wrap the tortillas, in two stacks, with aluminum foil. Place in the oven at 375 degrees F for 10 to 15 minutes, or until heated through.
Fill each tortilla with the pork mixture and add your favorite toppings.
Notes
Toppings:
Guacamole
Sour cream
Pico de gallo
Chopped cilantro
Lime wedges
Recommended Products
As an Amazon Associate and member of other affiliate programs, I earn from qualifying purchases.
Nutrition Information:
Yield:

8
Serving Size:

1
Amount Per Serving:
Calories:

184
Total Fat:

12g
Saturated Fat:

4g
Trans Fat:

0g
Unsaturated Fat:

7g
Cholesterol:

53mg
Sodium:

297mg
Carbohydrates:

2g
Fiber:

0g
Sugar:

0g
Protein:

15g
These nutritional calculations might not be accurate. Please speak with a licensed nutritionist to assist you.