Frozen Italian Meatball Soup
This post may contain affiliate links which might earn us money. Please read my Disclosure and Privacy policies here
Have frozen meatballs laying around and are simply tired of the same things? We decided to try and make Frozen Italian Meatball soup with our frozen meatballs and the end results were better than just good!
During the month of January, we decided that we going to cut back on our spending and create meals with what we had. As you can see the result was this frozen Italian meatball soup that I never in my life thought I could pull off.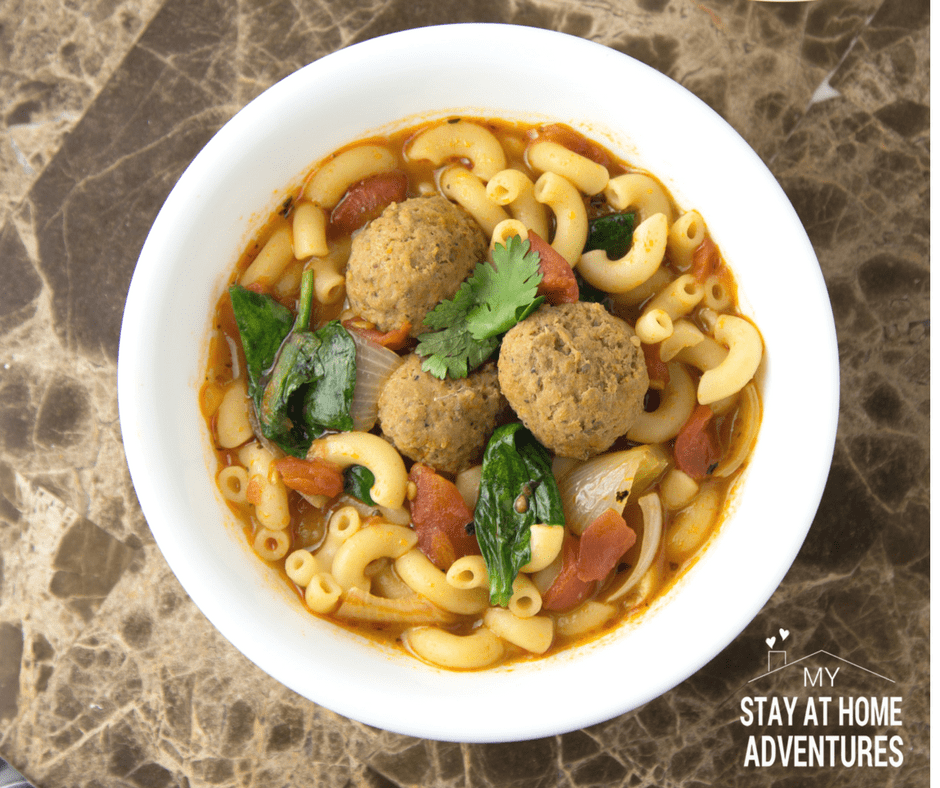 The only thing I will tell you about this recipe is to use small shell pasta instead of what I used but this is what I had available and I wasn't going to the store to purchase small shell pasta. I also recommend using fresh vegetables, BUT you can use frozen vegetables and still pull this recipe off.
I love flavor with any of my soup and I knew that our frozen Italian meatballs were already season but at the end, it still needed more flavor. This is the reason you see more herbs added to this recipe.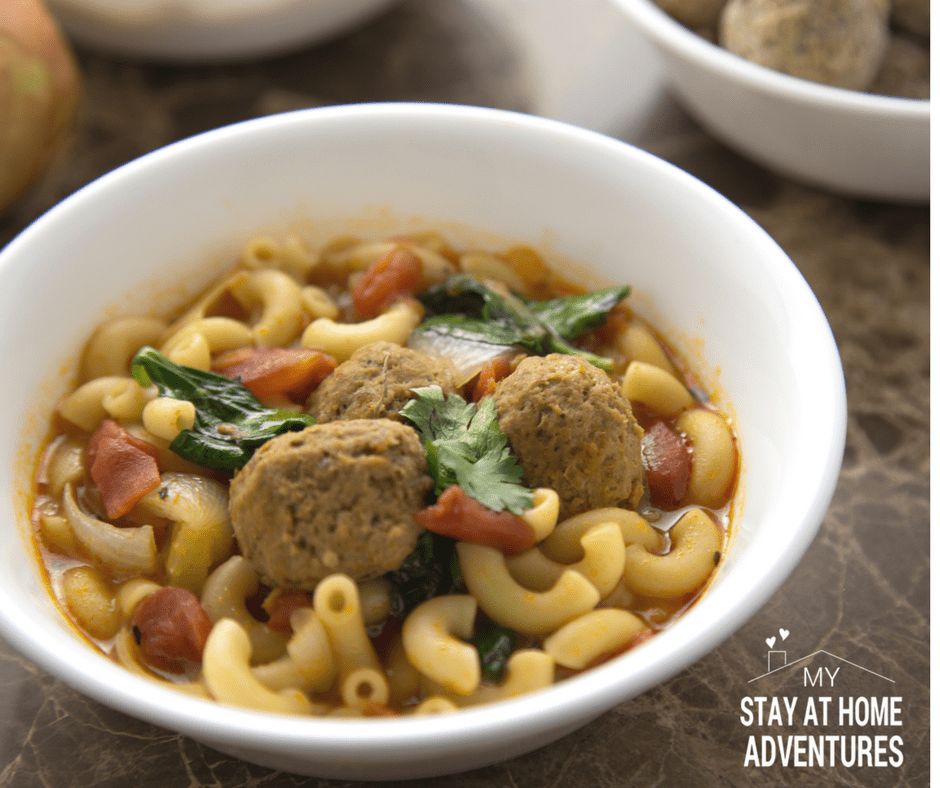 Another thing I want to add is that you can use chicken broth instead of beef broth or even both! Remember to always make any of my recipes your own way.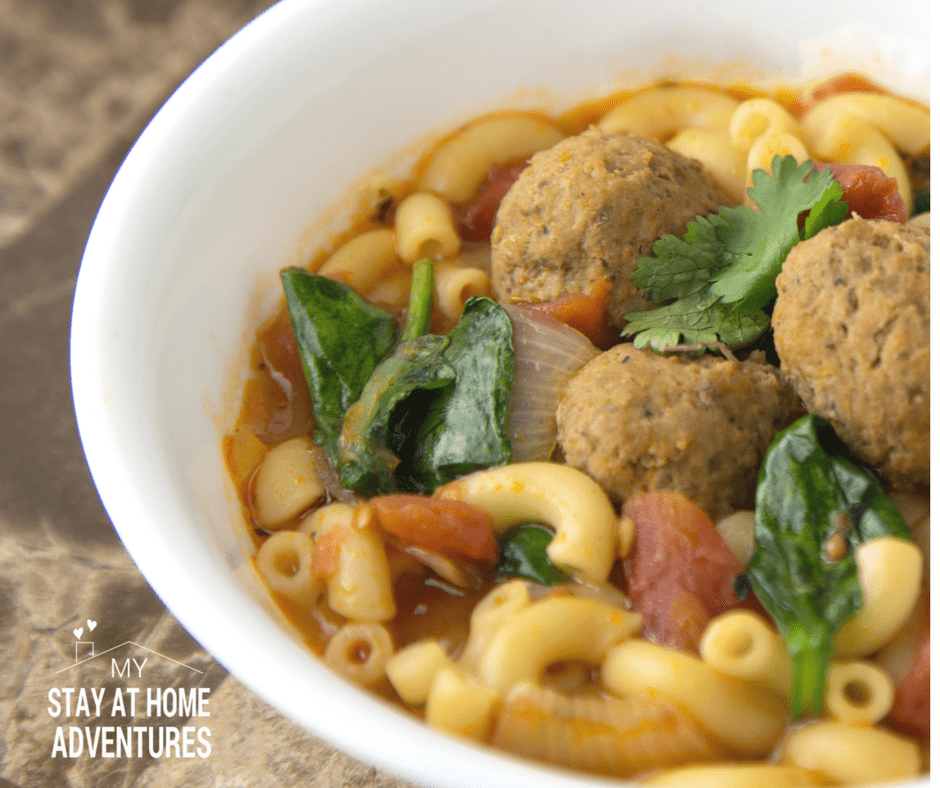 I have to say that I giving this recipe a try and going for it was worth it. The taste was so intense of course and adding a sprinkle of Parmesan cheese made it even better.
You can add frozen spinach if you want, I had fresh Spinach but couldn't add them to the recipe because my kids didn't want them in their soup.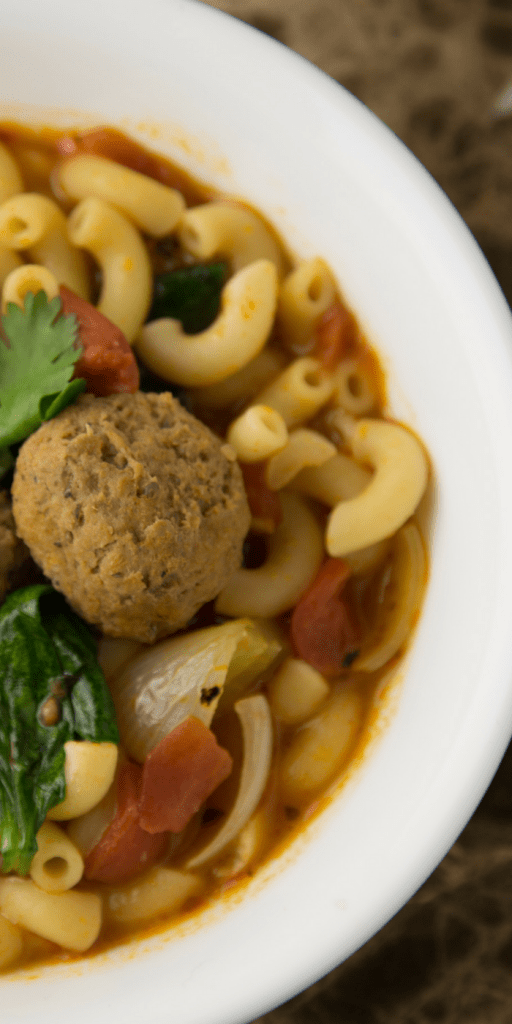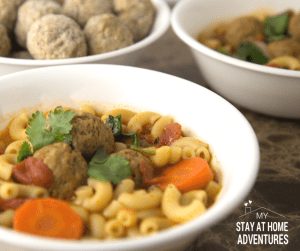 Print
Frozen Italian Meatball Soup
Leftover frozen meatballs? Check out this simple and delicious Italian meatball soup made with frozen Italian meatball. Quick to make and your entire family will love.
Ingredients
1 Tbsp olive oil
1 clove of garlic, minced
1 medium onion, chopped
4 fresh carrots, peeled and chopped
6 cups of beef broth (or chicken stock)
1 can of diced tomato with garlic, basil and oregano
1 can of tomato sauce
12 to 16 meatballs, frozen
1 tbs of dried basil
salt and pepper to taste
1 tsp dried thyme
1 box of small shells
1/2 of fresh spinach
Parmesan cheese (if desired)
Instructions
In a large saucepan, add olive oil, carrots, garlic and onions and saute for a few minutes.
Pour beef broth, diced tomatoes, tomato sauce, basil, salt and pepper, thyme and bring to a boil.
Add the meatballs and pasta and let it cook over medium heat until pasta is cooked.
Add the fresh spinach a few minutes after adding the pasta.
Serve and add Parmesan cheese if desired.