Are we able to earn free money? Is this even possible? If it is; how are can you make free money the right way?
The answer is YES. You can earn free cash, and it is very straightforward and legal!
Earning free money is possible without investing, and it is for everyone. If you think that you are not able to make free money, you are wrong. I can, and so do millions of people.
Having the internet makes it even easier and with technology evolving and changing the way we manage our finances, earning money for free is possible and not hard at all.
How can we earn free money? Below I will give you my top 4 ways I score free money. Mind you this amount doesn't turn me into a millionaire but has helped me buy groceries, go out to eat and such.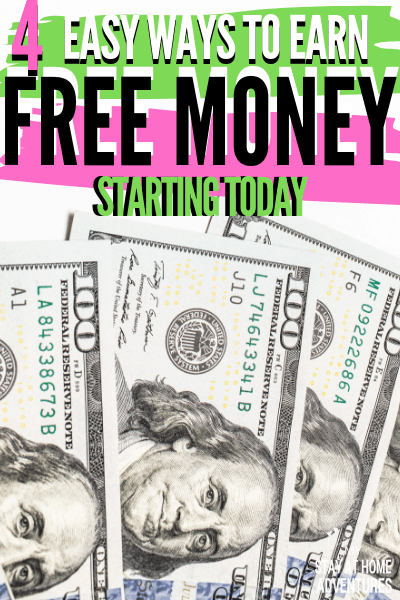 Where to Get Your Earn Free Money
Rebate apps
The simplest of ways is to use your smartphone or tablet to score free money. Over recent years the amount of money earning apps, also call rebate apps, has grown tremendously.
To the point to revolutionize the way we even use and manage coupons as well.
The reality is that smartphones and tablets are becoming an important money-making them available to millions of us. We manage our schedules, our banking, and even our coupons with the palm of our hands!
Not sure if you ever heard or smartphone apps?
I'm sure you have and use many apps such a Facebook or game apps. Phone apps are very popular and so are money-saving apps and rebate apps.
Money-saving apps and rebates apps are excellent ways to earn free money nowadays. Ever visited a grocery store or even a Target and noticed people walking around looking at their smartphones?
You might think they are so distracted texting or checking social media not to care about their surroundings; the truth is that the majority of them are using money-saving apps to earn cash on their purchases.
These money rebate apps are easy to use, and some of them will alert you when you walk into your favorite store about rebates that are available right now.
Check out these money posts:
How it works is (depending on the app) you purchase or scan the selected items available. After you purchase your items, you must scan your receipt.
Depending on the app, your store reward card is only needed.
Then you wait for your rebate!
After reaching the minimum, you will be able to cash out your money. Remember that all apps are different so please read all the information available when using your app.

There are many rebate apps out there, below is a list of my favorites and must-have apps that will help you earn money.
Claim unwanted money
Many people don't know that there are billions of dollars in the USA that are unclaimed. The government has created websites to help people find their unclaimed money.
I tried my luck and found two companies that owed me money. To learn more and to see if you have money that belongs to you, I wrote a post about finding your unclaimed money here.
Online surveys
Another easy way to make free money is by using online survey companies. From earning real cash to earning gift cards, online survey companies are an excellent way to make some extra money.
One of my personal favorites is Swagbucks and the reason why is because their many ways to earn points and simple enough for my family to use as well.
Each online survey company works differently. Some use cash methods, and after a certain amount you may cash out, others use a reward system that works pretty much the same.
One important thing to remember, please be aware of scams and stick to popular, well-known online survey companies.
Never pay money or give any personal information such as your social security number and such. If you come across a survey website that requires you to pay out front or give your social security, do this exit out and move on.
One of my favorites is Inbox Dollar. Inbox Dollars pays members to read emails, take surveys online, play games, and go shopping!
Below are online survey companies that pay

you money.
There are many other online survey companies out there (maybe I should write another post about this) that are just as good.
Always remember that doing online surveys take time which can be a downside. Also, keep in mind that you might not qualify for every single survey out there.
Shop online and earn free money
There are many deal websites that will pay you money when you shop online using their sites! I received a check when I do my shopping through sites like ShopAtHome.com, MyPoints, and Ebates (Now Rakuten)!
You need to know that you won't get your cash right away as each of this site have a minimum limit before they payout.
For example, for ShopAtHome.com you must reach a minimum of $20.00. They also pay via check or Amazon gift cards. So far my latest check was for $34.73, and I was pretty happy about that. I mean free money from simply shopping online!
Right now when you use this link here, you can get a $10 Gift Card when you join MyPoints and spend $20 or more with a qualified partner.
Conclusion
Finding ways to earn free money as possible as you can see from this post. Some are so painless to do that you will create a money-making habit of them.
The possibilities to obtain free money are endless online.
These simple ways to earn free cash are possible and very simple to use. Thanks to technology and the internet we are all capable of making extra money without selling our souls.
What other way do you earn free money? Share your tips with us.
The following two tabs change content below.
Latina mom of 4 married to wonderful Greek gentleman. Living in southeast PA and trying to juggle family and a household while trying to earn an income from home. Follow my stay at home journey as I discover how to earn money and save money so we can continue to live debt-free.
Latest posts by Joyce @ My Stay At Home Adventures (see all)