August Online Income & September Goals
This post may contain affiliate links which might earn us money. Please read my Disclosure and Privacy policies here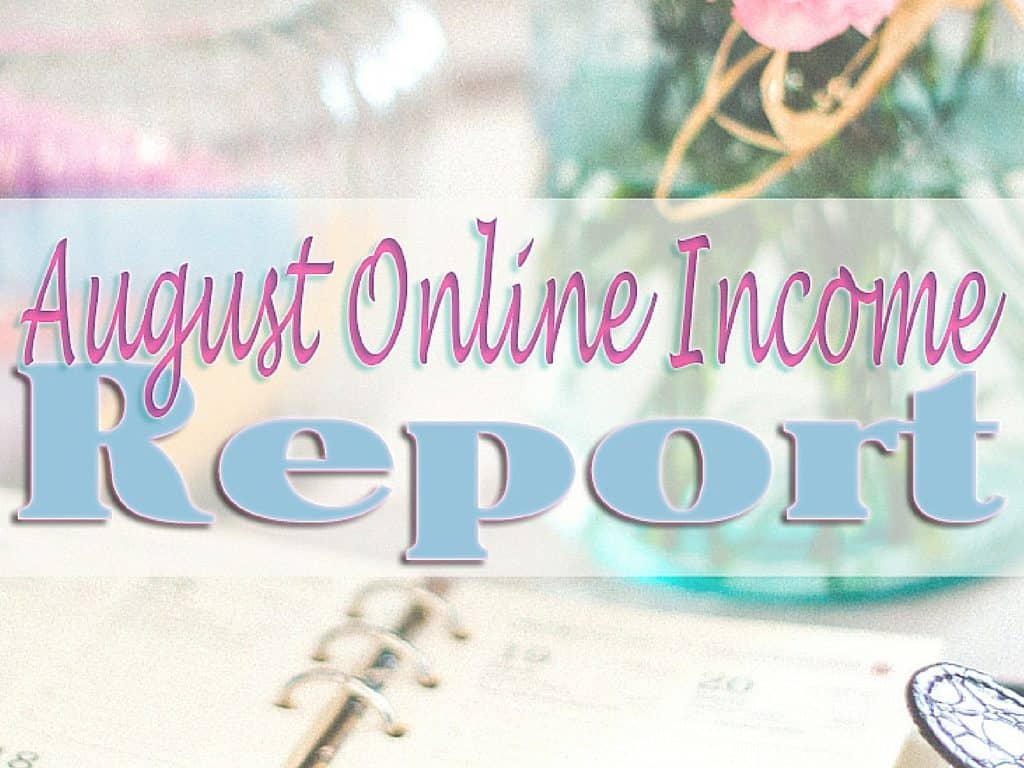 September is here, and now I am wondering where 2015 is going and why it's going so fast? Where did summer go? My kids are back to school and now it is only my 2 year old and I. Good times! It is also time for our monthly online income report where I talk about my money so you all can learn from it, or laugh at it. LOL Let's have fun!
If you read last month's income report, you know that July was a fabulous month thanks to my wonderful husband. Why? It is because I got to see Shania Twain, and to this day, I have not washed my hand because she touched it! Of course, I am kidding.
August brought me a financial blow and I lost a nice chunk of income which set me into a nice pity party that lasted me a few days (maybe close to 2 weeks!). I am here to tell you that I am doing pretty good; thank you all for your encouraging comments and emails. I take them all and appreciate them.
Sometimes I need to read your comments and your thoughts about my issues to make me see clearly!
August Personal Goals
Well, I didn't see Shania this month so… LOL. On the personal level, this month started bad and ended up good. This 2015 is the year that I grew up, and it continues to show. Let's see how I did on my personal goals.
 

Focus on transitioning my son to full time school

– Long story short, school "forgot" about my son's IEP. (If you didn't know, my son was diagnosed with Autism earlier this year and started early intervention. He is doing amazing.) I caught on to the mix up because he was scheduled on regular busing and classroom. ANYWAY, things are falling into place and he is doing well with his new routine.
 Spend one on one with each 3 of my kids – My daughter is at the age where she doesn't like me. Last month I got to spend some time with her and it was magical and it felt right. Teenagers are a different um.. world. I also got to spend time with all of my kids individually and truly enjoyed it.
 

Start making tomato sauce

– If you follow me on Instagram, you know that this is done! I grew different tomatoes this year and the sauce.. BEST THING EVER!

Take a look over our finances

– HA! I was forced into looking into our finances thanks to the loss of income.
For a bad start of the month, I did pretty freaking good on my personal goals! HURRAY FOR THIS MAMA!
Blog Goals
As far as the blog, I'm starting to think that I am stuck with my page views, but I am also working on other things. You know, like writing and working on other projects. Do I think I will do great? Yes.
I also took a break from working on the blog to work on future projects and work on my other group blog, which kicked off at the beginning of the month and if you haven't checked it out, you should.
Work on The Happy Home Life

– Done, and I don't regret it one bit. I think working with amazing bloggers is a great idea. What you learn from them is so great!

See where I am at with my blog finances

– Due to the loss of income, I am more determined to be more careful with my blog finances.
 

Continue to work on my e-book

– Fear is my worst enemy. I have completed my small eBook, then I got scared, and then I got brave again. I am aiming at releasing my eBook in October.
August Social Media Update
Pinterest  – 2525              

 August –2941

Facebook – 2350              

August – 3180

Twitter – 1025                  

August –1370

Google + – 659                

August – 662
Visits –

19,805
Pageviews –

27,597
Ad Network Income:

$180.66
Adsense – $42.22
Media Net – $42.35
Infolinks – $00.00

TBN – $96.94
Affiliate Sales:
$122.22
Sponsored Post – $25.00
Total August Site Income – $327.88
Now this is the money I received in my accounts.
Escalate Network – $26.63 (July money)
CapitalOne360 – $00.00
Sponsored post – $25.00
Izea – 76.13
She Knows – $25.00
Total amount actually paid in August – $152.26
Total August Blog Expenses
Last month, I didn't go crazy with spending. Well, I didn't have to. I did continue to spend on Facebook advertisement which is helping me to have a more engaged Facebook page and get more sponsors.
Add the additional monthly expenses:
BoardBooster – $10.00
Advertisement – $27.81
Canva – $10.00
P.O. Box Renewal -$0.00
Izea – $5.00 – Last month I'm doing this.
Giveaway – $25.00
Total Expenses – $77.81
September Personal Goals
Since I basically wrote what my plans were after losing my job, you can head over and check them out here. I will also add a few I will follow this week.
Work on the garden – Start clearing my garden and get it ready for the fall.
Continue to work on our new routine – Since school officially started, and this is completely new for my son, I will continue to implement our new routine and see where it leads.
Date night with my husband – I won't say much about this. I'm just hoping this is possible this month.
September Blog Goals
Focus on my blog and start increasing posts – Since I have cut the amount of posts last month to focus on other things, I will continue to focus on other projects and start picking up here gradually. I need to focus on making sure my kids' new fall routine is running smoothly.
Start working on blogging challenges with my blogging groups – I have to say that meeting these amazing ladies has been a blessing. There are a few challenges I want to do this fall and I am super excited to be a part of.
Take a look at my blog and see what is causing it to stall – I think I know what it is, but thank God for amazing blogging friends and their free honest opinion. I am counting on them to share some information with me.
Finish my eBook and get over my nervousness – I know that I can do this.. I just know it.
There you have my August online income and September goals. How was your August?