5 Simple Ways To Save On Groceries
This post may contain affiliate links which might earn us money. Please read my Disclosure and Privacy policies here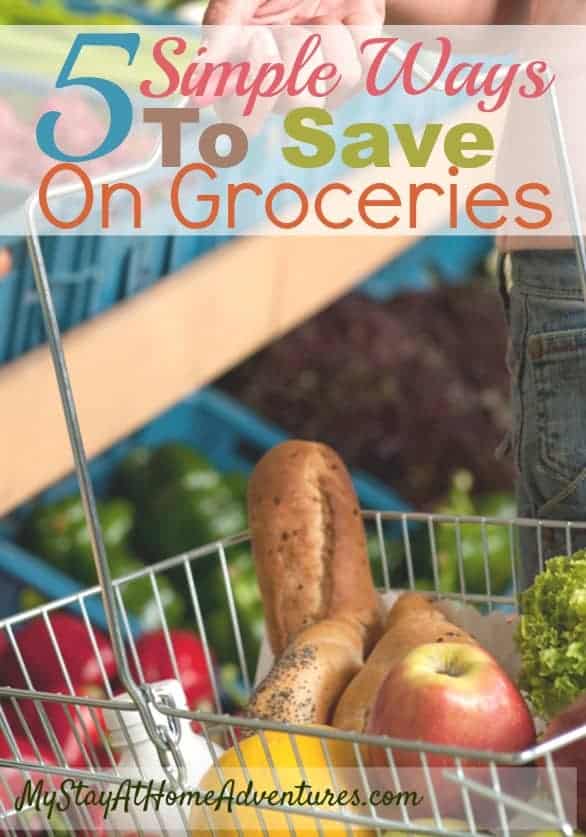 If everyone follows these five simple ways to save money, well, we would all be saving money and avoiding overspending on groceries.
Let's talk about simple ways to save on groceries and how to maintain the cost down for the rest of the year.
The truth is that the cost of individual food plans seems to increase each year and that is because food prices continue to grow each year.
I mean seriously over $346 on a liberal plan for one person in the household is a lot of money to spend on food.
Here's the Official USDA Food Plans: Cost of Food at Home at Four Levels, U.S. Average, January 2020
And quite honestly, I think we all can spend less than what is stated in this latest USDA food plan, and I'm sure you will agree since it is one of the reasons you are here, am I right?
We know groceries are essential; we need to feed our family.
We can also reduce the cost of how much we spend on groceries monthly. Sometimes the thought of thinking of ways to save on groceries might sound stressful.
But it is not!
Cutting your grocery budget shouldn't have to be hard and dreadful and it only takes a few things from you each week, and you will start seeing your savings grow.
If you are ready to begin to attack your grocery budget, and start saving, then I have 5 simple ways to save on groceries without the stress.
These simple ways to save money on groceries require little to no work and will start saving you money each week.
If you are new to attacking your grocery budget and trying to save money, this is for you!
On a fixed income?
You can save money on grocery too!
Short on time and don't have time for coupons?
Again, this is for you too!
So, what exactly do you have to do to save money on your next grocery bill?
Follow these simple tips, and you will see a reduction in your grocery budget in no time.
Saving money on food shouldn't be hard or stressful. It can be done with continued practice and determination.
All it takes is for you to be committed to it!
Are you ready?
Let's begin!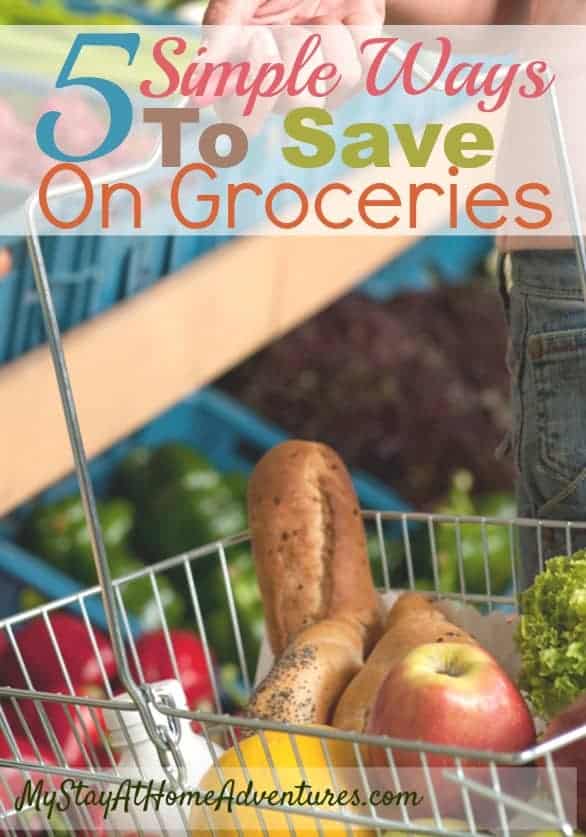 5 Simple Ways To Save On Groceries
Check your local grocery store weekly ads
Every week retailers release their weekly sale ads and if you are going to say that you don't get the Sunday newspaper or don't feel like running to the store hear me out.
You can view weekly ads online and if you subscribe to your favorite retailer you will even get them in the email.
So, there is no need to spend money on newspapers or gas when weekly ads are available online and are just a click away!
Normally, Sunday is when the majority of store sales begin but recently many grocery stores are switching to the middle of the week.
The reason you need to look at weekly ads is that you want to see what items are on sale. Buying items that on sale will help save money each week
Create a menu plan
Now that you know what items are on sale, check out the items you already have at home and take a moment to write down a weekly menu plan.
New to weekly menu plans, not a problem.
Menu planning is the process of planning what you and/or your family will be eating. It is a plan to help organize what your meals will be ahead of time.
Each week you will take the time to create menu plans that will include breakfast, lunch, snacks, and dinner.
When creating a menu plan, visit your pantry and see what you can use from your own kitchen before heading to the store.
If you are having a hard time coming up with recipes, use the internet with items found in your local store ad.
If you are busy and need help creating meal plans under budget check out this $5 Meal Plan. $5 Meal Plan is a weekly meal plan service that helps with your meal planning and makes it as simple as possible.
For $5 a month you will receive a delicious meal plan at a cost of $2 per person or less.
You can also use one of my favorite meal planning apps, PlateJoy. You can check it out and save $10 when you use promo code: MYSTAYATHOME
When you are done creating a menu plan, write down a shopping list to take with you to the grocery store.
Shop with cash only
You may not like this idea much; if you are having a hard time sticking to your grocery budget, and you want to save money, then cash only is the way to go until you have things under control.
Take the amount of cash you are going to need when you go grocery shopping and stick to your shopping list created when you did your menu plan. This will prevent you from overspending.
If you need to learn more about what we called Cash Envelop System you can learn more about it when you click this link.
You might like:
Use coupons
Over the years coupons are not just paper you find in your Sunday newspaper or printing online.
Here's one important thing about using coupons and money earning apps to save you money.
Use on items you are going to need! So where other places can you find coupons besides the newspaper??
You can find online coupons here:
Below you will find apps that I personally used.
Now, these apps will help you save money by giving you rebates. You will use that money and add them to your savings, not spend it.
Now how are we going to use these coupons and rebates?
You are going to use them on items that you are going to need. The best thing to do is to use coupons on items that are ALREADY on sale to maximize your savings.
It doesn't matter what kind of coupons you use, as long as they save you money. This means that if you are using a smartphone, and are using money-saving apps, then good!
The point is to save money using coupons, and whether you are using paper coupons or money-saving apps, the key is to save money on groceries.
Check out these posts:
Avoid shopping when you are hungry
You might laugh, but you know shopping when you are hungry means you are going to overspend on your groceries.
Shopping when hungry is one of my biggest faults. I tend to go to the store, and then decide that I need to grab something to eat while shopping.
This means that I am overspending my money, and reducing my available grocery budget, all because I didn't eat at home.
You know what?
When you are hungry, and you are at a grocery store, everything looks good. Everything tastes good. To save you money, please avoid shopping when hungry.
Conclusion
Now as you can see these five ways to save on groceries are not as bad as you thought. Are there more ways that will benefit your grocery budget?
Absolutely!
But it requires more work and dedication and this post was meant to keep things painless.
Now that you have these ideas to save money on groceries you can start practicing them today! Saving money shouldn't be stressful and if you are determined to cut your grocery budget, this a start!
Your turn: What other simple ways do you save on your groceries?