Carne Asada Tacos
This post may contain affiliate links which might earn us money. Please read my Disclosure and Privacy policies here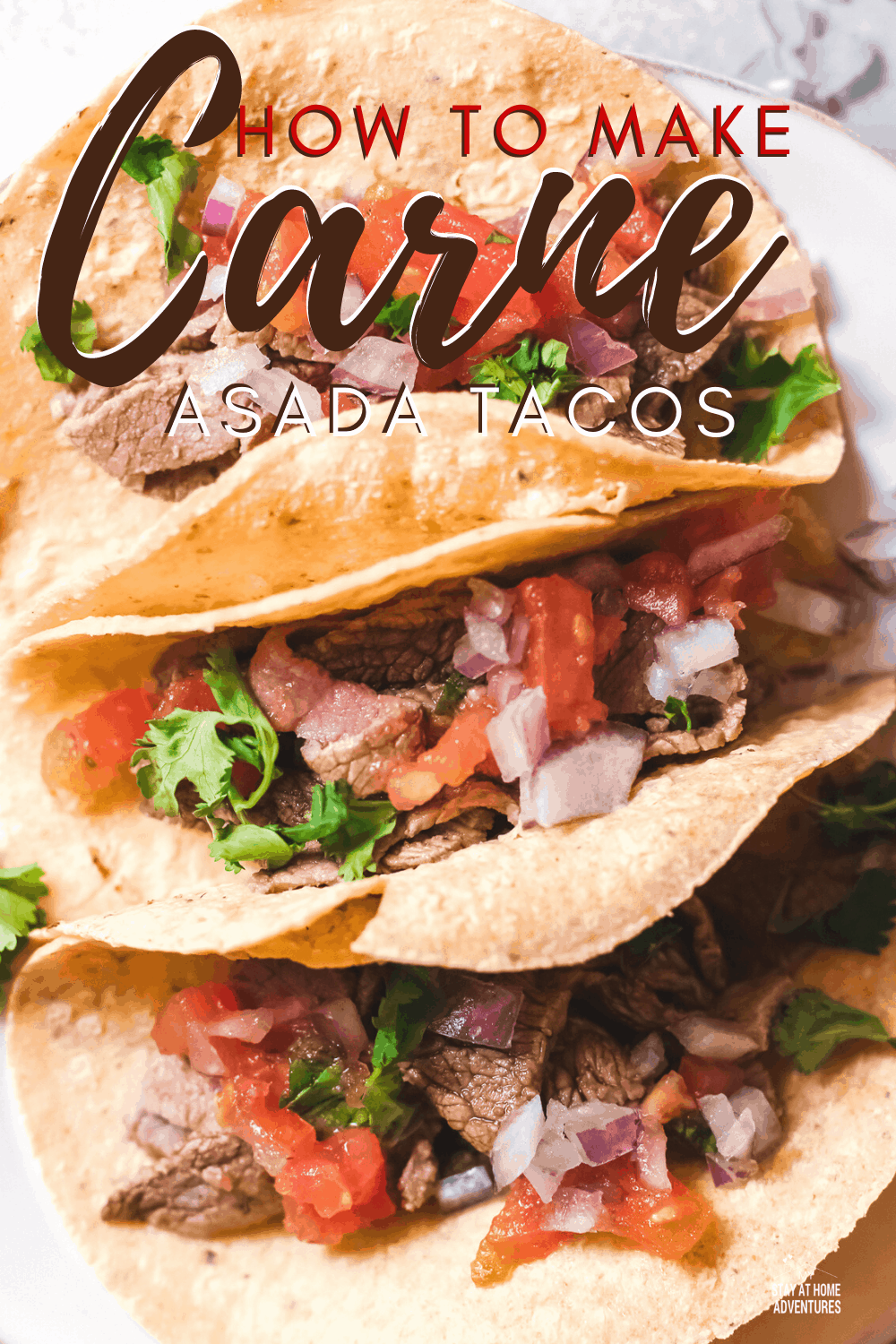 I love how easy and tasty these carne asada tacos are!! The carne asada is really easy to make and you can use it for bowls, burritos, salads and pretty much anything!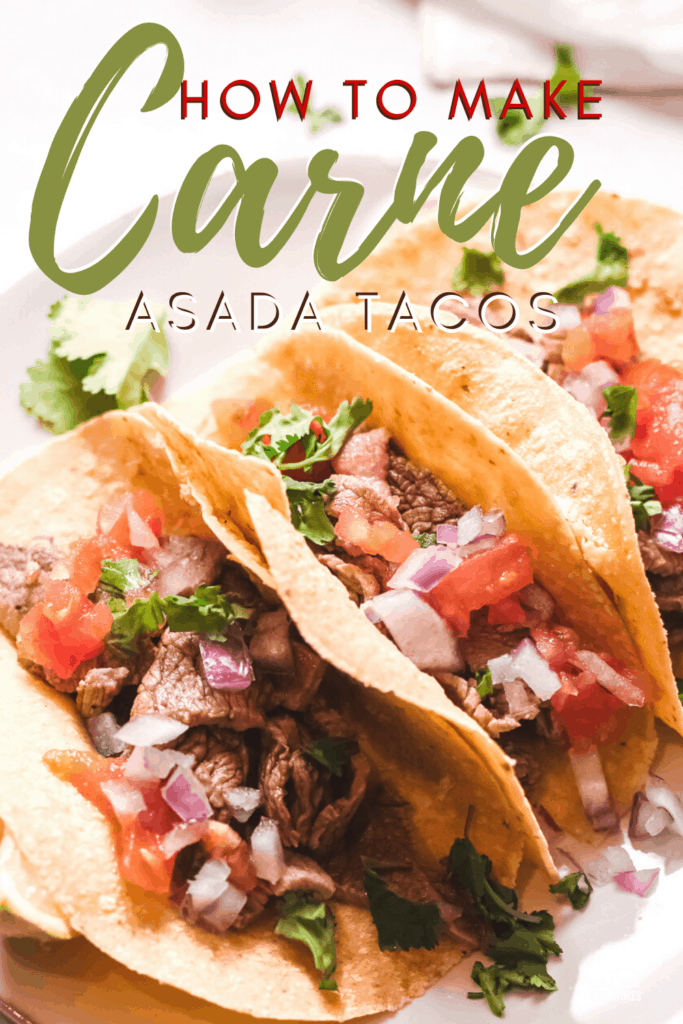 What is carne asada?
Carne asada is beef steak that is marinated and then cooked on high heat to give the meat a charred flavor. It can be served as tacos or served with grilled peppers and onions and tortillas, beans, and rice on the side.
What does carne asada mean in English?
Loosely translated, carne asada means cooked meat. Carne translates to meat and asada means grilled, roasted, or broiled.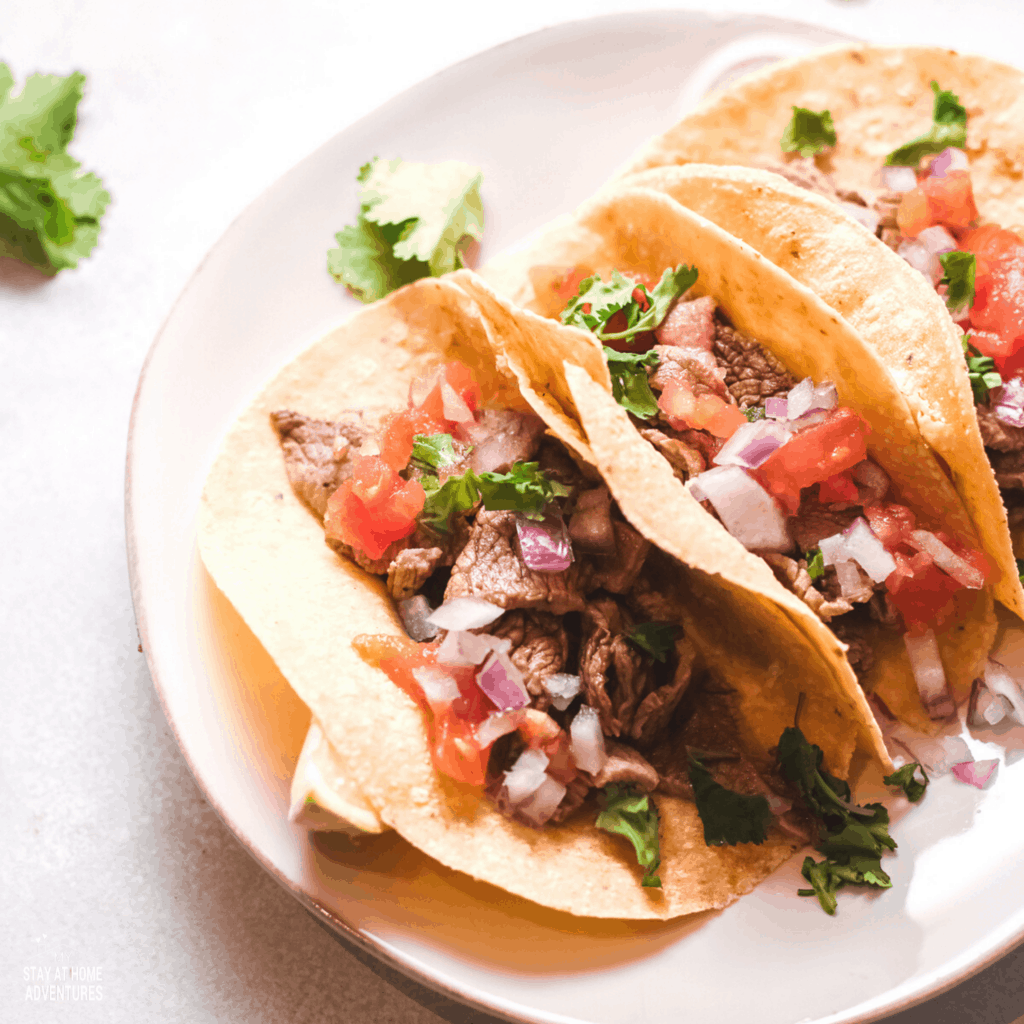 What type of meat is used in carne asada?
Carne asada is usually made with flank steak, otherwise known as skirt steak. But, it can be made with beef tenderloin, ribeye, or even sirloin steak. Flank steak is usually the cut of choice because it is an inexpensive, yet flavorful cut.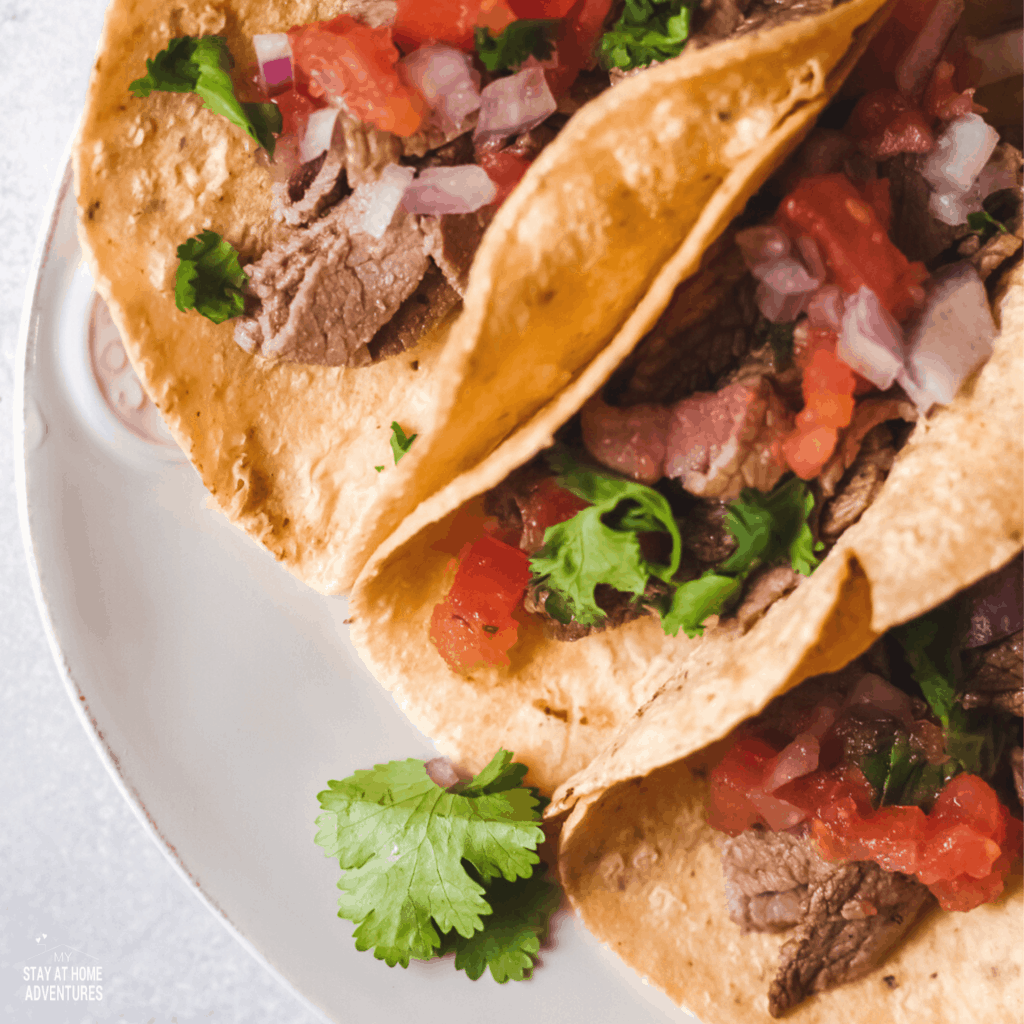 What are the ingredients to make Carne Asada Tacos?
To makes this carne asada recipe you are going to need the following ingredients:
Flank steak
Olive oil
Lime juice
Orange juice
Garlic clove
Jalapeño
Paprika
Cumin
Coriander
Chili powder
Salt and pepper
Cilantro
Pico de gallo
Red onion
Additional cilantro
How to make carne asada tacos
Now that you have gathered your ingredients it is time to make carne asada. All you have to do is follow the steps below:
The first step is to combine the olive oil and seasonings before tossing with the flank steak.
Allow the steak to marinate for at least 30 minutes in a covered bowl. The longer the meat marinates, the more flavorful and tender it will be.
You'll want to cook the meat over high heat. Allow the skillet to get nice and hot before adding the meat. Allow to cook for 6 minutes, flip, and cook for an additional 5 minutes. The meat should be golden brown.
You might like these homemade taco recipes:
Remove from the skillet and allow the meat to rest for 5 minutes before cutting.
To assemble the tacos, warm the tortillas and then fill with the meat and whatever ingredients you would like on your tacos.
Your carne asada tacos is ready to serve!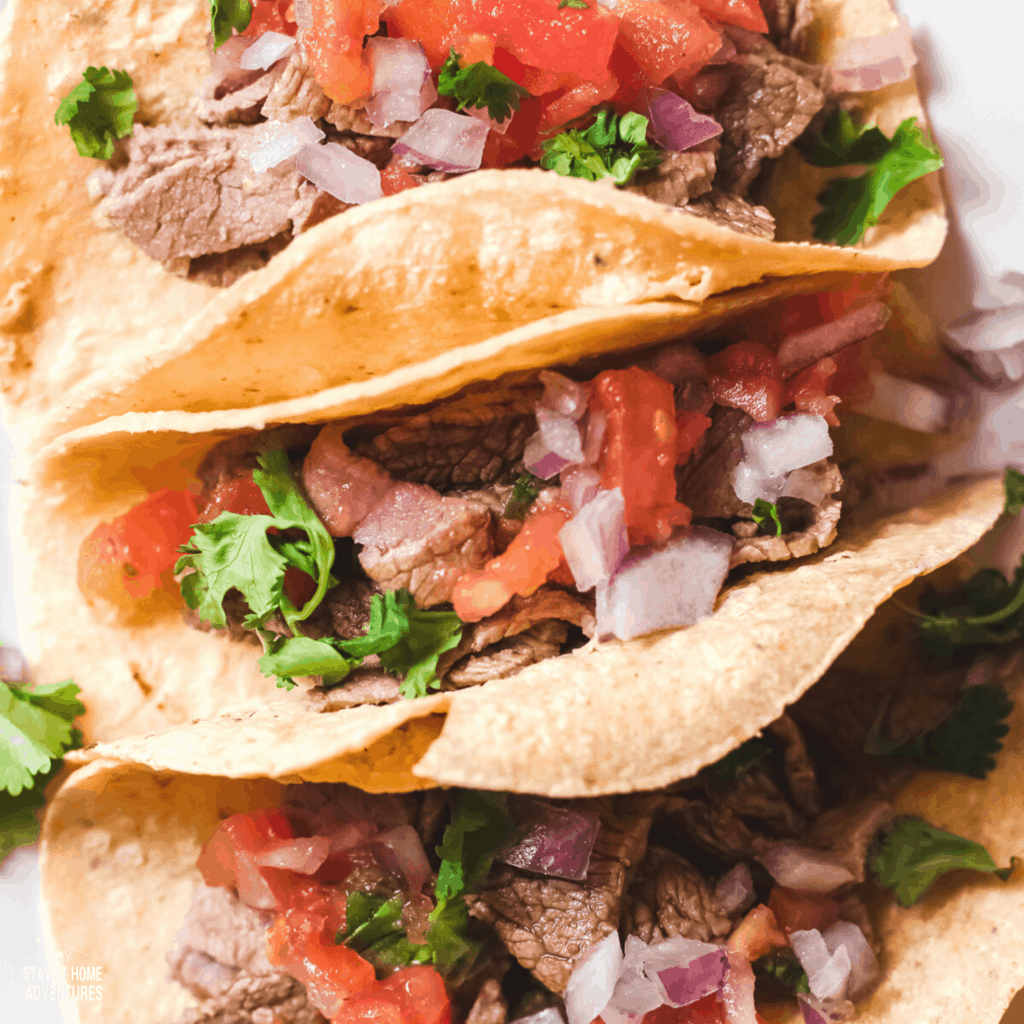 Carne Asada Tacos Recipe
Now that you know everything you need to know about how to make carne asada it is time to print the recipe.
To print the recipe, click the print button below. Want to save this recipe for later? All you have to do is use the share button to Pin it for later, Mix it or add it to your Yummly account.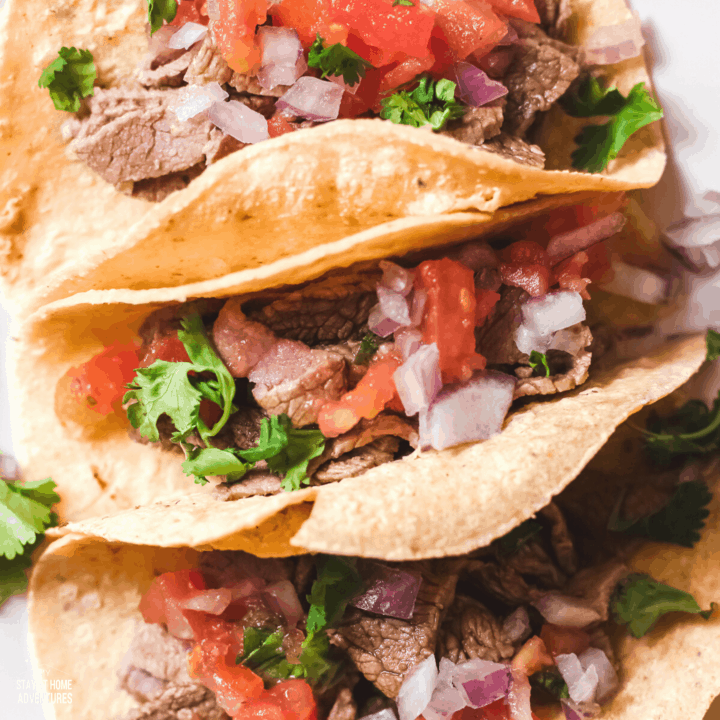 Carne Asada Tacos
Additional Time:
5 minutes
Easy to make Carna Asada tacos you are going to love!
Ingredients
1 Pound flank steak
3 Tbsp olive oil
1/4 Cup lime juice
1/3 Cup orange juice
1 Garlic clove, minced
1/2 Jalapeño, minced
1 Tsp paprika
1 Tsp cumin
1/2 Tsp coriander
1 Tsp chili powder
Salt and pepper to taste
1/4 Cup cilantro, chopped
For the tacos:
Pico de gallo
Corn tortillas
Chopped red onion
More cilantro
Instructions
In a big bowl mix the olive oil, lime juice, orange juice, garlic clove, jalapeño, paprika, cumin, coriander, chili, salt and pepper, and cilantro. Add the flank steak and toss and massage to coat with the marinade.
Cover the bowl with plastic wrap and marinate for at least 30 minutes.
Heat a skillet over high heat until hot. Place the marinated flank steak in the skillet and cook for around 6 minutes. Flip and cook for 5 more minutes. It should be golden brown on the outside.
Remove from heat and let the meat rest for 5 minutes before cutting it.
Assemble the tacos: Warm the corn tortillas and fill with the crane asada, pico de gallo, chopped red onion and cilantro. Serve with lime wedges.
Nutrition Information:
Yield:

4
Serving Size:

1
Amount Per Serving:
Calories:

356
Total Fat:

20g
Saturated Fat:

5g
Trans Fat:

0g
Unsaturated Fat:

13g
Cholesterol:

90mg
Sodium:

220mg
Carbohydrates:

11g
Fiber:

2g
Sugar:

4g
Protein:

33g
These nutritional calculations might not be accurate. Please speak with a licensed nutritionist to assist you.