Spanish food is amazing, it's delicious, and here at My Stay At Home Adventures, we want you to enjoy Spanish food as much as we do. We decided to come up with the best Spanish soup recipes roundup in from Puerto Rican soups, Spain soups, to Mexican soups; we have them all here.
17 Of The Best Spanish Soup Recipes
A Puerto Rican Bacalao Guisado (Cod Fish Stew)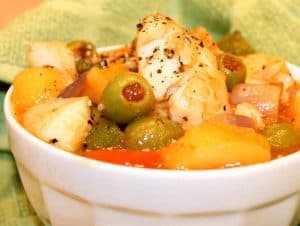 Via Kitchen Counters
If you have not heard nor tried Puerto Rican bacalao guisado soup, you are missing out. Talk about flavors!
Sopa de Plantanos (Plantain Soup)
Via The Noshery
If you have been following my blog, you will know that I am a big fan of plantain. It is one of the most affordable vegetables and you can create wonderful recipes with it. Here is one of them, Plantain soup.
Mofongo con Sopa de Mariscos (Plantain Mash and Seafood Soup)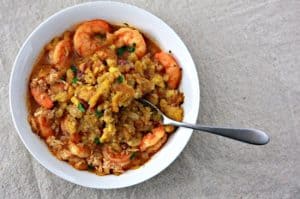 Via The Noshery
Another Spanish soup that contains plantains that you are going to love. This Plantain Mash & Seafood soup will not disappoint.
Shrimp Soup (Asopao De Camarone)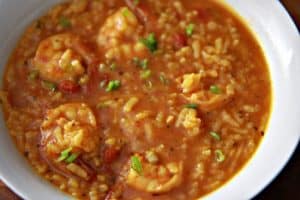 Via The Noshery
Delicious Shrimp Soup with rice is an excellent meal to have during Lent or after partying too hard!
Mexican Beef Stew (Caldo De Res)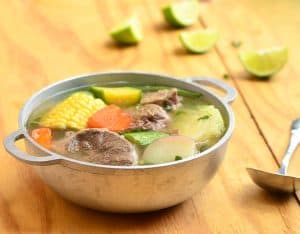 Via Onion Rings and Things
A nice Mexican beef stew on rainy days will brighten your day!
Chicken and Root Vegetable Soup (Sancocho)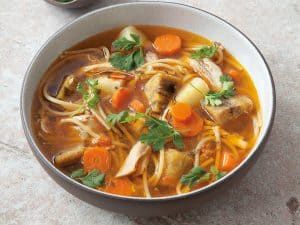 Via Saveur
This is inspired by Puerto Rican chicken soup with starchy vegetables called Chicken and Root Vegetable Soup (Sancocho)
Mexican Pasta Soup (Sopa Aguada)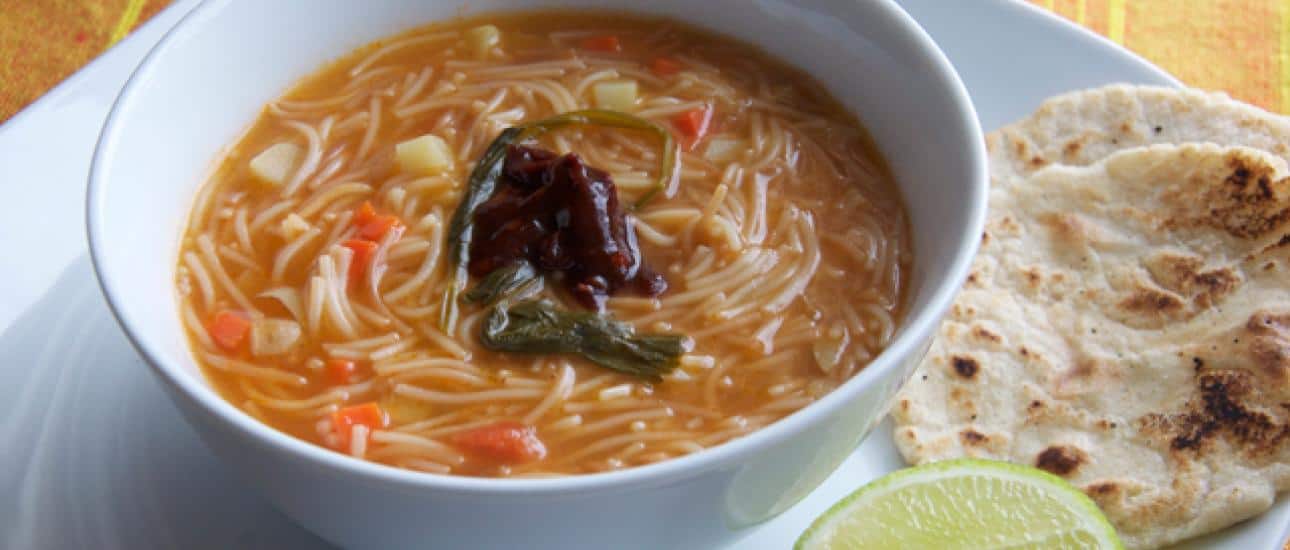 Via The Latin Kitchen
A delicious version of Sopa Aguada (Mexican Pasta Soup) it is so delicious, you have to try it.
Potato & Chorizo soup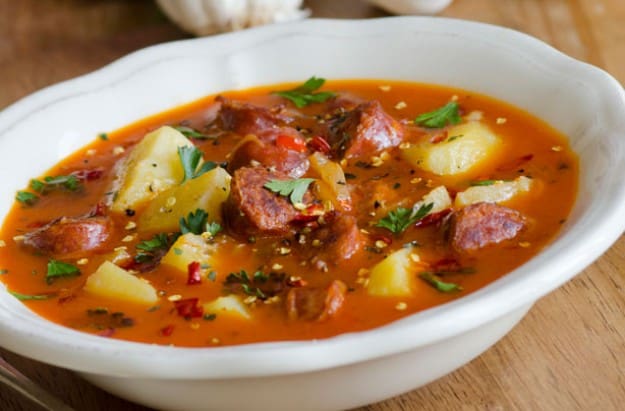 Via Good to Know
A rich colorful and delicious Potato and Chorizo soup will warm any cold day.
Spanish Beef Stew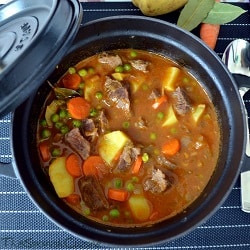 Via The Spanish Cuisine
Delicious Spanish beef stew with the best lean cuts of beef for a fabulous taste.
Spanish Bean Soup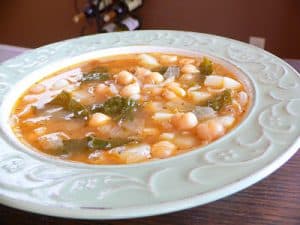 Via The Raw Cooked Vegan
Yes! Spanish bean soup with kale and meatless!
Black Bean Soup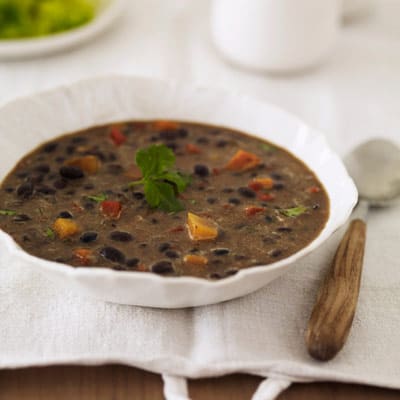 Via Country Living
This Black Bean Soup takes about 45 minutes to make but is so worth it!
Mexican Corn Soup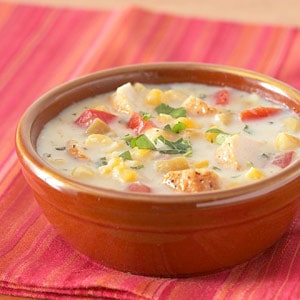 Via Recipe.com
This Mexican Corn soup shares the spotlight with chicken. You can also use fat-free milk with this recipe.
30 Minute Mexican Food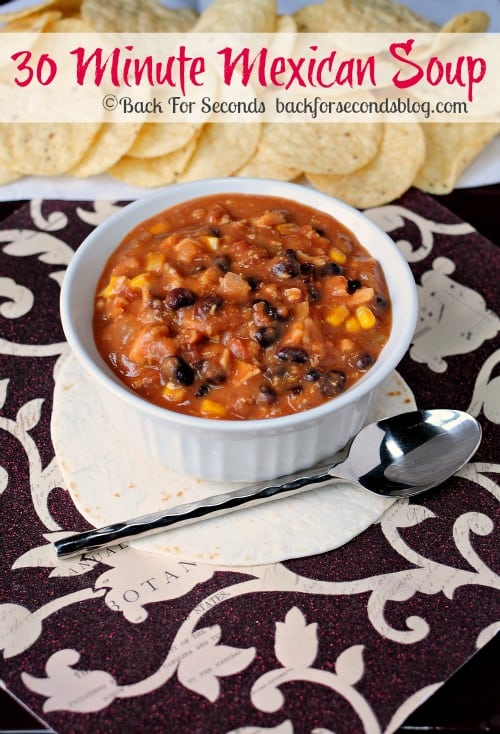 Via Back For Seconds
This is an easy 30 Minute Mexican food perfect for Cinco de Mayo.
Mexican Chicken Stew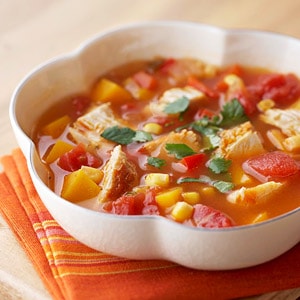 Via Recipe.com
This is another Spanish style stew, only this time with chicken.
Spanish Corn Chowder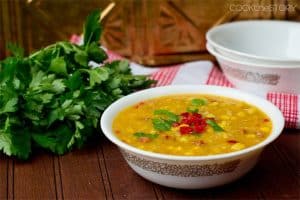 Via Cook the Story
This delicious Spanish Corn Chowder is ready in less than 15 minutes!
Antonia's Salmorejo Recipe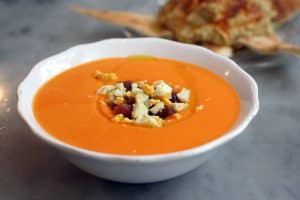 Via Spanish Sabores
Antonia's Salmorejo a creamy salmorejo with ham and egg!
Sopa de Pollo Boricua (Puerto Rican Chicken Soup)
Happy cooking and we hope you get to try at least one of these mouth-watering Spanish soup recipes!
What is your favorite Spanish soup?
Love Hispanic food? Check out these posts:
The following two tabs change content below.
Latina mom of 4 married to wonderful Greek gentleman. Living in southeast PA and trying to juggle family and a household while trying to earn an income from home. Follow my stay at home journey as I discover how to earn money and save money so we can continue to live debt-free.
Latest posts by Joyce @ My Stay At Home Adventures (see all)