15+ of the Best Puerto Rican Soup Recipes 
This post may contain affiliate links which might earn us money. Please read my Disclosure and Privacy policies here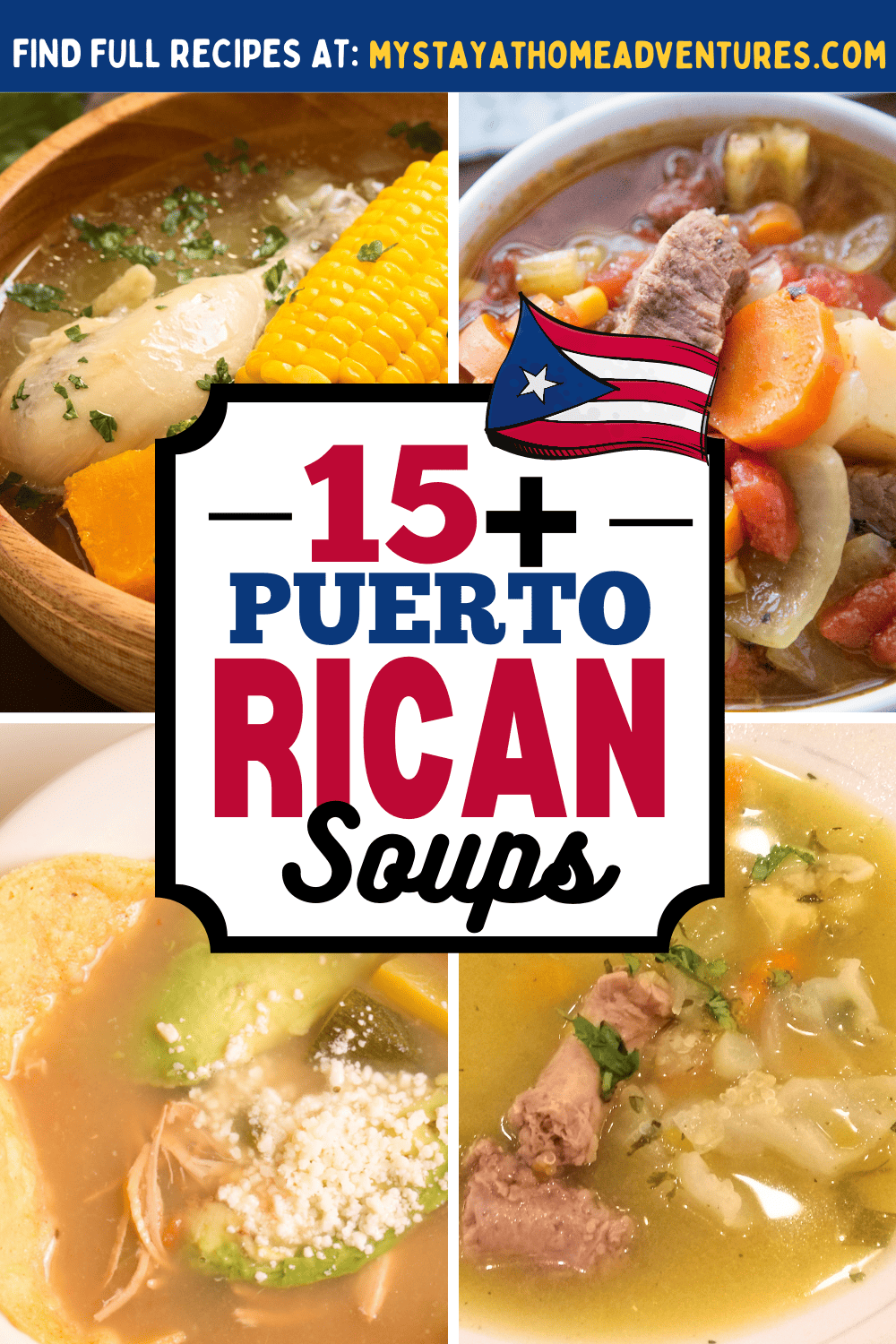 Puerto Rican cuisine is known for its bold flavors and hearty ingredients; Puerto Rican Soup Recipes is no exception. From comforting chicken noodle soup to spicy seafood stew, Puerto Rican soup recipes offer a delicious taste of the Caribbean.
Whether you're looking for a satisfying meal on a chilly evening or a light lunch on a sunny day, a Puerto Rican soup recipe will hit the spot.
Traditional Puerto Rican soups include Sancocho, a mix of root vegetables like yucca and taro, and stewed chicken or beef. No matter which Puerto Rican soup you choose, all recipes include classic ingredients like onions, garlic, peppers, cilantro, achiote, oregano, and tomato sauce.
These soups make for an easy weekday dinner or a hearty lunch, especially with crusty bread. If you're feeling adventurous, add classic Puerto Rican condiments like recaito to your soup recipes for extra flavor!
There's no better way to enjoy a comforting dish while experiencing the vibrant flavors of Puerto Rico.
Read on to discover some of the best Puerto Rican soup recipes you can easily make at home!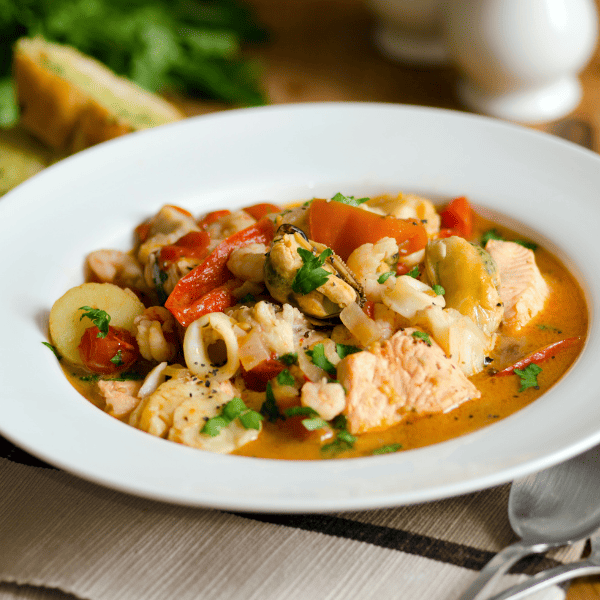 What are the Puerto Rican Soup Recipes?
Here are Puerto Rican soup recipes to try at home:
Sopa de Pollo (Chicken Soup)
Sopa de Pollo is a classic Puerto Rican soup with chicken, potatoes, carrots, and a flavorful broth. It's perfect for a chilly evening or a comforting meal.
Sopa de Fideos (Noodle Soup)
Sopa de Fideos is a simple and delicious soup with noodles, vegetables, and chicken or beef broth. It's a perfect comfort food for a cold or rainy day. ​​Sopa de Fideos can be enjoyed as a light lunch or a starter to a larger meal. It is often garnished with fresh herbs like cilantro or parsley for an added burst of freshness and flavor.
Asopao de Camarones (Shrimp Stew)
Asopao de Camarones is a hearty stew made with shrimp, rice, tomatoes, olives, and various herbs and spices. It's a delicious way to warm up on a cold day.
Asopao de Pollo (Chicken Stew)
Asopao de Pollo is a Puerto Rican chicken stew made with rice, olives, capers, and many other spices. It's a hearty and satisfying soup guaranteed to warm you up.
Asopao de Mariscos (Seafood Stew)
Asopao de Mariscos is a delicious seafood stew made with rice, shrimp, squid, clams, and other seafood. It's a perfect dish for seafood lovers. It's full of flavor and perfect for a cozy night in.
Caldo santo
This traditional soup is an absolute delight for the taste buds! Made with various vegetables, herbs, and chicken pieces, it's simmered together to create a flavor-packed dish that will keep you coming back for more.
It is delicious, and its origin dates back hundreds of years. It has been passed down through generations – truly a cultural culinary staple.
Asopao de Gandules
Take your taste buds on a flavorful journey with Asopao de Gandules! This traditional Puerto Rican stew made with gandules (pigeon peas) and other ingredients like chorizo, pork, sofrito, and spices is simmered to create an unforgettable dish. Enjoy the unique blend of flavors and textures – from the smoky flavor of chorizo to the creamy texture of beans.
Sopa de Hamon y salchichon
This traditional Puerto Rican soup is made with salchichón, a variety of pork sausage, which gives it a robust flavor. It is then simmered in a broth of ham, vegetables and spices to create the perfect warming dish on a chilly night. Enjoy the combination of sautéed vegetables and the flavorful pork sausage for a truly unique experience!
Sopa de platano
Sopa de platano is a traditional Latin American soup made with ripe plantains. The plantains are boiled in a chicken or vegetable stock broth and flavored with onions, garlic, and other spices.
The soup is typically pureed, giving it a smooth and creamy texture. It can be served as a starter or a main course and is often garnished with cilantro, avocado, and a squeeze of lime. Sopa de platano is a comforting and filling dish that is enjoyed across Latin America.
Sancocho
Sancocho is a popular stew in Puerto Rican cuisine, typically served during special occasions or family gatherings. This hearty soup is made with various types of meat such as chicken, beef, pork, smoked ham hocks, and starchy vegetables like yucca, plantains, and potatoes.
Sancocho's slow-cooked blend of meats and vegetables makes it a satisfying and comforting meal perfect for cool evenings. Its delightful flavors have made it a staple dish in Puerto Rican cuisine and a must-try for anyone looking to taste the island's culinary traditions.
Sopa de Pollo con Mofongo is a traditional Puerto Rican soup that is loved by many. It combines the savory flavors of chicken, vegetables, and spices with mofongo's unique and delicious texture, a dish made with mashed plantains and pork cracklings. The dish is usually enjoyed during special occasions or celebrations and represents the heartiness and warmth of Puerto Rican culture.
Bacalao Stew (Puerto Rican Cod Stew)
Bacalao Stew, a popular dish in Puerto Rican cuisine, is a savory and flavorful cod stew made with potatoes, onions, peppers, and garlic. This hearty and comforting stew is made by soaking salted cod overnight and boiling it until it becomes tender and flaky.
The cod combines sautéed vegetables and tomato sauce, creating a rich and fragrant base.
This dish is a classic example of Puerto Rican comfort food and is especially popular during the holiday season. Bacalao Stew will surely become a favorite in any household with its satisfying flavors and a cozy warmth.
Puerto Rican Beef Soup
Puerto Rican Beef Soup is a flavorful beef soup made with various vegetables, such as carrots, celery, and potatoes, seasoned with many herbs and spices. It is usually served with a side of white rice for a satisfying and filling meal. This soup is a staple in Puerto Rico at family gatherings and is typically enjoyed during the holidays.
If you're looking for a comforting soup that is both nutritious and delicious, give Puerto Rican Beef Soup a try.
Sopa De Pescado
Sopa De Pescado, or fish soup, is a classic dish in Spanish cuisine that is both flavorful and fragrant. This soup is usually made with various seafood, including white fish, shrimp, mussels, and clams.
This soup is perfect as a main course and is especially comforting during cool evenings. If you're looking for a flavorful and hearty dish that is easy to make, try Sopa De Pescado.
Garbanzos con Patas de Cerdo
Garbanzos con Patas de Cerdo, or Chickpeas with Pig's Feet, is a traditional Spanish dish that is flavorful and hearty. This dish is made with garbanzo beans cooked with pig's feet until tender and juicy. It is typically served with white rice or crusty bread.
The dish is perfect for a cozy and filling meal and is especially popular during the cooler months. If you want to try something new and flavorful, try Garbanzos con Patas de Cerdo – you won't be disappointed.