Spanish Rice with Chicken Arroz Junto con Pollo
During my younger years I failed when it came to making Spanish rice, but ever since I discovered my Instant Pot and overcoming my fears, this girl can cook Spanish Rice with Chicken/ Arroz con Pollo that will make you want more.
Yes, that good! And I can guarantee you that anyone can make authentic Spanish rice just keep reading.
My family loves to cook and honestly, they can create the most delicious Puerto Rican foods. Our family gatherings are more exciting because you know those delicious meals are going to be there!
The same can be set for family reunions; we not only go to see family but also the food! However, when you ask any of our relatives who is the best cook in the family, everyone is the number 1 "chef" in the family.
The truth is that there are so many ways to make Puerto Rican rice, but one thing I can tell you that no matter how you cook it there is one outstanding flavor that sticks out when you eat any Puerto Rican rice dish.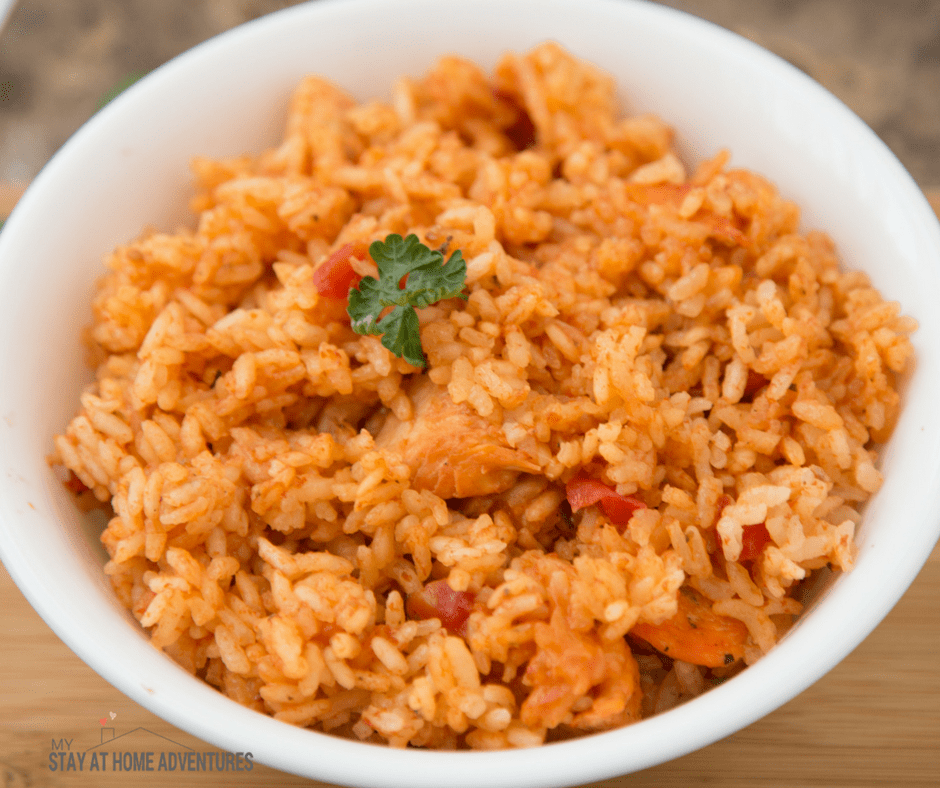 I decided to learn (I know shame on me) to give Spanish rice a try and start cooking it again since my kids love Spanish rice. This time instead of using the caldero or pot, I decided to use my IP (Instant Pot), and my dad thought I was nuts.
My first attempt at making Spanish rice was a disaster because I followed IP's instructions and it was too mushy and not the flavor I was looking for. I also learned that not all IPs cook the same and you have to be comfortable with your IP to know how much liquid it needs.
Check out these Hispanic recipes:
Rice is cheap and one of my 7 best pantry essentials for our budget to have! Another point I want to make is that you don't have to have name brand Latino ingredients to create the best Spanish rice with chicken.
The only 2 ingredients that you need are sofrito and Sazon. You have these two ingredients, and you got this! The rest of the ingredients can be bought anywhere. I bought my ingredients (including my Sazon) at Aldi.
For this version of the recipe, I used Goya rice because I had some left. Now, you can use any rice it doesn't have to be Goya (my dad bought it, and he thinks it has to be Goya!). Another important key is that you can add chicken broth instead of water to maximize the flavor. I just didn't have any at the time.
How to Cook Rice in Instant Pot
Before we begin let me just talk about how to cook rice in Instant Pot for a few minutes. You see, with an Instant Pot a 1 to 1 water-to-rice ratio is how is done with some rice.
Just add the same amount of rice and water and press Rice but sometimes depending on the grain of rice and how you prefer your ice it may vary.
Also, if you are making plenty of rice you might need more than your standard 12 minutes. Just keep that in mind.
Here are some cooking times for rice:
White rice: 3-8
Basmati (white) rice: 4-8
Brown rice (long/short): 22-28
Wild rice mix: 25-30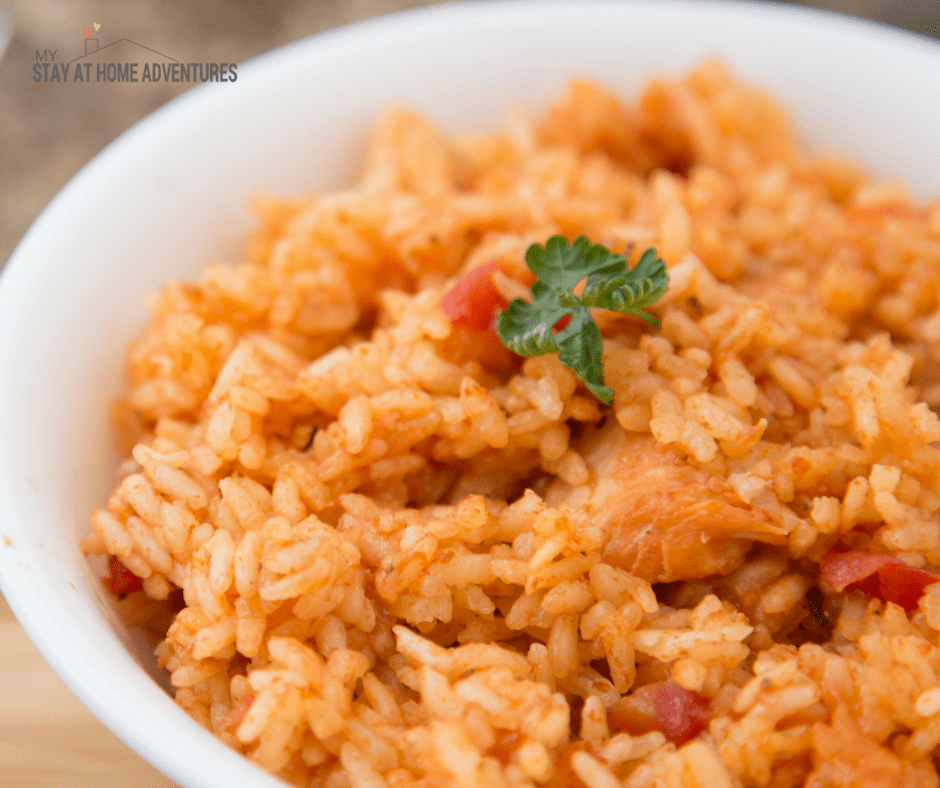 On this recipe, you are going to sauté and then hit the rice button for 12 minutes. I used chicken breast and will tell you to make sure that your chicken is flavored as well.
Honestly, this recipe is easy to make, and if you have an Instant Pot and haven't used it yet, just give it a try. Always remember that some recipes will come out different depending on certain things, such as the model of IP and such.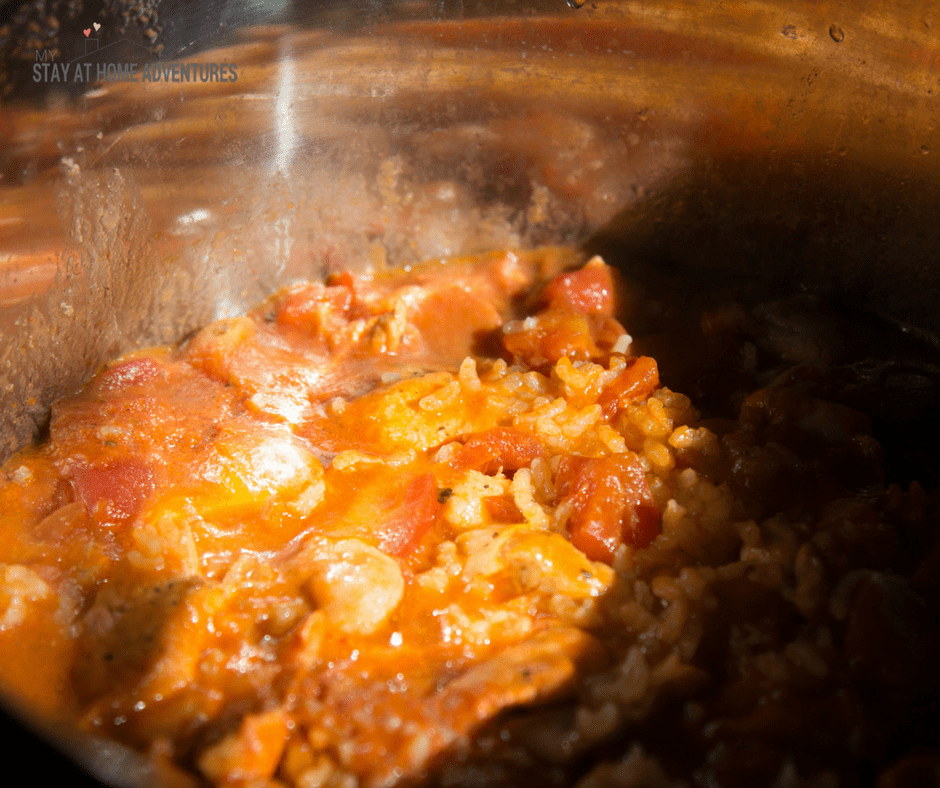 But never fear it and if you mess up to try it again. My main issue with making rice with IP was that it was too mushy or I didn't add enough liquid because I was doing the spoon test. Any Latino in the house will know what I'm talking about.
And this spoon test just doesn't work for when you make arroz junto using an IP. Also, I always will get worried because my IP wouldn't release tons of steam and worried my rice would be messed up. That didn't happen. I also tried making rice with less time, and that will end up uncooked rice.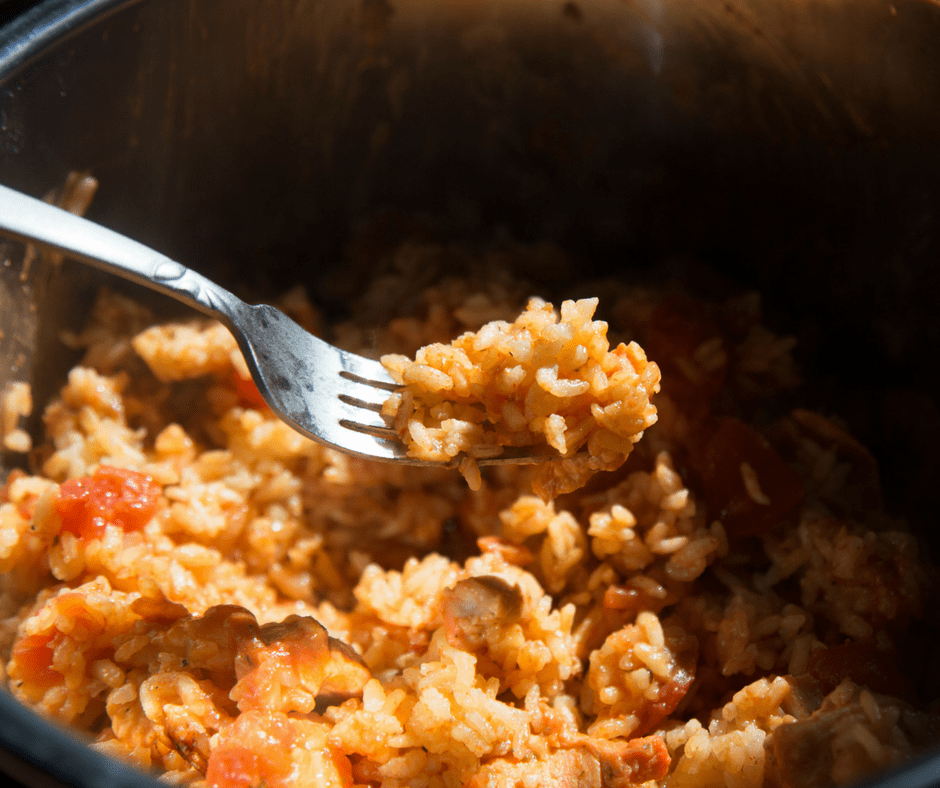 Like all my recipes you make it your own!
So here's what you need for this fabulous Spanish Rice with Chicken recipe or Arroz con Pollo!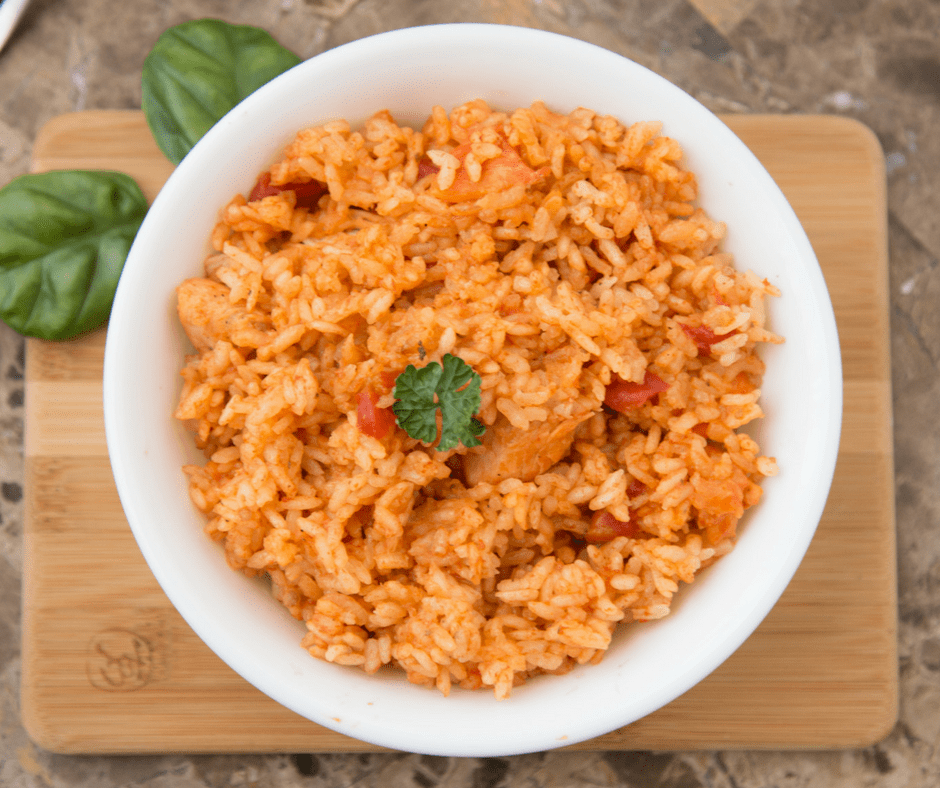 Instant Post Spanish Rice with Chicken / Arroz con Pollo
A simple and fast way to create Spanish rice with chicken or arroz con pollo using an Instant Pot.
Ingredients
1 Tablespoon of olive oil
2 large chicken breasts, cubed
3 Tablespoons of sofrito
Salt & Pepper to taste
1 packet of Sazon
1 can of tomato sauce, 8 oz can
1 can of diced tomatoes, 14.5 oz - you can use Basil, Garlic, and Oregano flavor too!
2 1/2 cups of water
4 cups of rice
Instructions
Hit Sauté and add olive oil, chicken and sofrito and stir until meat is a bit cook (About 4 minutes)
Add salt and pepper and sazon and continue to sauté for a few more minutes. Is going to smell sooo good!
Add tomato and diced tomato and stir let it hit for another 2 minutes.
Add rest of ingredients and mix
Set Instant Pot to Rice 12 minutes.
Notes
*You can add 3 cups of water if you feel that it needs it. Again, this depend on the type of rice.
Make sure you stir the rice after is done cooking.
Love this recipe? Check out this IP recipe: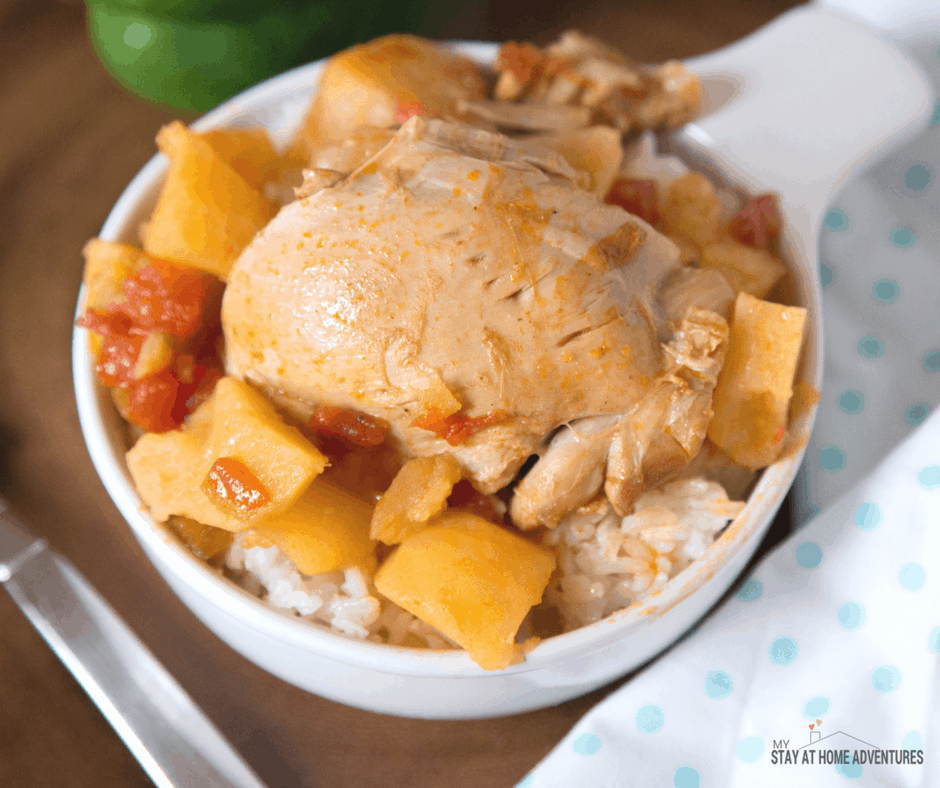 Arroz con Jamon/Spanish Rice with Ham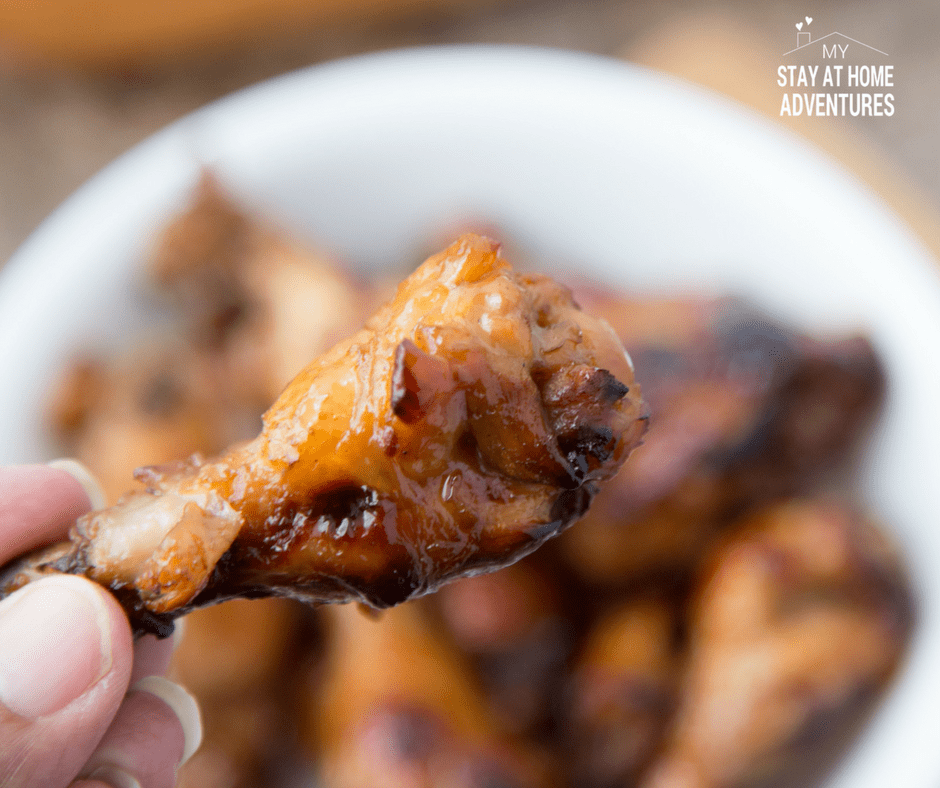 Instant Pot Sweet & Sour Chicken Wings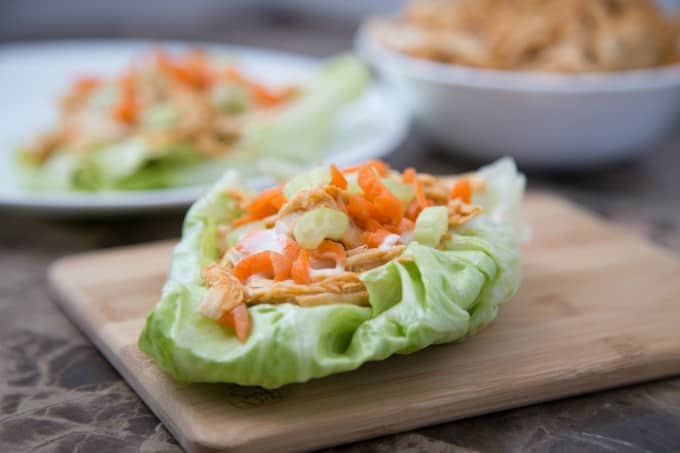 Instant Pot Buffalo Chicken Lettuce Wrap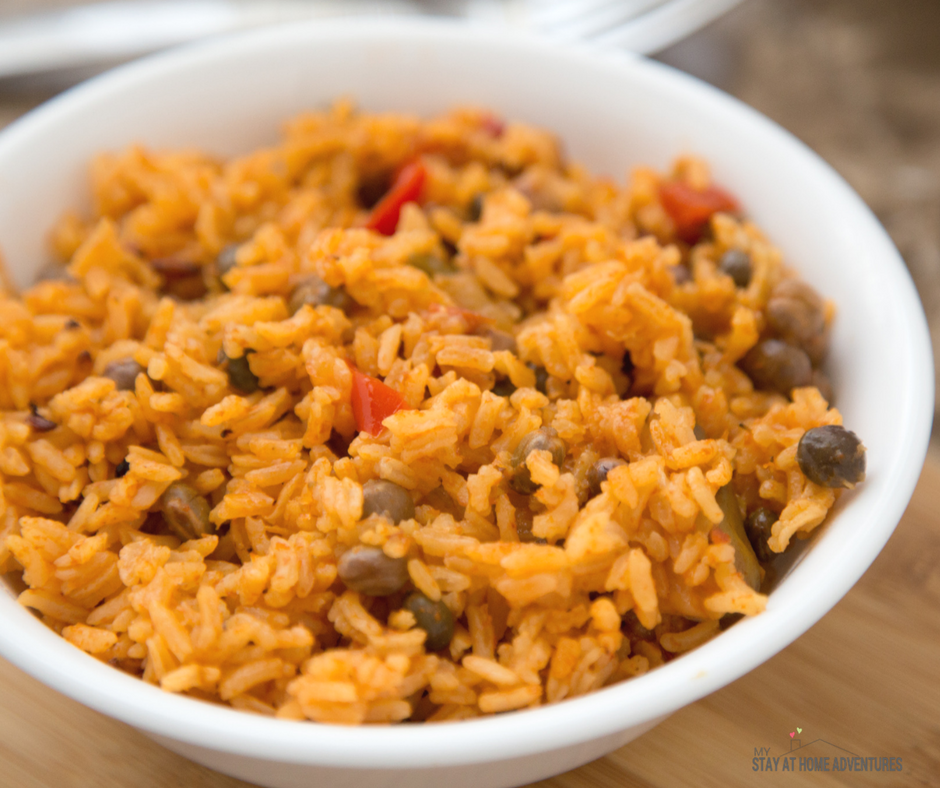 Try our Arroz con Gandules Instant Pot recipe!
The following two tabs change content below.
Latina mom of 4 married to wonderful Greek gentleman. Living in southeast PA and trying to juggle family and a household while trying to earn an income from home. Follow my stay at home journey as I discover how to earn money and save money so we can continue to live debt free.
Latest posts by Joyce @ My Stay At Home Adventures (see all)