Bacalaitos Recipe
This post may contain affiliate links which might earn us money. Please read my Disclosure and Privacy policies here
Bacalaitos are one of the most popular dishes in Puerto Rico. Fried codfish fritters are the perfect appetizer, snack, and even side dish with beans!
There are many ways to make this bacalaitos recipe, you can even add a bit of sazon and sofrito to the batter, but more about this later.
Before you jump to the recipe, read more about this method and how important it is to make sure your salted cod is prepared.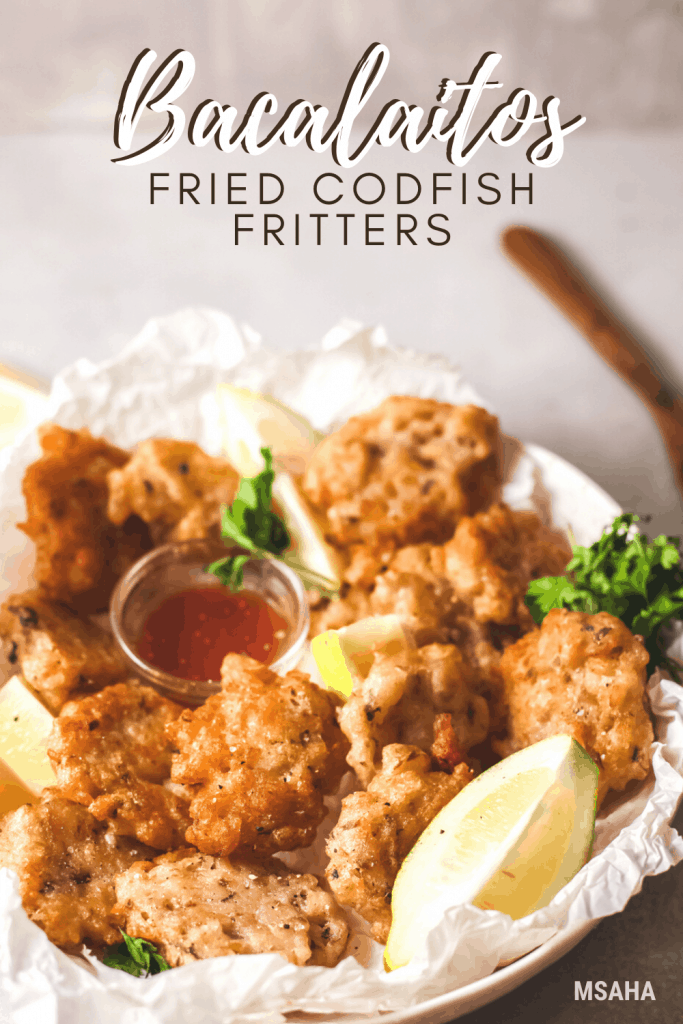 What is bacalaitos made of?
Bacalaitos are made from salted codfish that has been left in water for hours or boiled, flour, spices, water and resembles a fried pancake.
What do you eat bacalaitos with?
You can enjoy bacalaitos as appetizers, as a side dish or snack, or an entire meal. They are served at the beach, festivals, and restaurants.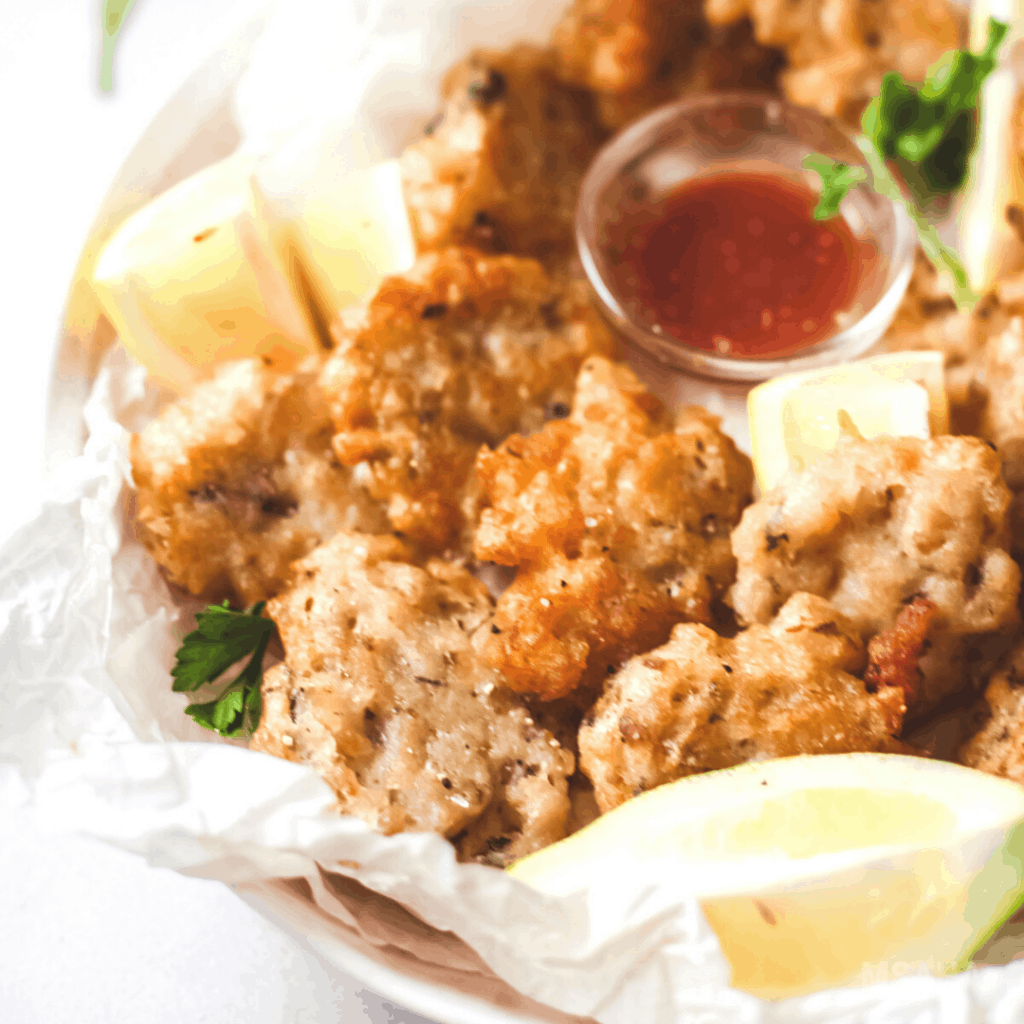 How do you make bacalaitos from scratch?
To make bacalaitos, you are going to start by preparing the salt cod since this process takes time. Depending on where you live, salted cod is sold at major grocers.
Other than the salted cod, bacalaitos are made with everyday ingredients found around the home, such as flour, spices, and oil for frying.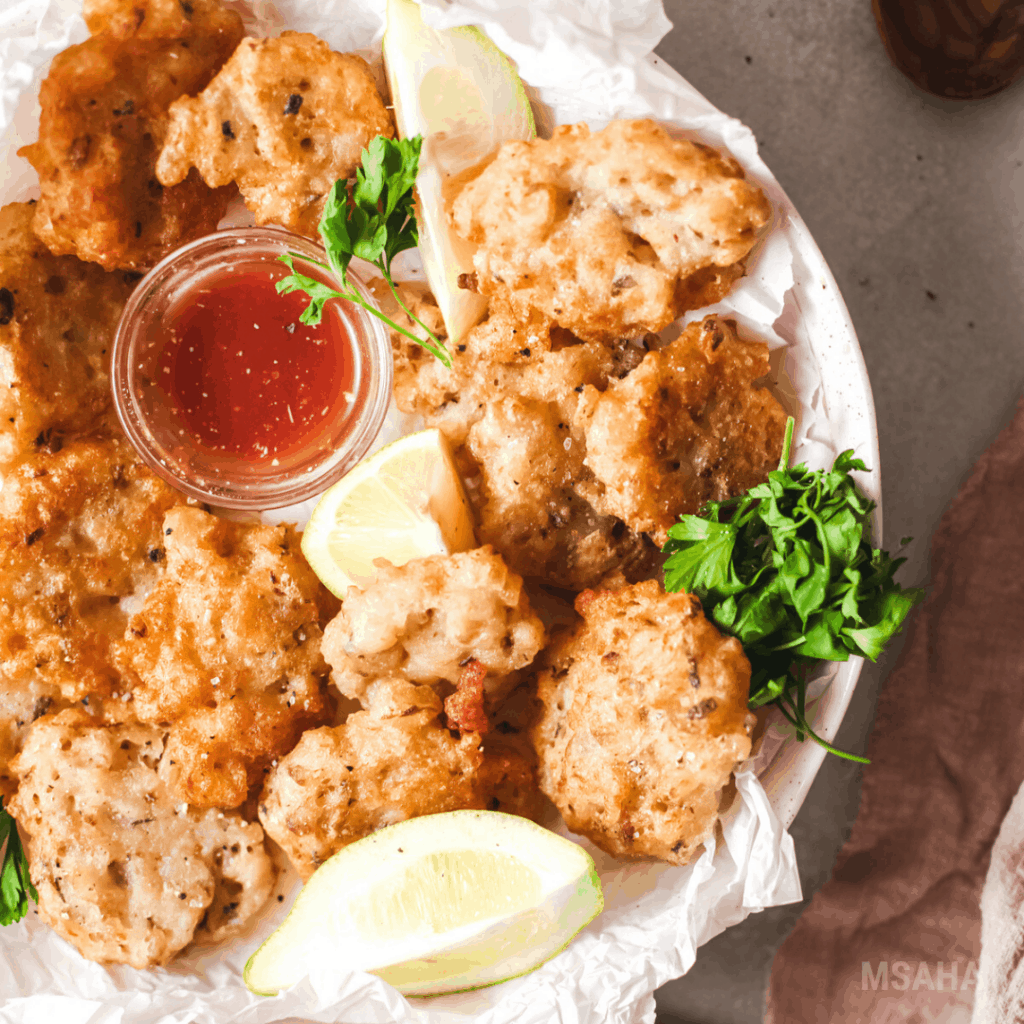 Types of Salt Cod Fish for bacalaitos
If you are not sure what kind of cod
, you need to look for when you head to the store here are our top favorites:
Tropical Boned Salted Pollock
Panamei Seafood Bacalao Salted Pollock
Buena Ventura Ventura Salted Alaska Pollock Fillets Boned/Skinless
Now, you must make sure that after you soaked and boiled the cod, it has no bones!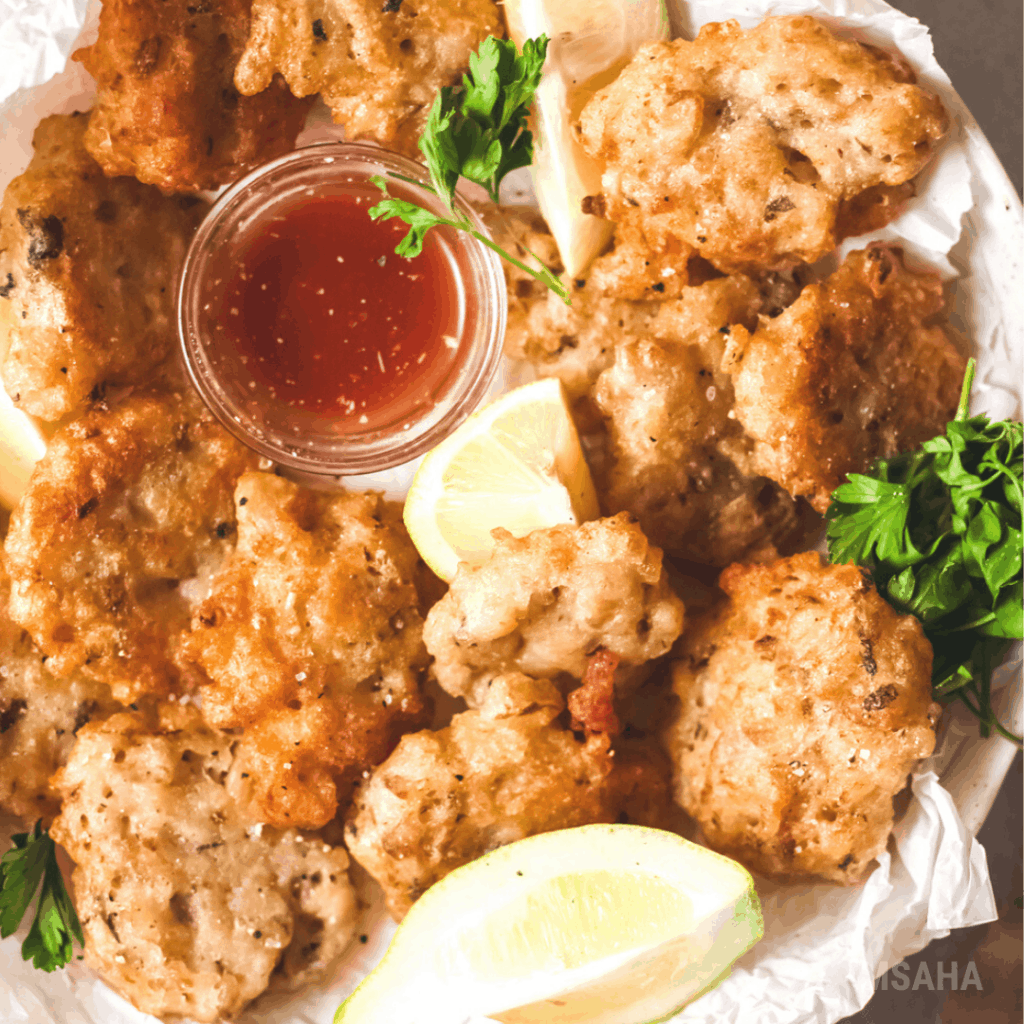 How long should you soak salted cod?
There are many ways people prepare the codfish to make bacalaitos. We will cover them all. Best way to soak the codfish for bacalaitos is to soak overnight, and you do this by following these steps:
Use a large bowl and add cold water.
Place the codfish in the bowl.
Cover the bowl.
Soak the fish for 24 hours and change the water at least three to four times.
Remove the fish and place on top of paper towels, add another layer of paper towels over the fish and gently press to remove the excessive water.
Puerto Rican recipes you might like:
In a hurry? Try the quick-soak method for codfish.
Place the codfish in the sink and rinse it with cold water.
Run the cold water for about fifteen minutes over the codfish.
Using a pan, add the codfish and enough water to cover the cod.
Cover the pot and bring the fish to a boil.
Remove the pot from the stove and drain the water.
Add cold water again and repeat the boiling process.
Repeat this process two or three times.
How to make Bacalaitos
To make crispy bacalaitos de Puerto Rico, make sure that the oil is hot before frying them. By doing this, your bacalaitos will not be oily.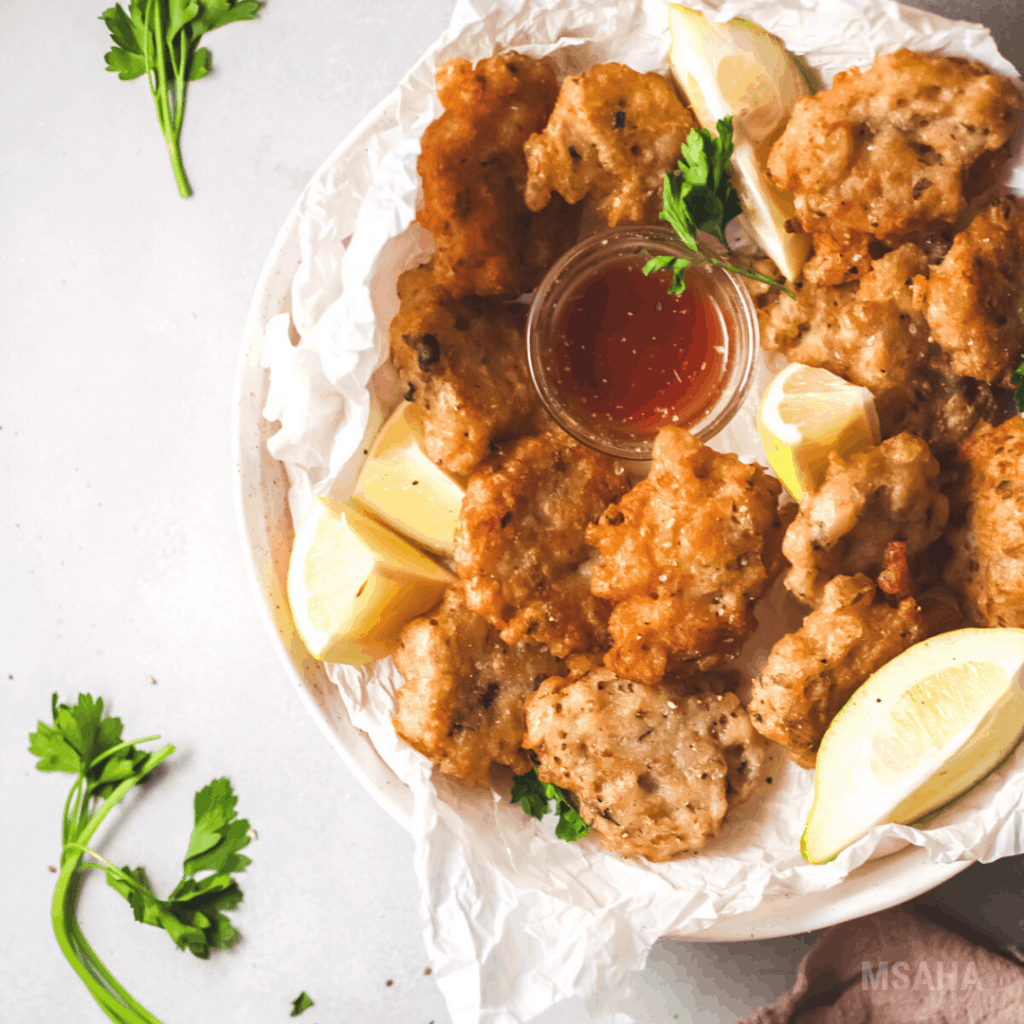 What are the ingredients to make bacalaitos?
To make homemade bacalaitos, you are going to need the following ingredients:
bacalao or salted codfish
flour
baking powder
baking soda
water
adobo
garlic powder
Tsp onion powder
Oil for frying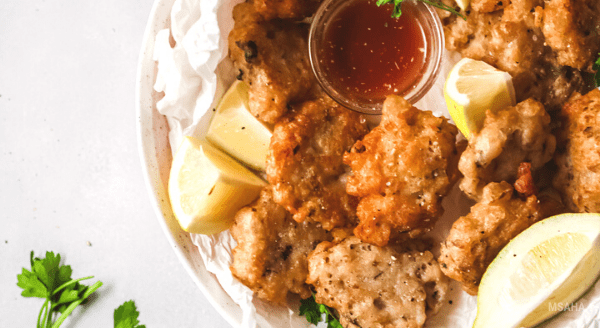 Now that you have all the ingredients, it is time to make this fried cod fritter recipe.
The night before, place the bacalao in a bowl filled with water. Allow the cod to soak overnight or for at least 5 hours. Remember to change the water a couple of times to remove the salt.
Once you are going to prepare the bacalaitos, transfer the cod to a pot, and fill with water. Bring the cod to a boil and simmer for about 12 minutes.
Once the bacalao has been cooked, remove it from hit and allowed it to cool and remove skin and bones, if any, and shred.
Once you have removed skin and bones, if applicable, and shredded the cod, set it aside.
Using a large bowl, add the dry ingredients, and mix together.
Using a whisk, slowly pour the water while mixing the ingredients, the bacalaitos batter is thin, not thick.
Add the shredded bacalao and mix.
Use a large frying pan and heat the oil. Once the oil is hot, drop 2 Tablespoon of batter into the hot oil and cook the bacalaitos until they are golden.
Repeat the process until the batter is gone.
Serve warm.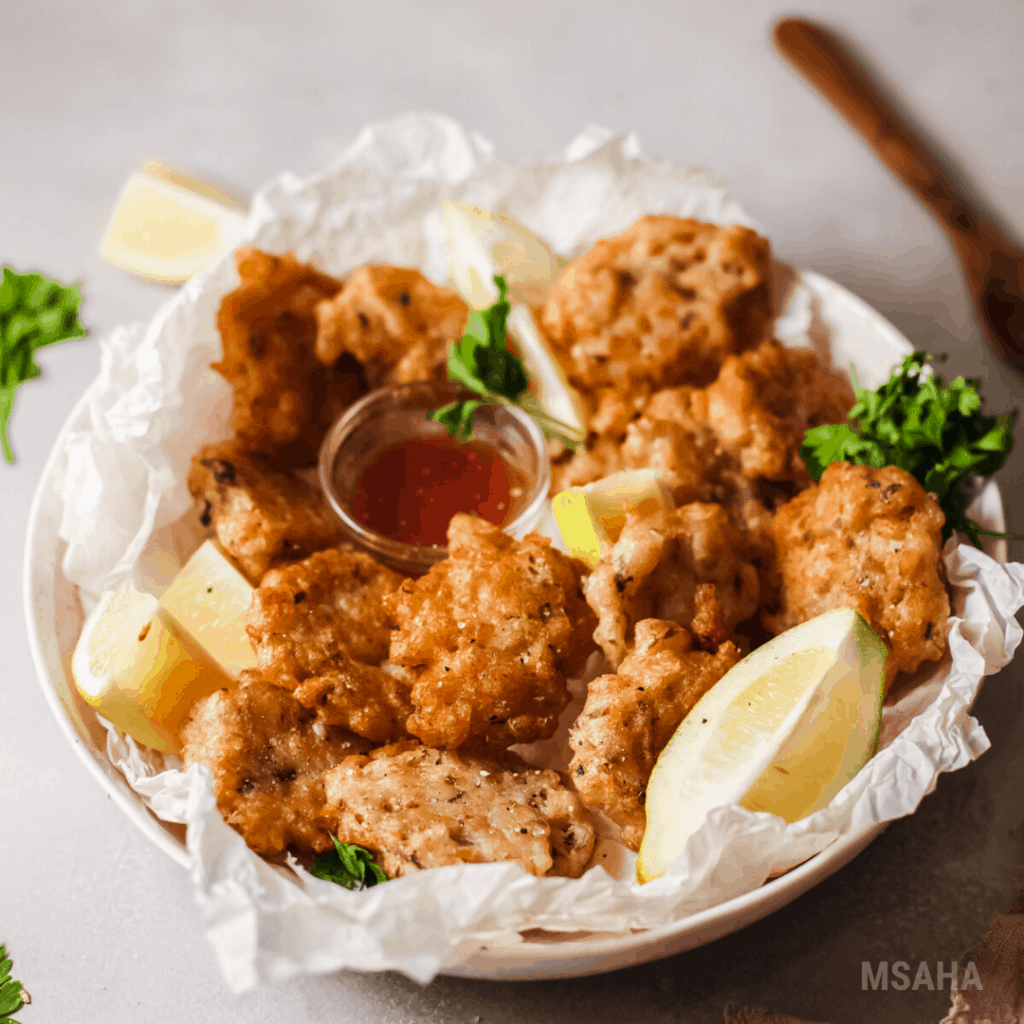 Bacalaitos Recipe
You learned how everything you need to know about making homemade bacalaitos, and now it is time to print the recipe with the precise measurements.
If you are not ready, press the share buttons on Pinterest, and pin this recipe to your account. Press the Yummly button and save it to your Yummly account. If you have a Mix.com account, keep it there as well.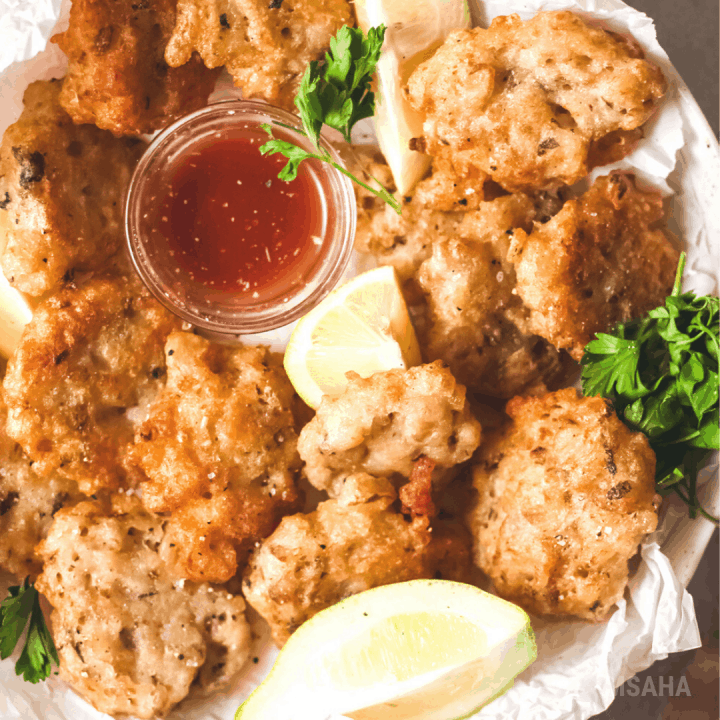 Bacalaitos Recipe
Bacalao Pre-Soak:
5 hours
Total Time:
5 hours
40 minutes
Warm, crispy, and salty bacalaitos are one of my favorite Puerto Rican treats. This recipe is easy to follow, and the results are delicious! Give them a try soon!
Ingredients
1/2 Pound bacalao or salted codfish
1 Cup flour
1 Tsp baking powder
1/2 tsp baking soda
1 Cup water
1 Tsp adobo
1 Tsp garlic powder
1/2 Tsp onion powder
Oil for frying
Instructions
Place the bacalao in a bowl and fill it with water. Let it soak overnight (for at least 5 hours). Drain and rinse with water a couple of times to get rid of the excess salt.
Transfer to a pot and fill with water. Bring to a gentle simmer and cook for 12 minutes. Remove from heat and let it cool down. Remove skin and bones (if any) and shred. Set aside.
In a bowl, combine flour, baking powder, baking soda, adobo, garlic powder, and onion powder. Slowly pour the water and whisk until everything is well incorporated and you have a thin batter. Mix in the shredded bacalao.
In a large saucepan, heat oil.
Drop around 2 Tbsp of batter into the hot oil and cook until golden. Repeat with the rest of the batter.
Nutrition Information:
Yield:

6
Serving Size:

1
Amount Per Serving:
Calories:

99
Total Fat:

3g
Saturated Fat:

0g
Trans Fat:

0g
Unsaturated Fat:

2g
Cholesterol:

0mg
Sodium:

189mg
Carbohydrates:

17g
Fiber:

1g
Sugar:

0g
Protein:

2g
This calculation are not accurate. For entertainment purposes only.