Unique Fundraising Ideas
This post may contain affiliate links which might earn us money. Please read my Disclosure and Privacy policies here
Everyone has a cause that requires funds. Whether it's your kid's sports team or a charity that's near and dear to your heart, collecting funds is a tough business.
There are plenty of other people competing for contributors and only so much disposable income to go around.
One of the best ways to maximize your fundraising efforts this year is to do something unique. By putting on an event that stands out, you're more likely to attract donors.
Here are eleven unique fundraising ideas that you probably haven't tried before.
You might like these articles: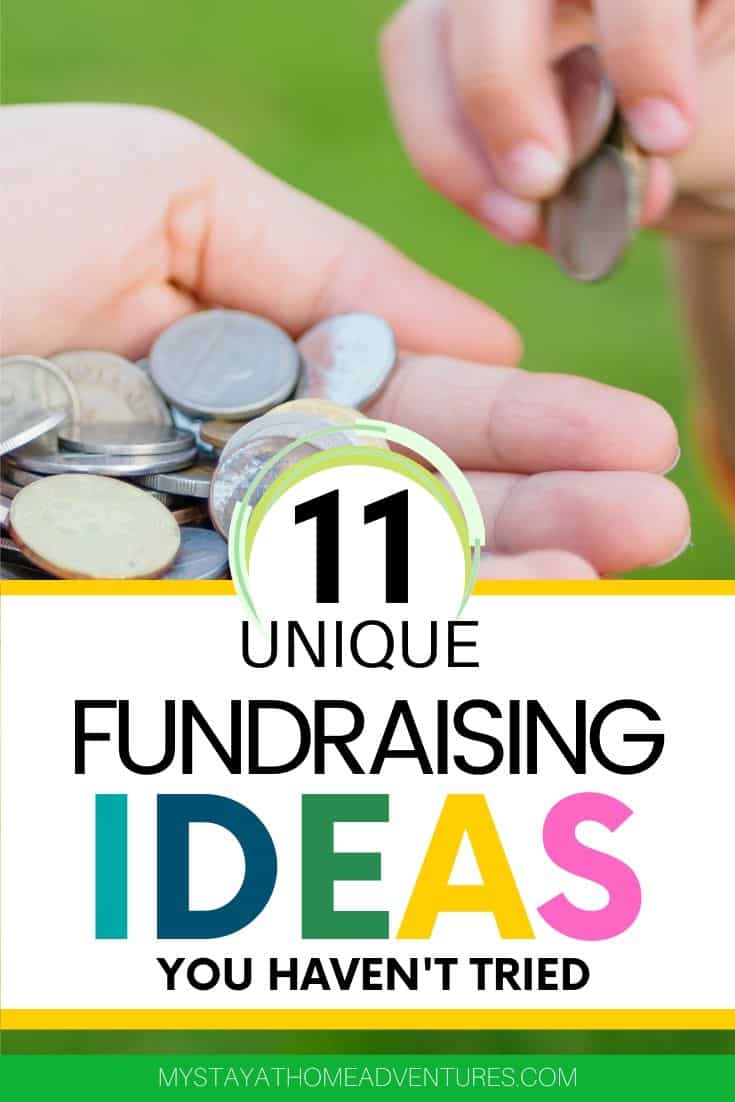 Custom Sock Fundraiser
T-shirts are a common fundraising sales item or a value-added bonus for event registration and contributions. In other words, lots of people have too many event shirts.
Change things up with your next fundraiser by selling custom socks instead. First of all, you can never have too many socks. Also, it's unique, fun, and sure to attract attention.
You can have custom socks made by Elite Sports Socks, and work with a designer to put together a package for your fundraiser. Sell the socks at a profit and use those funds for your cause.
There are a few ways to go about this method of fundraising. You can either do a pre-order so that you have a better idea of numbers going in or order socks ahead of time and add to the order later to fill shortages.
There are pros and cons to each, but the key is getting funds to fit your needs.
Local Produce Box
The days of selling chocolate bars are pretty much done. People are becoming more conscious of their consumption, from both health and environmental standpoints.
Work with local farms and markets to put together a local produce box. This could include things like apples, root vegetables, herbs, and other locally-sourced goods.
This fundraiser will help local farmers deal with excess supplies while turning a small profit, as well as nourish the community.
To make this fundraiser work, manage expectations, and allow for variability in each box.
Rolling Treasure Chest 50/50
For a continuous fundraiser, consider this modern twist on a classic. With a rolling 50/50, you set up "treasure chests" around the community. Each person registers and gets a unique number.
Each week, they have the opportunity to donate the set amount and attach a sticker to their bill with their unique number attached.
Each week, the registered number is drawn. If the person has contributed that week, they get half the pot. If not, the amount rolls over to the next week.
Scavenger Hunt
Community scavenger hunts are a great way to get people active while raising money for a cause. With technological innovations, you can raise the stakes by using augmented reality or GPS-driven hunts.
Work with a service like Actionbound or LetsRoam to create a virtual scavenger hunt with prizes. These work similarly to Geocaching, giving people a clue via their phone once they reach the destination.
Teams can either fundraise or pay a flat rate to enter, which contributes to your cause.
Thrift Swap
Rather than creating something new that isn't needed, promote sustainability and considerate consumption with a thrift swap.
For this fundraiser, you can either focus on items or clothing. You'll need a space to facilitate the swap.
You can collect donations and price them for a quick sale. To boost your profits, charge a small admittance fee. This type of fundraiser works really well with women's clothing, children's clothing, books, and toys. If you have leftover goods at the end of your fundraiser, donate them to another cause.
An Ice Cream Social
An ice cream social is a classic community event that has fallen by the wayside over the years. Host one of these for some good, pure community fund that will get people out talking to fellow community members.
Buy ice cream in bulk and sell it at a profit to raise funds. Add to the atmosphere of this classic event with vintage-inspired ice cream server costumes.
Another alternative is to do an ice cream truck, promoting which parts of the community you'll be visiting and when.
Trying to raise funds in the winter? Change it up by offering a hot chocolate social, with value-adds like whipped cream, sprinkles, and marshmallows.
Promotion will play a significant role in the success of this event. Push the community angle and encourage other businesses to come out and support your cause while networking.
An Activity Auction
Auctions and silent auctions have long been a tried and true form of fundraising. Rather than auctioning off gift cards and products, offer helpful activities. This fundraiser is ideal for large groups and community groups where children are involved.
Offer things like lawn mowing, snow shoveling, personal assistant for a day, house cleaning, and other useful activities.
Community Field Day
For many adults, field day is one of their best childhood memories. This annual school-age event typically has activities like races, bean bag toss, soccer baseball, and obstacle courses.
You could even take inspiration from the summer Olympics, including activities like the long jump and shot put. There are endless options for field day activities.
Host a field day and charge admission to participate. Offer sponsor packages to local businesses to put up booths and displays. Consider making it a competitive event with a trophy prize at the end of the day.
A Cook-Off or Bake-Off
What's better than a bake sale? Turning it into a competition! Host a cook-off or bake-off, with set events that people can participate in. Offer prizes to the winners of each category, looking to local businesses for sponsorship and donations.
For this fundraiser, you can generate funds by charging participants an entry fee. Additionally, you can charge a VIP rate for attendees to become judges. You could have a whole smorgasbord of food options, from chili and ribs to cakes and pies.
Bad Habit Bet
Encourage your community to give to your cause by offering to give something up. This is a form of peer-to-peer fundraising in which participants do the hard work for you. It requires honesty and a strong social media presence to provide updates along the way.
An example of this fundraiser in action is the Dry February campaign. With this campaign, participants agree to give up alcohol for the month and collect donations to go toward cancer research.
The participant talks about their experience as they go along and continues to support the campaign throughout the month. This is a health-oriented campaign that benefits all involved.
Birthday Campaign
Social media has made it easier to ask people for donations to a cause instead of a gift. Facebook, in particular, has a streamlined setup that collects donations and gets them to the right cause.
As an organization, you can capitalize on this by campaigning people to share their birthday, encouraging them to campaign on your behalf.
For example, sending out early birthday cards to your mailing list with instructions about how to do this or putting out regular social media reminders.
This fundraising effort is fairly passive and can create income throughout the year rather than traditional campaigns that focus on a specified time period.
Innovation and creativity is the key to success with fundraisers. The ALS Ice Bucket Challenge was an exceptional example of how effective it can be to think outside the box. Do something new and exciting in your community to attract donors.