Why We Are Making 2018 The Year To Save BIG And You Can Too!
This post may contain affiliate links which might earn us money. Please read my Disclosure and Privacy policies here
It has been such a long time since I have written any personal posts about anything. It seems like I wrote for you all but kept the behind the scene part out, and now here I am writing to you our reasons why we are making 2017 the year to save and why you should join us!
For those that didn't know 2016 was full of ups and down. My son was ill and ended up in the children's hospital. We welcome our son Baby E, and I ended up with complications and almost died. That was followed with recovering with all the kids home during summer break and going through a mild depression.
To be honest thanks to planning and wonderful blogging friends, I was able to keep the blog going. Though at times I didn't blog my three days a week scheduled, it was good enough, and I was able to focus on my family and me.
Last year, my husband found a new job, and he gave his two weeks notice on a Friday, on Monday I was recovering from surgery and thank God his new job was so understanding and informed him to take his time and take care of his family. Not having a job meant that my husband was out of work for about a week and this also meant no pay.
Since we have an emergency fund, this helped us, and it took the financial stress of the situation. We were able to focus on our family, and this really helped to heal me physically and emotionally. Though we had a nice chunk saved, we also went through bathroom remodeling and other minors repairs and remodel before we welcomed our new baby.
Our saving accounts were screaming feed me and to be honest, I was a bit worried about the situation. In July we decided to give Digit a try, and if you have not tried or ever heard of Digit I will summarize it as an awesome way to save money when you don't even want to try! If you click on the Digit, it will give you more information, or you can wait until I write a full post about it.
If you decide to wait for that Digit post it will be time wasted that you are not saving money, so I suggest you click this link here and check it out!
So how this making 2017 the year to save came up about? The truth is that as we spent our 2016 facing remodel obstacles and spending time with family and dealing with life situations, we came to the realization that some people just don't know how to save money. Saving money to many people doesn't come as easy as it may sound.
We decided that we will spend 2017 talking about saving money and teaching others about saving money. We decided that we will not make saving money a new year's resolution, we will make learning and teaching about the art of saving money a goal for 2017.
Think about it this way, if saving money came as natural as spending we would not be in the financial situations we are. We are a spending money society and not a saving money society. We only care when things affect us personally to care and take action.
I give you myself as an example, I never cared about saving money, having money, or making financial goals. When I was in my lowest, sick with stress and worrying about money is when it became a personal issue that I started to get my shit together.
This is the same thing that is happening to many people, they don't think about saving money, they think about spending money.
We want to get that raise, win the lottery, find the high paying job, to spend more money. America is full of broke mindset people and is a topic I have covered over and over again in this blog.
Spending and over spending money is the American way because we want to compete with the Joneses and not take responsibility for our financial mess.
Sorry for the blunt statement but this exactly what is going on. Yes, shit happens and shit will continue to happen, but how prepared are you about it? Did you ever take a moment to plan about the next shit that will happen? The answer is probably no.
And if this sounds familiar to you or you know of anyone with this way of thinking I will say that I just described myself a few years ago.
Now again, saving money was not in my mind because anything about finances was never taught or spoken to me when I was growing up. I didn't budget anything until I read Dave Ramsey's book and started my financial journey.
The good news that if I changed, you can too and it starts with you. The problem is that when you are used to spending and not saving money it becomes a problem. This is when saving money becomes an issue. We can say you need to save money, but not many people know how.
I mean many people don't even have a personal budget so how do we expect them to save money when they don't even know where their money is going?
Do you save money when you are behind paying your bills? How can we save money when we have so much debt? Can we save money when we are living paycheck to paycheck? Most of us want to know how can we save money when we can't figure out this budgeting thing.
When we had our family over we talked politics, we talked future, we talked finances. Listening and asking questions about how we do things made me realize that many of us are taking saving money into consideration because it became a personal matter. One was out of a job thanks to a strike that caused him so much stress. Thanks to his family he was able to stay afloat, but this was his turning point about making sure his finances were in order.
My wake up call was the fact that I went to have my baby and NEVER, EVER, did I thought I was going to end up having major surgery and staying in the hospital for a week! What happened if I didn't make it? Would my family be financially stable? My kids, my husband?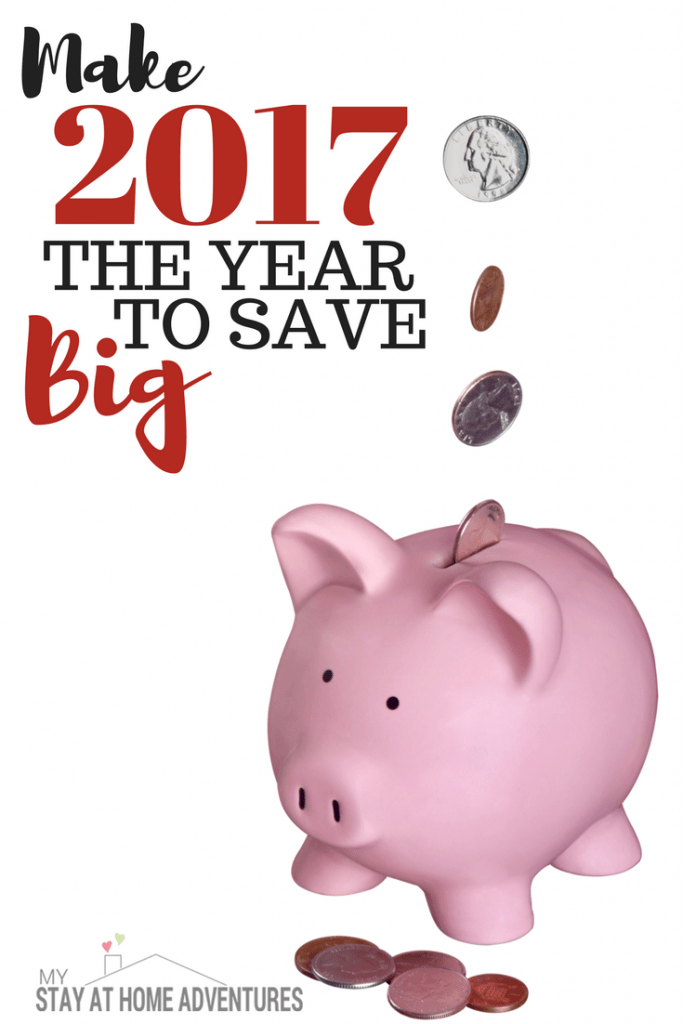 As much as I like to say I save money, and I do, I never occurred that I needed to take my personal finances to the next level. I needed to make sure we have a good life insurance, a will, and other things. Making sure we start investing the right way and stop being comfortable with what we have been doing.
This is why I love this financial journey because even when you think you got this, you don't. I settled with what I have accomplished financially and to be honest what we've done so far is not enough to take care of our family.
It is why we are making 2017 the year to save! We want to take this money saving challenge and make it into a movement of some sort. I want to be able to share our journey and teach others to make this year the year they learn to save.
New Year's resolutions about saving money seem to fail because people don't really have a plan or idea on how to save money. They don't budget, they don't change they way they are living and they fail by February!
Now if we take the time to understand why we can't save and take the time to find ways of saving money that fits each one of us 2018 is going to be an amazing year! Think about it!
Next week I will talk about our 2017 saving plans and goals and I would love for you all to let me know if you are in or out. I want to if you are going to make 2017 The Year To Save!
P.S. Make sure you sign up to our weekly email and get a free download of our 52 Week Saving Challenge!