5 Easiest Ways to Save Water in the Kitchen
This post may contain affiliate links which might earn us money. Please read my Disclosure and Privacy policies here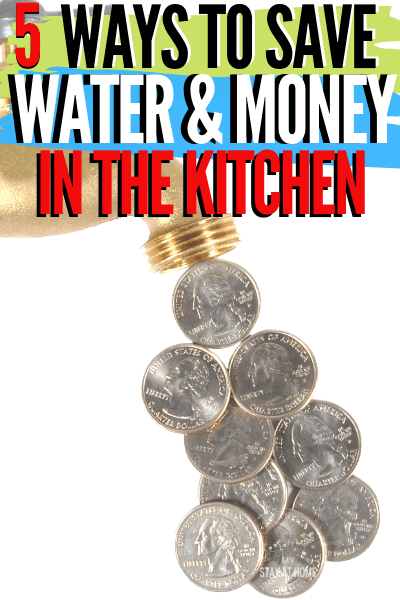 It's not important as much as it's necessary to be mindful of water usage. Be it in the kitchen or bathroom. But the former is an excellent place to start.
Little changes on a daily basis can make a mountain of a difference. Believe me! So here are the 5 easiest ways to save water in the kitchen.
Also, saving gallons also means reducing the numbers on that utility bill.
So are you ready to conserve water and money?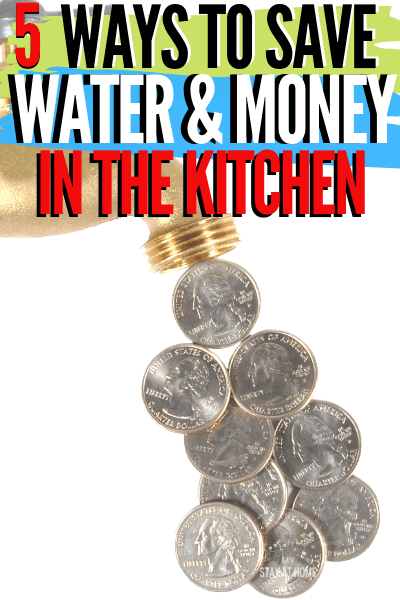 How to Save Water in the Kitchen
Now I'm not going to state obvious and grand things like why don't you buy a touchless kitchen faucet?
You should if you can and want to. But that's not my focus here.
All I'm trying to do is discuss simple ways to save water. Habits that you can incorporate into your daily life associated with uses of water in the kitchen.
Double Up
Who says you cannot blanch pasta and vegetables together? Or cook rice and steam vegetable at the same time!
Such techniques save a lot of water during cooking. And truth be told, they also save time spent on cleaning up.
There are many recipes out there that allow you to experiment like this. You should know that veggies don't take more than 2-3 minutes for blanching.
So you can add them after the used water starts boiling again. In the end, drain everything together and toss the ingredients with your choice of sauce.
Now let's talk about cooking rice while also steaming vegetables. Did you know that there are rice cookers equipped with steamer trays? The latter is positioned right above the waterline.
You don't need to start both the veggies and rice at one time and then remove the former when it's cooked.
Instead, begin cooking the rice first.
And then add those vegetables later. Such a habit ensures that everything is steaming hot at the same time. Plus, the chances of burning yourself because of the steam also get reduced.
And I'm sure I don't need to tell you that you can incorporate this habit without the rice cooker as well and you here's how.
Use Minimal Water for Boiling
Many professional chefs might not like what I'm about to say. To boil dried pasta, at least one pound of it doesn't NEED 8 quartz.
I mean you can just as easily achieve the same results with minimal water as long as it covers the pasts completely!
And you make it a point to stir more often.
The stirring prevents the pasts from clumping, which is why a large amount of water is required in the first place.
You can try the same technique when boiling any other ingredient as well. In fact, many people use this cooking water for preparing other recipes too.
For example, the leftover starch from boiling pasts can be used as binder for pasta sauce such as Fettuccine Alfredo!
Turn Leftovers into Stock
After blanching or steaming those veggies, why don't you add the remaining water to your homemade stock?
Ever thought about that?
You can freeze this water in any container. Feel free to add more whenever there are leftovers you don't want to waste.
So when you decide to prepare stock, you've got the base already. This is great news for those who love making stews and soups.
Reuse
These are the 5 easiest ways to save water in the kitchen, correct? But here's the one that I found to be the most useful.
Reusing kitchen water for watering plants or rinsing produce is a brilliant idea and a practical one!
Why don't you wash your vegetables in a large-sized bowl? Instead of doing the same under running water!
It'll be like your vegetables' own finger bowl. This way you can use the dirty water for pouring it into the potted plants or in the garden.
Wash Dishes in a Tub/Bucket
Washing anything under running water is not such an environment-friendly move. In place of that, all you need is a plastic bucket or tub filled with soapy hot water.
The first batch obviously cannot be used on plants, but the second batch of water that you use for rinsing the dishes can.
All the more reason to buy plant-based, phosphate-free dish soap!
Along the same line, I would advise you to stop rinsing your dishes. The practice seems totally unnecessary and even harmful.
Detergents are created to get rid of oils and food from the dishes, right? So there's no need for you to do a part of that by rinsing them. And this applies even in the case of dishwashers.
So this is how you can save water in the kitchen. Lots of it!
Related posts:
Up To You Now!
I have discussed 5 easiest ways to save water in the kitchen. If these are too much for you, then why don't you take one step at a time?
Begin with any one practice and as times passes, keep adding more such habits into your daily kitchen routine.
How does that sound?
Even though water restrictions might not be tightening where you live, the fact that it's happening elsewhere is reason enough.
Wouldn't you agree? Water conservation is an important subject and it's better to jump on the bandwagon rather than being left out.
So do you have any more useful tips to share? If so, please don't hold back. The comments section is created for your thoughts and feedback after all.
Thank you for showing concern toward the environment. I'm sure Earth appreciates the world out of it!
About the author:
The whole point of starting a blog was to strike a chord with fellow moms. This is exactly what Barbara Davis had in mind. And her unique style of writing has helped achieve that goal. She writes articles to encourage pregnant women and moms to be an excellent version of themselves. Even with the most playful and naughtiest children. Or a professional life that takes up most of the day. Being a parent is hard, and Davis understands that above all else.
Sources:
https://www.property24.com/articles/10-easy-ways-to-save-water-in-the-kitchen/25475
https://hilahcooking.com/water-conservation-in-the-kitchen/
https://www.goodhousekeeping.co.za/home-organising/6-ways-to-save-water-in-the-kitchen/