Learn how to create this delicious Papas con Chorizo recipe.
Let's begin!
Is Longaniza the same as chorizo?
Before we get into the papas con chorizo recipe, a question that is often asked is whether or not longaniza is the same as chorizo.
While both sausages have similar ingredients, longaniza is smoked while chorizo is sold fresh or dry-cured.
Another distinct difference is that chorizo is always pork meat and pork fat, whereas longaniza can be made with almost any kind of meat.
Does chorizo need to be kept in the fridge?
It depends. Fresh chorizo needs to be refrigerated, but dry-cured chorizo does not. If it's uncured, refrigerate it. If it's dry-cured, you can store it at room temperature until opened or sliced.
The exact length of time it lasts is up for debate. Some people say that dry-cured chorizo can be stored wrapped in a tea towel for up to 6 months in the fridge.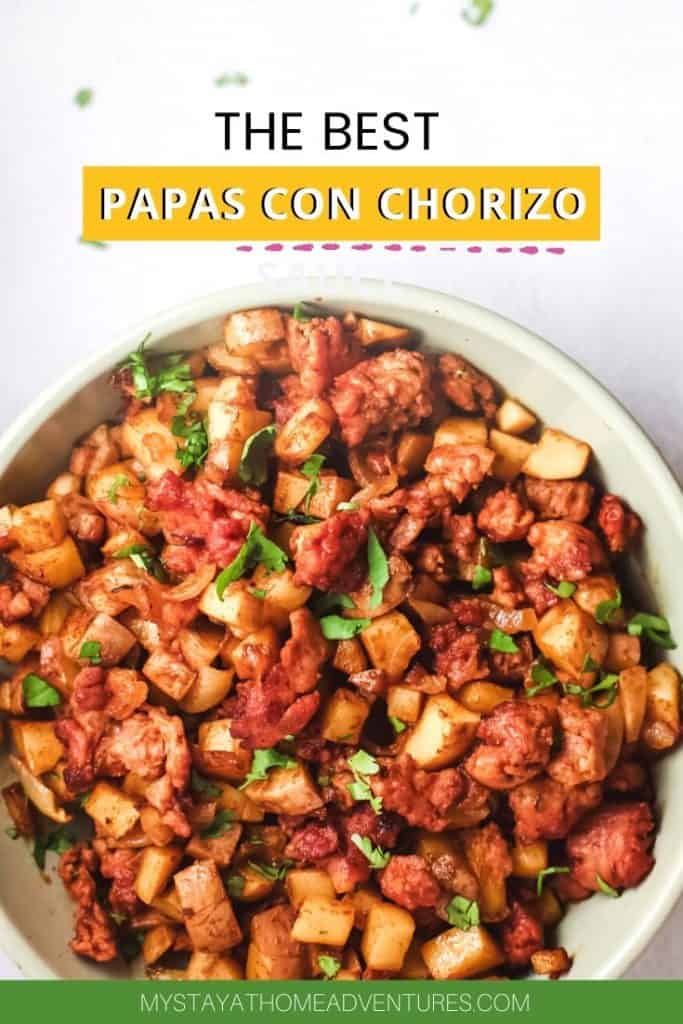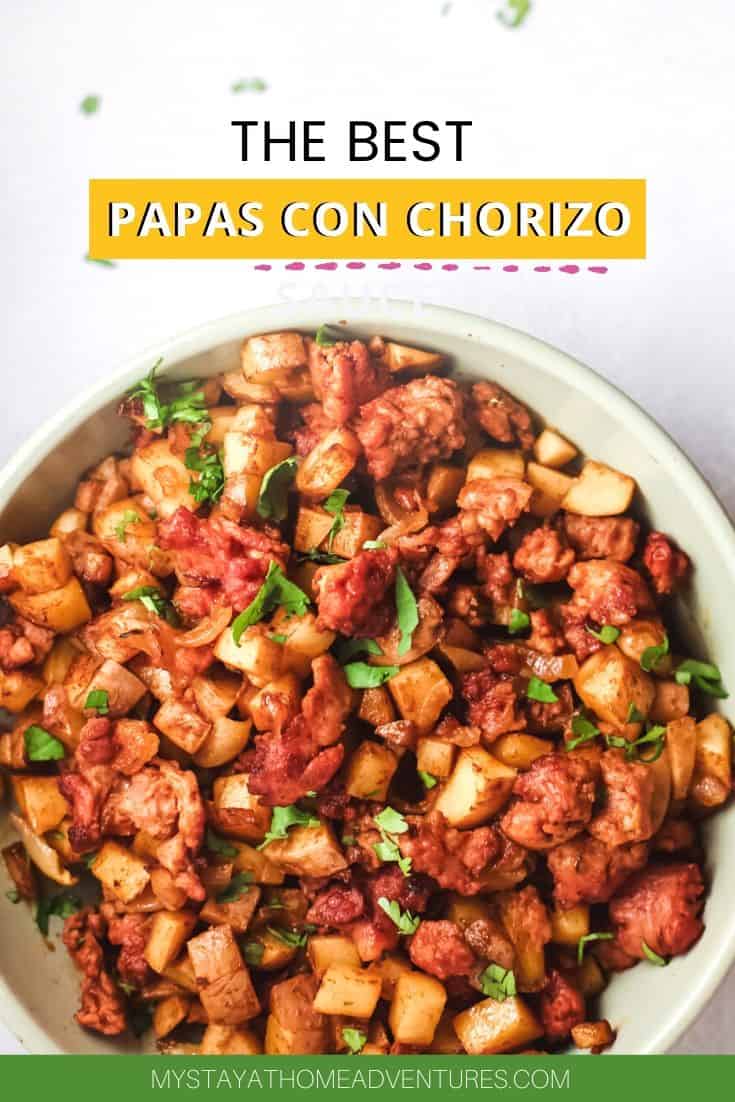 How do you eat Spanish chorizo?
Spanish chorizo can be enjoyed in a variety of ways. Not only is potatoes with chorizo popular, but there are many others delicious uses.
As it has become more popular in the United States, it is often used in American dishes in place of Italian sausage.
Don't be afraid to put it on your pizza. It's also popular served with eggs. You could even mix uncured chorizo into your meatloaf for a punch of flavor.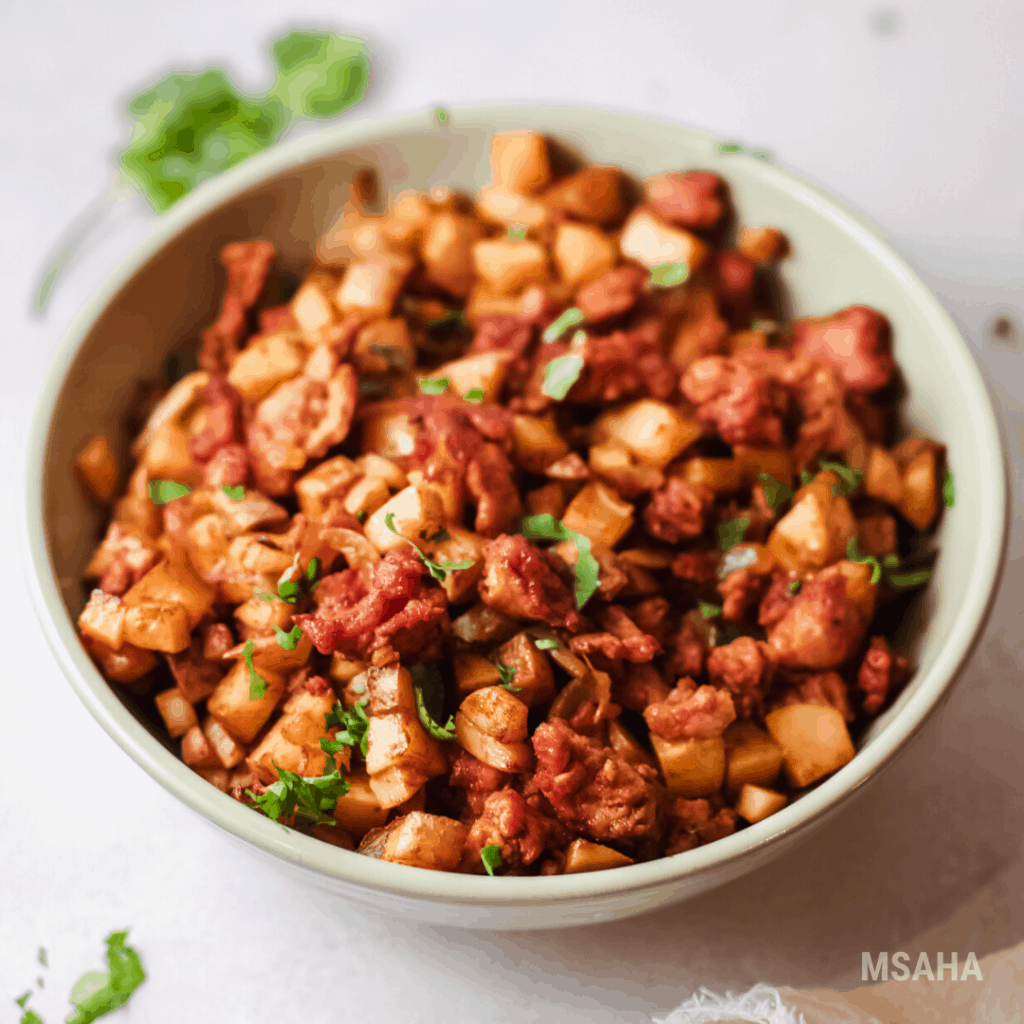 How long does cooked chorizo stay good in the fridge?
When learning how to make papas con chorizo, you may wonder how long the leftovers will last. Uncured cooked chorizo should be treated like other types of fresh meat and eaten within 3 days of cooking. If in doubt, toss it out.
Can you freeze papas con Chorizo?
Papas and chorizo can be frozen. However, you need to realize that the taste, texture, and even how the dish looks may change. Latin American cuisine is made to be enjoyed and savored. Take the time to make it fresh so that you always have the best experience.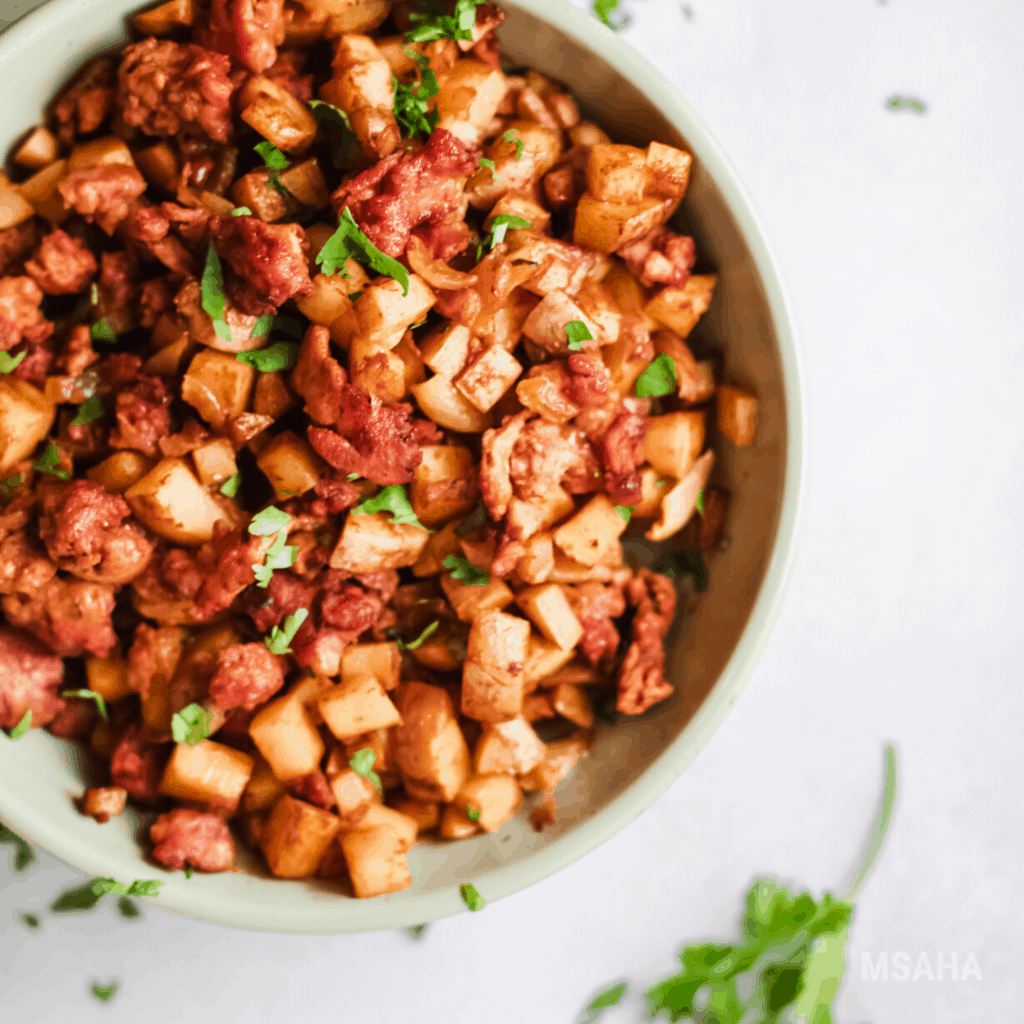 How to Make Chorizo and Papas
To learn how to make Papas Con Chorizo lets start with the ingredients.
Hispanic recipes you might like:
What are the ingredients to make Papas con Chorizo?
To make this recipe you are going to need:
Potatoes
Olive oil
Onion
Garlic clove
Chorizo
Paprika
Now that you have the ingredients it is time to make this papas con chorizo recipe.
First, using a large skillet add about 2 Tablespoons of the olive oil and heat over medium heat.
Once the oil is warm, add the potatoes and cook for about 10 minutes until they are tender.
Remove the potatoes from the skillet and transfer to a plate.
After removing the potatoes from the pan or skillet, add the remaining olive oil.
Add the onions and cook for about 6 minutes or until they are transparent.
The garlic clove will be added to the onions and cook for an additional minute.
While the onions are cooking cut the chorizo lengthwise and peel and discard the casing
Add the chorizo to the pan and smash using a wooden spoon. Continue to cook until the meat is cooked.
After the chorizo is cooked, add the potatoes and the paprika and cook for an additional five minutes.
Your Papas con Chorizo is ready to serve.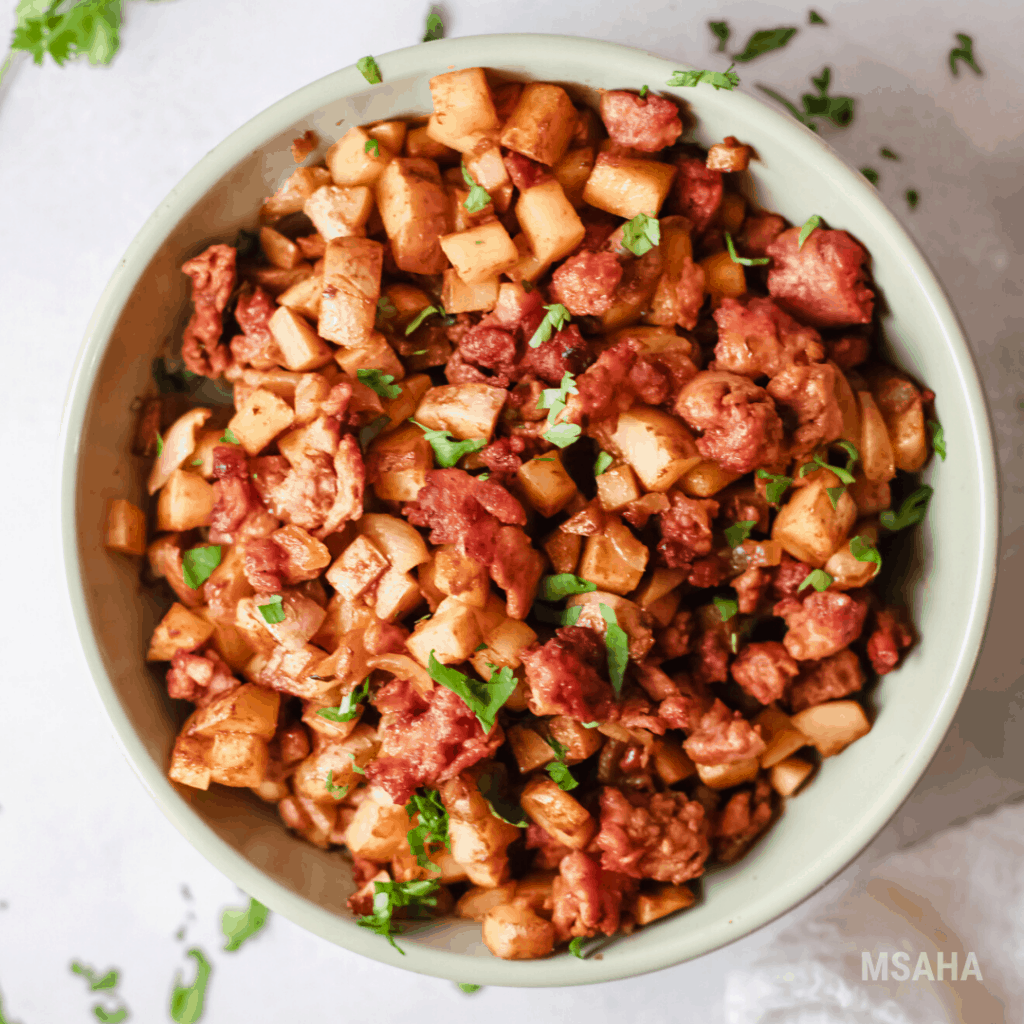 Potato with Chorizo Recipe
Now that you know all you need to know about making this recipe it is time to print the recipe with the exact measurements.
To print this recipe click the print button below.
Papas Con Chorizo Recipe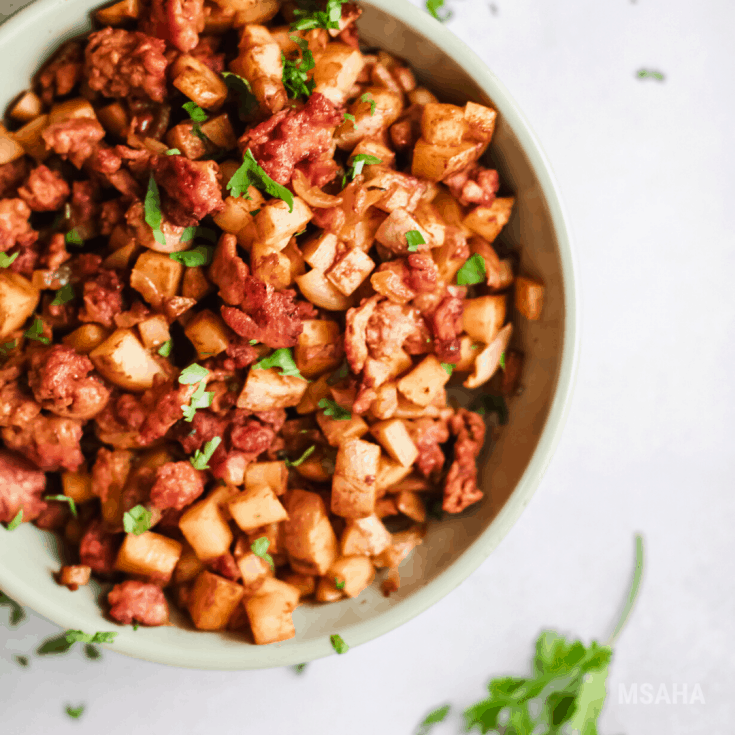 Ingredients
4 Potatoes, diced into small cubes
4 Tbsp olive oil
½ Onion, chopped
1 Garlic clove, minced
8 oz chorizo
1 Tsp paprika
Instructions
Heat half the olive oil in a large skillet over medium heat. Cook the potatoes until tender, around 10 minutes. Transfer to a plate.

Add remaining olive oil and onion and cook until transparent and fragrant, around 6 minutes. Add the garlic clove and cook for 1 more minute.

While the onion is cooking, cut the chorizo lengthwise and peel the casing. Discard the casing.

Add the chorizo to the pan and cook, mashing with a wooden spoon until done.

Return the potatoes to the pan, sprinkle with paprika and cook for 5 more minutes.
Nutrition Information:
Yield:
6
Serving Size:
1
Amount Per Serving:
Calories:

342
Total Fat:

24g
Saturated Fat:

7g
Trans Fat:

0g
Unsaturated Fat:

16g
Cholesterol:

33mg
Sodium:

477mg
Carbohydrates:

21g
Fiber:

2g
Sugar:

2g
Protein:

12g
This calculations might not be accurate.
The following two tabs change content below.
Latina mom of 4 married to wonderful Greek gentleman. Living in southeast PA and trying to juggle family and a household while trying to earn an income from home. Follow my stay at home journey as I discover how to earn money and save money so we can continue to live debt-free.
Latest posts by Joyce @ My Stay At Home Adventures (see all)