Tortilla de Patatas
This post may contain affiliate links which might earn us money. Please read my Disclosure and Privacy policies here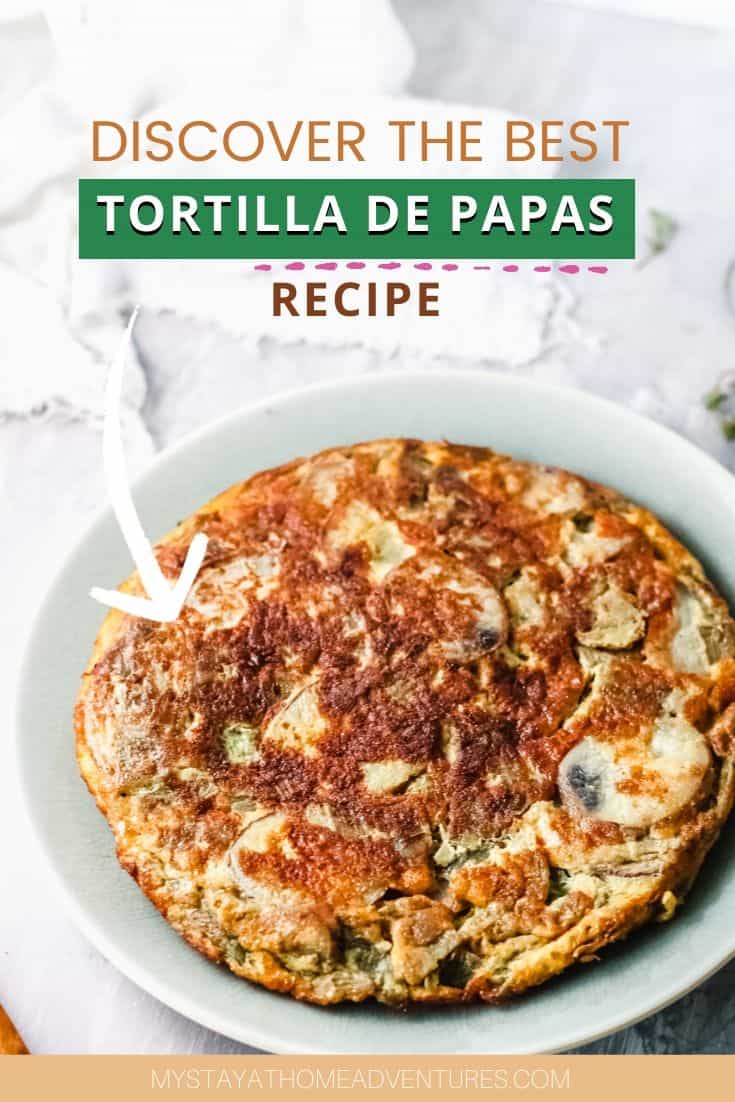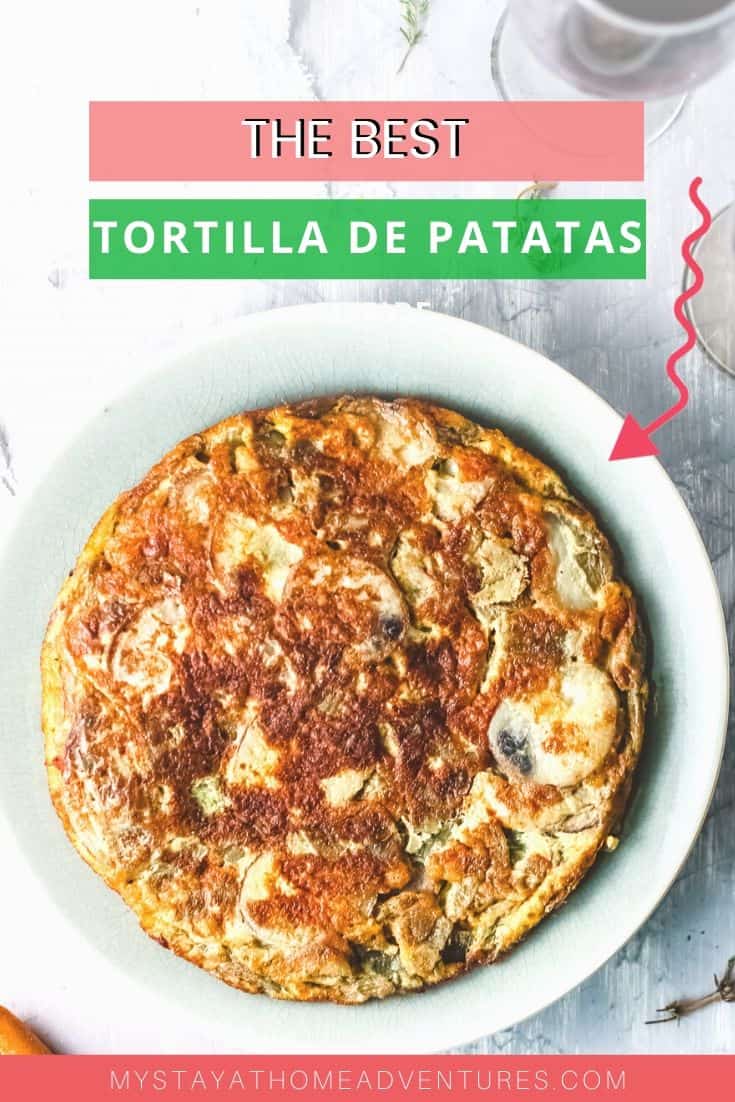 Tortilla de patatas or Spanish tortilla! It's a delicious recipe that can be served as an appetizer or dinner. This easy recipe includes eggs, potatoes, onions, and olive oil.
Tortilla de patatas it's a traditional Spanish tapa, and it's also a conventional sandwich filling! You can make it as part of a spread or cheeseboard during the Holiday season, and it will surely wow everyone!
If you are unfamiliar with tortilla de papas, continue to read and learn the answers to questions related to this recipe.
Let's begin!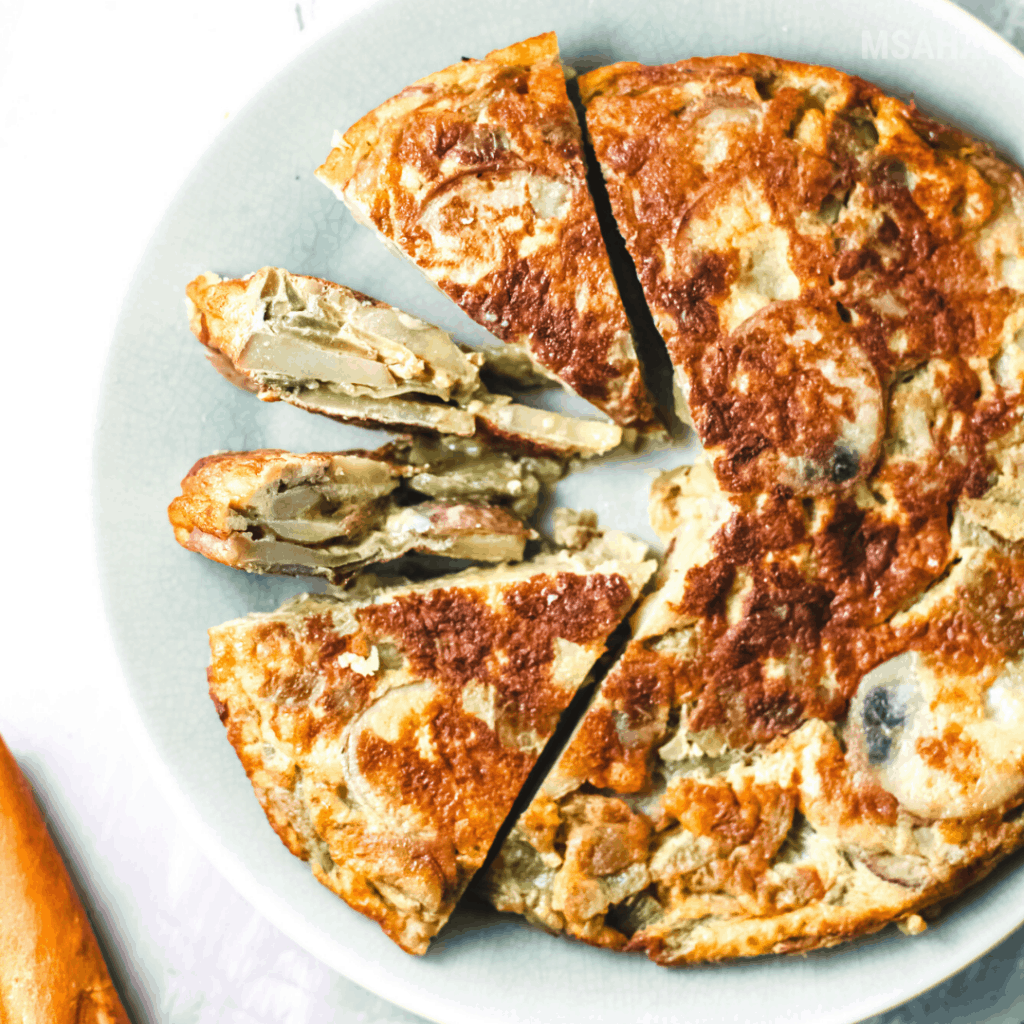 Where is tortilla de patatas from?
The Spanish omelet, tortilla de patatas, is from Spain. The exact origin is unknown. Some date the dish as late as the 1817's while others date it back to the 1500s. Like many amazing dishes, the exact origin may never be known.
Latin Recipes you might like:
How long does Tortilla Espanola last?
Tortilla Espanola, when well wrapped, will last in the fridge for up to 3 days.
What is Tortilla Espanola served with?
Tortilla Espanola is an omelet-style dish that is very popular in Spain. The recipe is made of eggs and potatoes; sometimes, onions are added. The dish is served at room temperature as a tapa.
Check out The Latin Table: Easy, Flavorful Recipes from Mexico, Puerto Rico, and Beyond on Amazon.
Can I make Spanish tortilla the day before?
Yes. Tortilla de patatas can be made up to three days in advance and kept in the fridge. You want to ensure that you wrap it well to prevent it from drying out or absorbing odors.
Can I freeze Tortilla de Patatas?
Most egg dishes can be frozen and then defrosted and reheated in the microwave. Do note that the taste and texture can change. It will become rubbery if you reheat a Spanish omelet for too long.
Tricks to flipping the potato tortilla
The only tricky part is flipping the tortilla when you are cooking it. I use a plate to help me with the process. It's kind of weird to explain, but basically, I push the tortilla to the edge of the pan and onto a dish. Then I flip the plate over the pan so the uncooked side is in contact with the heat.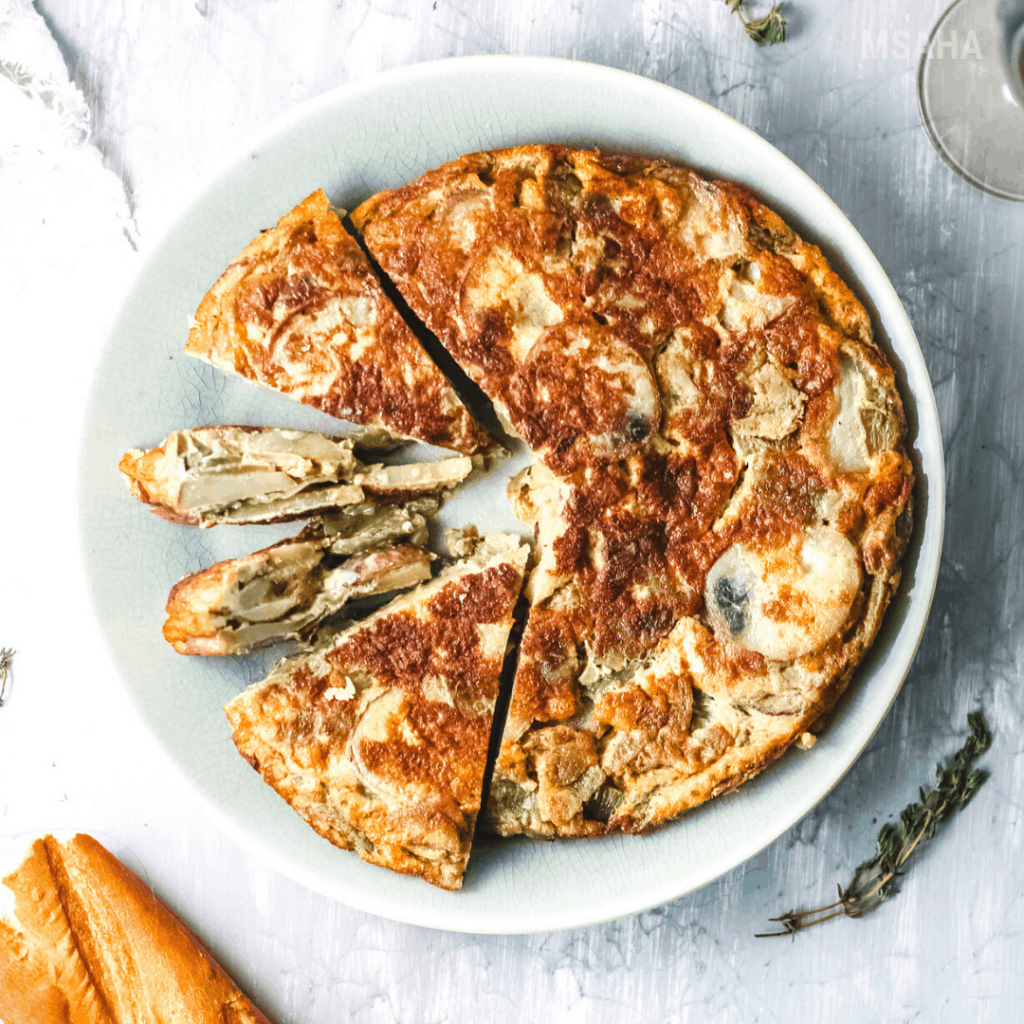 What are the ingredients to make Tortilla de Patatas
To make this Spanish omelet, you are going to need to following ingredients:
Eggs
Potatoes
Onion
Olive oil
Salt
Pepper
How to Make Tortilla de Papas
Now that you have all of the ingredients, it is time to make this tortilla de papa recipe. Follow the directions below, and you will enjoy this recipe in no time.
Place a skillet on the stove and heat over medium heat, and add 2 Tbsp of olive oil.
Once the oil is warm, add the onion and cook until they are soft and cooked for about 8 minutes.
Remove the onions from the skillet or pan, place them on a plate, and set aside.
Add the potatoes to the same skillet and cover them with the remaining olive oil.
Cover the skillet and cook the potatoes over low heat for thirty minutes until they are soft.
Once the potatoes are cooked, drain the oil and allow them to cool.
Add the eggs, salt, and pepper to a bowl and beat.
Next, add the onion and potatoes and mix.
Using the same skillet, pour the egg and potato mixture into it.
Cook over medium heat and cook until the egg mixture is set, about six minutes.
Flip the tortilla to the other side, and cook until it is done, about four minutes.
Your tortilla de patatas is done!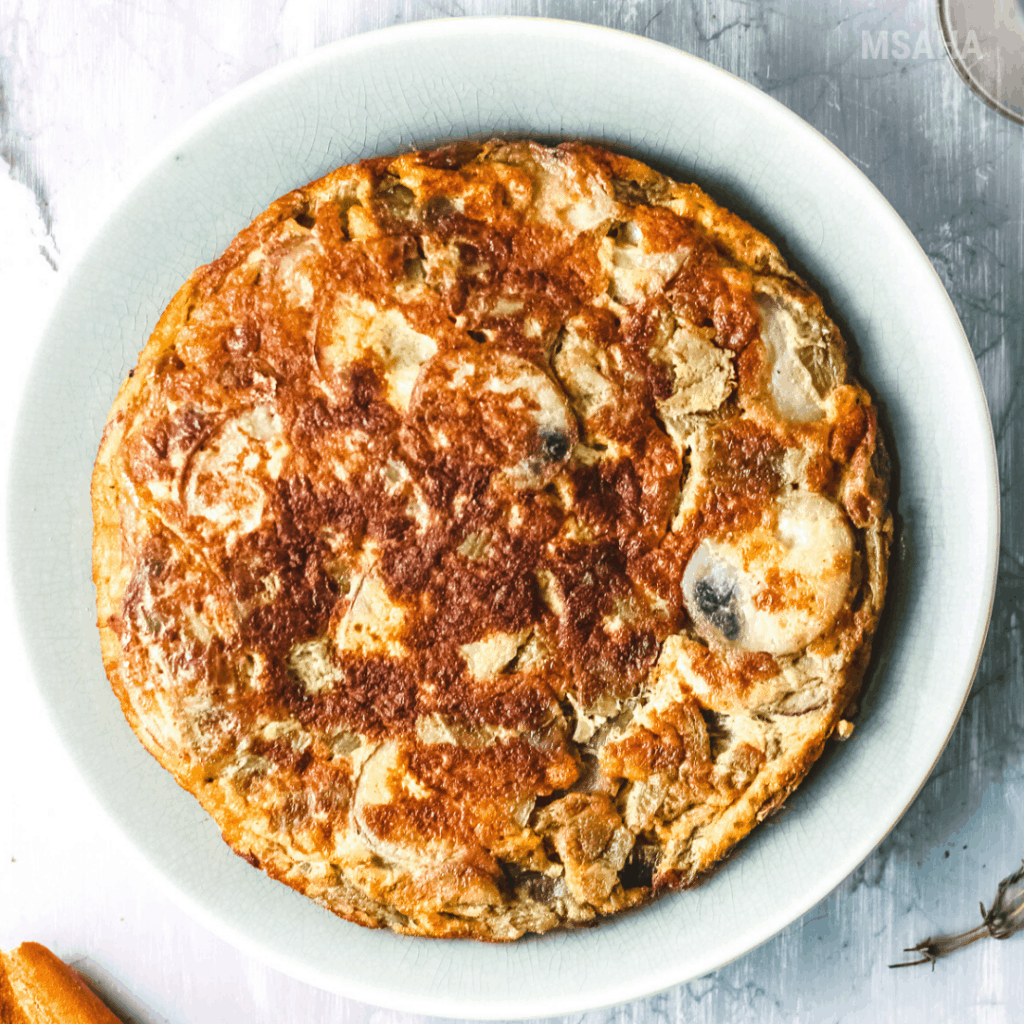 Tortilla de Papa Recipe
Now that you have learned everything you need to know about making this recipe, it is time to print the recipe with the exact measurements. To do so, hit the print button on the recipe card below.
Not ready to print?
Save the recipe to your Pinterest account, Mix account, or Yummly account by using the social media share buttons.
Enjoy!
Tortilla de Patatas
Tortilla de patatas or Spanish tortilla! It's a delicious recipe that can be served as an appetizer or dinner. This easy recipe is made with eggs, potatoes, onions, and olive oil.
Ingredients
8 Eggs
1 Pound potatoes, peeled and sliced
1 Onion, sliced
1 ½ Cup olive oil
Salt and pepper to taste
Instructions
Heat around 2 Tbsp olive oil in a skillet over medium heat. Add the onion and cook until transparent and soft, around 8 minutes.
Transfer to a dish and set aside. Place the potatoes in the same skillet and cover with the rest of the olive oil.
Take to the stovetop and cook over low heat for around 30 minutes or until soft.
Drain the potatoes (you can reuse the oil for cooking) and set them aside.
Let them cool.
In a bowl, beat the eggs, add salt and pepper. Incorporate onion and potatoes.
Place the same skillet over medium heat, pour the egg mixture and cook until set, around 6 minutes. Flip and cook for 4 more minutes or until done.
Nutrition Information:
Yield:

6
Serving Size:

1
Amount Per Serving:
Calories:

650
Total Fat:

60g
Saturated Fat:

10g
Trans Fat:

0g
Unsaturated Fat:

49g
Cholesterol:

248mg
Sodium:

153mg
Carbohydrates:

18g
Fiber:

2g
Sugar:

2g
Protein:

10g
This calculations are for entertainment purposes.