Today you are going to learn how to make a delicious yet simple Instant pot Puerto Rican Cheesy Taco Pasta recipe. Now before you go all like what is n Taco pasta? Let me just say that this is a recipe that we have made in our home for many years.
Since purchasing my Instant Pot has become one of our favorites.
What makes this recipe unique is that be we add special ingredients that make it very flavorful. However, you can leave some of the ingredients out and just make plain taco pasta, but why would you?!?!
Back to the Instant Pot Cheesy Taco Pasta recipe.
or Puerto Rican Chicken stew, my friends, that your family is going to love!
Before we begin to talk about this recipe, know that you don't need to have an Instant Pot to make this cheesy taco pasta, you can use any other instant pressure cooker you have.
We use this Instant Pot, and we also have a Crock-Pot Express Crock Programmable Multi-Cooker which work about the same

How to Make Easy Cheesy Taco Pasta
Let's begin with the ingredients, shall we?
For this recipe, you are going to need sofrito and a packet of Sazon. If you don't have them, they are available at your local grocery store.
You can find sofrito recipe here or purchase it!
Now let's continue with the ingredients.
Sazon
Sofrito
ground beef
taco seasoning
chicken broth
mild salsa
small shell pasta
mexican-style cheese
for the toppings:
tomatoes
sour cream
avocado
cilantro
Let's make this taco pasta!
Grab your ingredients and let's begin.
Step 1 – Turn on your Instant Pot and hit the Saute button.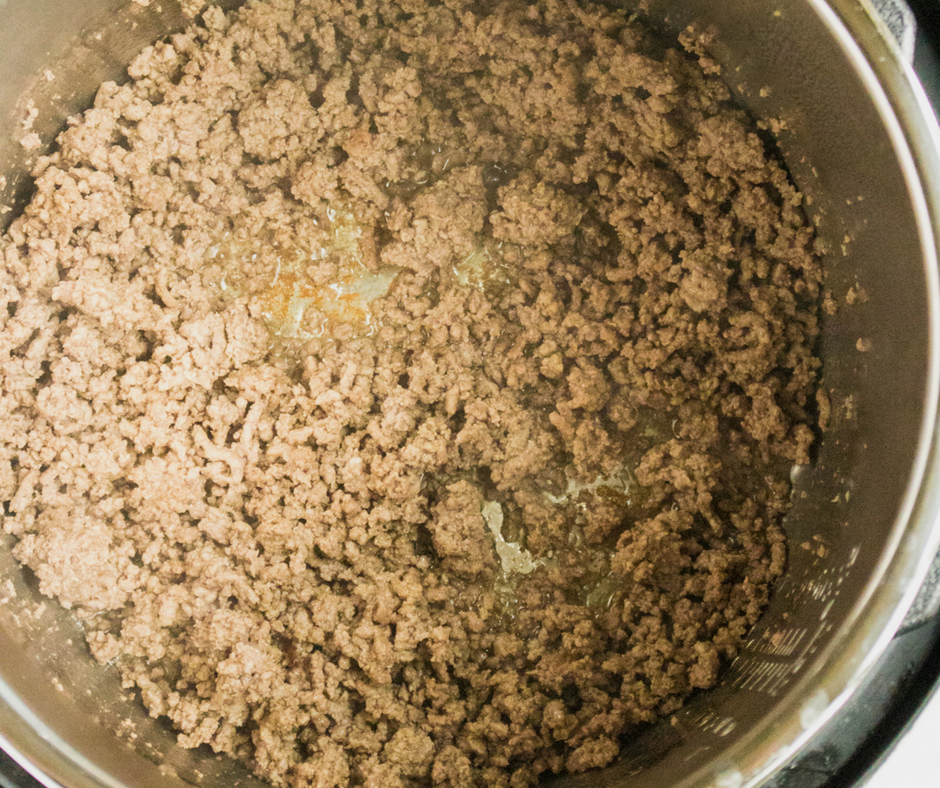 Step 2 – Add the ground beef and brown.
Step 3 – Drain the grease.
Step 4 – Add sofrito and sazon and stir.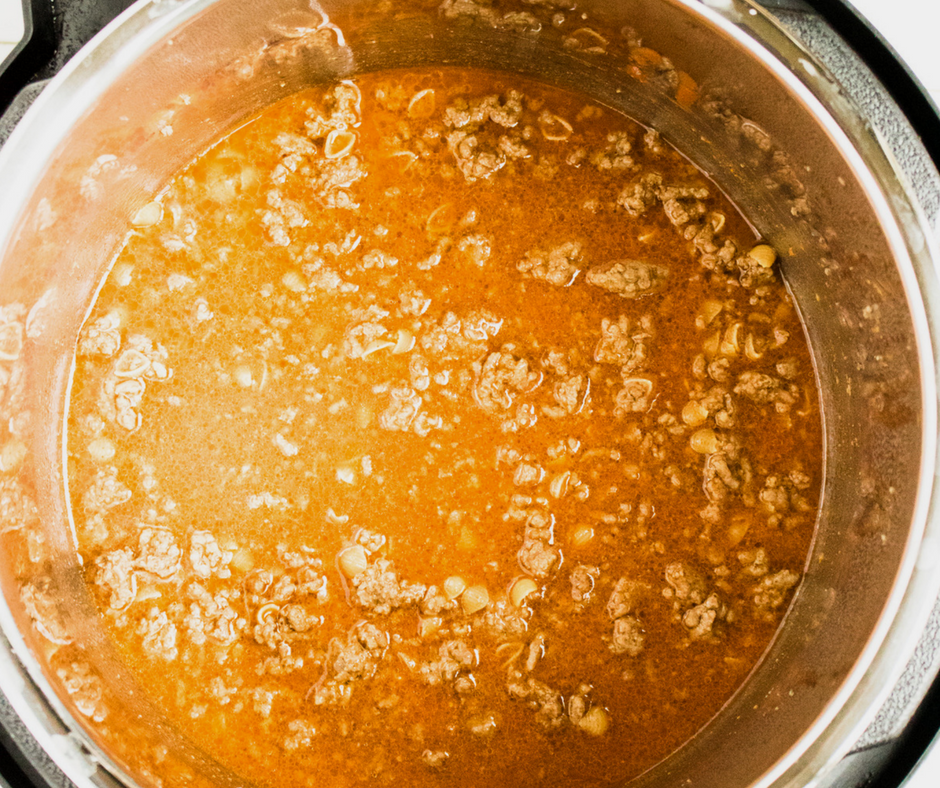 Step 5 – Add the next four ingredients: taco seasoning, broth, salsa and pasta shells.
Step 6 – Close the lid on the Instant Pot and set to sealing.
Step 7 – Hit the Manual button for 5 minutes.
Step 8 – Quick release when the time is up.
Related post: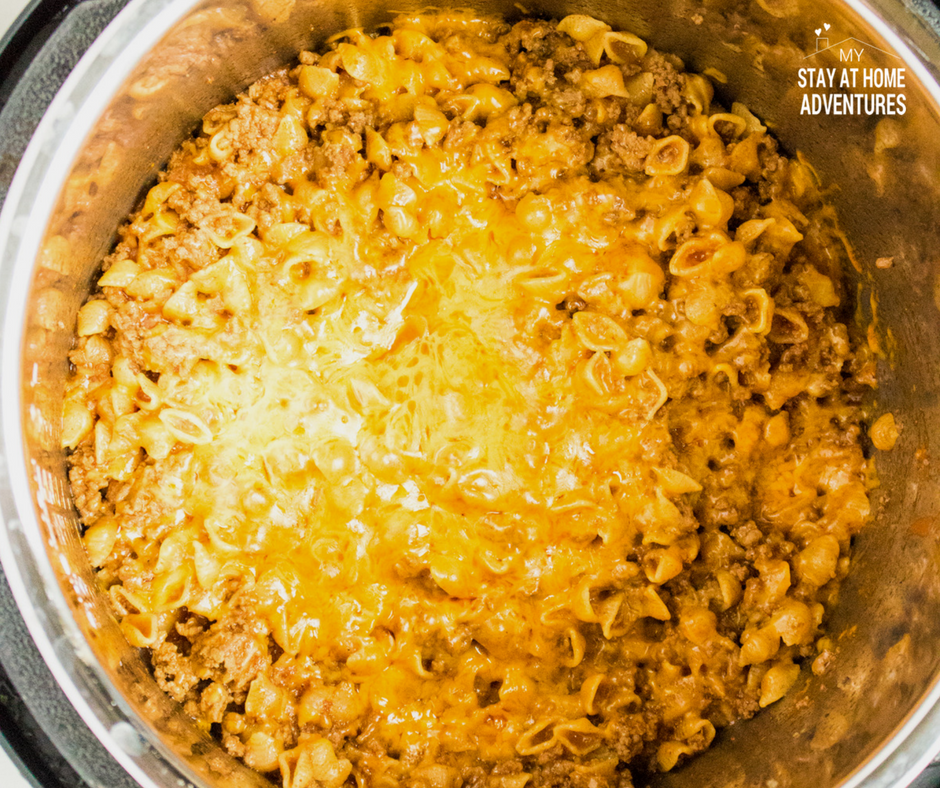 Step 9 – Add the cheese!
Step 10 – Serve with toppings.
This Taco Pasta recipe serves 4-6 people.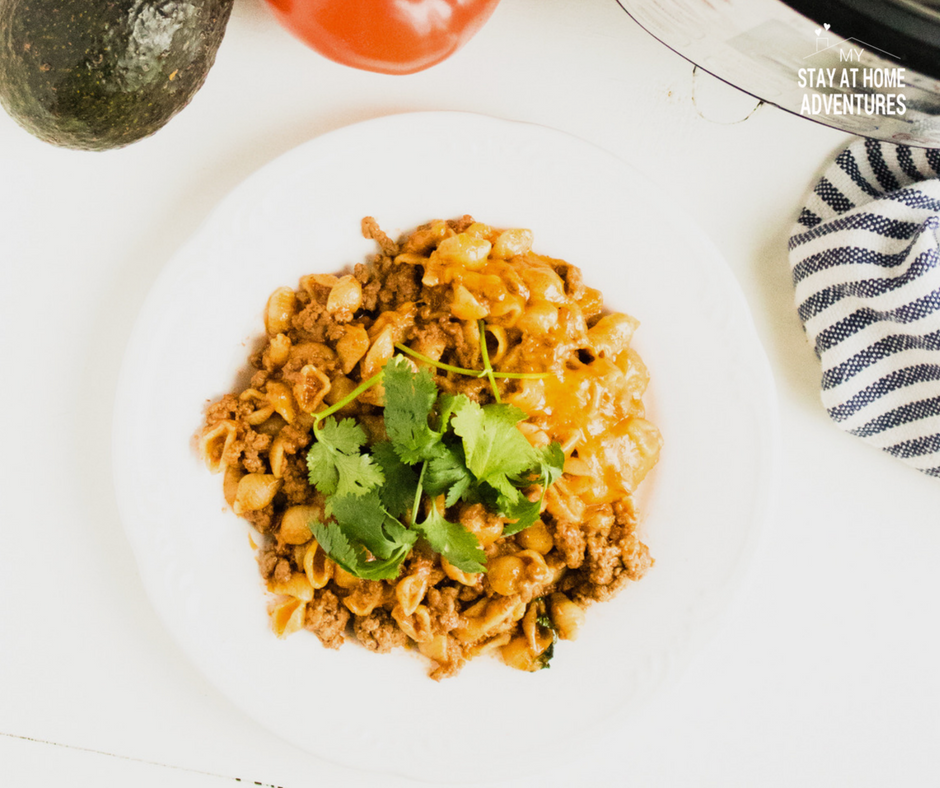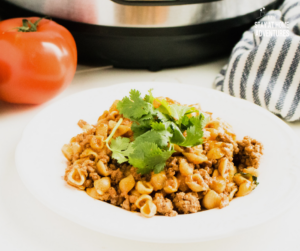 Print
Instant Pot Cheesy Taco Pasta
Yield 4-6
Ingredients
1 pound ground beef
1 Tablespoon of sofrito
1/2 packet of Sazon
1-ounce packet taco seasoning
4 cups chicken broth
1 cup mild salsa
8 ounces uncooked small shell pasta
1 1/2 cups shredded Mexican-style cheese
Optional toppings - chopped tomatoes, sour cream, avocado, cilantro
Instructions
Turn the Instant Pot on to saute mode and brown the ground beef. Drain grease.
Add sofrito and sazon and stir for a few minutes.
Add the next 4 ingredients: taco seasoning, chicken broth, salsa, and pasta shells.
Close the lid on the pressure cooker and set to sealing.
Set a manual high pressure for 5 minutes and then do a quick release when the cooking time is up.
Serves 4-6
The following two tabs change content below.
Latina mom of 4 married to wonderful Greek gentleman. Living in southeast PA and trying to juggle family and a household while trying to earn an income from home. Follow my stay at home journey as I discover how to earn money and save money so we can continue to live debt-free.
Latest posts by Joyce @ My Stay At Home Adventures (see all)