Elite Blog Academy 3.0 – My Honest Review
This post may contain affiliate links which might earn us money. Please read my Disclosure and Privacy policies here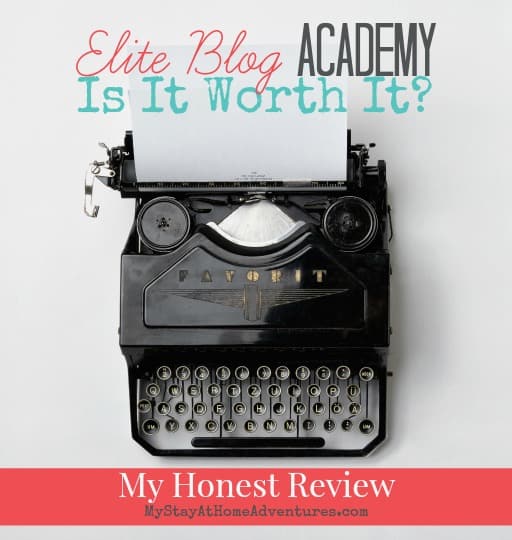 You are here because you want to know for sure if Elite Blog Academy 3.0 is worth the money. You keep hearing all these great things about this course but is it really as great as what people claim it to be?
The true is that Elite Blog Academy 3.0 is not for everyone but for those who have taken this course when it was just Elite Blog Academy it changed the way we viewed our blog and wanted to take it to the next level.
If you are looking for a quick way to increase your pageviews this course is not for you! If you are looking to increase your sponsored posts, this course is not for you! If you are looking for a fast and easy way to be successful, this course is not for you!
Yes, there are other blogging courses out there, this is not a blogging course. This is a course to help bloggers take their blogging skills to the next level. To turn their blog into a profitable business.
It takes time and patient to make it work and Elite Blog Academy has broken down and organized the course to a level that no other course have done.
In my experience with the blogging world, I have learned that in order to make it you have to work hard and stop listening to others. People who have taken courses after courses and haven't succeeded are because they are looking for a quick answer.
Having a course where you can have lifetime access and that it updates with the blogging business world is one of my favorite things about Elite Blog Academy 3.0. Being able to see other bloggers like myself in this course asking questions that I can totally relate made it more personable compared to older version of EBA.
Do I think the price of EBA 3.0 is worth it?
Good question because I seriously hate parting with my money and dislike when people waste money. The answer to this question is yes, it is worth the amount as it provides more resources than before. Also, once you implement what you have learned that income will come back.
Think about it this way, if you are going to waste your money on blogging courses and if you add the cost I am pretty sure you have spent more than the amount of money this course is worth.
You also will find that most of these courses are from bloggers who have not really implemented what they have been preaching themselves. Meaning would you take advice from someone that hasn't implemented their own advice?
Ruth has created a course that she, herself, has followed with great success. She has created an empire and when you take Elite Blog Academy 3.0 you can see why she has been successful.
Her honesty is what's important to me and the fact that she makes me question myself and challenges me is what I needed this month because I have something to show you all!
You see, I had an early access to EBA 3.0 and was super excited to see what the new hype was all about. If you follow my online income report, you will know that my pageviews have been terribly down and I seemed to be at a lost and not focused on my business.


Above is my actual blog stats for January and as you can see they are 28,731!
I got started and started watching the videos and listening and writing things down, mind you this is not my first time taking this course, but it sure seemed like it. Elite Blog Academy 3.0 is not like the previous EBA versions and that something I was missing hit me on Unit 1.
From there I decided to implement and next thing I know the pageviews started to go up. Now, I want to say that I wasn't making changes for the sole reason to increase my pageviews. I was making changes to get my readers I so love back and find my voice!
So far….
I have more than doubled my pageviews!
Yes! You heard right. I more than doubled my pageviews by implementing what I've learned so far in Elite Blog Academy.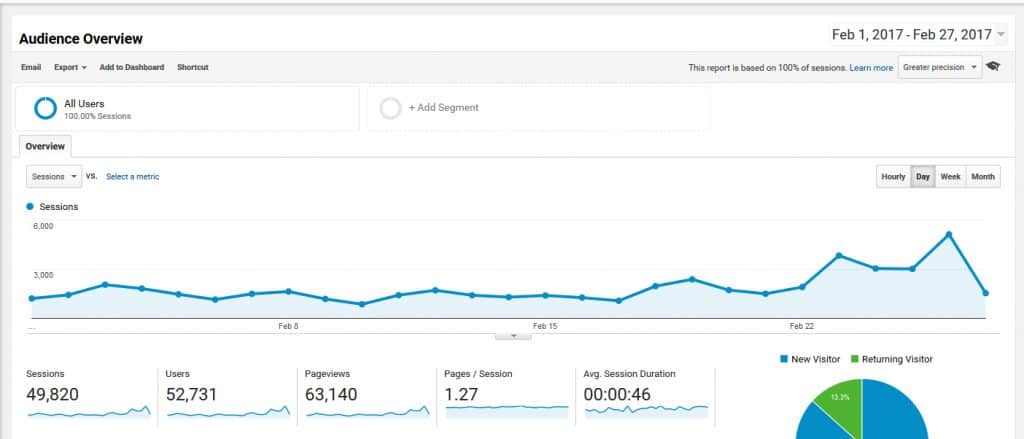 The result you see is when you take what you learned and implemented. Elite Blog Academy 3.0 structure made it clear for me on what I needed to focus.
The fact that I felt like I was missing something and finding my focus and my passion again makes a course worth it in my opinion, even if you have been blogging for years!
I'm still in shock from the results, to be honest, and I wasn't even going to promote the course this year, but seeing the results, I had to share this!
Sometimes all you need is to hear the right words, the right encouragements, and things fall into place.
If I didn't click on that email and took advantage of being able to access Elite Blog Academy 3.0 early, there was NO WAY you will have seen these results now, maybe later! LOL
My focus was missing, and this course structure and honestly is what I needed, EVEN after being a student for so many years. I was somehow missing something and it changed my mindset!
If you still have doubts or questions please shoot me an email at MyStayAtHo[email protected], and I will gladly answer your questions.
Below I have more information about EBA 3.0, and if you click here, you can read their Q&A section which is full of information.
So is EBA right for you too?
Honestly, it depends.
Elite Blog Academy is for people who are committed to following the process and actually doing the work. As a member of EBA, I've noticed that the thing that the most successful graduates have in common is a willingness to put 100% of their effort into completing the assignments in order.
The program works if you do the work.
It's also not for people who are going to insist that they've already heard this all before, or who are going to argue that a task seems too basic or complain that it's too hard. It's not for bloggers who just want to just "skip to the good stuff"picking and choosing the lessons they pay attention to, then write it off when they're not getting results. The EBA process is designed to create success, but it only works if you are willing to commit to actually doing the work.
What's Included with EBA?
Elite Blog Academy gives you a proven framework for success that you won't find anywhere else. The course includes everything you need to turn your blog into a successful, profitable business, from refining your message and growing your audience to monetizing your platform and building your business.
It is possible to create a successful business from a blog, and Elite Blog Academy shares exactly how it's done, step-by-step..
Because EBA is designed to be self-paced, in order to do it right, you should give yourself plenty of time. Blogging is not for the faint of heart, and this course requires a willingness to buckle down and get to work. That said, for those who are willing to do the work, it also comes with a 100% money-back guarantee.
How Do I Get Started?
Enrollment for Elite Blog Academy only opens ONCE each year, and will only be open for five days, beginning today! That means that if you are ready to finally take your blog to the next level, you should sign up ASAP! (And if you enroll by tomorrow at 11:59 pm, you will also get access to a free Early Bird Bonus—The EBA Product Launch Playbook, which looks pretty amazing!)