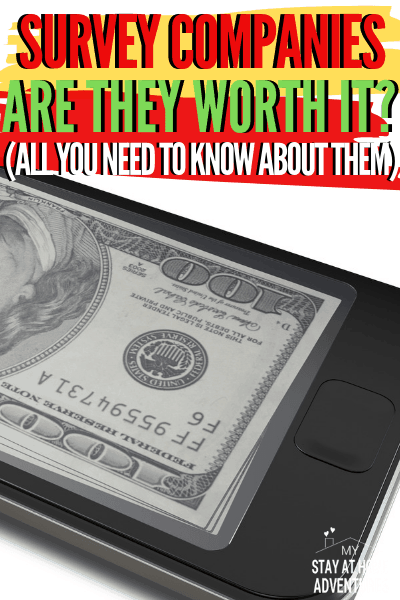 Survey companies can be a legitimate way to make some extra pocket money. What you need to realize is this usually isn't enough to turn into a career.
However, taking surveys can be a great way to earn some extra money in your spare time.
But which are the top survey companies? More importantly, which are the survey companies that pay in cash?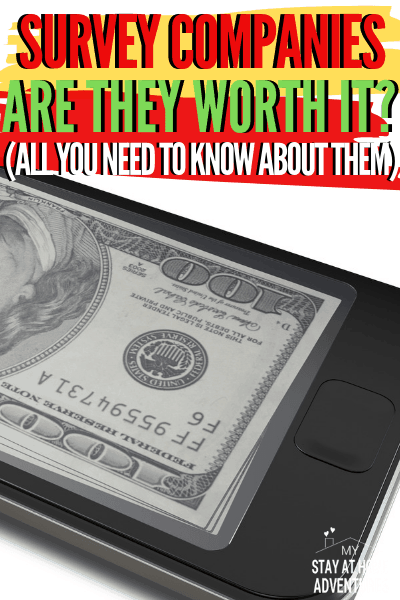 List of Survey Companies
There are many survey companies out there. In fact, if you search for the term on Google, you're going to get pages and pages of results.
It's important to know which are the top survey companies that pay so that you don't waste your time. While you can do surveys while watching TV, you want to know that you will indeed be paid for your efforts.
The following are some of the top online survey companies:
Related posts:
A brief description of some of the survey companies.
Opinion Outpost
Opinion Outpost is fast and easy to use. There are surveys available 24/7 and the best part is the company pays through gift cards or cash. Over half a million people are currently using the site.
Inbox Dollars
InboxDollars is a company that allows members to earn cash by completing surveys, playing games, and even reading their email.
Inbox Dollar – iOS
InboxDollars also offers surveys on the go. If you're stuck in a waiting room, put the time to good use by completing surveys on your iPhone.
Panda Research
Panda Research offers new surveys on a daily basis. Check back often to earn as much as possible.
Pinecone Research – US
Want to learn about products before they hit the market and earn points that can be cashed in for cash or prizes? Try Pinecone Research.
Nielsen Computer & Mobile – US
Nielsen Computer & Mobile allows users to take surveys. The company also tracks what you do online and rewards you for simply using the internet. You'll receive sweepstakes entries and can earn more by registering other devices.
Opinion Square
Opinion Square allows users to earn points by completing surveys. These points can then be redeemed for gift cards, household items, electronics, and other prizes.
Opinions Network Surveys
If you have time to spare, Opinions Network Surveys allows you to take up to 10 surveys per day. Beware though. Finishing the surveys too quickly can result in not being paid for that survey.
The Panel Station US
Want to get paid through PayPal for taking surveys? The Panel Station has over 3 million users.
E-Poll Survey US
Your opinion matters! Get heard by those in the entertainment field. Epoll Surveys will pay you cash for your opinions.
My Points
MyPoints is one of the oldest and best-known companies for making a bit of cash in your space time.
Not only do they pay you for shopping, but you can also earn money watching videos, playing games, and, yes, taking surveys. You can then cash in your points for gift cards.
Which paid survey sites are legitimate?
Survey companies pop up all over the internet and it's good to research companies to find out which ones are truly legit.
One way to do this is to look at a website that reviews survey companies, such as SurveyCool.
Another option is to look at the Better Business Bureau website. There you can look up any company and see the claims that have been made against them.
Which survey companies pay the most?
Survey Club is said to pay $50 per hour. Of course, the amount you'll actually earn depends on the survey. Another high paying website is Ipsos I-Say.
The company pays roughly $20 per day. The problem with these sites, and others that pay such high payouts, is that there is a lot of competition.
Companies only need so many people to respond. This means getting approved for a survey may not happen very often.
Do any survey sites actually pay?
Yes. There are many sites, like those listed above, that actually pay. You will either earn gift cards or cash. In some cases, you'll earn points that can be redeemed for gift cards. Either way, you do, in fact, get paid.
How do you make money doing surveys?
After signing up with a company, you want to make sure that you fill out your profile as thoroughly as possible. This gives you the best chance of being selected for a survey.
If you're working with a company that emails you when a survey is available, respond quickly to ensure you get to take it. There is usually a limited time and once the quota of responses is met, the survey is closed.
Take your time when answering the questions and answer truthfully. If you complete the survey, you will be rewarded.
Do note that sometimes you will not qualify for a survey. After answering a few questions, you will be told that you're not what the company is looking for and the survey is over. In that case, you will not earn any money. Don't be discouraged and keep trying.
Which survey company actually pays cash?
The list above shows many of the companies that pay in cash. This, of course, is not a complete list as there are many companies out there, but it's a great place to start.
How do I get paid online?
To get paid online, you will either need to have a PayPal account or enter your checking account information so that a direct deposit can be made. You may also receive gift cards that can be printed out or mailed to you.
Please note that if you are making over $600 you will be required to give more for tax purposes. Remember any money earn is considered taxable under U.S. law.
How do you qualify for a survey?
To qualify for surveys, make sure you have filled out your profile completely. Providing as much information as possible will help ensure you are chosen for more surveys.
Is taking surveys for money worth it?
Let's be honest. While there are many survey companies that pay, you are not going to make enough to supplement your income.
However, if you have the extra time, it can be a great way to earn some money for extras, like going to the movies.
Is making money from surveys legit?
Yes. There are several companies that pay by check or PayPal. The important thing is that you research a company before signing up and investing your time.
How do online survey companies make money?
Survey companies are approached by brands that are seeking to learn more about consumers. When you take part in a survey, you're providing opinions that can be useful to companies.
For example, a survey may ask your opinion of a product and whether or not you like this or that about it. Your responses help companies make changes to ensure they release a product that will be successful.
What are the top survey companies?
The top survey companies include MyPoints, Swagbucks, Pinecone, InboxDollar, and Survey Junkie.
How do you know which survey company is legit?
Do your research. If a company isn't legit, you better believe that people are going to make a stink about it. There are many websites devoted to reviewing survey companies.
Consider those that have been around for a while, such as MyPoints which is over 20 years old. But, always, ALWAYS, do your research.
Companies that immediately ask for personal information should be avoided. Providing this information to the wrong people could lead to identity theft.
WHAT INFORMATION YOU SHOULD NEVER GIVE OUT:
Social Security number
Driver's license number
Checking or Saving account information
WHAT TYPE OF INFORMATION SHOULD YOU GIVE OUT?
Email address
Paypal Address
Taking surveys can be a legit way to make some extra cash. Whether you want more money for the holidays or just want some money to play around with, you can spend your extra time using survey companies to make money.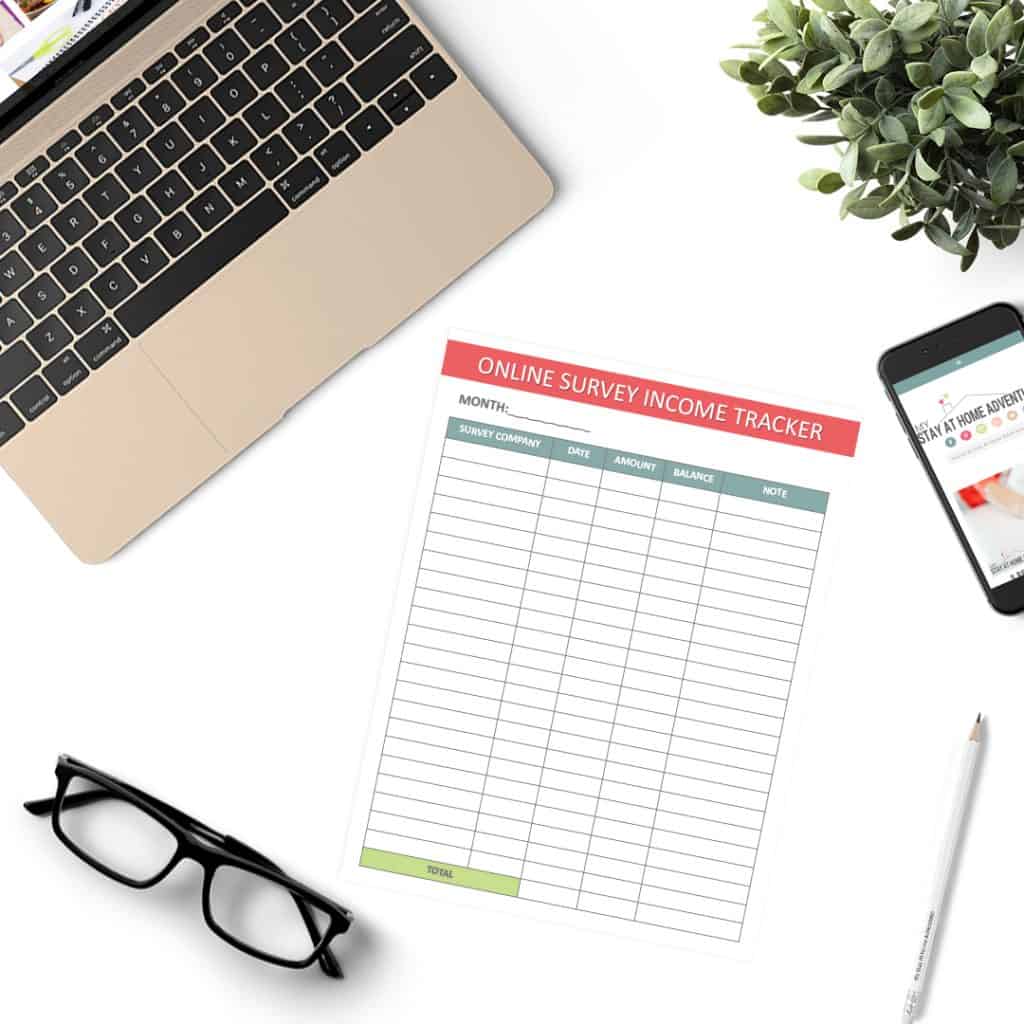 Download the Online Survey Income Tracker Sheet
If you are ready to start earning money using online survey companies, we have a free income tracker available at no cost to you when you subscribe to our newsletter.
Fill the form below and check your inbox on to download the printable.
The following two tabs change content below.
Latina mom of 4 married to wonderful Greek gentleman. Living in southeast PA and trying to juggle family and a household while trying to earn an income from home. Follow my stay at home journey as I discover how to earn money and save money so we can continue to live debt-free.
Latest posts by Joyce @ My Stay At Home Adventures (see all)