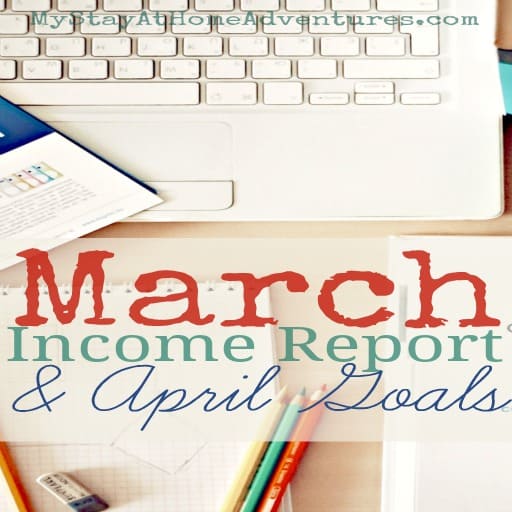 April is here amigos!!! Hurray! Arriba!?! What a month it has been for us, and honestly, I am looking forward to some warm weather. March income report and April goals are here for you nosy people to enjoy! LOL
Let's begin by saying that March was a month where our daily routine changed. Our 4 year old started school and that was simply HARD for this mama. I am not going to lie about it. Since he was officially diagnosed with Autism, we have taken a drastic change in our lives and the way we do things around our home.
Thanks to some good friends, we have been doing well and looking forward to the future. My daughter went to Disney with her school and they performed numerous times with band and chorus. She enjoyed her time there and made some memories.
Our new minivan, to us anyway, had about $2000 of repairs that it really needed. Thanks to saving, it was taking care of, without stressing over money. (Thank you emergency fund!)
Let's go over March income, shall we?
Remember that the reason I write about my income report is because I want to see how far I can go. I have made goals and I want to reach them. I wanted to take this blog to the next level a few months ago and I am seeing improvements. By showing you my income report, it helps me stay focused and motivated. It also shows others how it can be done.
I admit that I love reading other bloggers income report posts. It's something I enjoy doing the first week of each month. Do I get discouraged when I see higher numbers? No, because I know they have worked hard, even harder to get where they are. I see it as a way to motivate me to keep on going.
March Goals
Grocery budget under $300 – Our budget went a little over but I am happy with it.
Stick to menu planning – I did pretty good with this. Not only did it help me stay on track with money, but it helped me plan ahead.
Date night – That didn't happen at all. Too many things going on last month to even attempt this.
Save $200 – We did saved more than that, but eh, the car issue.
Start spring cleaning plan – This is a work in progress.
Blog March Goals
Increase my page views to 25,000 – I reached 24,802 (GA) WordPress – 37,425 <-I wish this was GA number.
Work on site – Did what I needed to get done last month. This is continuous for me.
Increase Pinterest followers to 1100 – This was reached by letting Pinterest do its thing. I think last month I read a post about how to improve Pinterest traffic and honestly, it didn't work for me. Moral of the story is this, do your own research and stop believing the hype.
Increase Facebook Likes & start advertising – My Facebook likes are 1107, and as for advertising, I simply gave up for a bit on this. But seriously, you can advertise for as low as a $1 to a target audience, I want to take the time and investigate this to see if it's something for me right now.
Blog Income $125 – My blog made $135.18 (didn't get paid yet, but it generated it).
Ad Network Income: $97.58
Adsense – $43.06 (down 25%)
Media Net – $37.19
Infolinks – $14.74
Shareaholic – $2.59
Escalate Network – $37.60
CapitalOne360 – 00.00
Total February Site Income – $135.18
Now this is the money I received in my accounts.
Escalate Network – $45.38 (February money)
CapitalOne360 – 00.00
Google Adsense – 00.00
Total amount actually paid in March – $45.38
Spend some dinero on Pinterest – Spent $2.00 on an advertisement and it did OK. I am experimenting, and from what I'm seeing, I have to pin the best pins. Pins that got more views and more pins in order to see results. That being said, Pinterest has a lot of work to do with their advertisement department. It is complicated and not as updated as Facebook is.
March Social Media Update
Pinterest Followers –

1153 

February – 932
Facebook –

1107     

               February – 932
Twitter –

663      

                   February – 486
Google +

– 647 (BP) 83

       February – 642 BP- 80
These numbers are as of April 1st, 2015. Nothing but up as you can see.
April Goals
March Personal Goals
Continue spring cleaning – This is a long process and I want to take my time doing this.
Date night – We will do this! We need this!
Start walking everyday – I need to get my butt in gear and start being active.
Take a blogging break – I have been working hard on this blog and I think a break is super beneficial for me right now.
Drink more water – I was doing so good at the beginning of the month.
Blog Goals For April
Increase my page views to OVER 25K – I do believe this is doable and I will do my best to get there. My goal is to reach 50K in six month, yet it feels like I am stuck.
Reach out to do sponsor posts – The reason I do hold on to this is because I need to focus on increasing my page views.
Open my blog to guest post – I am open to having guest posts, so please feel free to email me.
Leave blog income to $125.00 – I'm not going to stress over these. I have to pick my battles and I think sometime I want to do it all.
So there you have my March income report and April goals. What are your goals for April?
The following two tabs change content below.
Latina mom of 4 married to wonderful Greek gentleman. Living in southeast PA and trying to juggle family and a household while trying to earn an income from home. Follow my stay at home journey as I discover how to earn money and save money so we can continue to live debt-free.
Latest posts by Joyce @ My Stay At Home Adventures (see all)