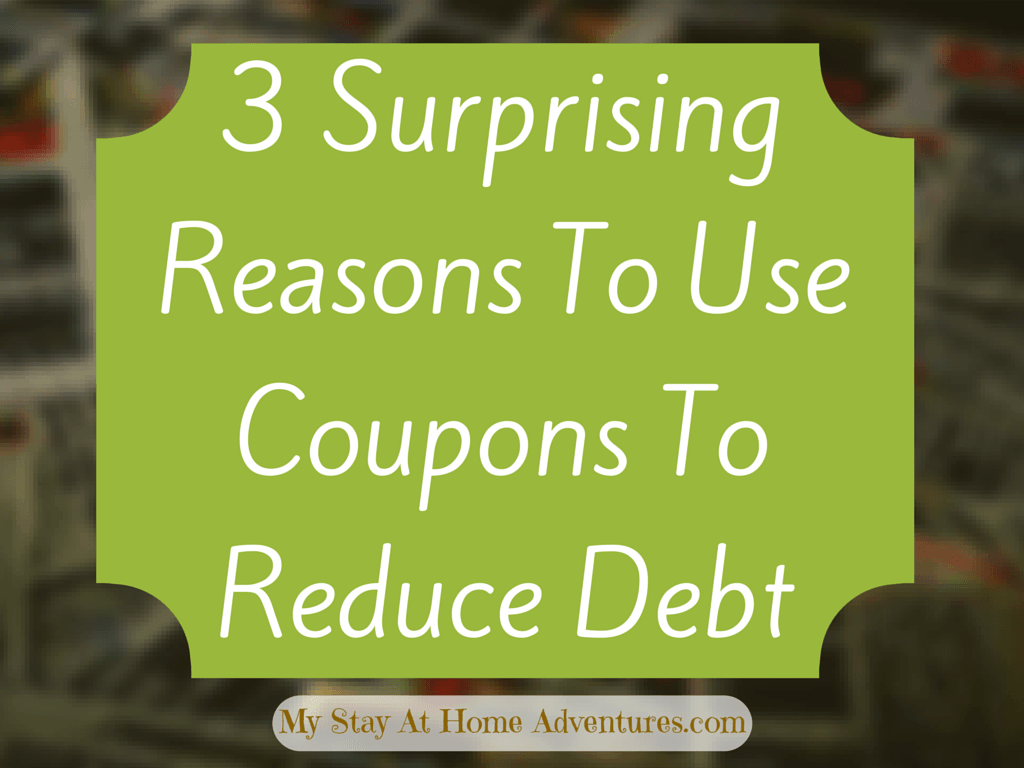 Each year it seem that the  groceries prices continues to go up while our wages maintain the same or decrease. This is the sad truth in our country. Have you seen the price of dairy in PA? Milk price over $4.00, price for eggs have gone up 5.7%!!  Each week I take the time to look at our local grocery stores weekly sale ad to come up with the best plan to save money on my groceries. When you are in debt and paying off debt, things like price increases on groceries can be a big deal to your budget and debt reduction plan.
When I decided to pay off my debt years ago, I began to increase my use of coupons. Please keep in mind that I am not an extreme couponer nor do I recommend that you become one. When I started to increase my use coupons toward my groceries we were able to put a dent to our debt.  If you are not using coupons here we have 3 reasons why you should if you want to reduce your debt.
3 surprising reasons to use coupons to reduce debt.
Surprising reason number 1 – It helps you save money. That's a given there. However, if you are not careful you can spend more than what you think. If you are using coupons to reduce debt then the best way to use coupons is to buy what you need, not a year supply worth of things. Using coupons can reduce your grocery bill dramatically if used wisely. With a budget and a plan you can save 20% even more on your grocery list. I recommend taking what you saved on your grocery towards your debt. This will help eliminate your debt faster.
Surprising reason number 2 – It helps you track you spending. Yes, if you are using coupons to reduce your debt this mean you are tracking your spending. When I started using coupons to reduce my debt, I became more aware of my spending habits and where I was spending my money. When you use coupons each week to reduce your grocery bill, you become more away of your spending because you are now shopping with a "money saving" mindset. You become aware of how much you are saving when you use coupons. You look at that receipt and look at your total saving amount. With this "money saving" mindset not only do you use it toward your grocery spending, but your entire finances. Which lead to a faster way to reduce your debt.
Surprising reason number 3 – It keeps you motivated. Once I started to use coupons to reduce my debt, I became motivated. Each week, I will budget and use coupons to reduce my grocery bill. I will then use what I  saved towards my debt. No matter the amount I saved using coupons, I will add it towards my debt. Once I started to see how much my debt was going down it just kept me motivated. Motivation is important in this debt free journey.
These 3 surprising reasons to use coupons helped me reduce my debt. Even till this days, after paying my debt, using coupons continue to keep me debt free. Like anything, it takes time to get the hang of using coupons. Just like creating a budget for the first time, you will not get it right the first time. Practice makes perfect and that is the same with coupons. Another key factor, never compare yourself to others. I know I used to read blogs where people will feed their family of 15 with $5 a month. OK, maybe I'm exaggerating but you get my point.
Coupons are great tools to help you reduce your debt. It worked for me and many others who decided to take take control of their finances and become debt free. I hope  these 3 surprising reasons will change your mind about coupons when tackling our debt. Using coupons is not for the poor nor for the elderly. Is to help us save money. We are just taking it further and use the saving to reduce our debt.
What other ways have coupons helped you reduce your debt?