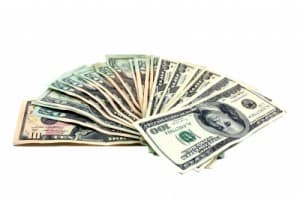 Hello everyone!  Hope everyone in the Northeast is enjoying this spring weather. I know I have been busy spring cleaning my home.  As you already know I started March with a financial challenge to only use cash.  Not everything has gone smoothly as I thought. That's why I wanted to write this  recap called March Challenge Cash Only Week 2 (theme song plays).
As I stated before, I accepted this challenge because my goal is to save an extra $200 this month. This is not including my 52 Week Saving Challenge amount which makes it a bit harder for us this month. I have said it again I am not a big fan of carrying cash. I can't keep track of expenses as easy as when I use  cards. But the reality is that I do save a lot of money when I use cash only.
What has worked for me?
I have written down a menu plan each week. How I create my menu plan is by searching what I have in my kitchen first plus what is on sale this week. Once I have my list down, I go and shop with my cash. Because this is a challenge, I so love challenges, I tend to not overspend. Having a menu plan is an important tool to keep your grocery cost down. If you don't use menu plan just try it and see how useful it is.
Using  Coupons helps me bring my grocery cost down. When I have my shopping list with the items that I need for the week. I have a coupon for some of the item that I need which helps me bring my cost down. I do not go around town shopping for every sale there is. The goal is to save money not spent more money. My budget and my menu calls for pasta and is on sale and I have coupon that's what I'm going to get. If, and only if, there's money left on the budget and is a great sale do I stock up on items that I use a lot.  Remember to stick to your budget, shop the sales, and use your coupons wisely.
I am avoiding going out unless I have to go out. When I go out just to go out, I spend money. Driving to the mall or to hang with friends cost me money. I might not spend it on the store but I am spending it on gas.  Because I know this about myself I avoid going out as much as possible. I go for walks to get out of the house, I have been working on projects to keep busy.  I have been deleting online deal emails as well.  I can't give to temptation my friends. I have to save $200 this month!
Now here is when things went wrong . Remember when I mentioned that I have given all my cards to my fiancé to hold and hid and put away so I can keep up with the challenge? Last week when I was looking at our budget and bank accounts  I noticed a charged for $4.00 at a local quick mart.  When confronted by it, he stop to get milk on his way home from work and was too tired and didn't realized he used his card. This is the person that I trusted NOT to use a card. I gave HIM my cards to put away.  As of today, none of us are holding any cards. So we don't get "too tired" and not use cash.
In conclusion, so far the first week went great.  What I have learn so far from this challenge is that is all about discipline and reminding myself of what's important. Of asking myself, "do we really need this?"when I want to get something extra. In order to reach your goal you have to give up something(s) and/or make sacrifices. But it will be worth having that extra $200 in April!
What tips do you have for me I have about 3 weeks left of this challenge. What has work for you when you use your cash only system?
Photo Credit: Gualberto107