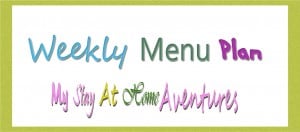 Menu Plan 03/9/2014
Another week has gone by and as far as my cash only challenge it has been good so far.  Thanks to my menu plan we are doing pretty good in our grocery budget.
So here's what I have plan for this week dinners.
Sunday – Dinner with Family
Monday – Homemade cheese burgers and fries and Milk shake. We decided to have something different for dinner.
Tuesday – Chicken Breast with Baked potato. See previous day dinner. LOL
Wednesday – Taco Pasta
Thursday – Chicken Pot Pie
Friday – Homemade Pizza
Saturday – Pork chops with Rice and Beans
This week we are keeping it simple with nothing special. I have dentist appointments and in a middle of spring cleaning my home.
What are you planning this week? Share with us!