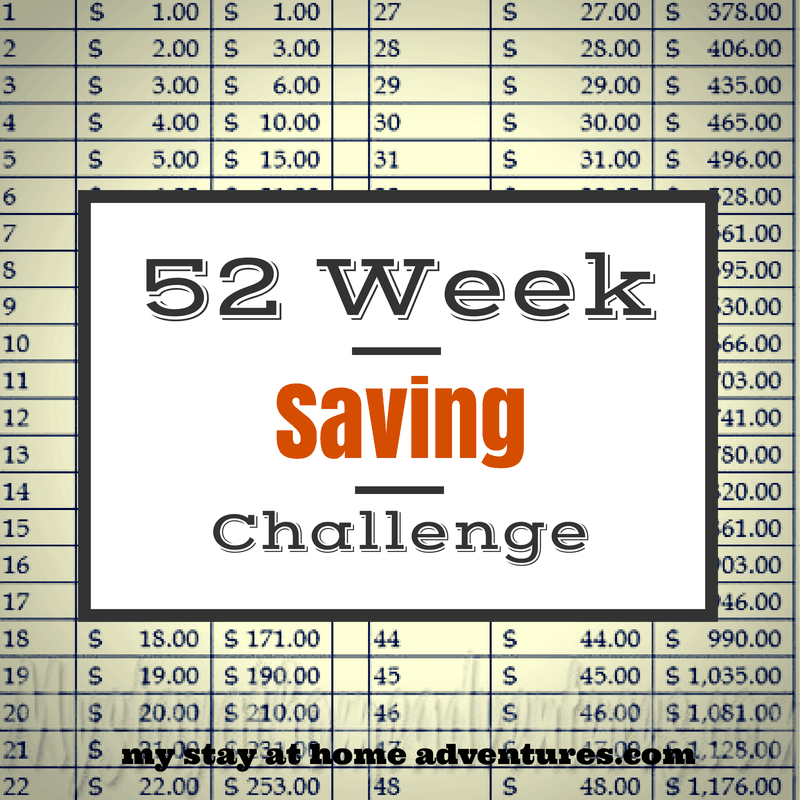 Another week another deposit transferred to my CaiptalOne360 Checking account. Feels pretty good to be getting closer to my goal of saving $1378! This 52 Week Saving Challenge has been an eye opener for me as well as a stress reliever for me. Let's recap this week 52 Week Saving Challenge Week 38.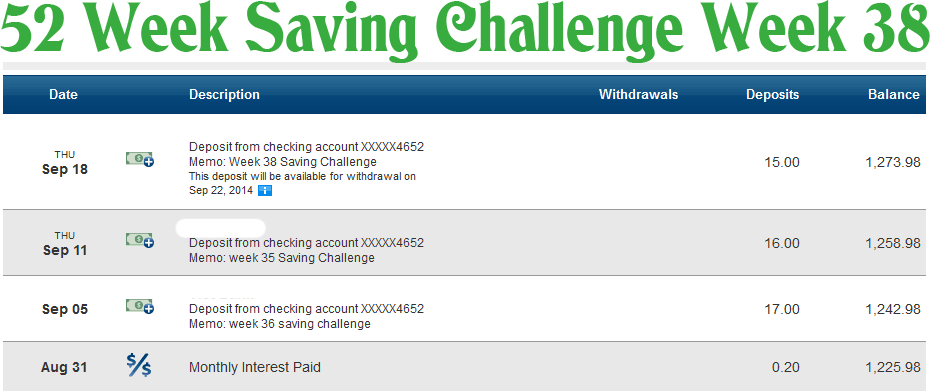 52 Week Saving Challenge Week 38
Week 38 Deposit – $38.00 Total – $741.00
Week 38 Reverse – $15.00 Total – $1273.00
This Week Recap
As I have been saying over and over again I am getting married this fall and as the date approaches we are getting busy and busier. So is becoming kind of hard to work online or post my 52 Week posts on time.
This week I wanted to go over how to stop spending money. Yes, stop spending money. We got into our financial mess because we were spending money. Money that could have been saved and spent wisely.
I wrote about this a few months ago and I think is time to go over it again because as the holidays approaches that's when we tend to spend too much of our hard earned money.
Here are some tips to how not to spend money.
Write it down – Yes, again, with the writing things down. Writing it down will give you a clear picture of your expectations. Write down your shopping list. Write down your budget. Write down anything that will help you keep focus and not spend.
Budget – I go over this because without a budget you will not have any control of your money. During Christmas time is when we give to temptations and just shop. We don't keep focus because we give to temptation.
Analyze your bad habits – My bad habits are deal sites. When I don't want to spend money I simply delete any emails from those particular sites. I don't look at Sunday's ads. Looking at deals sites or ads gets me to start shopping for fun and that's where I get in trouble. This is where having a budget and writing things down helps me save my money.
Cash only – If you have trouble with credit cards then simply use cash. Take your cash every time you go out and leave your credit cards home. This always works because you won't be able to over spend.
Separate your needs from your wants – If you want to save money, if you want to not spend money then stick to your needs. Getting a new shirt is not a need. Getting your children more toys than you can count is not a need. Paying your bills, food, and home are your needs. Working on bringing the amount you pay on your bills, food, and home will also help you save money! Concentrate on your needs and you will save money.
By following these tips you will quit your spending money unnecessarily and help you save money and keep your stress down. Money doesn't get us in trouble during the holidays, we get ourselves in trouble because of our spending habits.
Doing this challenge and saving money for Christmas will alleviate some of the financial stress during this time of the year. This 52 Week Challenge is not only about saving money but about learning how manage our finances better.
Want to join this challenge? Head over here to read all my posts. If you would like to download my 52 Week Saving Challenge file simply click here. I would love to hear how you are all doing with your 52 Week Saving Challenge. If you are a blogger that is doing this challenge we will love to hear from you.  Until next week keep on saving!