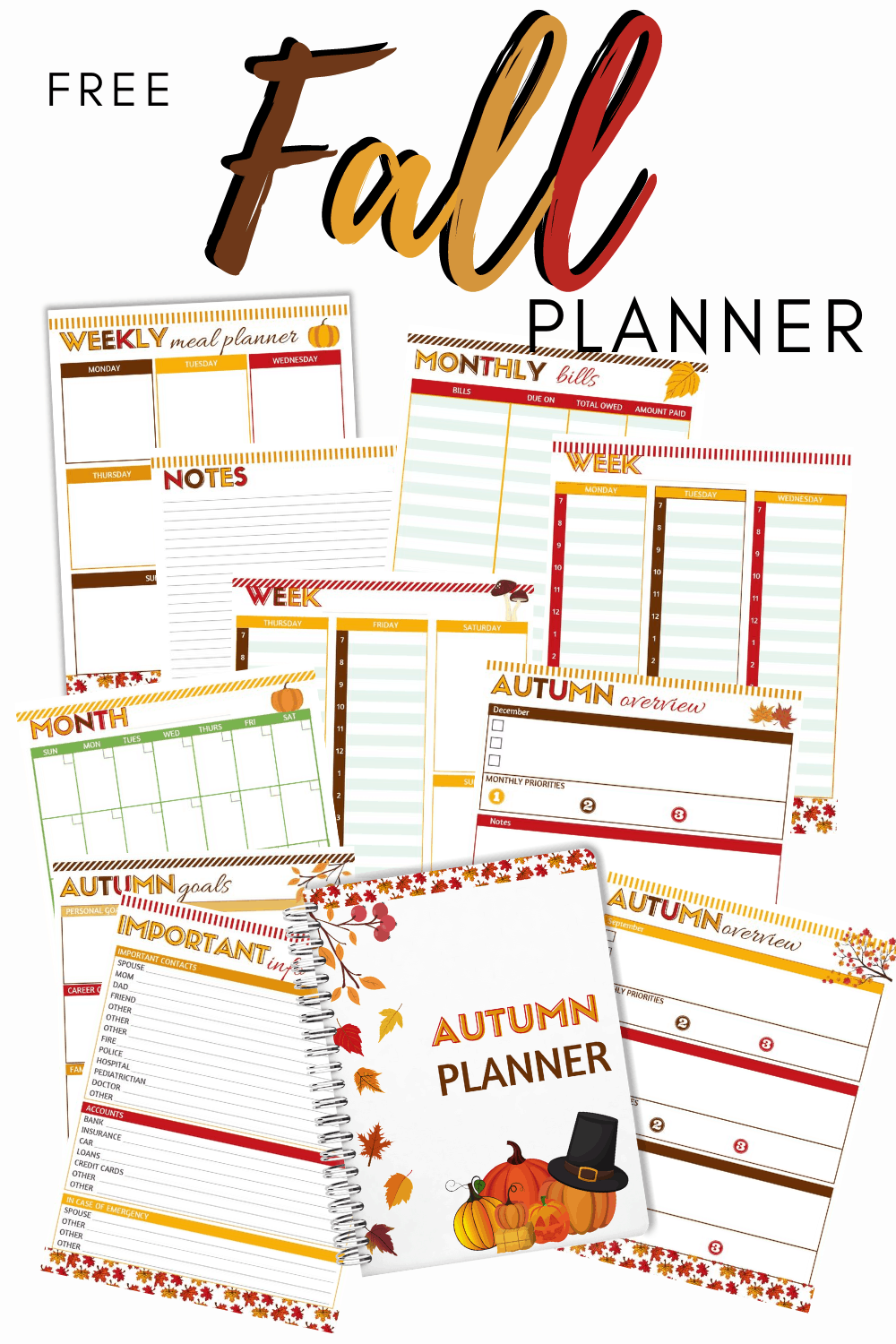 Use this free Fall Planner printable to plan your season right. Learn what it contains inside and how to download it.
Introducing our 2020 Autumn planner, and you can score this freebie when you subscribe to our newsletter.
This free digital planner is a fall theme one and it is very useful, my friend!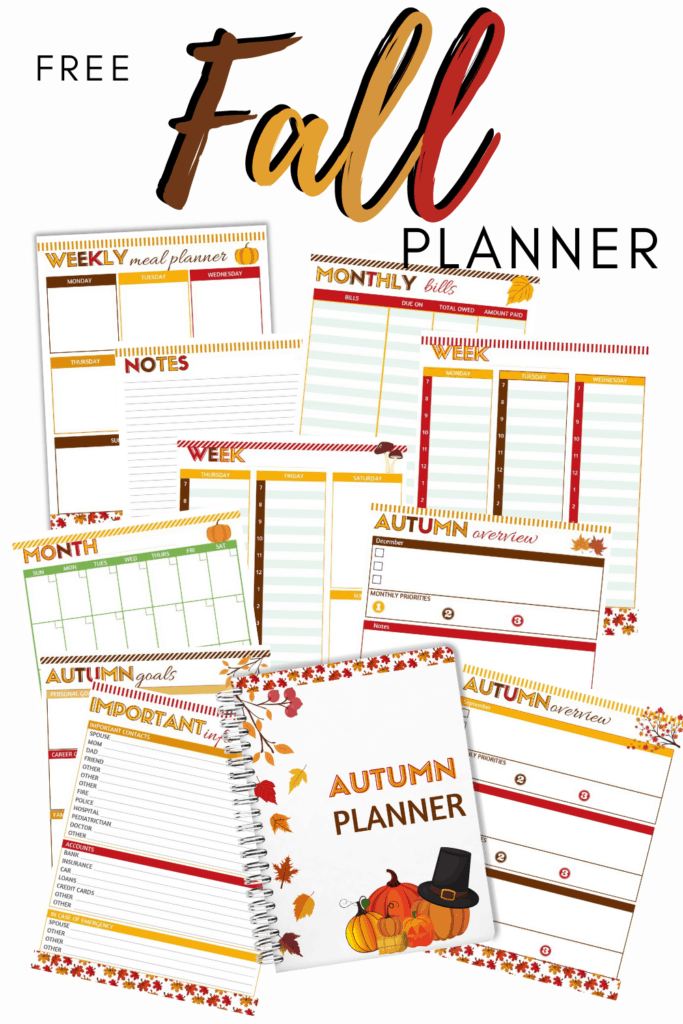 It contains printables to help you stay organized, and it also includes access to more free printables.
But more about this later.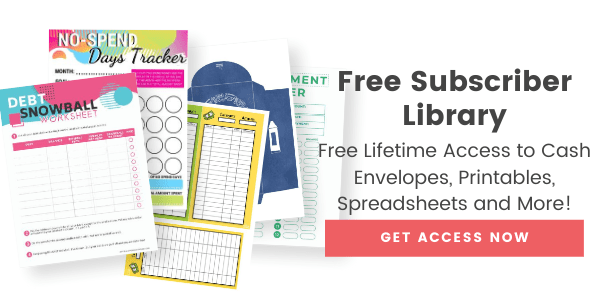 Free Digital Planner: Fall Theme
Save money on ink
The 2019 Autumn Planner contains 12 pages and you can print as little or as many pages as you want. No need to waste ink on pages you might not need now. Still cheaper than purchasing a physical planner.
It has what you need
This free digital fall planner contains the following pages:
Important Information sheet
Autumn Goals sheet
Autumn Overview sheets
Blank month calendar sheet
Week planner sheets
Weekly Meal Planner sheet
Monthly Bills sheet
Note sheet
What's inside the free digital planner
Inside this fall digital planner contains useful sheets and below you are going to find more detail information about them.
Let's begin!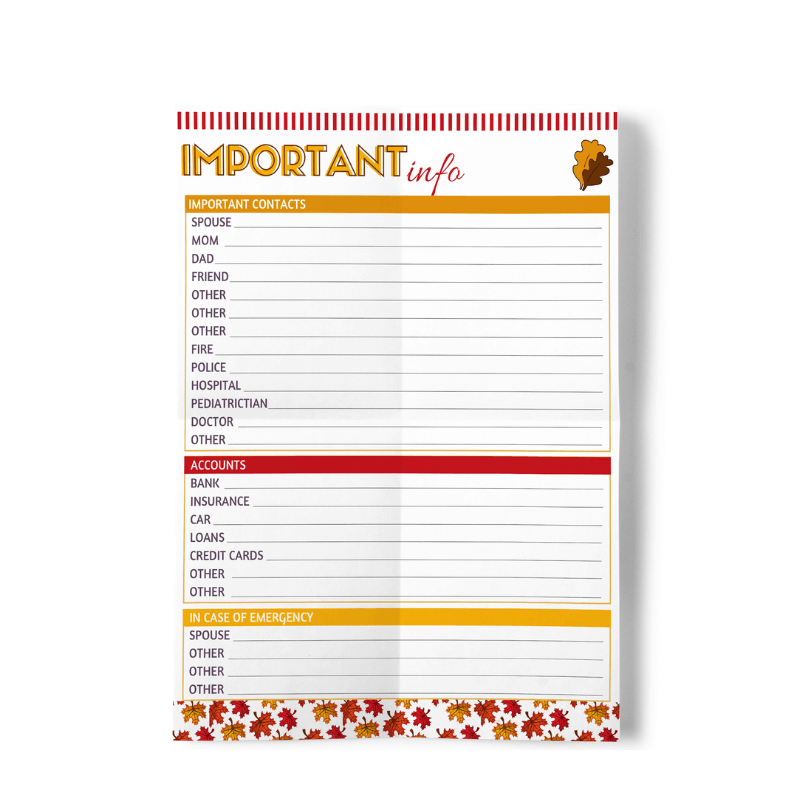 Important Info Sheet
The Important Information printable helps you keep all the important numbers and information in one sheet. Write down important contact, accounts and emergency numbers and share its location with your family.
Autumn Goal Sheet
The Autumn Goal sheet helps you create and achieve the goals you set for the fall season. From family goals to personal goals write them all down and start keeping track of them.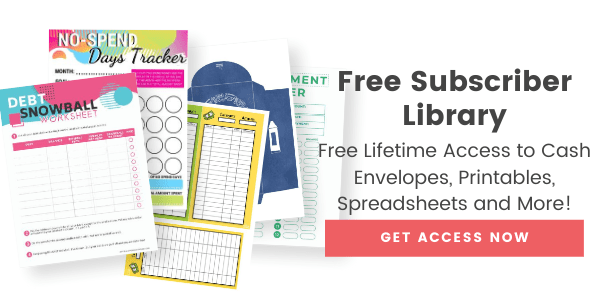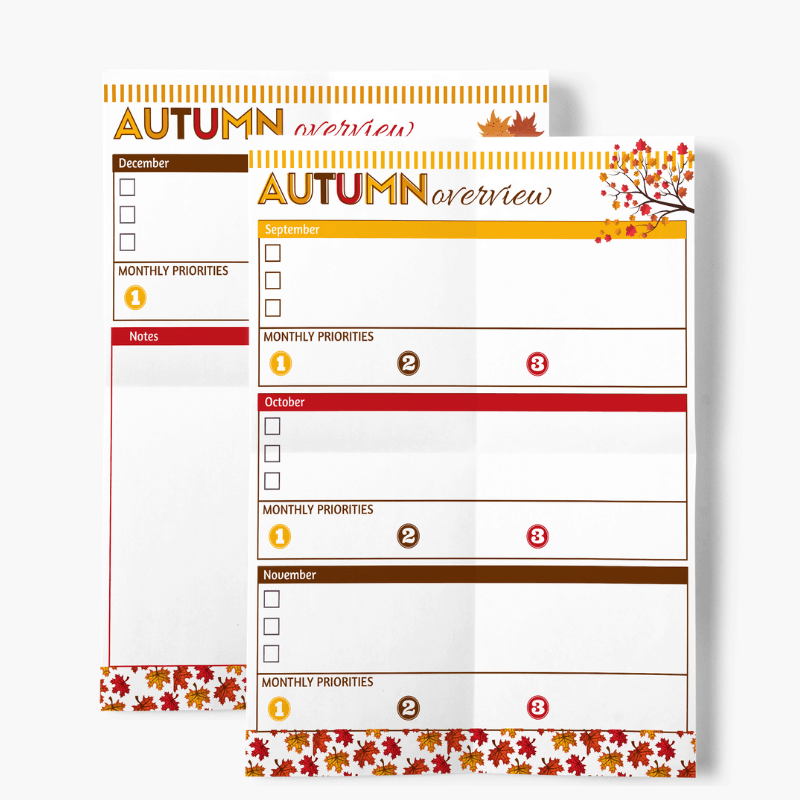 Autumn Overview
Autumn Overview sheet was designed to keep you on task of important monthly events. It has a Most Important area for those important things you must do for that month.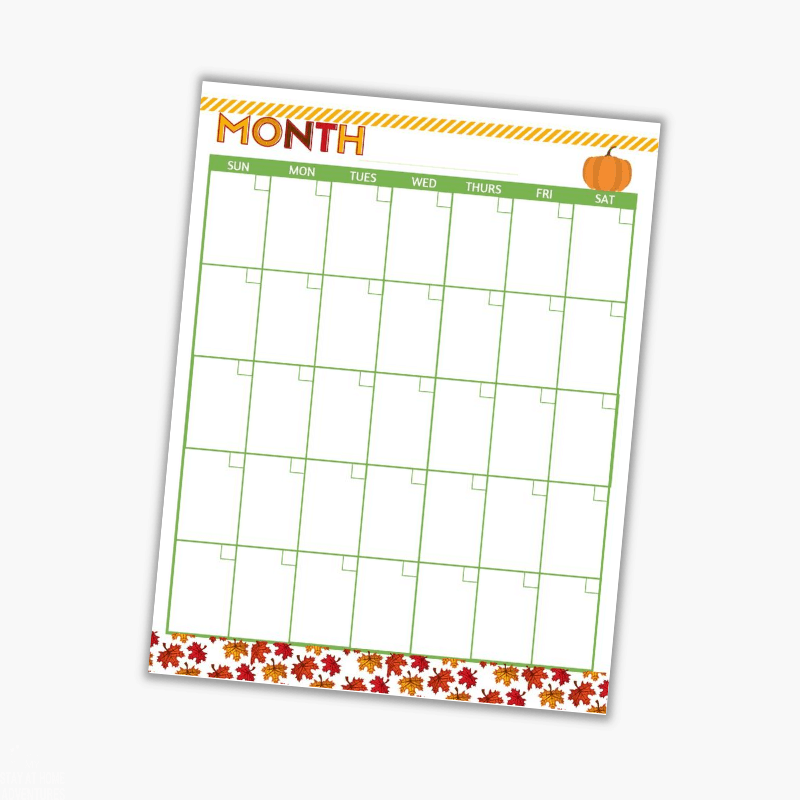 Monthly Calendar
The Autumn planner also has a blank monthly calendar for you to fill out and write any reminders or special dates. Print one for one month or multiple time for all Autumn months. The choice is up to you.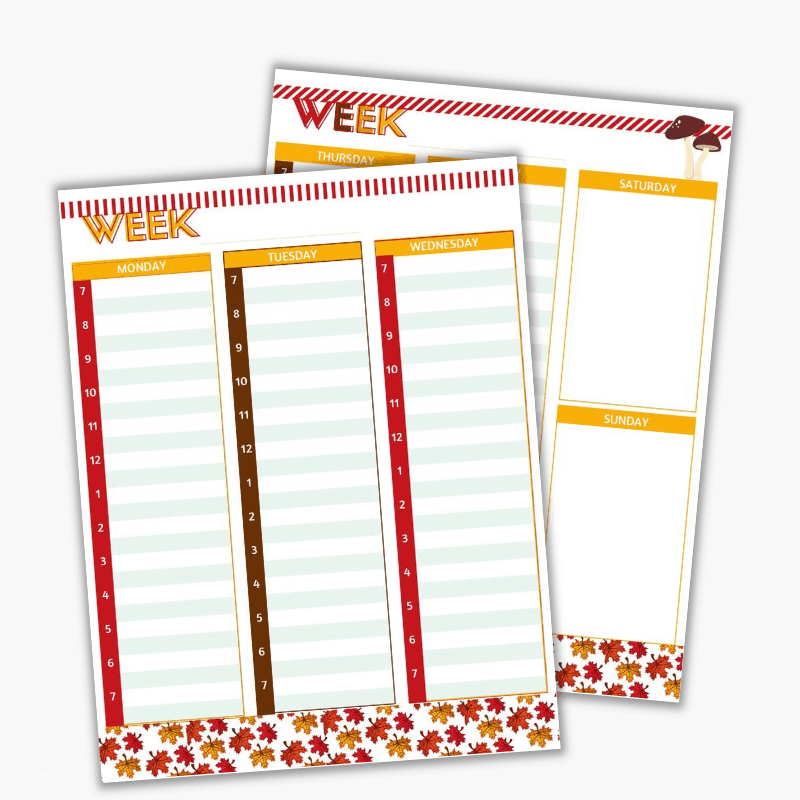 Week Planner Sheets
Week planner sheets are there to print out once a week and fill with appointments and other weekly events. Print out each week and fill it out.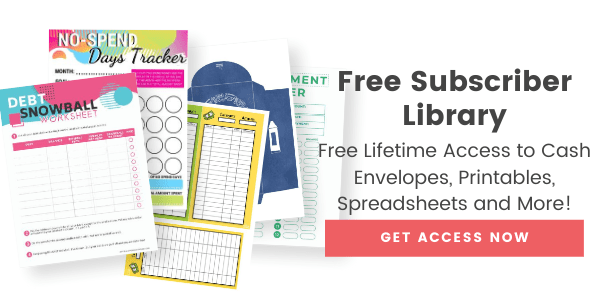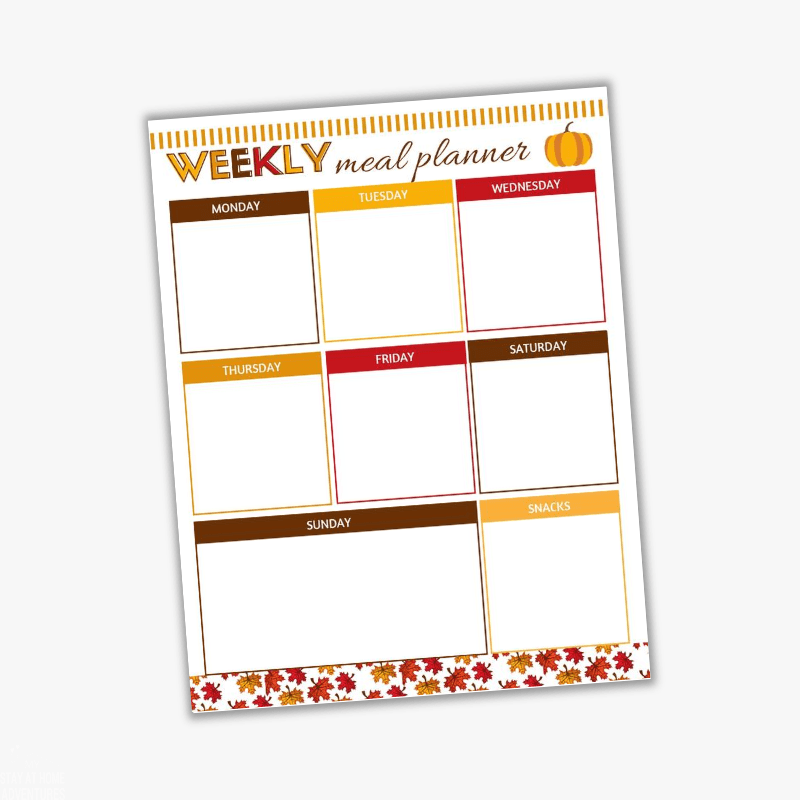 Meal Plan Sheet
The Meal Plan sheet is an easy way to save you time and money in the kitchen. Create a weekly meal plan for the week that includes your favorite Autumn meals.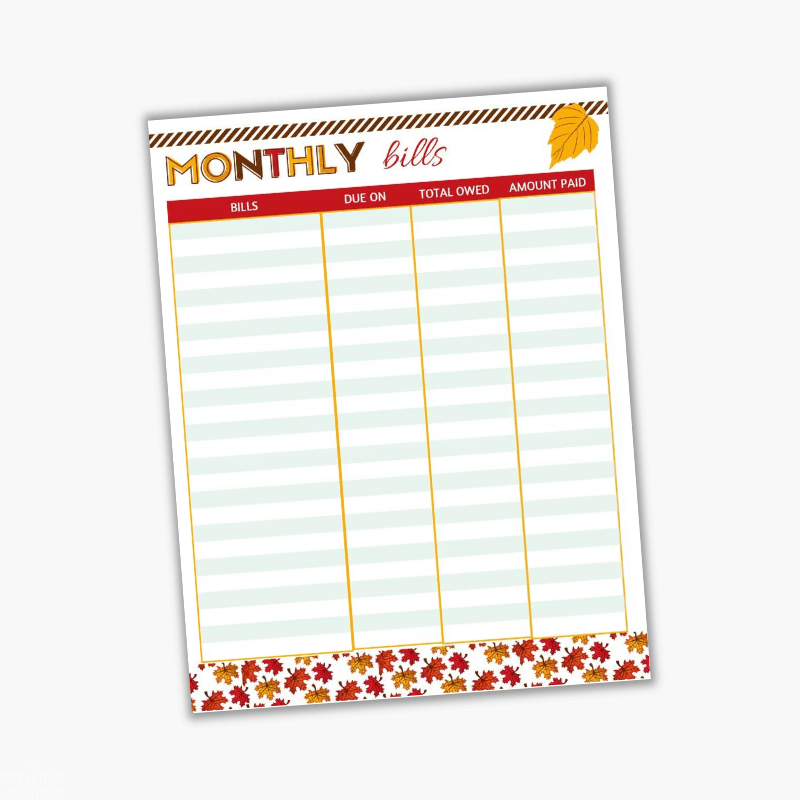 Monthly Bill Sheet
Monthly Bill sheet is to help you keep track of your Autumn bills. Track down any fall expense you might have to avoid surprises and help you manage your finances.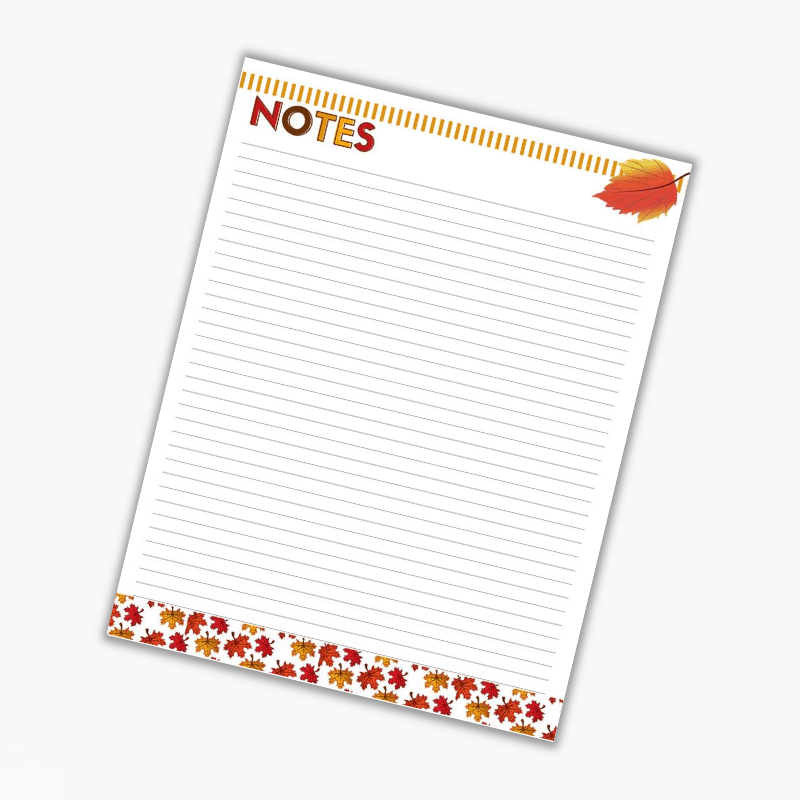 Notes Sheet
Notes sheet was created with the idea of you writing down special notes to help you this Autumn. Use these sheets to write down anything you want. 😀
How to download the Autumn Planner?
To obtain this free digital planner you must sign up for our newsletter. Fill out the box below with the right email and in a few minutes, you will receive an email with the link to download.
Click the link and click the download button and your planner will be downloaded to your device.
Enjoy your free digital planner! Happy Fall Season!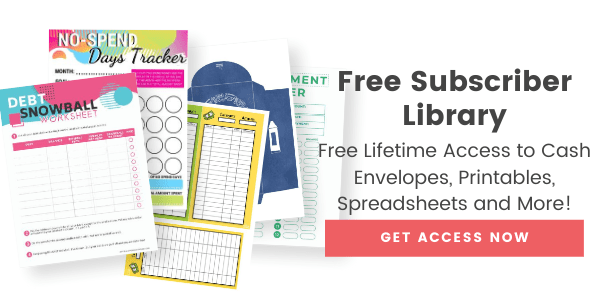 The following two tabs change content below.
Latina mom of 4 married to wonderful Greek gentleman. Living in southeast PA and trying to juggle family and a household while trying to earn an income from home. Follow my stay at home journey as I discover how to earn money and save money so we can continue to live debt-free.
Latest posts by Joyce @ My Stay At Home Adventures (see all)