The Benefits Of Quarterly Goals: A Strategic Approach
This post may contain affiliate links which might earn us money. Please read my Disclosure and Privacy policies here
Not everyone can do yearly goals. If you are like me, you may start off doing well, but then feelings of inadequacy or hopelessness end up causing your motivation to crumble and lead to the abandonment of whatever goal was set previously.
Luckily there is a solution! It's called quarterly goals (3 months). Quarterly goals fix all the previously mentioned problems and allow you to achieve your goal in a short-term mentality.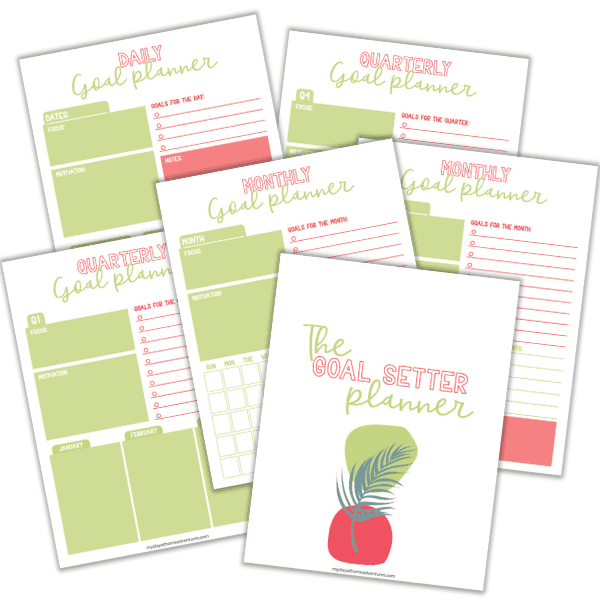 We can prioritize by season if we shift from 12-month goals and break them down. Then, season prioritize us to reset our focus every three months based on shifting priorities.
Quarterly goals allow us to make changes because, let's be honest, work and life priorities can change monthly, weekly, and even daily.
If quarterly goals are so great, why don't we all do quarterly goals instead of yearly? Well, I'm not sure, but probably because we had no idea quarterly goals were a thing.
When we talk about personal goals, we talk about yearly plans. Every January, we hear about annual goals and so on.
Why is quarterly planning important?
When you start to create a quarterly planning system rather than a yearly one, quarterly goals are immediately more achievable.
This ease of achievement increases due to the quarterly planning system being shorter-term and quarterly orientated.
If you have a yearly goal and want to achieve it but are unsure of it, break it into quarters.
You might like this post:
How do you define quarterly goals?
We define quarterly goals as goals that need to be done within three months (quarters).
Quarterly goals are often used quarterly as a time marker. An example quarterly goal could be: "I want to lose 10lbs by the end of Q3". Here we are making our quarterly goals more specific and measurable, giving us clear parameters for what we can expect at the end of quarterly goals.
What are the benefits of quarterly goals?
Quarterly goals have many benefits; let's say you want to create a yearly plan. You can achieve this annual goal by creating quarterly goals.
You will tackle this goal with more intensity and focus by breaking the yearly plan into four "pieces" or quarters. In addition, once you achieve this goal, you will have more motivation to get to the next step of your goal.
Also, once you break it down, you will create better habits to help you achieve your goal even fastest.
How do quarterly goals help us stay motivated?
Quarterly goals are quarterly because people who make yearly goals sometimes lose motivation due to not seeing the result of their hard work quite as quickly.
You can see your progress quarterly in quarterly goals, which motivates you to keep going and work even harder, knowing that every quarter is a step closer to achieving your final destination.
Let's say you saved $5,000 by the end of quarter one and your goal for the year is $10,000. You can then see that you are halfway to achieving your goal.
If quarterly goals weren't quarterly, you might feel like you still have a lot more to do, so it might be discouraging.
However, quarterly goals keep us motivated because we get quarterly rewards once we accomplish the goal!
How many quarterly goals should you set?
I recommend starting small and doing what you can personally feel is right for you if you are beginning. When I started, I started with two goals.
The quarterly goals that you should have are one personal quarterly goal and one work quarterly goal. Of course, you can add more if you want, but start with just the two quarterly goals. These quarterly goals will help you focus on what is important to you.
How long is a quarterly goal?
Quarterly goals usually are 12 weeks or three months. When you create and focus on shorter goals, you build habits and get motivated to complete your long-term goals.
How to Start Quarterly Goals
Set the Big One!
To start your quarterly goals, create a vision of what your ultimate goal is going to be.
What is the ultimate goal you want to accomplish? Where do you want to be in one year?
This goal can be anything you want, from personal to work goals.
If saving $4000 is your primary goal in 12 months, write it down and visualize it.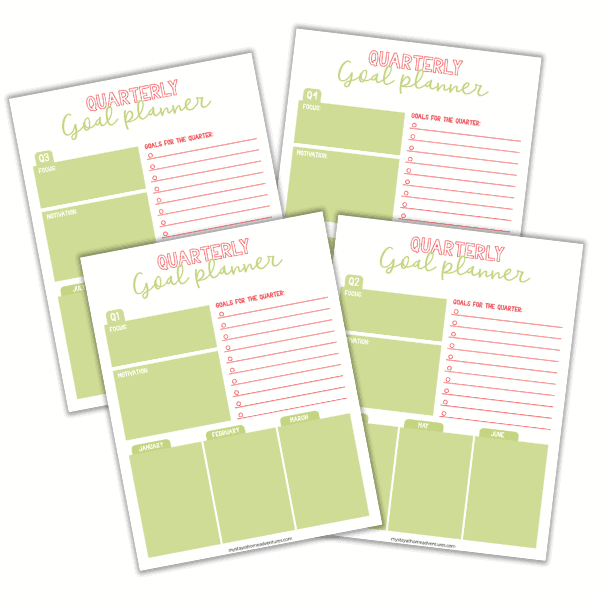 Break your Goals into Quarterly Goals
Now that you have your main goal set and visualized, it is time to break that into quarterly goals.
Let's continue the example of $4000; now the quarterly amount is $1000.00. Write down this number and the plan for accomplishing this in 12 weeks.
I will give you advice, and when you start to plan, give yourself the first week to plan this quarterly goal and eleven weeks to make it happen.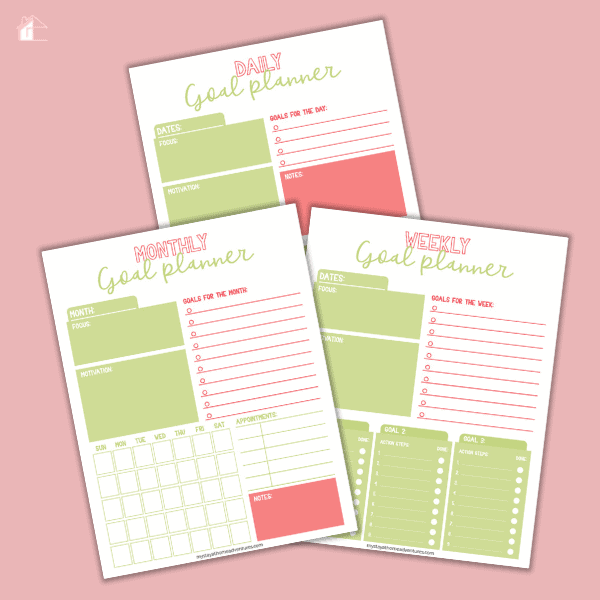 Monthly Goals
Break this quarterly goal into monthly goals. For example, how can you save $1000 in three months?
Look at your calendar and see what works for you. Do it if you feel you will save a more significant chunk during the second month. There is no rule that you have to take the $1000 and divide it by three.
Maybe one of these months, you will receive a bonus or even a tax refund as long as you have a plan that works for you and a system to get this quarterly done.
Break those weekly if you want to be daring!
If organization and breaking things down is your style, grab your monthly goal and break it into weeks!
Reward Yourself!
Remember to reward yourself with your accomplishment. Start small and celebrate small, and so on.
It is essential to set quarterly goals instead of yearly goals because it helps you stay motivated and see the progress that you are making.
When we break down your quarterly goals into smaller monthly or weekly goals, we can work on building better habits and rewarding ourselves for doing so!
Which quarterly goal has been most successful for you? Please share your thoughts below and tell us how these quarterly goals have helped motivate and reward you!