Rellenos de Papa Recipe
This post may contain affiliate links which might earn us money. Please read my Disclosure and Privacy policies here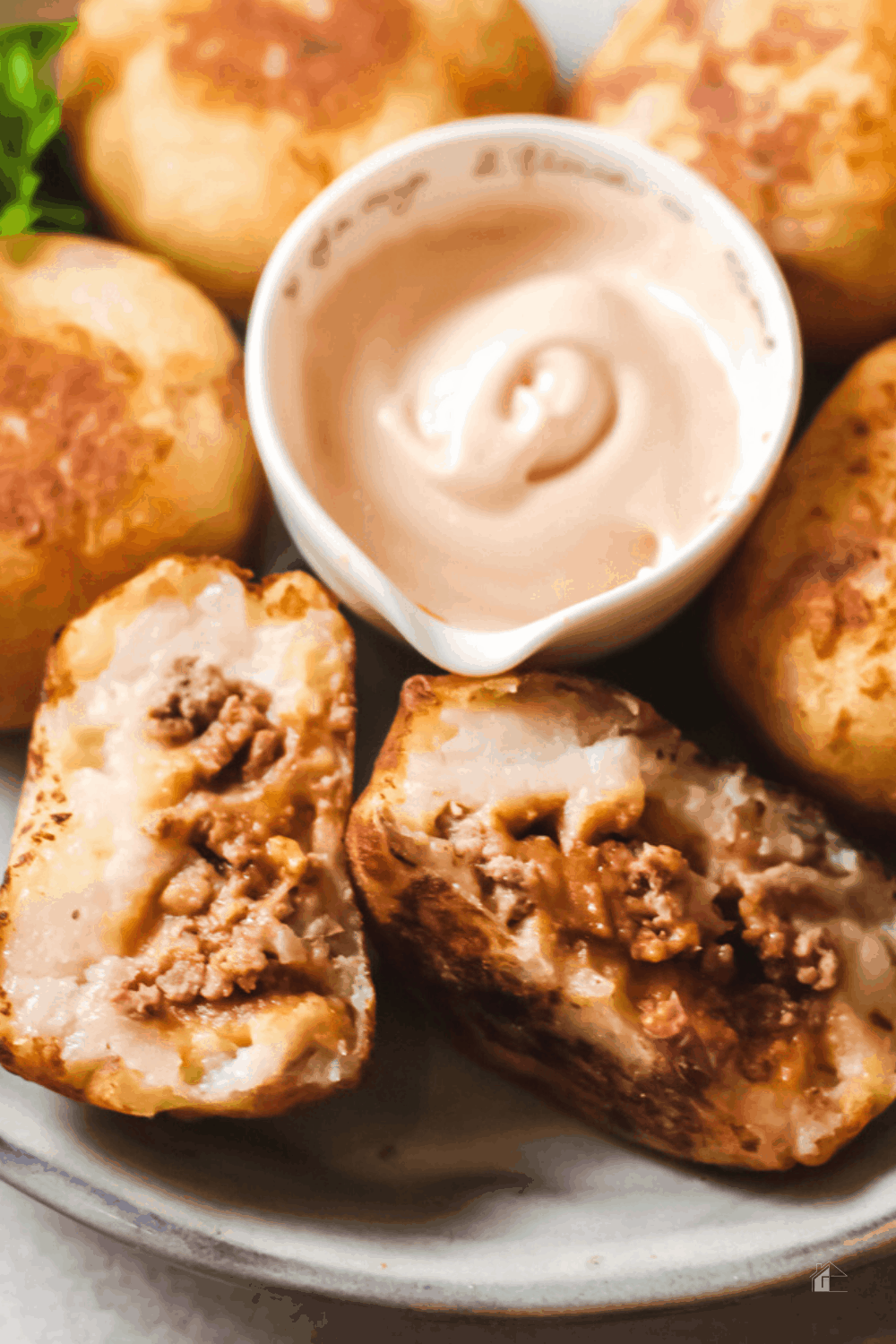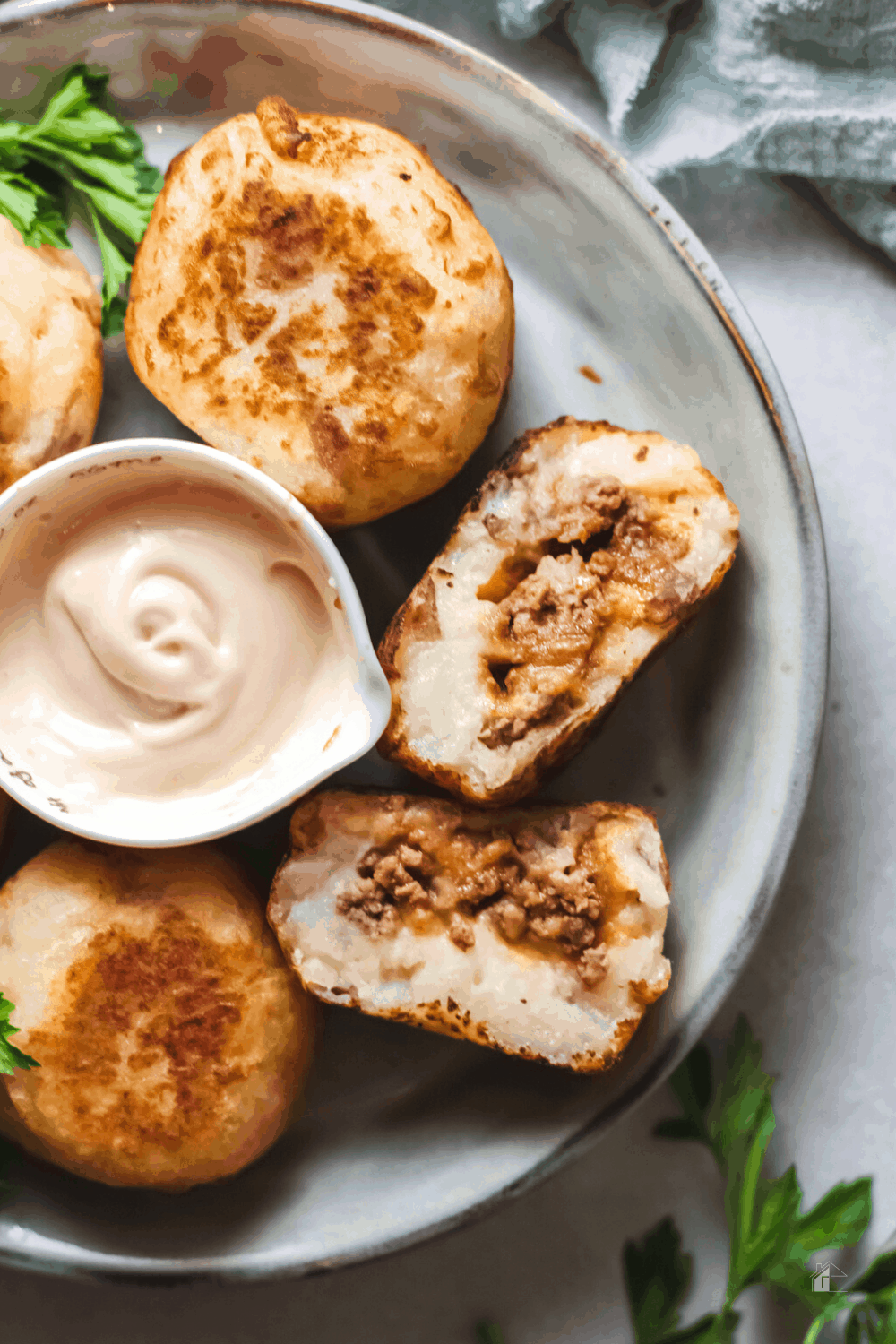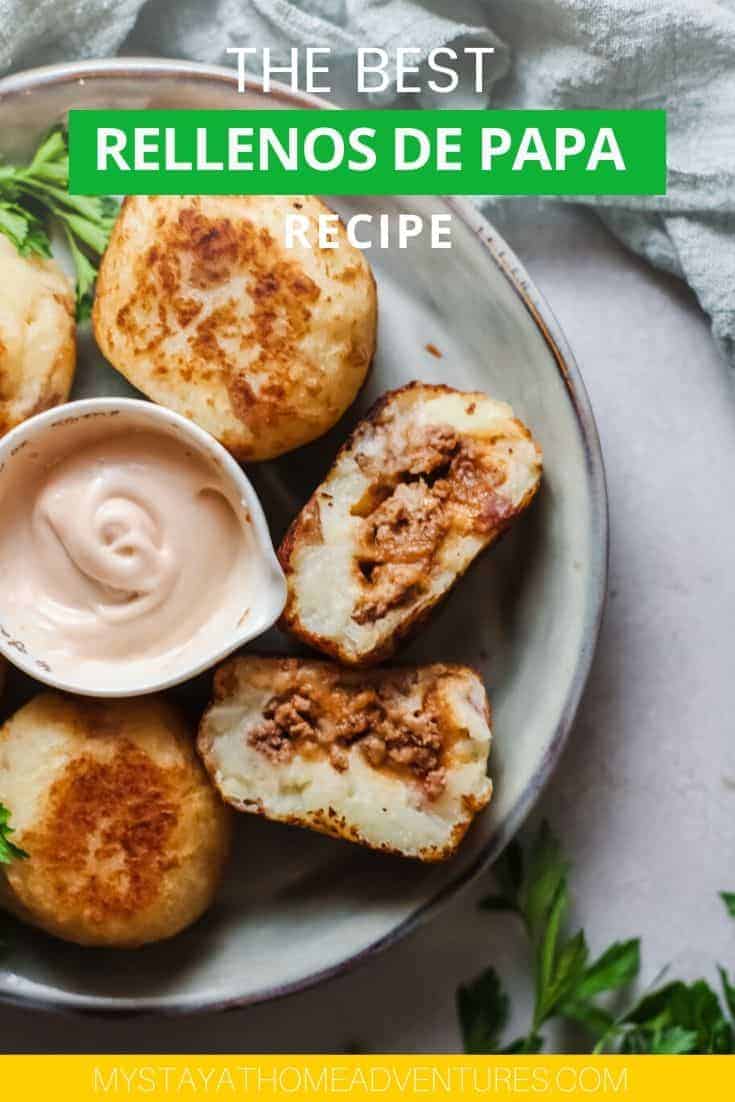 Rellenos de papa, stuffed mashed potato, is a fried crispy potato ball filled with ground beef (picadillo) that you are going to love! I love this recipe; it is one of my favorites, and it can be created in many ways. Of course, we will cover them below.
What are papas rellenas made of?
Papas rellenas are a tasty Latin American dish that is popular in many countries. These delightful snacks are made from mashed potatoes that are stuffed with a savory filling, typically consisting of ground beef, onion, bell peppers, and tomatoes.
The seasoned ground beef filling is then coated with breadcrumbs and fried until golden perfection. The crispy potato balls are a comforting and satisfying snack that can be enjoyed any time of day.
Whether you're in Puerto Rico, Cuba, or any other Latin American country, you're sure to find papas rellenas as a delicious staple in its cuisine.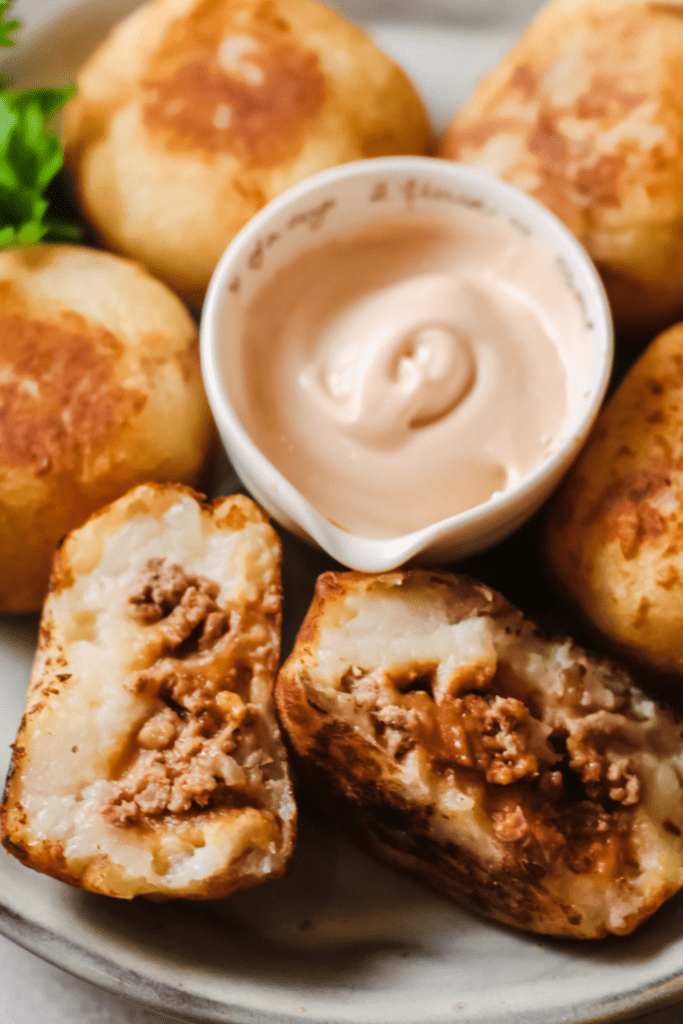 Why are my rellenos falling apart?
They say patience is key when making rellenos de papa, but no matter how patient one can be, sometimes the potato balls still fall apart. There could be a few reasons why this happens.
Firstly, excess water in the potatoes can be the culprit. It's important to drain the potatoes well after boiling to avoid this issue.
Another reason could be that the potatoes were not cooled down enough, causing them to fall apart when stuffed. It's recommended to let the potatoes cool completely before moving forward with the recipe. Additionally, freezing the potato balls before frying is crucial to ensure they hold their shape.
Lastly, a little bit of flour can be used to bind the overlapped edges. These tips should help prevent rellenos from falling apart and lead to a successful and delicious dish.
What country does papa rellena come from?
Papa rellena is a popular Latin American dish that is widely enjoyed across the region. It is particularly popular in countries such as Peru, Ecuador, Bolivia, Mexico, Chile, and the Caribbean.
The dish is essentially stuffed potatoes, filled with a variety of fillings such as beef, cheese, and vegetables. While there is some debate over the origins of the dish, many believe it was invented during the War of the Pacific in 1879 by Peruvian soldiers who needed a durable and portable food source.
Today, papas rellenas are a staple of Latin American cuisine and can be found in street vendors and restaurants throughout the region.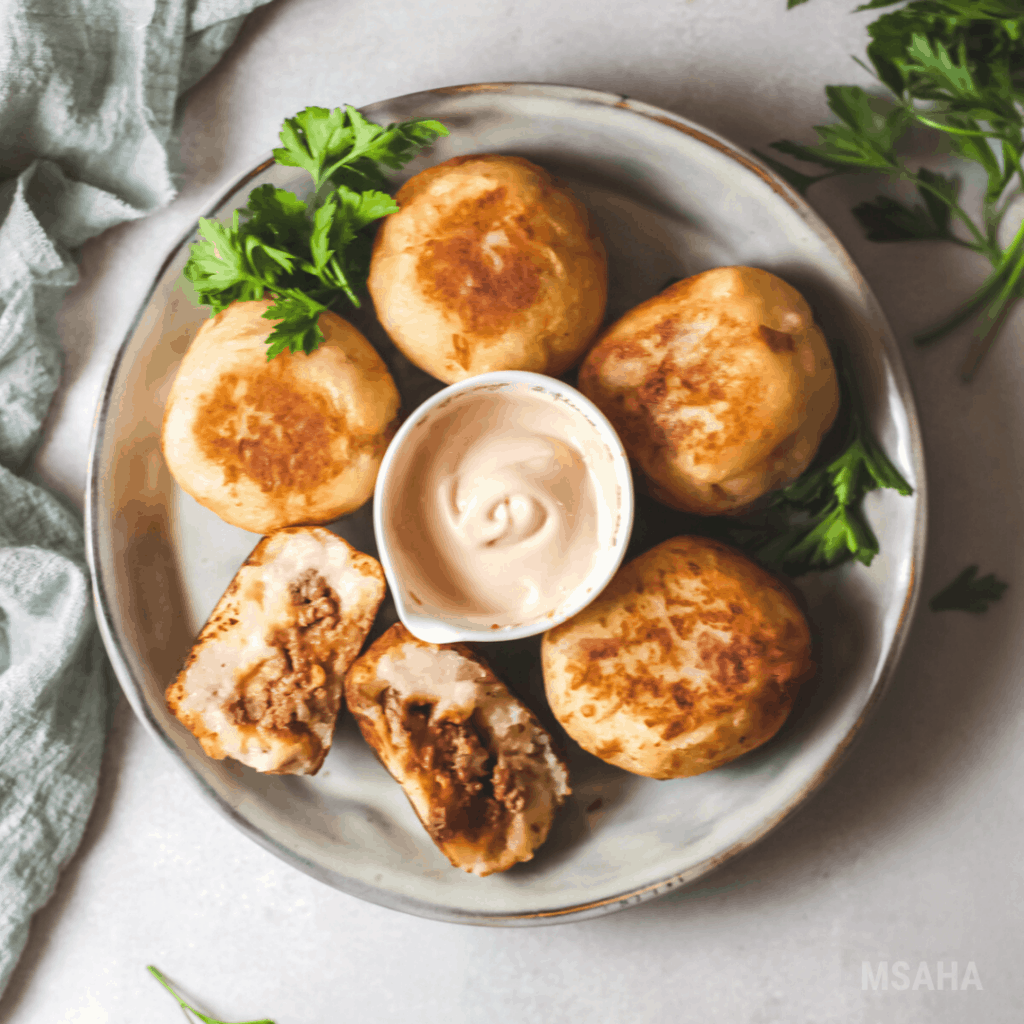 What does papa rellena translate to in Spanish?
Papa rellena translates to "stuffed potato" in Spanish. This popular dish is commonly found in Latin American regions like Peru, Ecuador, Bolivia, Mexico, Chile, and the Dominican Republic.
The dish consists of mashed potato stuffed with minced beef, raisins, olives, and hard-boiled egg, and then pan-fried until golden brown.
In Spanish, Peruvian stuffed potatoes are called "papas rellenas peruanas". It is a delicious and filling dish that has become a favorite of many people all around the world.
Who invented papa rellena?
Papa rellena, the popular Latin American dish made of stuffed potatoes, has a long and storied history. While no known individual is credited with inventing the dish, some sources suggest it was first created during the Pacific War between Peru and Chile in the late 19th century. According to Cusco Eats, papa rellena was invented to feed soldiers during the conflict. Today, the dish is enjoyed throughout Latin American regions such as Peru, Ecuador, Bolivia, Mexico, and Chile. Despite its uncertain origins, papa rellena has become a beloved staple of Latin American cuisine, prized for its delicious combination of mashed potato, savory fillings, and crispy fried exterior. Whether enjoyed as a comforting snack or a hearty meal, papa rellena is a true crowd-pleaser.
Can you use flour or cornstarch to make Rellenos de papa?
You can use flour or cornstarch or both to create rellenos de papas. There are many ways to make these recipes, and this means there is no wrong way!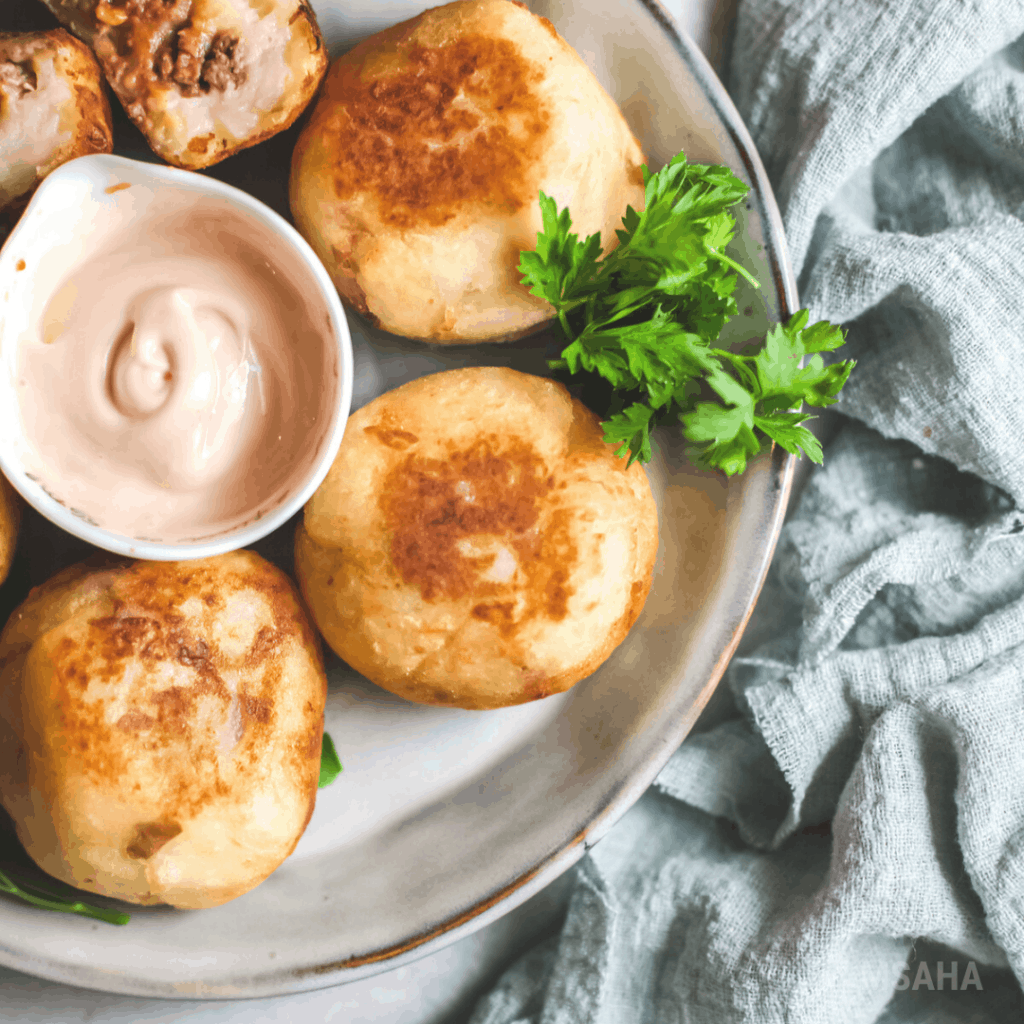 What do you fill rellenos de papa?
Fried mashed potatoes are most of the time filled picadillo, Puerto Rican picadillo (ground beef). But you can also fill them with cheese, ground beef, ham and more. The possibilities are endless!
The best part about these tasty morsels is that they're incredibly easy to make All you need is mashed potatoes, favorite filling, oil for frying or baking, and few spices.
On our site, we have a delicious Cuban picadillo recipe that would go well with this recipe.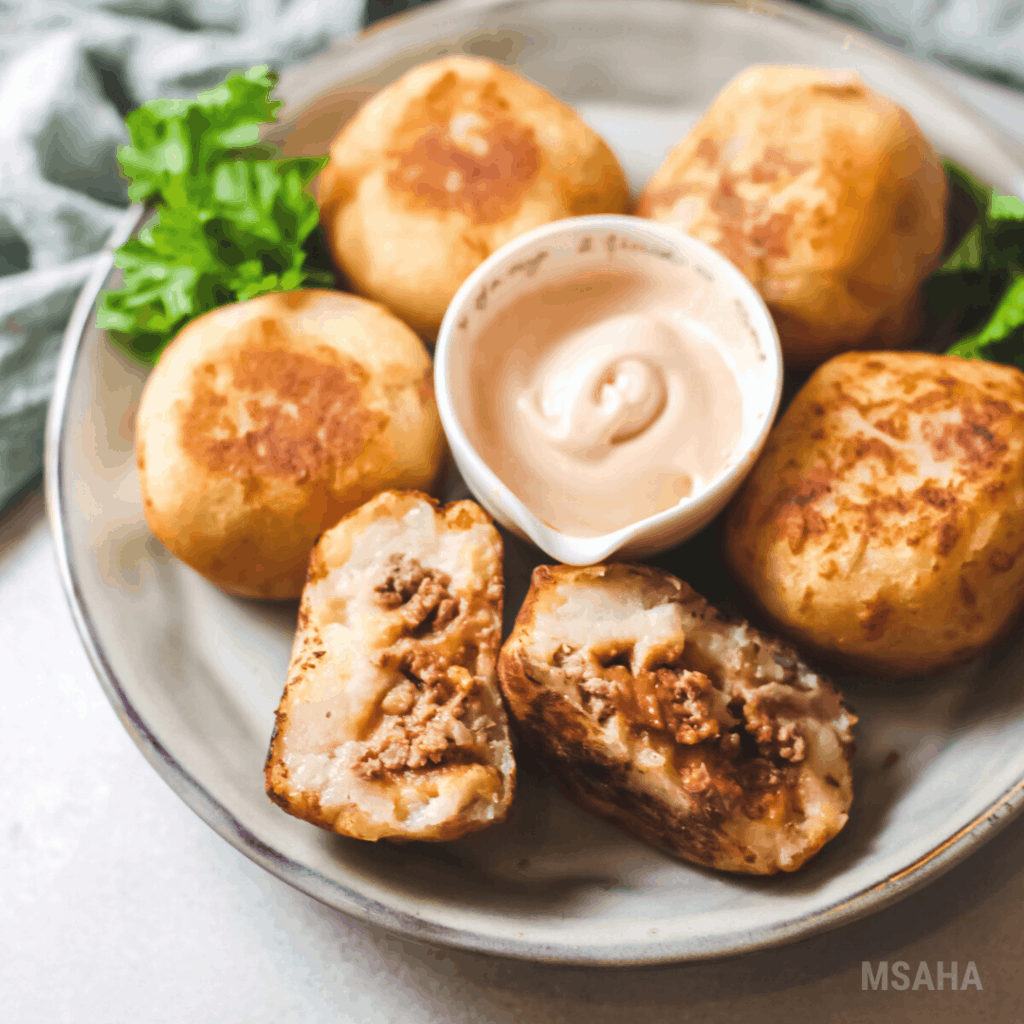 What do you serve rellenos de papa?
Rellenos de papa can be served as a main dish or side. They are often accompanied by a salad, rice, and beans, or simply on their own. You can also serve them with your favorite dipping sauce like MayoKetchup, salsa, or guacamole.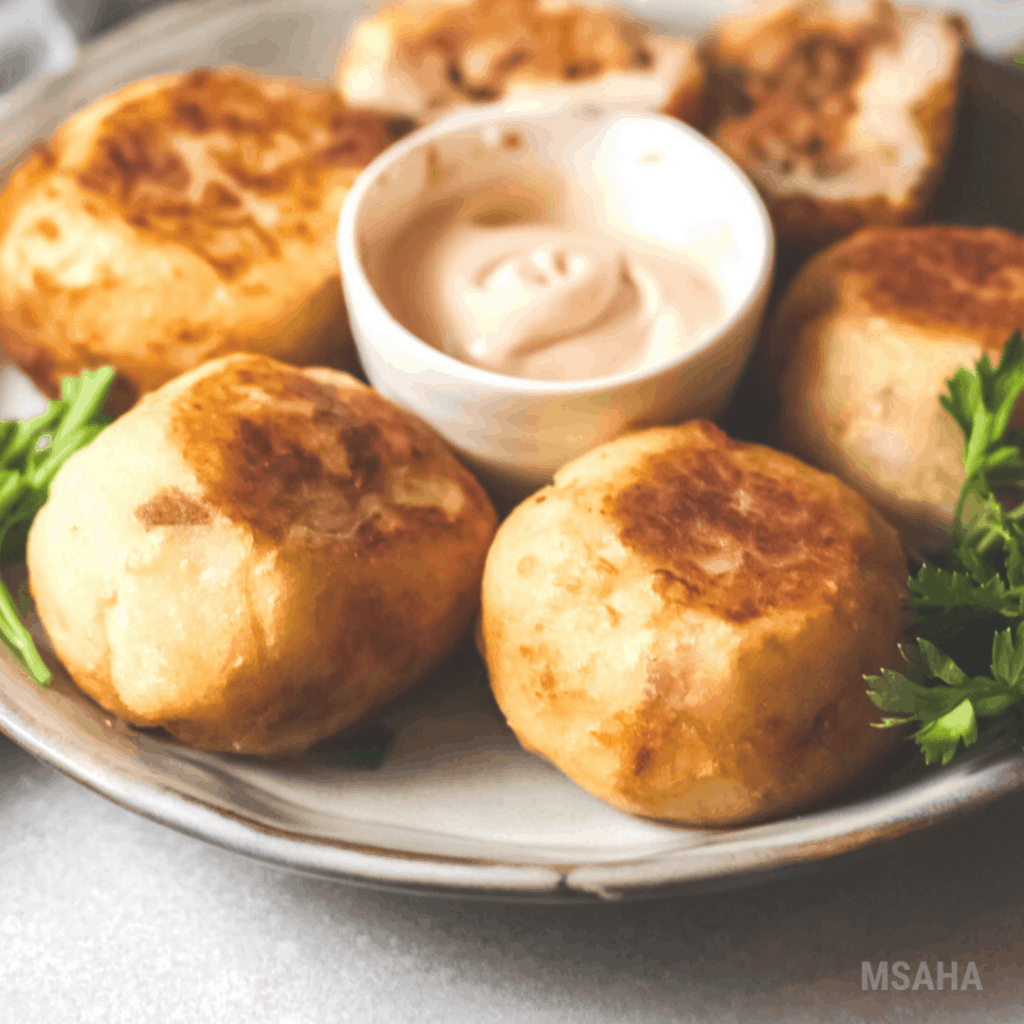 Can you make relleno de papas using instant mashed potatoes?
You can use instant potatoes to make this recipe. Use the ingredients below:
2 cups of water
7 tablespoons margarine
salt and pepper
1⁄4 teaspoon garlic powder
1 cup milk
4 cups instant potato flakes
1 egg
3 tablespoons cornstarch
For step by step process, click this link and learn how to prepare the masa of the rellenos the papa using instant mashed potatoes.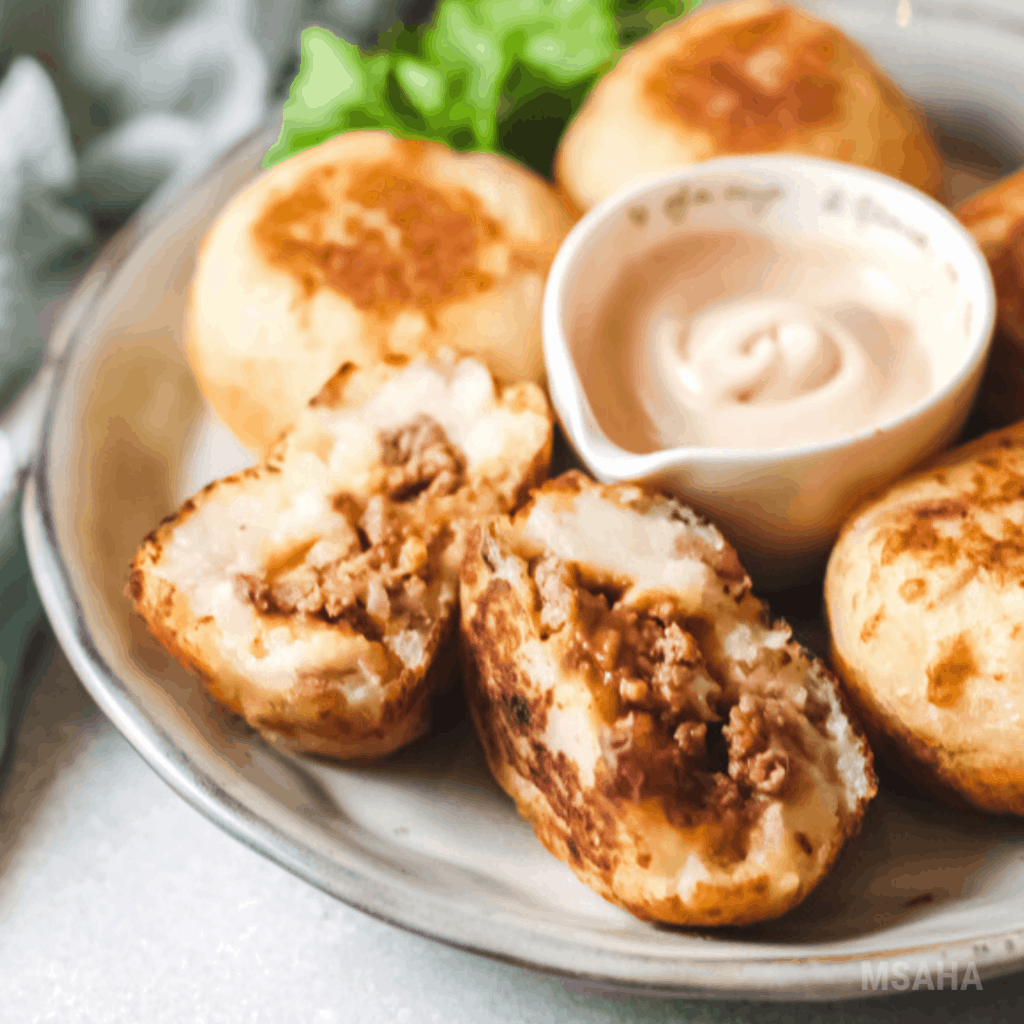 Can you make ahead relleno de papas?
You can make fried stuffed mashed potatoes ahead by creating them in advance, shape the balls, and place them in the fridge for up to 2 days. Once you are ready to serve them, just deep fry them. Also, if you need to keep them warm, just place them in the oven at a very low temp.
Can you freeze rellenos de papa?
You can freeze rellenos de papa by following these steps below:
Place the uncooked potato balls in a cookie sheet and flash freeze for a few minutes, about 5 to 10 minutes.
Remove from the freeze.
Wrap each potato ball with saran wrap then aluminum foil.
Once you are done getting your potato balls freezer-ready, please place them in the freezer but make sure they are on a flat surface to help them hold their shape.
Allow them to freeze thoroughly and then place them together in a freeze friendly bag or container. Make sure you label them; I have made that mistake. The potato balls should be good frozen for a long time.
How to thaw frozen rellenos de papa
To thaw frozen stuffed potato balls, place them in the refrigerator 24 hours or overnight before frying them. This is important because if you don't, you will have a liquid mess. Meaning it will lose water FAST from the mashed potatoes.
Once you have thawed them in the refrigerator, coat the potatoes with some flour or cornstarch to absorb the water they might have lost on the thawing process.
Fry the rellenos de papa as usual.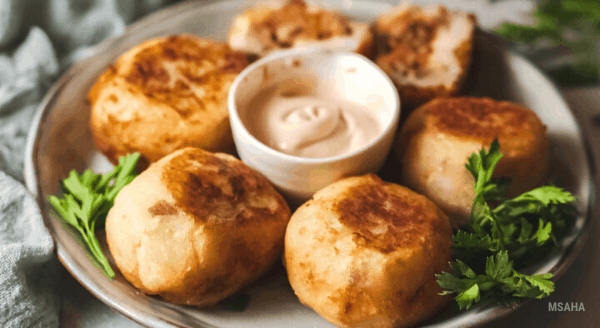 What are the ingredients to make easy rellenos de papa?
This recipe makes five potato balls; you are more than welcome to double it and freeze the rest for later. To make relleno de papas, you are going to need to following ingredients:
large Potatoes
Flour
Salt
Garlic powder
Picadillo
Oil for frying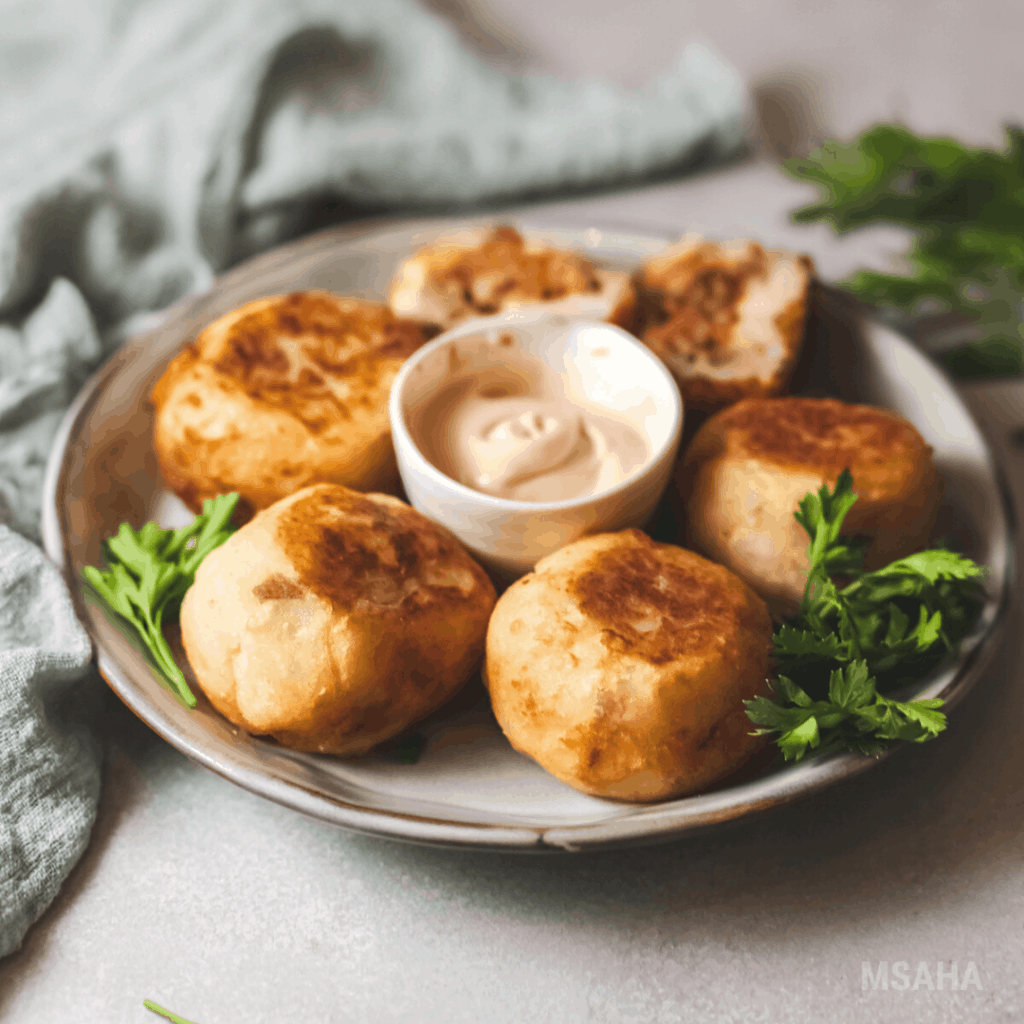 How to make easy rellenos de papa?
Now that you have the ingredients, it is time to create and cook the stuffed potato balls.
Use a small pot, add water and potatoes, and bring to a boil. Boil the potatoes until they are tender.
Remove the pot from the heat, drain the water, and make sure you pat dry your potatoes to remove the excess water before mashing them.
Mash the potatoes.
Next, mix the salt and garlic powder to the mashed potatoes.
Add the flour until you have a smooth looking batter.
Allowed the dough to cool before touching it. You don't want to burn your hands.
When the potatoes have cooled, it is time to shape the potato dough into a disk. I recommend you put some flour in your hands to prevent the though from sticking.
Scoop an amount of potato into your hand. Using your fingers flatten the dough until it is round.
Add a tablespoon of picadillo to the center of the disk and close the potato, and rolled it into a ball using both hands.
Repeat the process with the rest of the dough.
Heat the frying pan to 350 to 375F degrees and deep fry the balls in hot oil for around 5 minutes or until golden.
Your Rellenos de Papas are ready to serve!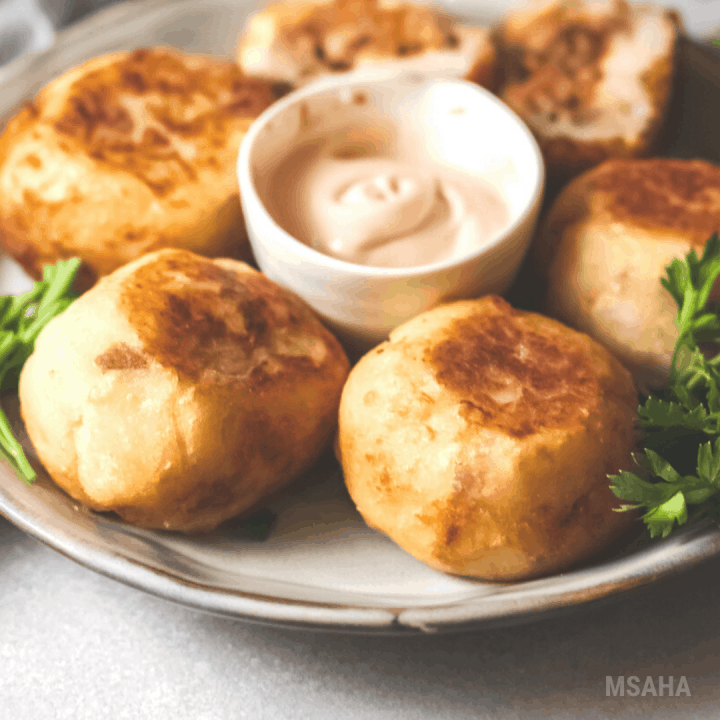 Easy Puerto Rican Rellenos de Papa
Rellenos de papa, stuffed mashed potato, is a fried crispy potato ball filled with ground beef (picadillo) that you are going to love!
Ingredients
2 large Potatoes or 1 lb
4 Tbsp flour
1 Tsp salt
½ Tsp garlic powder
2 Cups picadillo
Oil for frying
Instructions
Fill a small pot with water, boil the potatoes, and cook until tender. Drain water, pat dry the potatoes and mash.
Add salt and garlic powder and mix until incorporated. Mix in the flour until you have a smooth dough.
Let it cool.
Once cooled, flour your hands and shape a disk of potato dough. Add 1 Tbsp picadillo and pinch to seal the edges of the disc together.
Roll between the palm of your hands until you have a ball. Repeat the process with the rest of the dough.
Deep fry the balls in hot oil for around 5 minutes or until golden.
Nutrition Information:
Yield:

5
Serving Size:

1
Amount Per Serving:
Calories:

353
Total Fat:

17g
Saturated Fat:

5g
Trans Fat:

0g
Unsaturated Fat:

10g
Cholesterol:

54mg
Sodium:

679mg
Carbohydrates:

31g
Fiber:

3g
Sugar:

6g
Protein:

20g
This calculations might not be accurate.