Are Baked Plantains Healthy? (17 Baked Plantain Recipes)
This post may contain affiliate links which might earn us money. Please read my Disclosure and Privacy policies here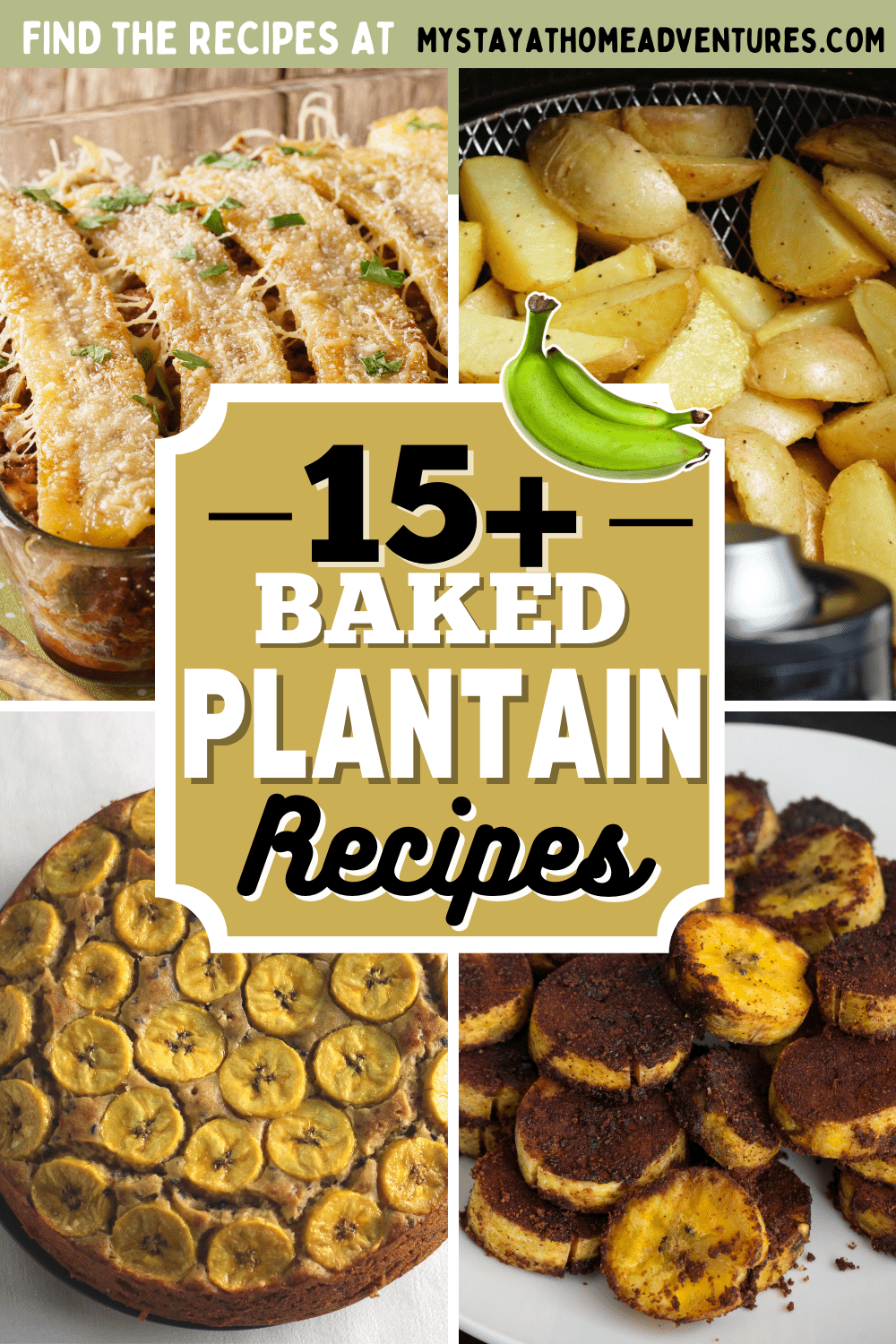 Baked plantains are an incredibly versatile and delicious ingredient that can be used in various dishes. Not only are they healthier than fried plantains, but they also require less time to prepare. Baking plantains is easy, requires minimal ingredients, and always yields tasty results.
Whether you're looking for something to munch on during a movie night or an afternoon pick-me-up, baked plantain recipes have got you covered. Get creative with ingredients like honey, cinnamon, olive oil, and more – the possibilities are endless.
You might enjoy these plantain recipes:
So get ready for some deliciousness as we explore all the wonderful things you can do with this humble yet flavorful ingredient.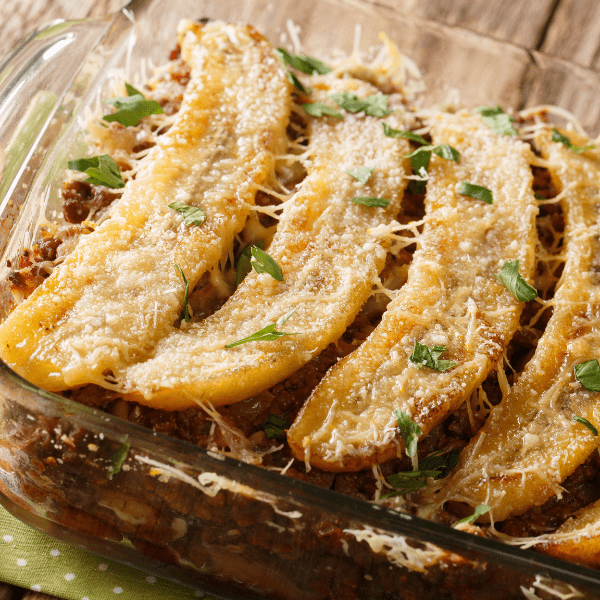 Are baked plantains healthy?
In addition to being a delicious and tasty snack, baked plantains are quite healthy too. Unlike bananas, plantains have a lower sugar content and higher starch content, making them a great source of complex carbohydrates. They are also rich in nutrients such as potassium, vitamin C, and vitamin A.
When baked in the oven, they don't need any additional oil, making them a great low-fat option for those who are watching their weight or trying to lead a healthy lifestyle.
Additionally, baked plantain is a vegan and gluten-free dish, making it an ideal option for people with dietary restrictions. Overall, baked plantains are a nutritious and tasty snack that can be enjoyed guilt-free.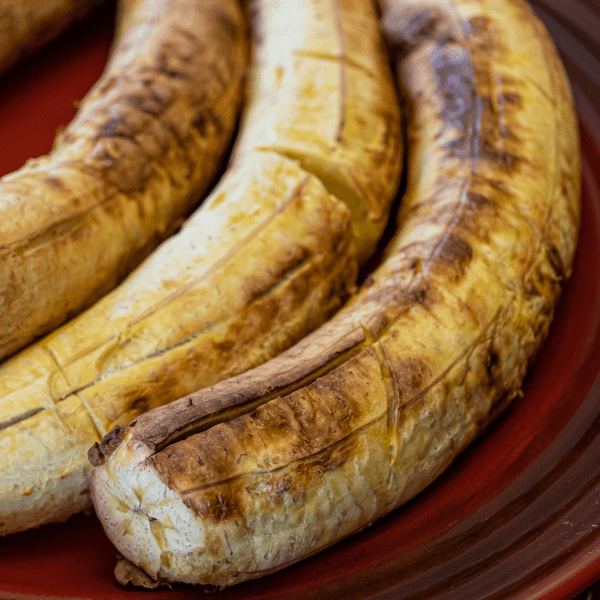 Can plantain be roasted in the oven?
Plantains can definitely be roasted in the oven! Roasting plantains in the oven is one of the easiest and healthiest ways to cook them. This method is perfect for those who want a delicious snack or side dish without the added fat and calories from frying in oil.
The oven's high heat helps to crisp up the edges of the plantains and create a delicious caramelization that brings out their natural sweetness. You can season your plantains with various spices and herbs before roasting them for added flavor.
Whether you want to make roasted plantain chips or a savory side dish, the oven is a great choice for cooking plantains.
What are some recipes with baked plantains?
Baked plantains are a versatile and healthy ingredient that can add a touch of sweetness to any dish. They can be enjoyed as a snack or incorporated into various recipes.
One simple and delicious way to enjoy baked plantains is to slice them into rounds, spray them with cooking oil, and bake them in the oven until golden brown.
These crispy plantain chips can be served as a side dish, garnish, or dipped in salsa or guacamole. Another delicious recipe for baked plantains is to slice them lengthwise, leave the skin on, and bake until soft.
These make a great base for toppings like pulled pork, black beans, or grilled vegetables.
Whether you prefer sweet or savory, there are plenty of ways to enjoy the goodness of baked plantains in your cooking.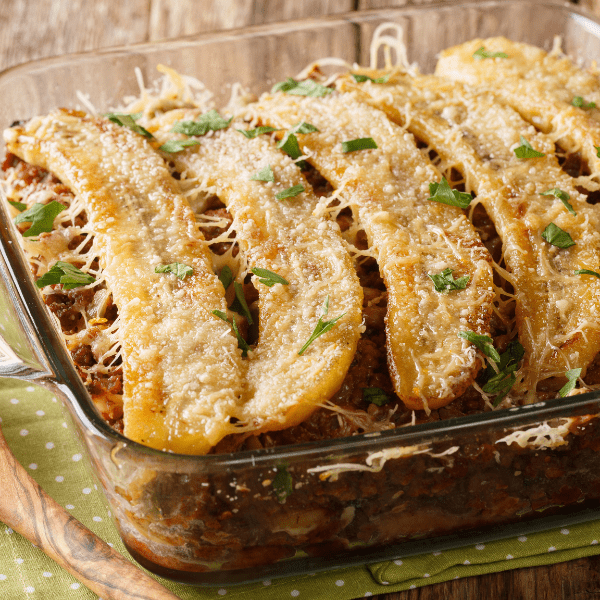 What Are The Different Bake Plantain Recipes?
If you want a healthier alternative to fried food, these baked plantain recipes are the perfect solution. Here are some of the recipes that you can try:
Baked Ribbon Plantain Chips are a delicious and crunchy snack that are perfect for any occasion. Made with real plantains, these chips are lightly sweetened and seasoned with various spices to bring out the best flavor.
Baked Plantain Tortillas are a tasty and simple snack that can be a great addition to any meal. Made from grated plantains, they are easy to make and serve as a side dish or as a main course.
They are high in fiber and have a light, slightly sweet taste that is sure to please a variety of palates.
Air Fryer Plantains are a healthy alternative to traditional fried plantains. Cooked in an air fryer, they come out crisp and golden brown on the outside while still tender and sweet on the inside.
In addition, you may enjoy these without heating up your home or creating a mess from frying on the stovetop.
Baked plantain chips are a healthy homemade snack option. They're a great alternative to store-bought fried chips, as they are lower in fat and calories yet still provide a delicious crunchy snack. The best part is that you can customize the flavors to fit your own personal taste.
Baked Plantains with Brown Sugar Glaze is an easy-to-make snack that is made with simple ingredients. For added flavor and sweetness, a brown sugar glaze is added on top – perfect for when you want a sweet treat without the guilt.
Baked Coconut Plantains are a nutritious and quick snack that can be enjoyed at any time. The mix of sweet plantains and creamy coconut is incredibly satisfying. Everyone found these plantain slices to be absolutely intriguing due to its crisp outside, delicate and creamy inside, and a hint of coconut taste.
Are you looking for a delicious and unique snack? Try this Baked Plantains Stuffed with Cheese. This dish will surely be a hit at any gathering or as an easy weeknight meal. So grab your ingredients and get ready to enjoy some flavorful plantain goodness.
Stuffed Baked Plantains are nutritious snacks that will delight your taste buds. They provide the perfect balance of sweet and savory flavors, with a hint of spice to tantalize your palate.
Best of all, these Stuffed Baked Plantains can be prepared in just minutes. Enjoy them as an appetizer or side dish – they're sure to become a favorite in no time.
These plantain fries are prepared using ripe plantains and baked until crisp in the oven. They make a nutritious lunch or meal side dish and are great for children.
Serve them with your favorite dip or topping for a delicious and healthy snack that everyone will enjoy. With just a few simple ingredients, you can create a tasty dish that is sure to please.
Baked Plantain Pie is an incredibly tasty and unique pastry made with plantains, spices, and sweeteners. Unlike a traditional pie, this dish has an exotic twist that adds a delicious complexity to the flavor.
The sweetness of the plantains combined with the savory spices creates a tantalizing taste that is sure to be enjoyed by all.
Baked Sweet Plantains are a quick and easy side dish that is perfect for any occasion. Made with just a few ingredients and minimal effort, these sweet plantains can be served as a healthy snack or an accompaniment to your favorite meal.
They have an irresistible combination of sweetness and crunchiness that will leave you wanting more.
Roasted plantains are a versatile snack or side dish that can be enjoyed in many different ways. They have a naturally sweet flavor, making them an ideal addition to any meal.
Roasting the plantains brings out their natural sweetness while adding a hint of smokiness that pairs perfectly with other flavors like cinnamon and nutmeg.
Baked Plantains with Guava and Cheese (Plátanos Asados con Bocadillo y Queso) constitute a Colombian traditional dish that reminds you of home. It was inspired by my inner-tropical self while exploring Colombia. This basic recipe will give you back to the streets of Bogota.
Plantain bread is a simple recipe that makes use of simple ingredients, is easy to make, and comes out great every time.
For another layer of texture and crunchiness, you can use walnuts. Serve with a dollop of butter, and enjoy.
Do you want to try a delicious Mexican dessert that's perfect for any occasion? Look no further than this traditional Capirotada with Mango and Plantains. Traditional Capirotada is a popular dessert that originates from Mexico. It is a sweet and savory bread pudding that has been enjoyed for generations in Mexican households around the world.
Whether you are a lover of plantains or are still in doubt about them, Roast Jerk Plantains will definitely get you thrilled about them. They are a tropical delicacy, baked rather than fried, and healthy.
With sliced bell peppers and onions on top, you have a vegan dinner, or side dish if you'd prefer.
A traditional Puerto Rican dish called pastelón is made up of layers of cheese, ground beef, and thinly sliced plantains. Consider it to be a Puerto Rican lasagna. It's the perfect dish to prepare for a family reunion or potluck.