Yuca Fries – Easy 3 Ingredient Fries
This post may contain affiliate links which might earn us money. Please read my Disclosure and Privacy policies here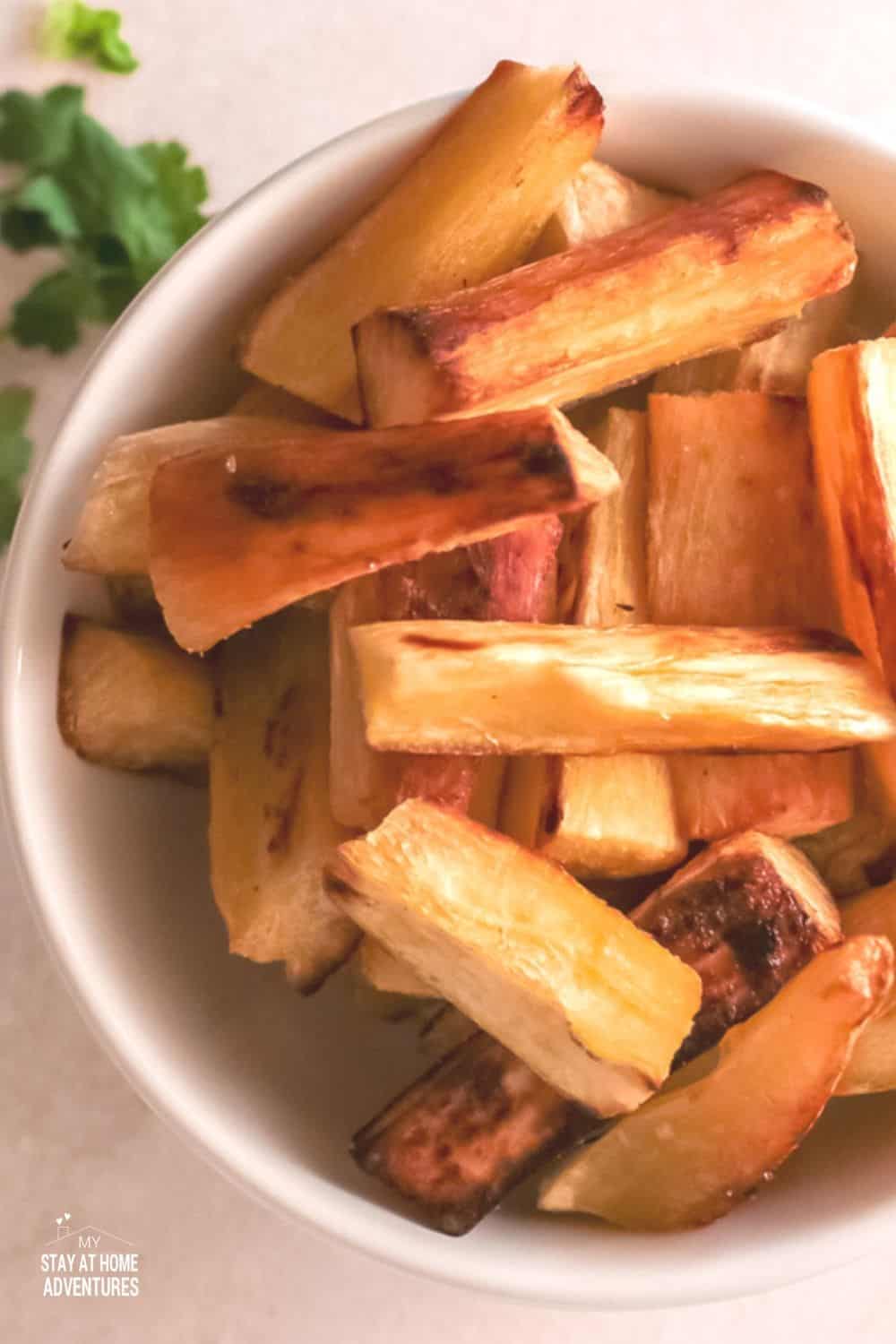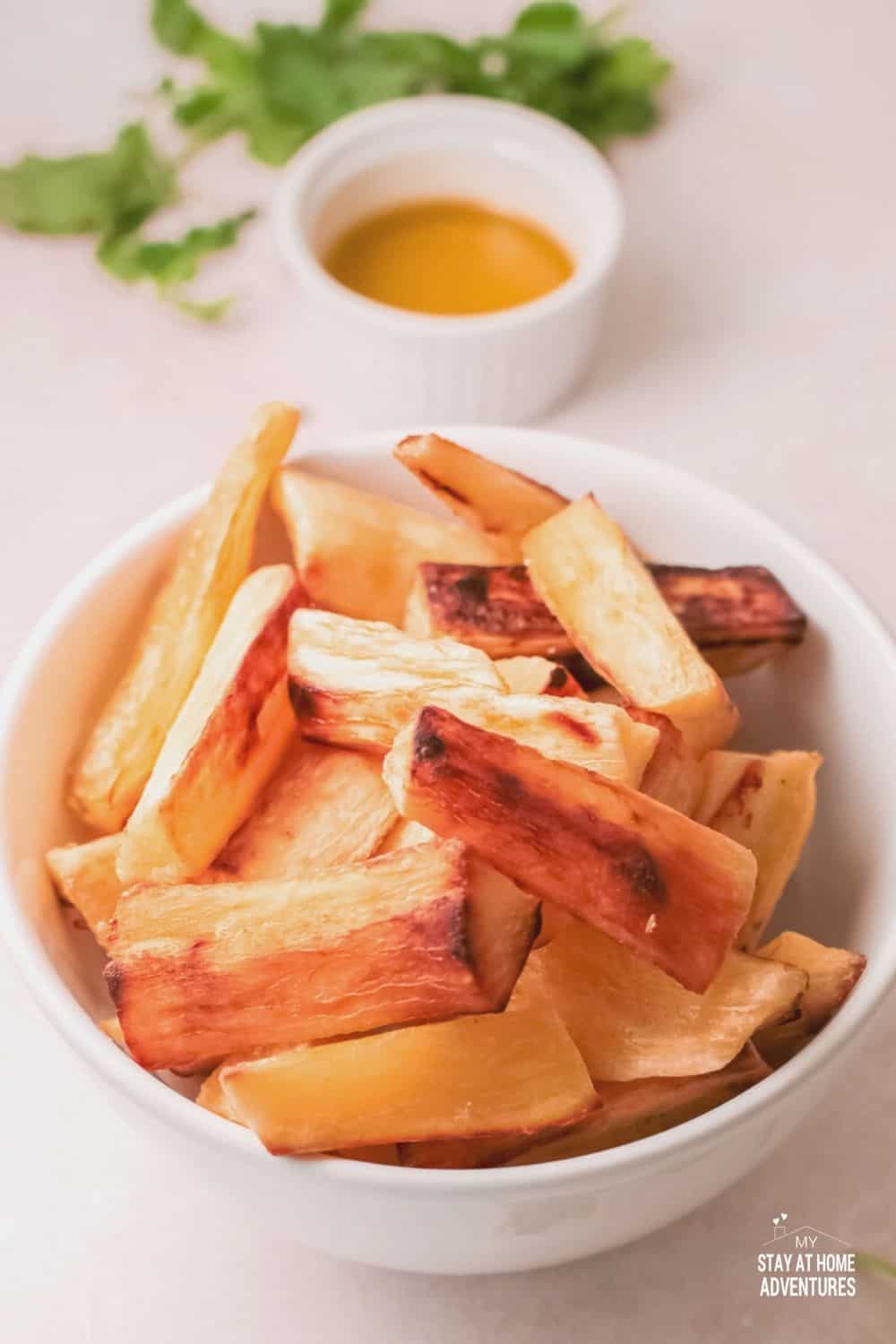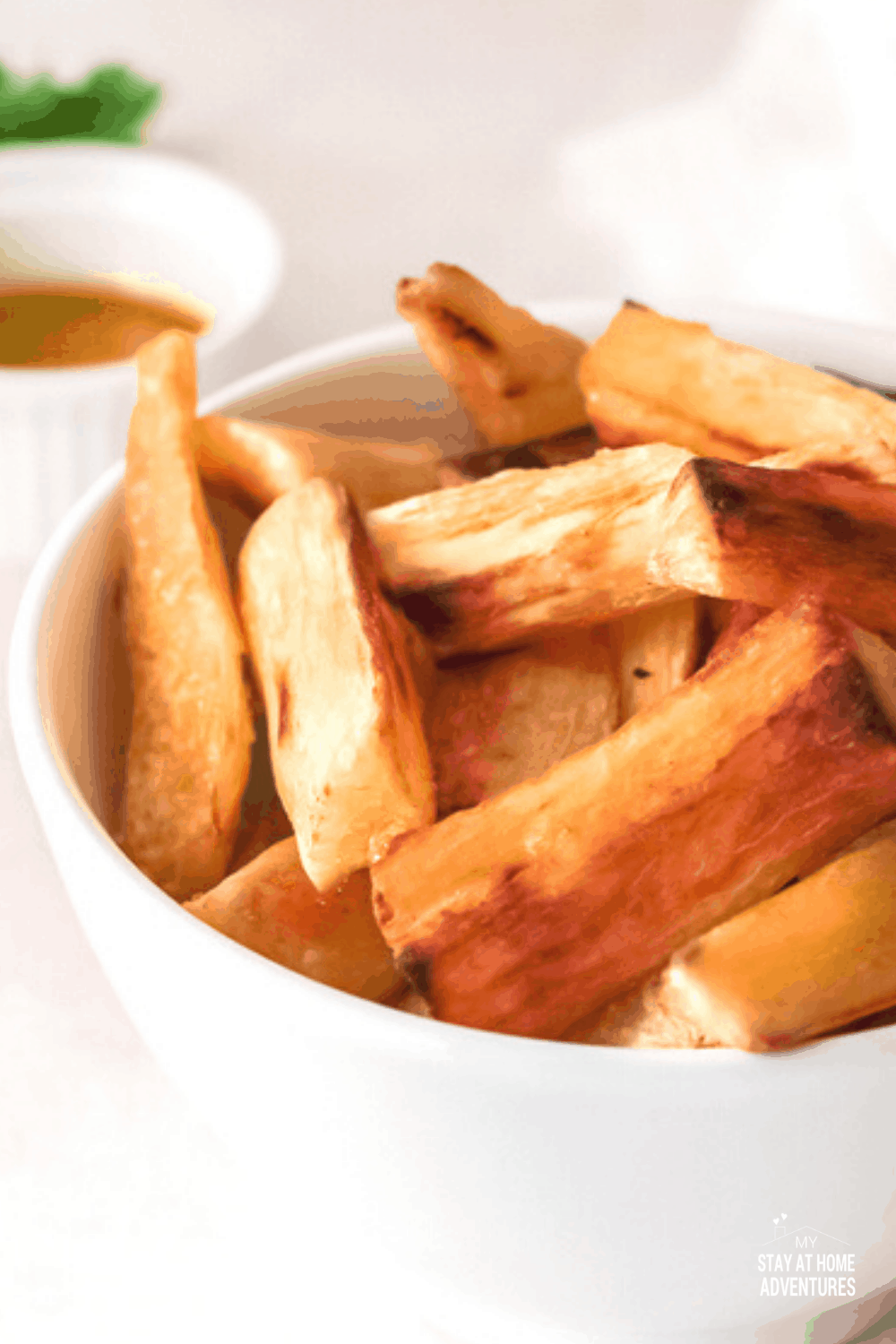 Here is one really nice treat that you can forget the french fries. Baked to crispiness on the outside and tender on the inside, this Yuca Fries is the perfect hearty snack.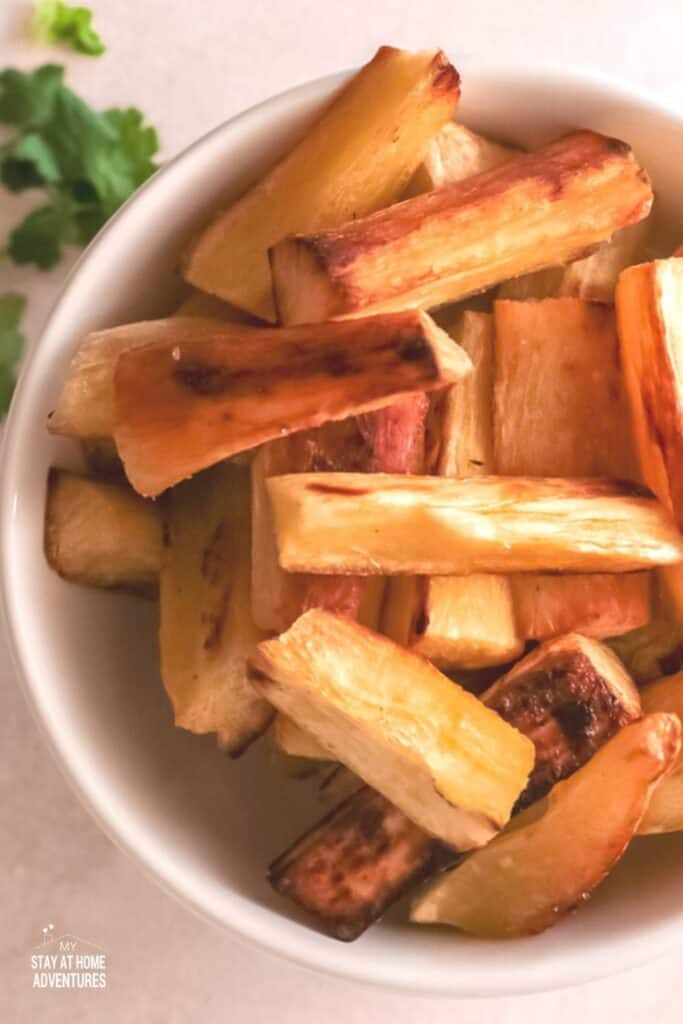 With only 3 ingredients on this recipe, that's how easy you can make them.
Let's learn more about yuca first before we proceed with the recipe
What is Yuca
Also known as Cassava, Yuca is a tuber crop like potatoes and yams. It also has a similar shape to sweet potatoes. The other names are Manihot esculenta, manioc, mandioca, and agbeli.
This root vegetable has a nutty flavor and can be boiled, baked, and fried. It is popular and native in South America, but it can also be found in some parts of Africa and Asia.
One thing that makes it a popular crop is being a drought-tolerant root vegetable. It is also considered the main staple food for many people for being a major source of calories for its carbohydrate content.
If you know the trendy boba or bubble or pearl milk teas, the pearl or tapioca balls are made of tapioca flour, the powdery substance made from dried Yuca.
You can also make bread like this Pan de Yuca (Cassava Bread)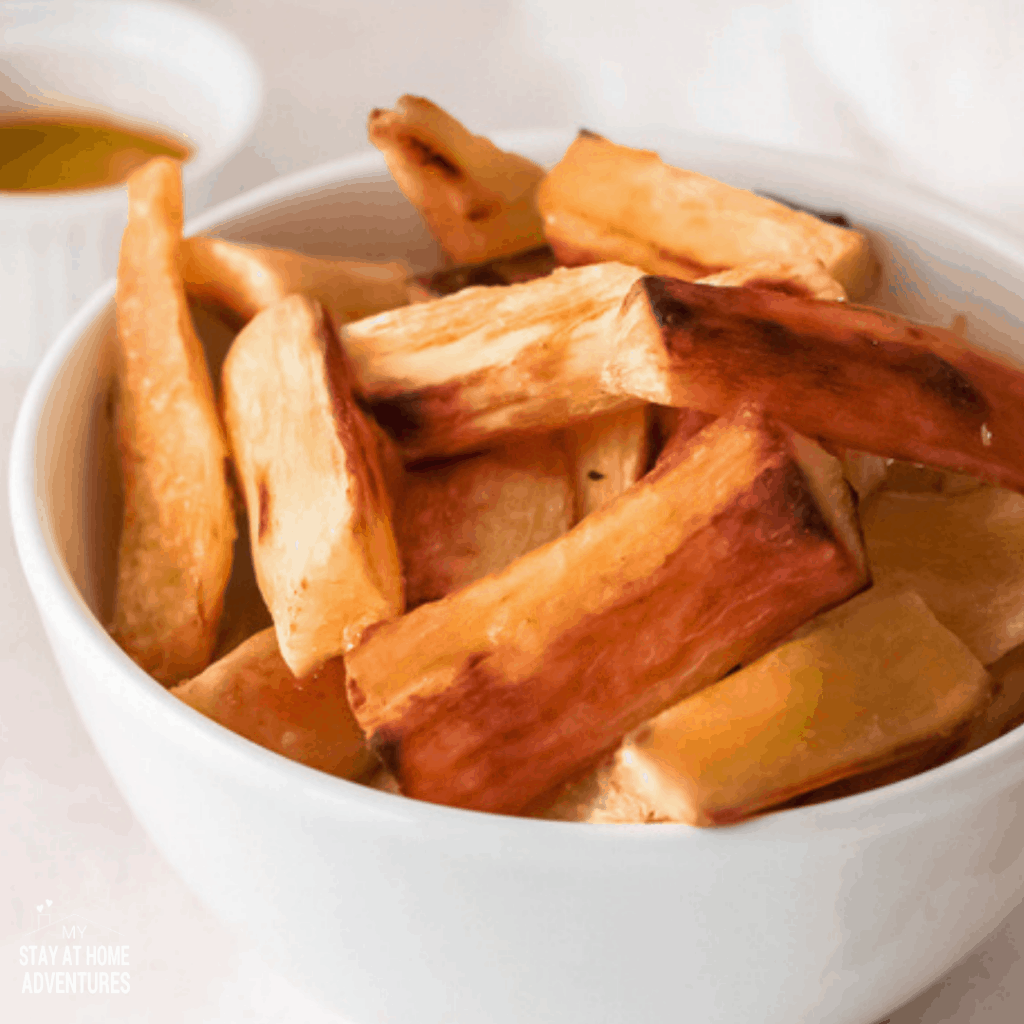 What health benefits does Yuca have?
Although Yuca or Cassava is starchy and rich in carbohydrate food, it can give out several health benefits. That's why Yuca Fries (others call it Cassava fries) can be a great snack, too.
Anti-inflammatory and Antioxidant
With a great amount of Resveratrol in Yuca, a natural Anti-inflammatory and Antioxidant compound, your body can be protected from damage caused by free radicals.
Supports Heart Health
Yuca is a rich source of Potassium (with 600mg per cup of raw yuca). Potassium regulates blood pressure, thus, reducing the risk of stroke and heart disease. Yuca also contains vitamin C and folate. These are essential nutrients for heart health.
Boosts Brain Function
Contains Choline, with 48mg per cup of yuca, which plays a key role in the brain and nervous system functions that include muscle control, memory, and mood.
Lowers the Risk of Cancer
Yuca root is rich in an antioxidant called beta-carotene, and saponin. Together, they fight free radicals that can cause cell damages which will likely lead to cancer.
Improves and Maintain Digestive Health
Because yuca has an excellent source of resistant starch, it helps to stabilize the digestive system. The function is similar to soluble dietary fiber that helps feed "good bacteria" that is in the intestine. It can make you feel full which can help you control food intake, hence, may help in losing weight.
Boost Immunity
With vitamins A, C, and folate in yuca, the immune system's "foot soldiers" in your body improves.
Other Nutrients
B vitamins (except B12) – such as thiamin, riboflavin, folate, and B6-are responsible for converting carbohydrates, proteins, and fats into energy.
Magnesium – is crucial in the production of Adenosine triphosphate (ATP), the body's energy-carrying molecules, along with the adrenaline needed to get through the days.
Phosphorus – works as the building block for healthy bones and teeth. It works alongside calcium for that purpose. It also reduces muscle pains after strenuous exercise and filters waste, and aids in repairing body tissues and cells. And it is the 2nd most plentiful mineral in the body next to Calcium.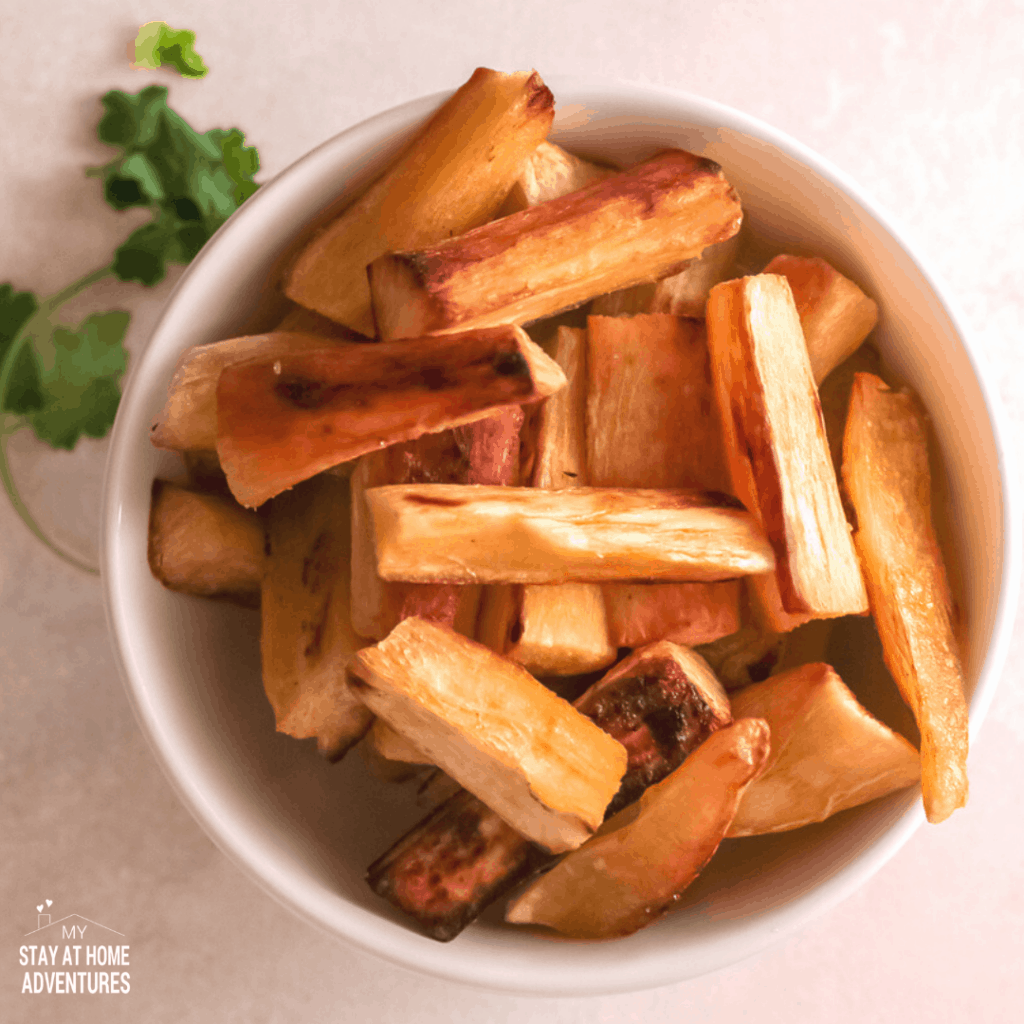 How to prepare Yuca properly.
When consumed raw or not properly prepared, the Yuca (roots, peels, and leaves) may have a toxic effect because of the hydrogen cyanide. It is a toxic chemical compound released by Cyanogenic glycosides found in some edible plants.
Don't fret!
If it is properly prepared and cooked, it is very safe to consume. Either inform your kids about it or keep the raw yuca away from them.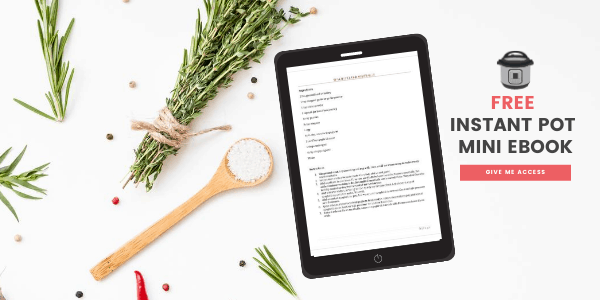 Before we make our favorite Yuca Fries, here is what we should do first:
By the way, I personally put on gloves when handling raw yuca, especially when peeling.
Soaking yuca in water for 48-60 hours before cooking may reduce the number of toxins.
Peel the yuca. The peel contains most of the toxins. I prefer using a paring knife instead of the regular vegetable peeler.
Cook the yuca by boiling, baking, roasting, or frying. Harmful chemicals can only be found in raw yuca.
Protein helps get rid of toxins in the body. Eating yuca along with some protein-rich food can be favorable.
If you are ready, we can start making the Yuca Fries.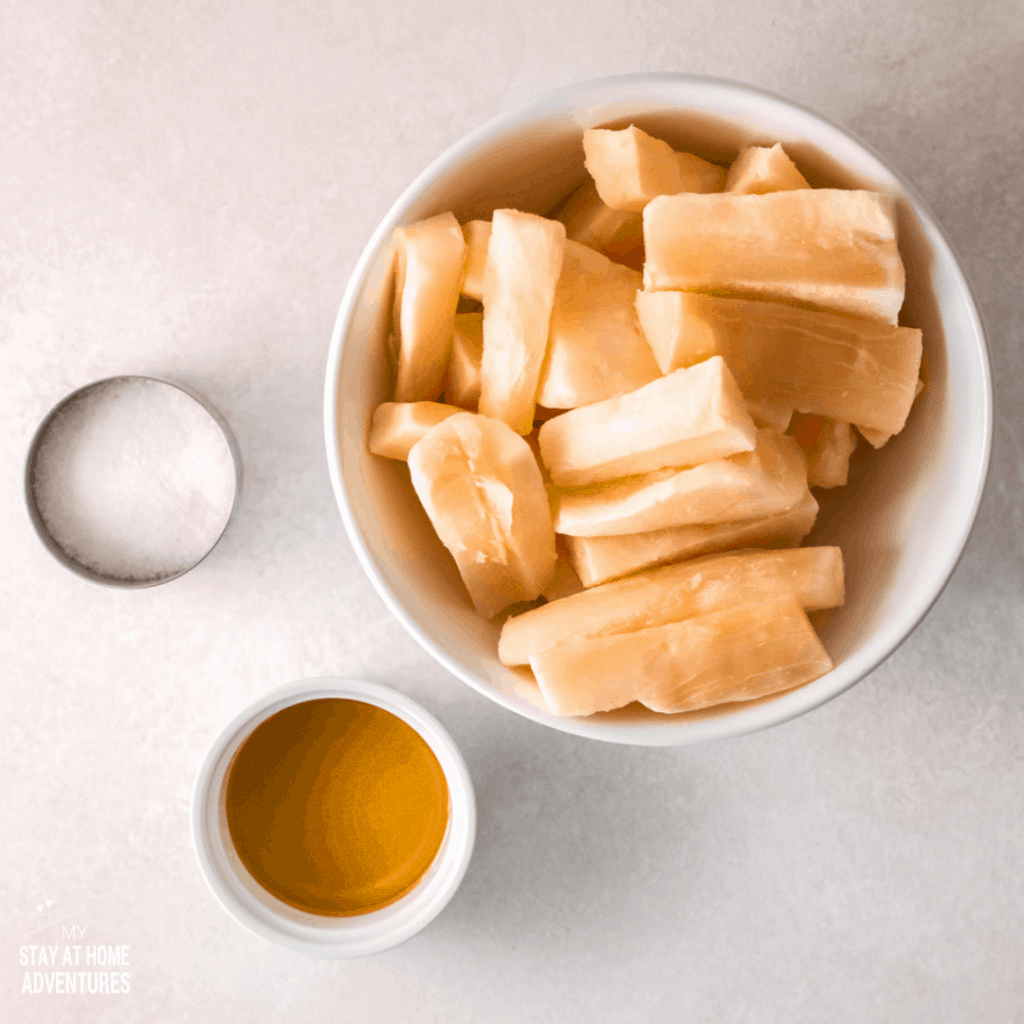 The Crunchy and Delicious Yuca Fries aka Cassava Fries
With only 3 ingredients, you can easily make these tasty Yuca fries (Cassava Fries). These are 1 Pound (about 500grams) of yuca, 3 tbsps vegetable oil, and 1 tsp salt.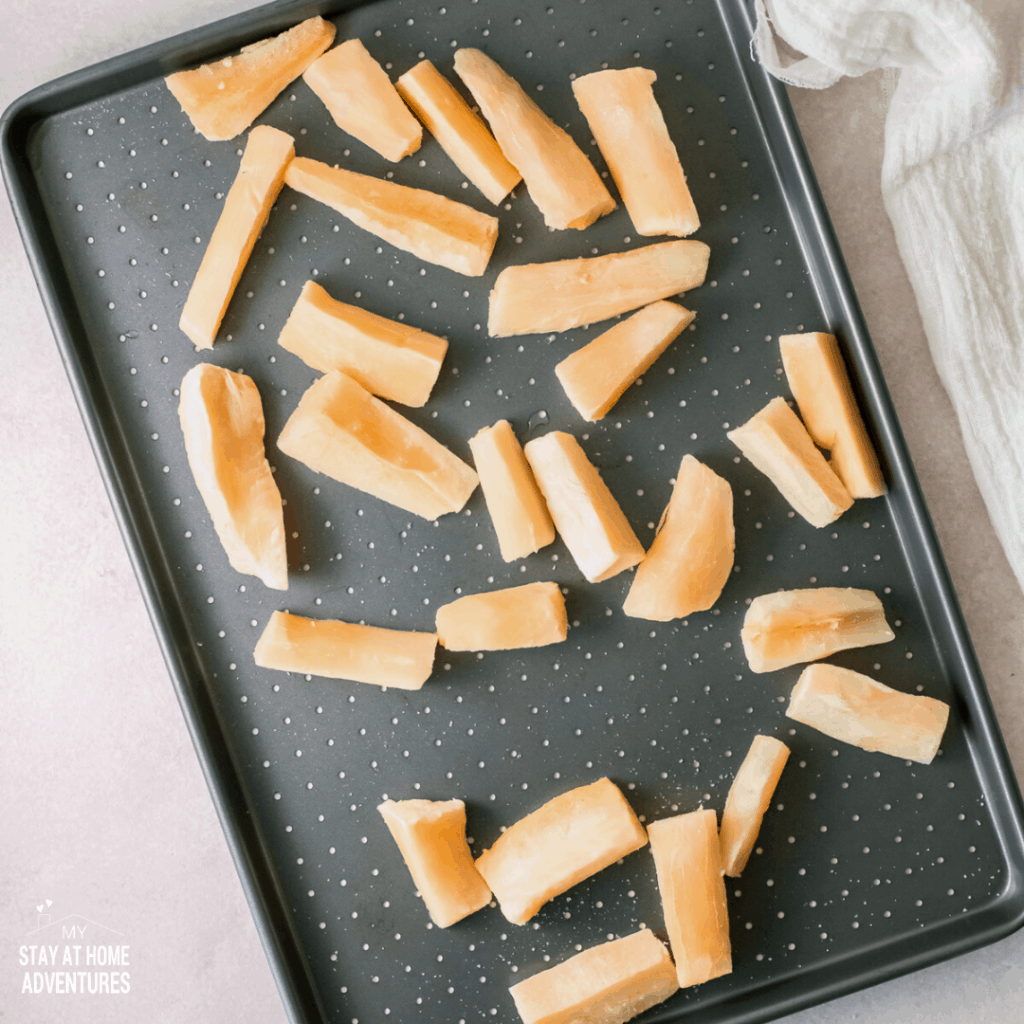 Prepare your Yuca first by peeling. (I prefer to use a paring knife rather than a regular vegetable peeler. It works better for me. Cut them into matchsticks. You know, like french fries. Then boil them in water for about 8-10 minutes. Strain.
When it's time to cook, preheat your oven to 450°F.
Then arrange the yuca fries on a baking pan in a single layer. Drizzle with olive oil and sprinkle with salt.
Take to the oven and bake for 25 minutes or until golden brown.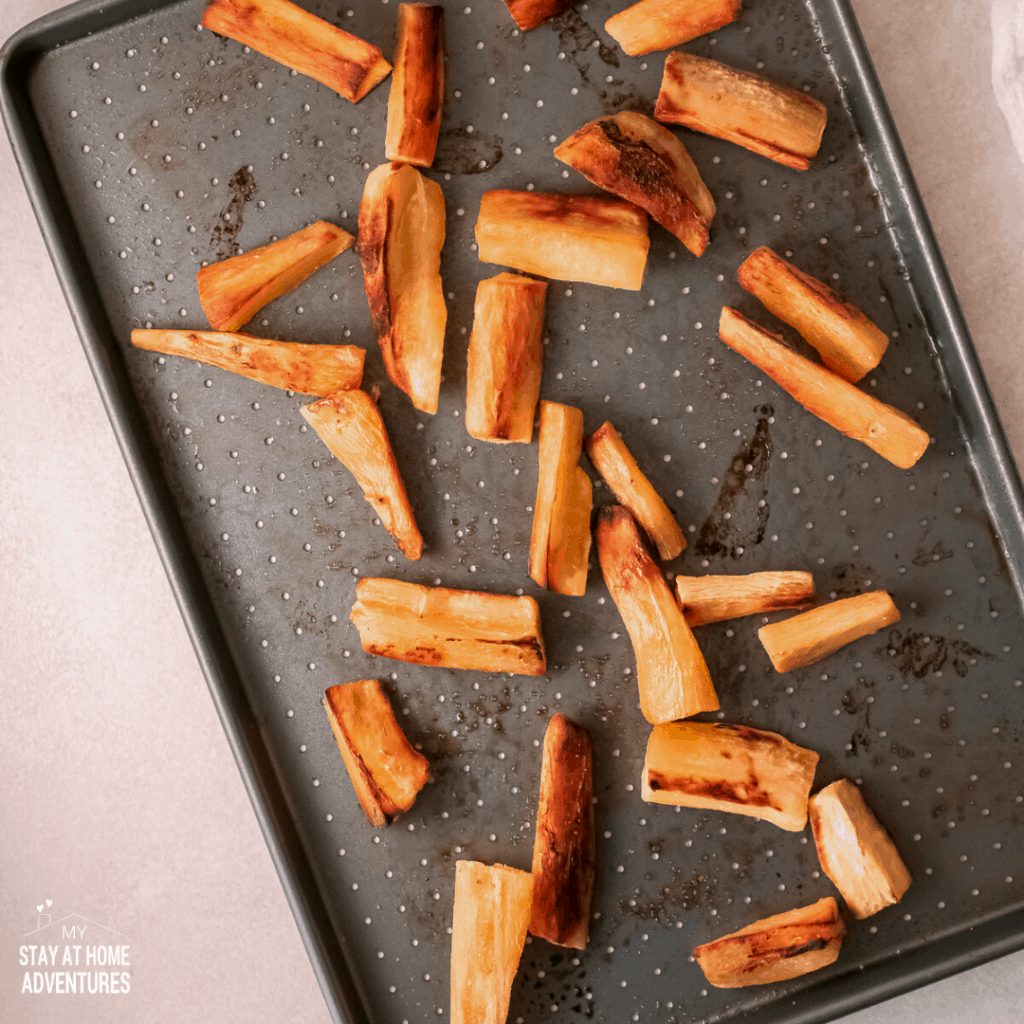 Serve warm.
Did you make it? Let me know how it goes.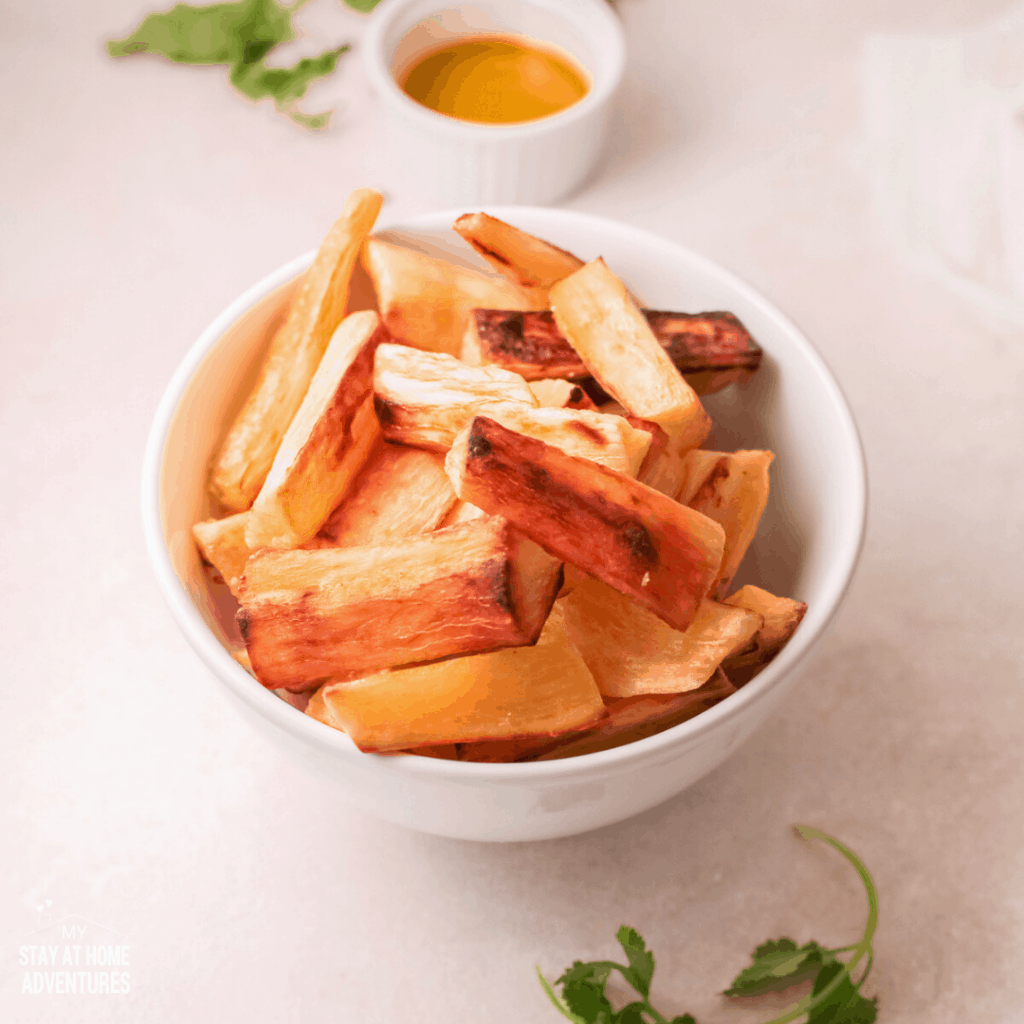 By the way, don't forget to Pin this into your Crispy Fries Pinterest Board for later.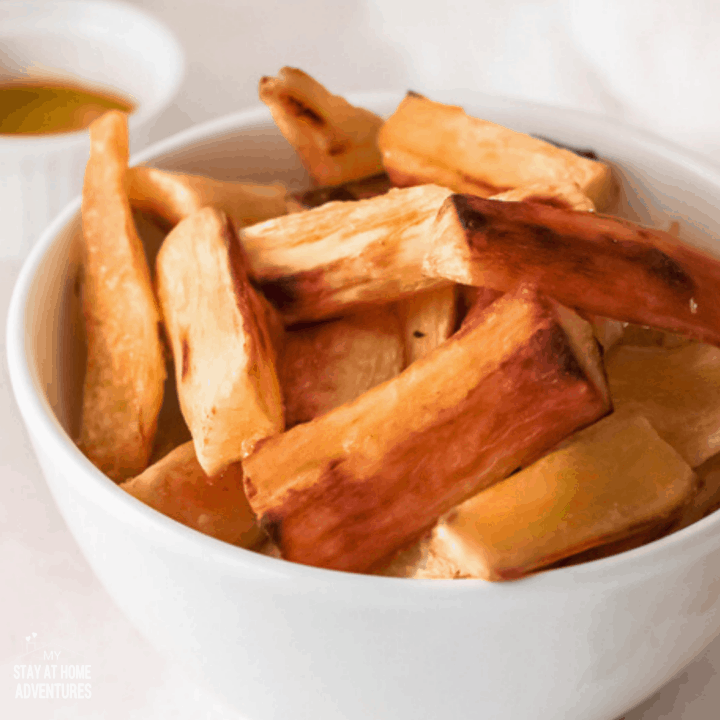 Yuca Fries - Easy 3 Ingredient Fries
With only 3 ingredients, baked to crispiness on the outside and tender on the inside, this Yuca Fries is the perfect hearty snack.
Ingredients
1 Pound of boiled yuca, peeled cut into matchsticks*
3 Tbsp vegetable oil
1 Tsp salt
Instructions
The yuca should be peeled and cut into matchsticks.
Boil the yuca until soft, about 8-10 minutes, and then strain.
Preheat the oven to 450 degrees.
Arrange the yuca fries on a baking pan in a single layer. Drizzle with olive oil and sprinkle with salt.
Take to the oven and bake for 25 minutes or until golden brown.
Serve warm.
Option:
You can sprinkle some ground pepper or chili powder according to your preferred taste.

Notes
Note:
The inside of the yuca should be white. If there are black lines, discard them and use another yuca.
*The Yuca should be cut into matchsticks, boiled until soft, about 8-10 minutes, and then strain.
Recommended Products
As an Amazon Associate and member of other affiliate programs, I earn from qualifying purchases.
Nutrition Information:
Yield:

2
Serving Size:

1
Amount Per Serving:
Calories:

543
Total Fat:

21g
Saturated Fat:

2g
Trans Fat:

1g
Unsaturated Fat:

18g
Cholesterol:

0mg
Sodium:

1194mg
Carbohydrates:

86g
Fiber:

4g
Sugar:

4g
Protein:

3g
These nutritional calculations might not be accurate. Please speak with a licensed nutritionist to assist you.
Try these other fries, too: