What a year 2016 has been for me money wise and personal wise. From 2015 being such a memorable year (remembered as the year I grew up) to 2016, my Ah-Ha year; one thing I will never believe is how I managed to make over $11K this year so far, and all from home.
I have made no secret that my goal was to make money from this blog and other online ventures, and the reason behind it was because I lost a chunk of our family income back in August of 2015. I have also stated many times that my insecurities and fears are the reasons holding me back from perusing my blog growth and wanting to make money.
This year, I made a goal to make $2,000 a month for a total of $22,000 a year; honestly, I made that goal to test myself and see how far I could go from my previous year goal of $550 a month which was reached about two months from setting that goal.
That drove me to create a higher goal of $2,000 a month, which at the time I was barely making when I created that goal. The truth is that I sometimes didn't make the $2,000 a month goal at the beginning of the year. I was very close. Then as March came around, I made less than $1,000 a month.
May and June came about, I made over my goal and this lead to me believing that I will be able to reach my $22K goal for the year! Now before you go ahead and say, "Well Joyce, there are many other bloggers out there that make more than you!" I wanted to tell you that this is my success and my journey, not another blogger.
The goal that I set for myself reflects my journey, and this journey is not to be compared to another person's blogging journey. I manage my blog on my own. I do this on my own. I hire out when I can, but other than that, My Stay At Home Adventures is my baby!
My priority is my family, then my blog, and I also run my blog debt free; I have to make money to spend money on my blog. If I don't have the money, then there's no spending.
Our family budget doesn't have a budget for blogging at all. It comes down to me making the money online; which I am very proud to say.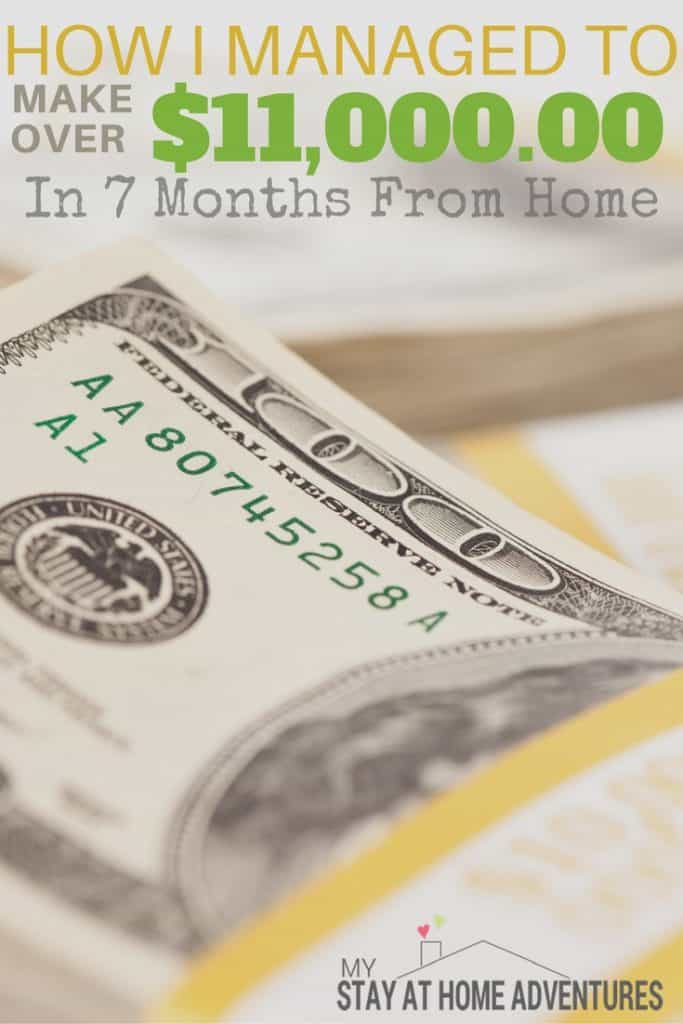 As you can see from my online income report, I report my income and my expenses and what is working for me and what isn't. You will also know that when I started blogging, I was a mother of 3, now I'm a mother of four who had a rough delivery and spent her summer recuperating from it.
I will admit that my pageviews are down, and instead of worrying so much about it, I learned that I needed to keep going and focus on me, family, and then blog. Still, the income continued to increase, and I have been able to use that money to invest back on things that are going to help me and my blog in the future.
So how did I earn my $11,000 in seven months? How did the insecure Joyce who barely worked much during the summer manage to make money?
I didn't give up.
I didn't lose track of what I wanted.
I continue to implement what I learn.
I continue to learn.
Implement what you know.
There is no magic recipe to success unless you continue to implement what you are learning. I was a working mom turned stay at home mom who wanted to make some money. I developed some stay at home bad habits, and a way to get out of that funk was to start a blog about budget and money.
I did my research and read a book called How To Blog For Profit: Without Selling Your Soul that changed the way I viewed my blog; and then I used what we have saved and spent money on this course called Elite Blog Academy (EBA) and that was the best investment I ever did for myself and my blog.
I continue to do what has been successful for my blog and get rid of what is not successful. If you know that social media is important, then continue to work on social media. If you know that creating new content is important to your blog growth, then continue. Continue to do what you already know because it will start to show.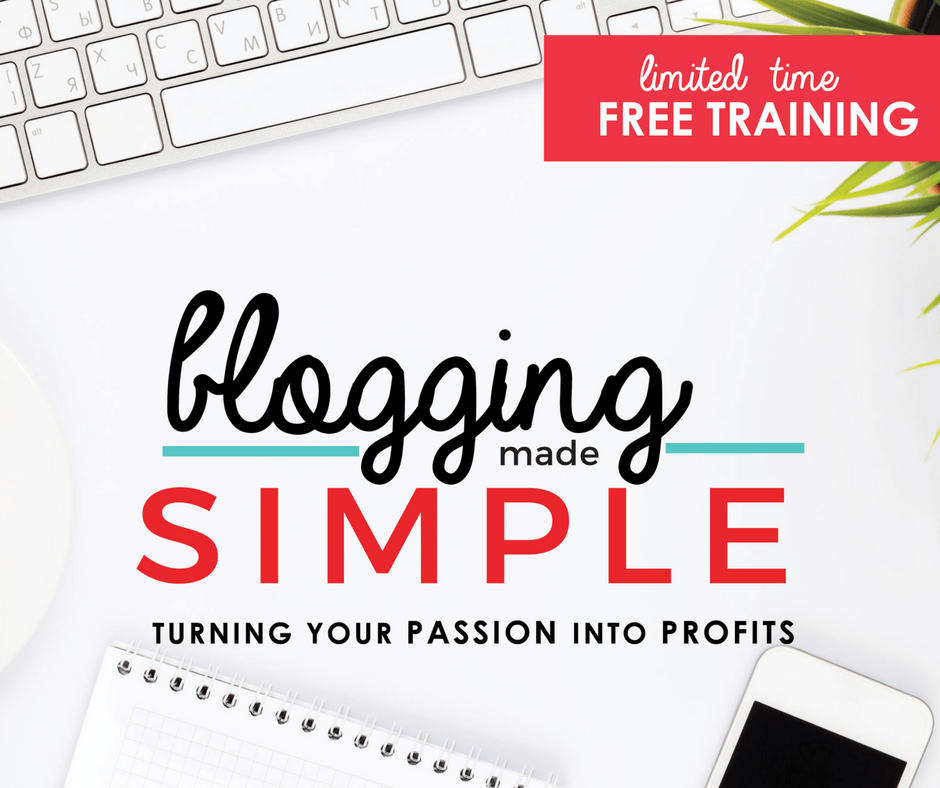 I hear this from other bloggers "oh that course has nothing new!" Yet, don't seem to get ahead because they are not taking the time or are too impatient to implement what they know. They go from courses to courses paying all this money to end up saying the same thing. The information on this course is nothing new!
Your blogging success won't happen overnight! You have to implement what you know and continue to do it. I promise you will see results.
Don't give up!
I have to say that I am not alone when it comes to what I call the summer drought for bloggers. My pageviews are down, and I can sit here and blame Pinterest's new changes and other social media, but the truth is that I don't even have time during the summer to keep up with other blogs.
I am busy, I am taking care of my family, and this summer I was even taking care of me! Does it worry me about my numbers being down? YES! But when I look at my last year's numbers, they have doubled; so I'm doing something right.
I can't give up on my blog or my blogging goals because I have come too far. I am not a quitter, and I know my numbers are going to get better! If you feel like giving up, read and think of what made you decide to continue to blog. Get motivated. Talk to your blogging friends about it.
Stay focused.
Even when I couldn't walk and didn't feel like working this summer, I knew I would be OK. I continued to stay focused on what I wanted to do for my business. I focused on social media and writing. I continued to focus on my goals.
I kept looking at the amount of money I was making and it motivated me to keep going. If I felt that a goal from my list wasn't worth the time, I moved to the next. I keep focused. I avoided social media, I avoided distractions. My time is valuable, and staying focused and on track was extremely important to me.
One way I keep focused is by simply using a blogging planner. The blogging planner I use works for me, meaning that you might have a different way to keep track of your online work. I use the free EBA Blogging Planner available here. Click the Resource tab, then Free Planner.
Continue to learn.
Over the course of the year, not only do I implement what I have learned, I continue to learn as much as I can about the ever-evolving world of blogging. Since I am enjoying making money from my blog, I wanted to increase my blog affiliate sales, and last July I was able to find an amazing course called Making Sense of Affiliate Marketing.
Michelle from Making Sense of Cents created this course and makes a killing at affiliate marketing. I encourage you to check out her stats. Michelle went from $0 in affiliates income, to over $50,000 per month.
As of now, I have to say that with what I am learning from this course, there is an increase in my affiliate sales, and I will be sharing this in my next online income report.
The truth is that I made over $11K this year, and the year is not even over. I didn't work 40+ hours a week, and I did it all from the comfort of my home. If you are serious about earning an online income, know that it is possible!
If you are the kind of person that loves a challenge, stays focused; and if you love to make money, then I will challenge you to start earning money online. I have given you the tools I have used to make over $11,000 so far this year, and you can easily make more than that.
If you have a blog and are interested in boosting your income, then check out The 7 Ways to Boost Your Income Over Night absolutely free when you click here!
If you are interested in learning how to blog and make money online, please feel free to sign up below for my blogging related emails.
Save
Save
Save
Save
Save
Save
Save
Save
Save
Save
Save
Save
Save
The following two tabs change content below.
Latina mom of 4 married to wonderful Greek gentleman. Living in southeast PA and trying to juggle family and a household while trying to earn an income from home. Follow my stay at home journey as I discover how to earn money and save money so we can continue to live debt-free.
Latest posts by Joyce @ My Stay At Home Adventures (see all)