Can A Blog Make Money Without Ads and/or Sponsors?
This post may contain affiliate links which might earn us money. Please read my Disclosure and Privacy policies here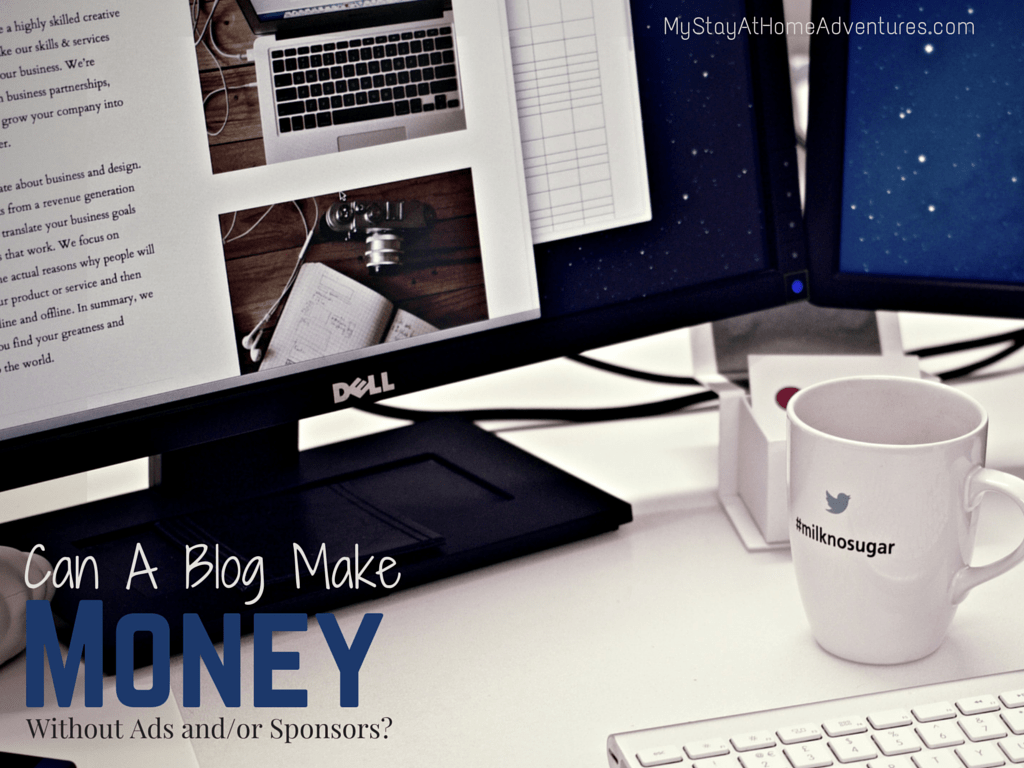 When I started My Stay At Home Adventures, I had a dream of sharing my knowledge of personal finances and simply experiment with blogging. I knew that someday I wanted to make this blogging thing into a nice income. The hardest part for me as a new blogger, was dealing with insecurities and trying to stay real to myself and my readers.
You read many success stories about bloggers making a living off their blogs. Yes, it is possible and yes, it can happen to anyone that is determined to make it work. Working from home is a dream for many people, but just like having a make believe world of having money, sometimes we don't really see the straight facts about it.
We imagine having our own hours and having the kids around. What we forget is that it is called work from home. Mind you, I still take it than leaving the house to go to work, but you still have to work. Work on datelines, making customers happy, and such.
Remember that you still have the same responsibilities you had when you worked, and in order to continue to make money, you need to understand that having screaming kids in the background is not acceptable. You are required to have the same commitment and work as hard from home as any other job.
This is how becoming a blogger is working for me. I am learning and improving, and my income is increasing from my blog. However, the pace that my blog is taking to be successful, might not be the same pace as other bloggers. And what I'm starting to see is that though my page views are going up; I'm earning more money and investing back into my blog, I'm debating how I want to make my blog money.
Can A Blog Make Money Without Ads and/or Sponsors?
Questions like 'can a blog make money without ads or sponsors' was really troubling me. For starters, as I became more involved in learning about the blogging world (my favorites bloggers were financial bloggers), I learned that you can make money from basically any different way.
I also came to the conclusion that you can't please everyone. Though my goal is to become a work from home mom, I have to remember to stay true to myself and my readers. My Stay At Home Adventures is about motivating moms and/or dads to save and earn money from home.
I decided that by writing posts that promote and motivate my readers to have financial success were my priorities. Of course, I also know that I want to turn my blog into a business; but I want my business to be honest and one that inspires others.
For blog income, what works for some might not work for others. Maybe other blogs make their income from sponsor posts and/or reviews and write about anything in that pays them well. There is nothing wrong with that. This is what they decided to do, they are working hard at making that money.
For some, their main source of income is their ads on their blogs. This is something that I have always implemented on my site and will not put any other blogger down for doing this. Ads help pay the bills, just like having sponsor posts.
The hours bloggers put on working on a good blog are a lot, and sometimes for pennies an hour. They also know that in order to have followers and readers, you have to really focus on what your readers want. This is why I am so careful when it comes to reviewing and sponsoring in my blog.
Many of you value my opinion, this is important to me. Many of you have expressed that your least favorite things here are reviews and parenting posts on my blog; I completely understand and respect that.
I get how it's kind of a down to visit your favorite bloggers and all you see is reviews and sponsored posts instead of finding the posts that motivated you and made you a returning reader. I have had my share of disappointments, so I completely understand. The fact is that if you started your blog as one thing, only for your readers to find posts from sponsors and reviews all the time will make you lose readers and followers.
To solve this problem for My Stay At Home Adventures, I decided to write sponsor posts and reviews of items that I truly enjoy and my readers will enjoy. I'm all for quality over quantity, and if it's going to help me pay the bills, a sponsored post here and there will be OK.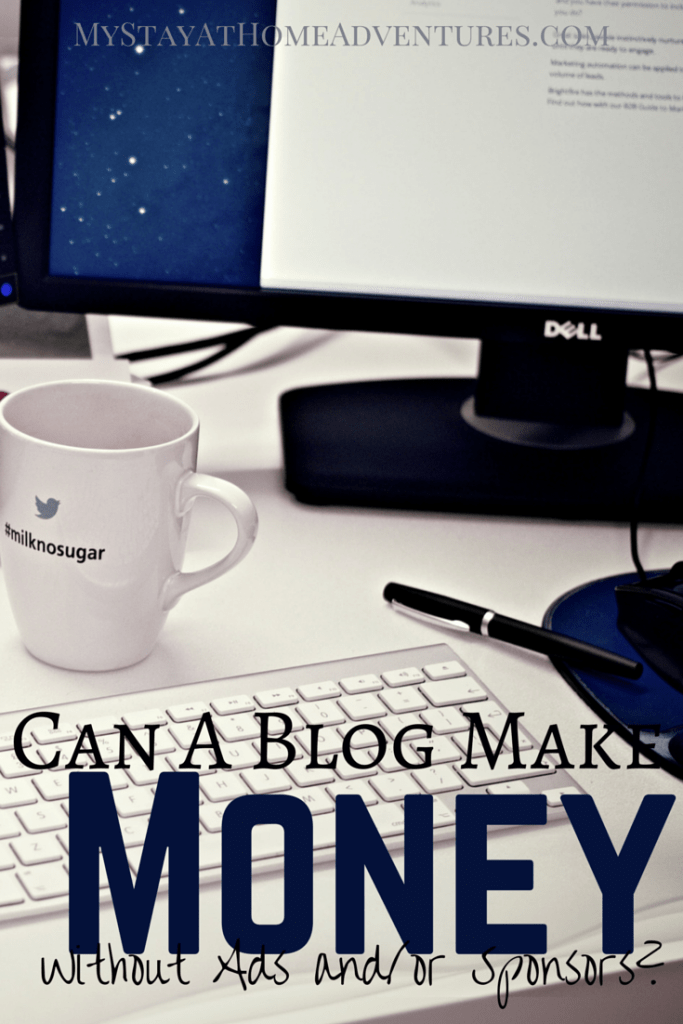 Blogging is a business (I know, some of you are shocked), but a business can also earn your respect and your trust. Before you give up on a blog because they have sponsored posts or advertisement, know that a TV show can't run without advertisements (19 Kids).
I'm sure you have seen blogs without advertisement ads, but did you know they are making money in another way? Affiliates and other forms of advertisements help pay for those blogs that don't have "those stupid" ads.
The income you can make from blogging can be amazing, and the good thing is that that each blogger makes their income from different sources.
To answer the question 'can a blog make money from ads and sponsors,' the answer is yes! BUT, you have to understand that if you are in the business of making money from blogging, there are other alternatives and a passive income from ads that will help you when you are starting blogging.
Also know that if your blog was not about giveaways and reviews, and you start simply promoting sponsors and other things to make money, it will turn your readers down. Don't over do it. Create a balance.
The income from a blog will not be the same as other blogs, but know that when I write sponsor posts, I feel that I am giving it my honest opinion and will not violate the trust of my readers.
Other benefits of writing sponsor blogs is that I get to work with other people and get to learn from them as well. It has helped me to create better photos when it comes to reviews. It is making me work harder too.
In Conclusion
I wanted to say that earning money from home is possible. Earning money from a blog is possible as well. However, the alternative of making money from blogging varies and depending how you want to run your blogging business.
If you are in the business of caring for what your readers want, then you need to understand that writing 80% of your post as sponsored when you didn't will affect your page view and your readers trust.
I hope I answered your question and gave you an insight of what matters to me when it comes to My Stay At Home Adventures, and to understand that I am honest and know that I can't please everyone.
What do you honestly think about ads and sponsor posts? Do you get turned off as a reader when you see review posts when visiting your favorite blog? Be honest, I would love to hear what's on your mind.